Biden's potential ink-stained March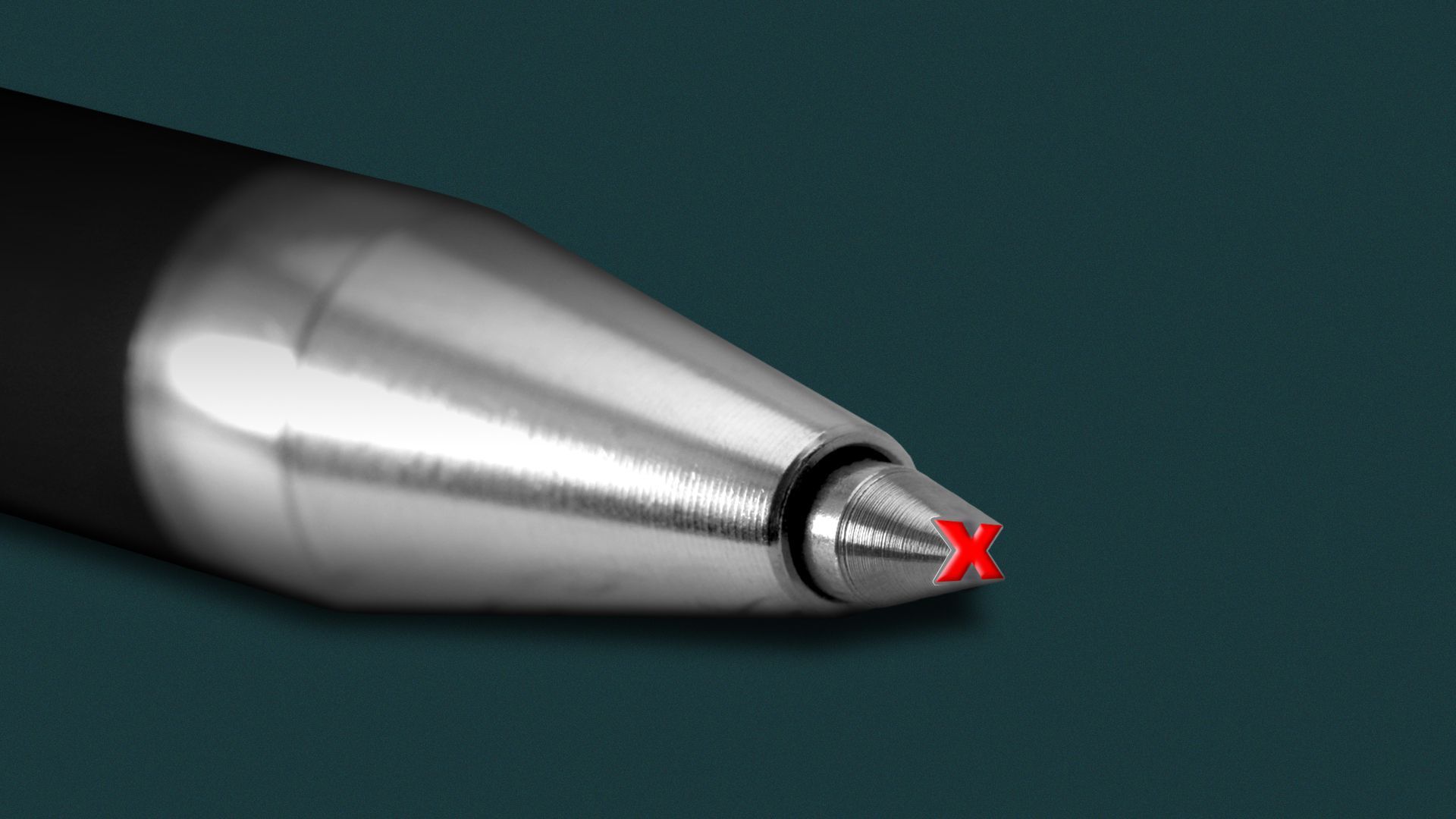 President Biden could be forced to break out his veto pen for the first time as soon as March, with Congress on track to pass multiple pieces of legislation the White House opposes.
Why it matters: It would be the latest example of the new Republican House majority creating fights by putting centrist Democrats in a position to buck their party on policy issues such as COVID-19, crime and immigration.
Driving the news: The House passed three resolutions this month that aren't subject to the Senate filibuster.
Ending the COVID national emergency declaration: 11 House Democrats voted for a GOP resolution prematurely ending the national emergency that the White House plans to sunset in May.
Blocking changes to D.C.'s criminal code: 31 House Democrats voted for a GOP resolution against a D.C. measure reducing some maximum penalties for violent crimes.
Blocking D.C.'s noncitizen voting bill: 42 House Democrats voted with Republicans against a local measure giving noncitizens the right to vote in D.C.'s local elections. D.C. Mayor Muriel Bowser declined to lobby against either GOP resolution, according to Axios' Cuneyt Dil.
By the numbers: The resolutions will only need support from two Democrats to pass the Senate.
The COVID resolution likely has the votes: Sens. Joe Manchin (D-W.Va.) and John Hickenlooper (D-Colo.), two of the dozen Senate Democrats who voted to end the COVID national emergency last fall, told Axios they plan to vote that way again.
On the D.C. resolutions, many Senate Dems aren't commenting yet. Manchin, the most conservative Democrat in the Senate, initially told Axios he had "no idea" about them and later told Politico he would be "open" to voting for it if it is "reasonable and common sense."
What they're saying: The D.C. crime law has stoked fierce opposition from some Democratic lawmakers, but others are uncomfortable meddling in local affairs.
Rep. Angie Craig (D-Minn.), who was assaulted at her D.C. apartment building last week, criticized D.C. in a CBS interview for not fully prosecuting her alleged attacker despite repeat offenses: "I think we have to think about how in the world can we make sure that we're not just letting criminals out."
Sen. Tim Kaine (D-Va.) told Axios he is still reviewing the measure but said that when he was a mayor, he "didn't want to be top-down micromanaged by my governor, much less my president."
The other side: The White House Office of Management and Budget has put out statements of administration policy opposing all three resolutions.
Of the D.C. resolutions, OMB said, "Congress should respect the District of Columbia's autonomy to govern its own local affairs."
The White House also said ending the COVID emergency before May would "create wide-ranging chaos and uncertainty throughout the health care system."
What we're watching: Individual senators can bypass leadership opposition and force votes on these resolutions within a certain timeframe.
Sen. Roger Marshall's (R-Kan.) office told Axios that they are aiming for a vote on the emergency declaration resolution at the end of March.
Sen. Bill Hagerty (R-Tenn.), who introduced the Senate version of the resolution on crime in D.C., told Punchbowl News he's also angling for his resolution to be voted on "after we get back from the next break in March."
Editor's note: This article has been corrected to note that Sen. Hagerty is the co-sponsor of just one of the two resolutions on D.C.
Go deeper