House Democrats call GOP's bluff on socialism vote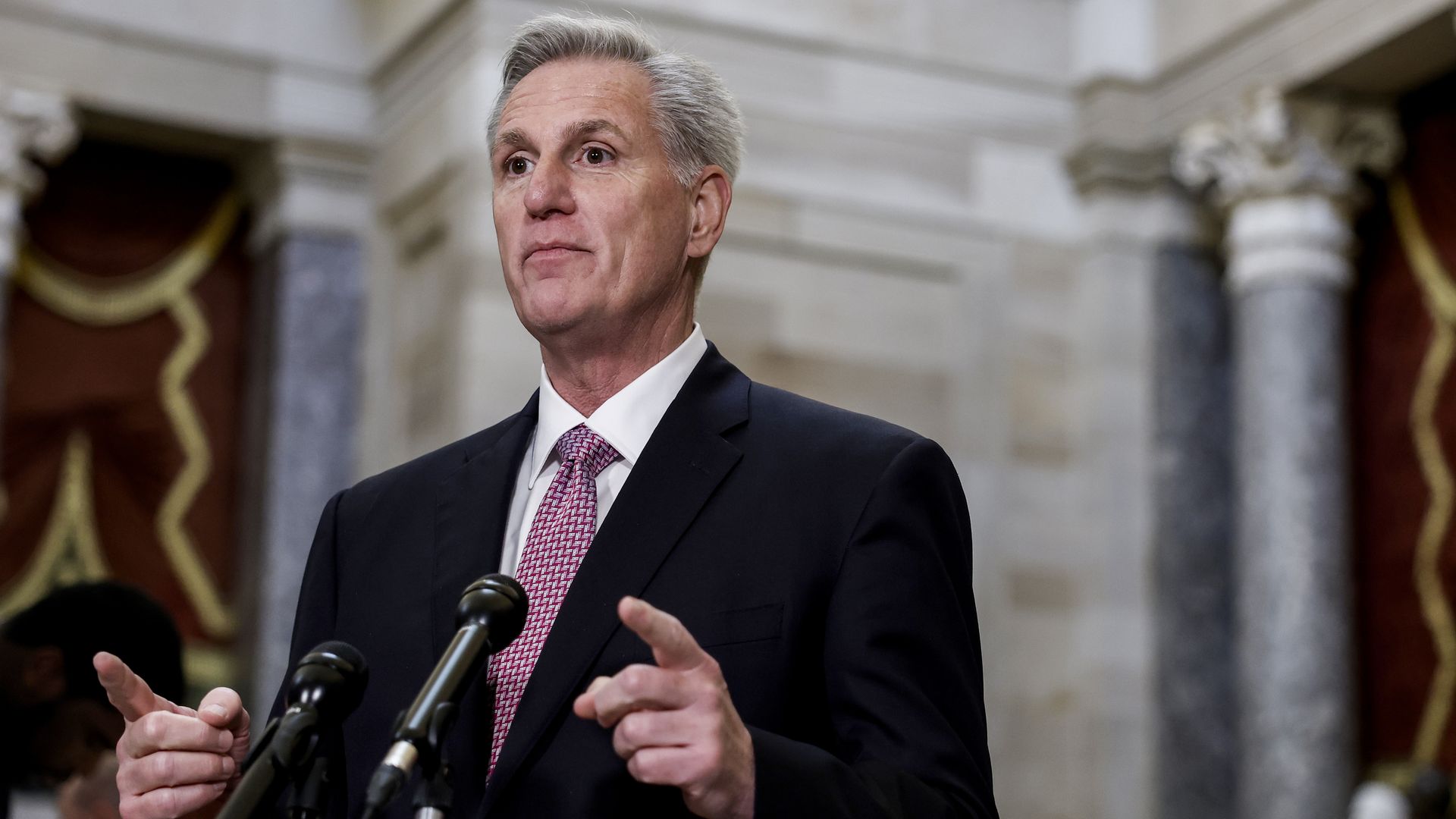 More than half of House Democrats sided with Republicans on Thursday in voting for a GOP resolution denouncing socialism.
Why it matters: It's an early example of Republicans using their majority to force Democrats to choose between putting up a united front against bills they say are distractions and avoiding creating fodder for 2024 attack ads.
The resolution denounces "socialism in all its forms" and opposes "the implementation of socialist policies in the United States of America."
A total of 106 Democrats voted for the resolution, while 86 voted against it and another 14 voted "present. "
What they're saying: "This [was] very much about politics and political messaging, and you saw that with some of the people voting present," said Rep. Annie Kuster (D-N.H.), the chair of the centrist New Democrat Coalition, which supported the resolution.
Kuster said leadership was attentive to swing-district members' needs: "It was very much open-door conversations this week ... just conversations about where our members were coming from and how they felt about this. They had strong feelings about this."
What we're hearing: House Republican campaign operatives are already sharpening their knives against Democrats who voted against the resolution.
"It's certainly a potent hit we're excited about," Jack Pandol, a spokesperson for the National Republican Congressional Committee, told Axios. "If you can't vote to denounce the horrors of socialism, yes, we will be letting your constituents know about it."
The NRCC sent out a press release after the vote with the subject line "Dems ❤️ socialism." Another takes aim at freshman Rep. Val Hoyle (D-Ore.) for voting against the resolution.
The other side: Rep. Pramila Jayapal (D-Wash.), the chair of the Progressive Caucus, told Axios that her faction recommended its members vote against the resolution and she advised colleagues "however you vote on this bill, they're going to use it against you, so it doesn't really matter."
Jayapal also argued the bill's sweeping rebuke of socialism conflates historical despots with modern entitlement programs and Nordic social democracies: "They're trying to tie those successful [welfare] programs ... to [former ruler of Cambodia] Pol Pot."
Rep. Theresa Leger Fernandez (D-N.M.), one of the "present" votes, told Axios, "This resolution does nothing to address the problems. ... It feels like political theater. Think about it, we've spent three days on this. Three days on a nonbinding resolution."
Some Democrats also tried to mitigate the political fallout of voting against a resolution kicking Rep. Ilhan Omar (D-Minn.) off the Foreign Affairs Committee over allegedly antisemitic statements.
Reps. Josh Gottheimer (D-N.J.) and Jared Moskowitz (D-Fla.) sent House Speaker Kevin McCarthy (R-Calif.) a letter just after the vote asking him to form a select committee on combatting antisemitism.
Gottheimer also introduced a resolution with 30 Democratic co-sponsors, including Omar, "recognizing Israel as America's legitimate and democratic ally and condemning antisemitism."
Go deeper