Axios Generate
March 15, 2023
🐪 Hi Wednesday! Today's newsletter has a Smart Brevity count of 1,295 words, 5 minutes.
👀 Situational awareness: BlackRock CEO Larry Fink's annual letter to investors just dropped. We'll have analysis tomorrow on his energy transition views
🎶 At this moment in 1999, TLC were #1 on Billboard's album charts with "FanMail," which provides today's beautiful intro tune...
1 big thing: Why climate pressure on Big Oil is easing — for now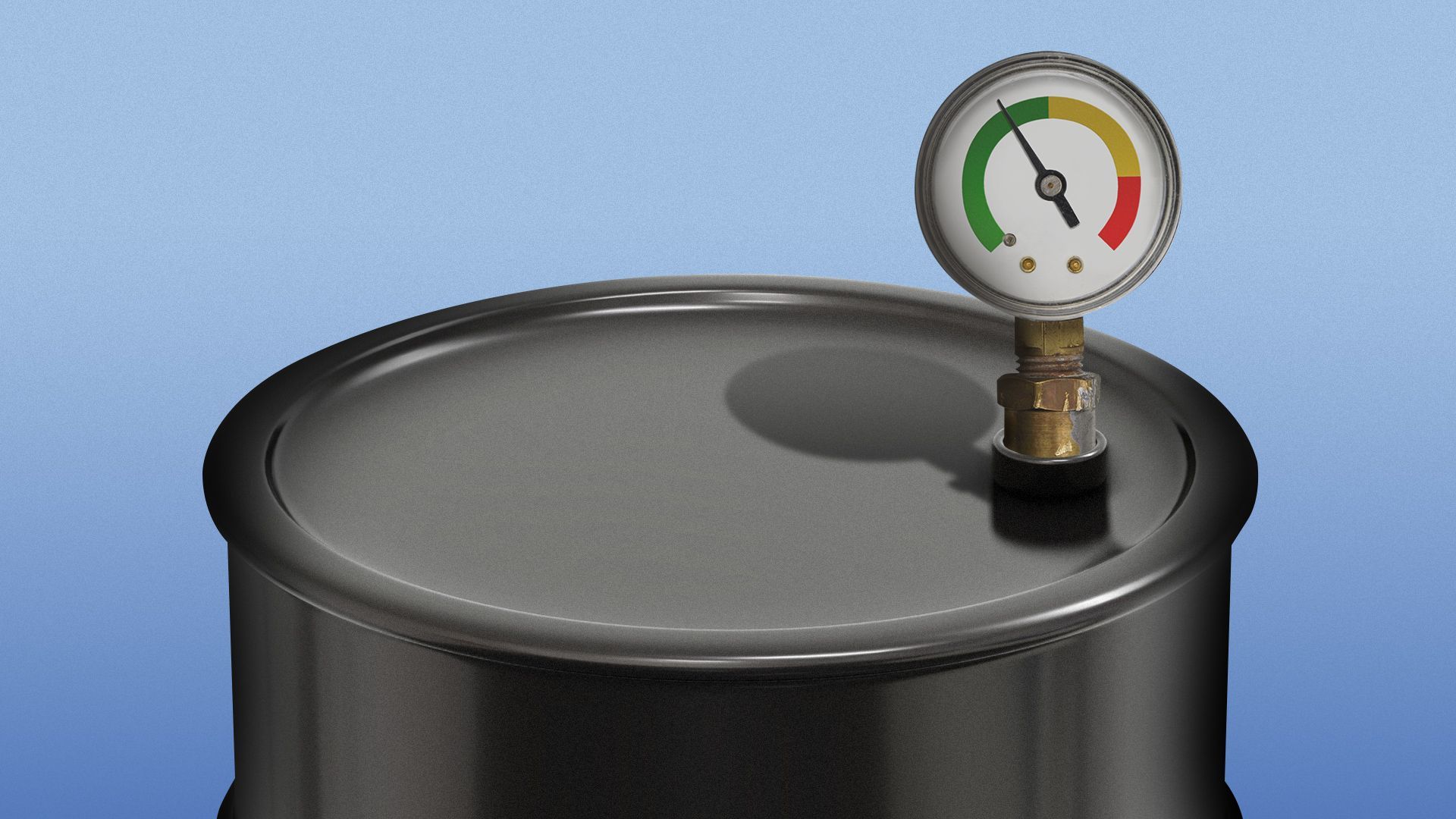 Oil giants are facing less pressure to diversify as the Ukraine war puts fresh attention on energy security and investors enjoy rewards from the majors' oil and gas profits, some analysts say, Ben writes.
The big picture: Wood Mackenzie experts say governments have moved security above sustainability on the agenda.
"Investors have aligned — 'peak ESG' was 2021, and the pressure on oil and gas companies has, for the time being, eased," they said in a recent note.
An NYT dispatch from the huge CERAWeek by S&P Global conference last week finds industry "mojo" around their core businesses.
Driving the news: A new HSBC Global Research note sees an industry "course correction" beyond BP's recent move to scale back targets for cutting oil and gas output.
BP's share price jumped after last month's announcement.
"The move is evidence of the scale of the change in investor sentiment from two years ago, when ESG/climate issues were at the forefront of investor concerns (at least in Europe)."
There's a "broad consensus that oil and gas will still be required for decades."
Zoom in: HSBC and Woodmac both see more "convergence" between European heavyweights and U.S. majors Exxon and Chevron, which have not wavered from their focus on oil and gas.
Italy's Eni has "shifted away from talking about a decline in volumes beyond the peak around 2026" and is now targeting an "extended plateau" from 2026 to 2030, per HSBC.
What's next: HSBC is looking to Shell and TotalEnergies' investor presentations next week, which could provide a "flavor of how European majors are (or aren't) rethinking their approaches."
Shell spokespersons, however, say their Capital Markets Day in June is when they delve into transition strategy.
Yes, but: Oil companies reject claims they're backing off climate commitments.
BP, while increasing fossil fuel investments, is also boosting spending by billions of dollars in low-carbon areas.
State of play: There are limits to how much the European players are really aligned with Exxon and Chevron.
U.S. majors' low-carbon spending is a "fraction" of European counterparts, HSBC states.
HSBC and Woodmac note Exxon and Chevron haven't joined European peers in setting targets for "Scope 3" emissions — that is, emissions from use of their products in the economy.
Zoom out: "In the long run, the world is still headed towards net zero and so is Big Oil," per Woodmac.
By the 2030s, energy security will be more "aligned" with sustainability, with movement away from fossil fuels to "domestically produced low-carbon energy."
Incentives in the U.S. climate law, they say, are among the forces that will push companies to boost low-carbon investments.
Bonus petro-notes: Russia and banking
📉 Price caps and sanctions are driving down Russia's oil export revenues, the International Energy Agency said this morning, Ben writes.
Driving the news: Russia's haul fell $2.7 billion to $11.6 billion last month, down 42% from the same period last year.
Why it matters: The policies are aimed at crimping the Putin regime's war finance while maintaining supplies to global markets.
✂️ Banking giant ING is planning a 19% cut in oil and gas commodity trading finance, marking an expansion of its climate policies.
Driving the news: It's also vowing restrictions on support for midstream infrastructure — pipelines, storage facilities and such — that "unlock new oil and gas fields."
Why it matters: The trading policy is a "new bar for the bank industry," Bloomberg reports. The new moves add to targets for easing upstream finance.
2. First look: HUD invests billions in equitable disaster recovery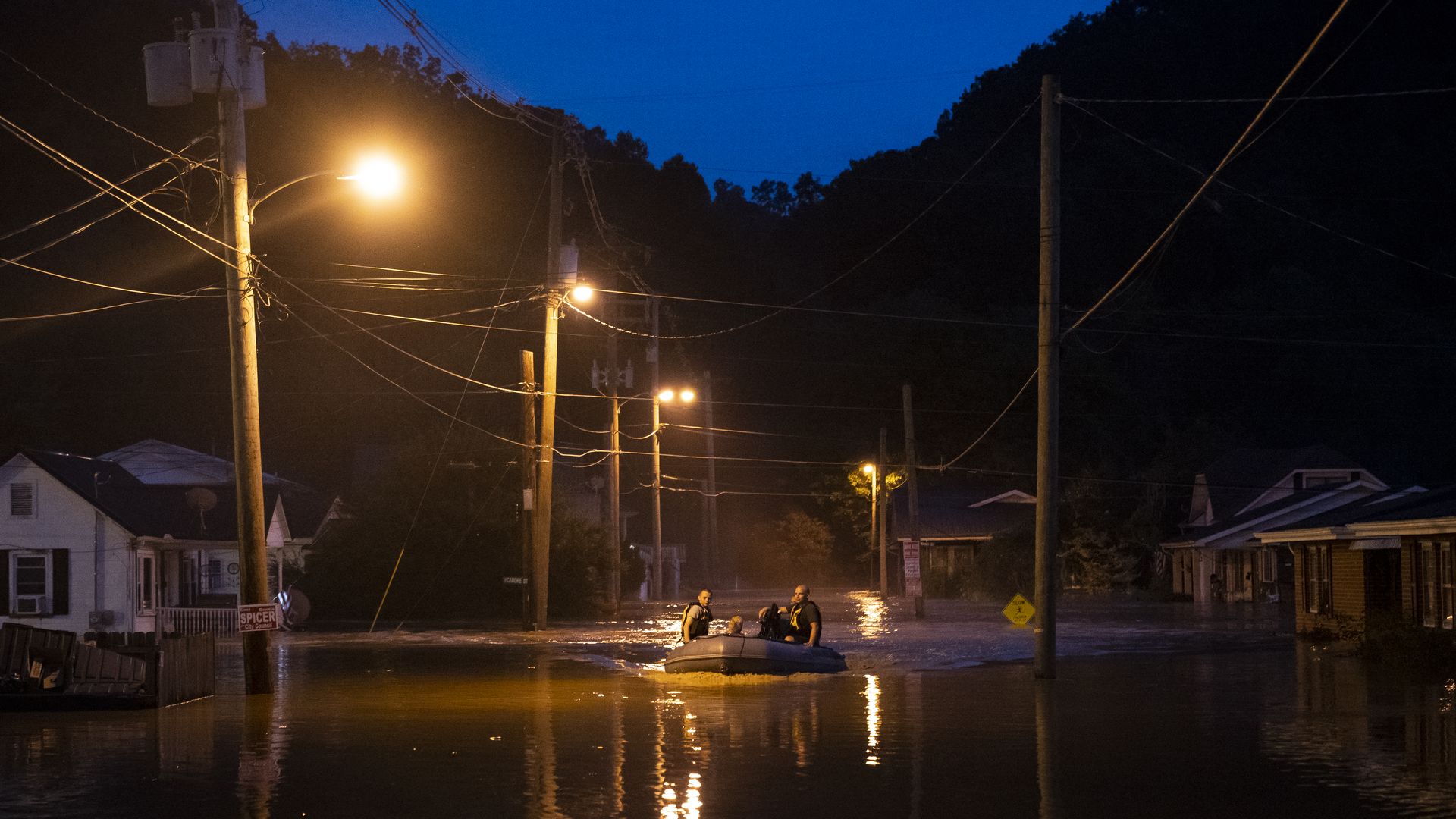 The Department of Housing and Urban Development is overhauling its disaster recovery efforts to better serve communities that face the direct impacts of climate change, officials will announce Wednesday, Axios' Ayurella Horn-Muller reports.
Driving the news: This includes more than $3.3 billion in grants to localities around the U.S. for equitable disaster relief and resilience.
Details: Florida, Alaska, Illinois, Kentucky, Missouri, Oklahoma and Puerto Rico will receive varying proportions through Community Development Block Grant-Disaster Recovery (CDBG-DR) funds, which are aimed at low- and moderate-income populations, officials said.
By the numbers: Most of the money — over $2.7 billion — has been earmarked for communities across Florida, many of which are still recovering from Hurricane Ian, which slammed the state last year. (Lee County will receive the highest allocation: over $1 billion.)
How it works: The more than $3.3 billion in CDBG-DR funds is slated for recovery and resilience purposes in response to disaster events, which the agency noted includes climate disasters.
3. Globe's fourth-warmest February, sea ice at record low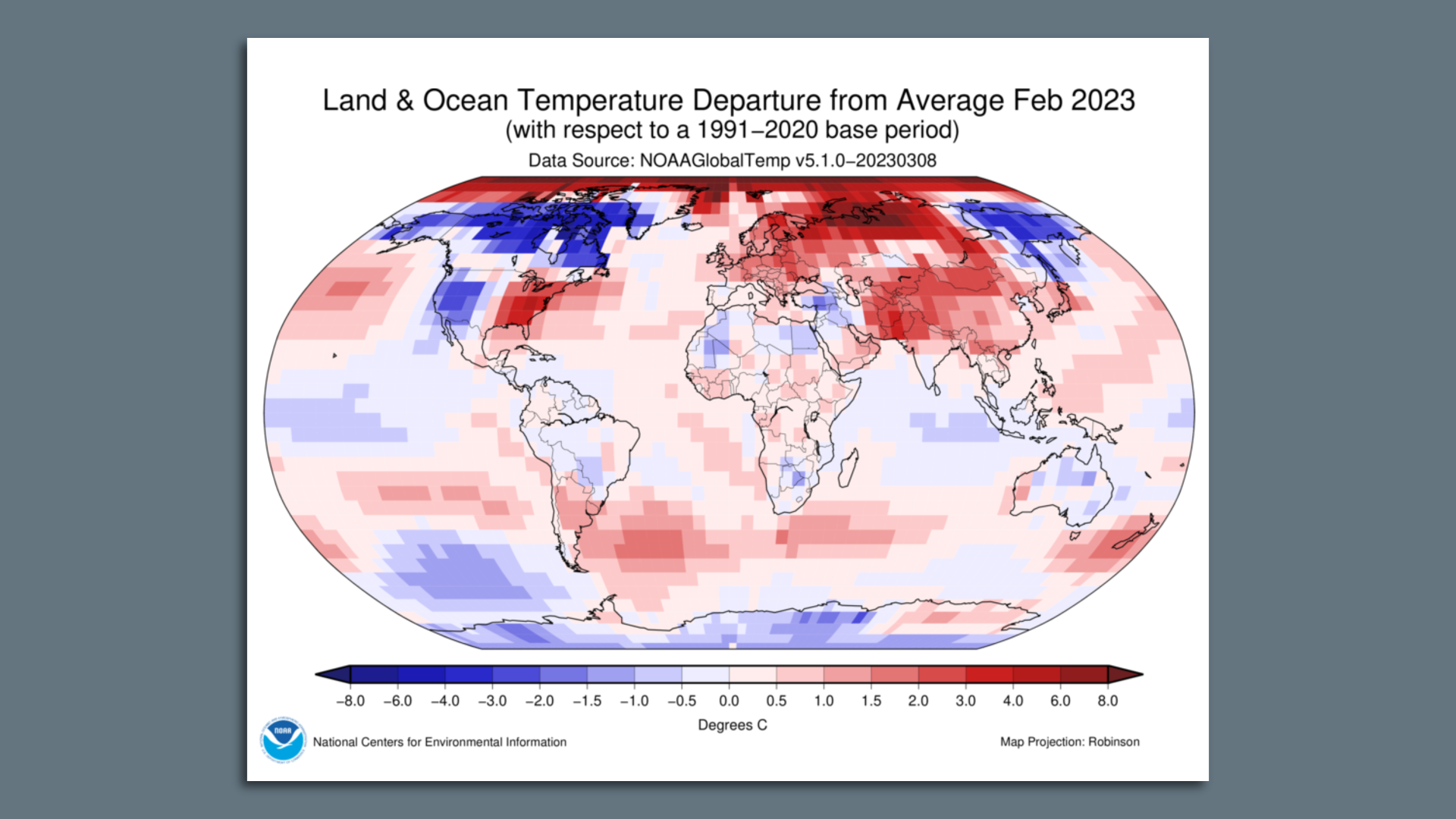 The globe had its fourth-warmest February on record since instrument data began 174 years ago, NOAA said Tuesday, Andrew writes.
Why it matters: The global monthly data and annual outlook shows the year is already trending warmer than 2022. February's data also allows scientists to take stock of how the Northern Hemisphere winter of 2022-23 ranked.
The big picture: February was the second-straight month in which global sea ice cover was the lowest on record, with Antarctic sea ice at a record low for its seasonal minimum.
The scarcity of Antarctic sea ice could be a sign that global warming is having a greater impact on the Southern Ocean, which might spell trouble for some ocean-terminating glaciers.
Without sea ice to put a lid on ocean heating, water temperatures can increase and melt ice shelves from below.
Record warm temperatures covered 4% of the Earth's surface during February, but record cold conditions were not observed anywhere.
What's next: According to NOAA, there is a 65% chance that 2023 will rank in the top five warmest years, and a greater than 99.5% chance of a top-10 warmest year. Last year was the sixth-warmest in NOAA's rankings.
4. 🏃🏽‍♀️Catch up fast on policy: Congress, Willow, EVs
📝 House Republicans unveiled their signature energy package Tuesday, a sprawling messaging bill they'll use to fight the Biden administration's policies, Axios Pro Energy Policy's Nick Sobczyk reports.
Why it matters: Republicans also see it as a starting point for negotiations on a potential bipartisan environmental permitting overhaul deal with the Senate.
Go deeper: Sign up for Axios Pro Energy Policy for the full story and more vital news and analysis.
⚖️ Federal approval of ConocoPhillips' Willow oil project this week is already drawing litigation.
Driving the news: Environmental groups filed suit yesterday, alleging the Interior Department failed to "consider reasonable alternatives that would lessen the impacts."
🔌 The Biden administration opened the doors to applications for $2.5 billion worth of EV charging project grants, part of the $7.5 billion in the 2021 infrastructure law for stations to plug in vehicles.
5. California floods part of global trend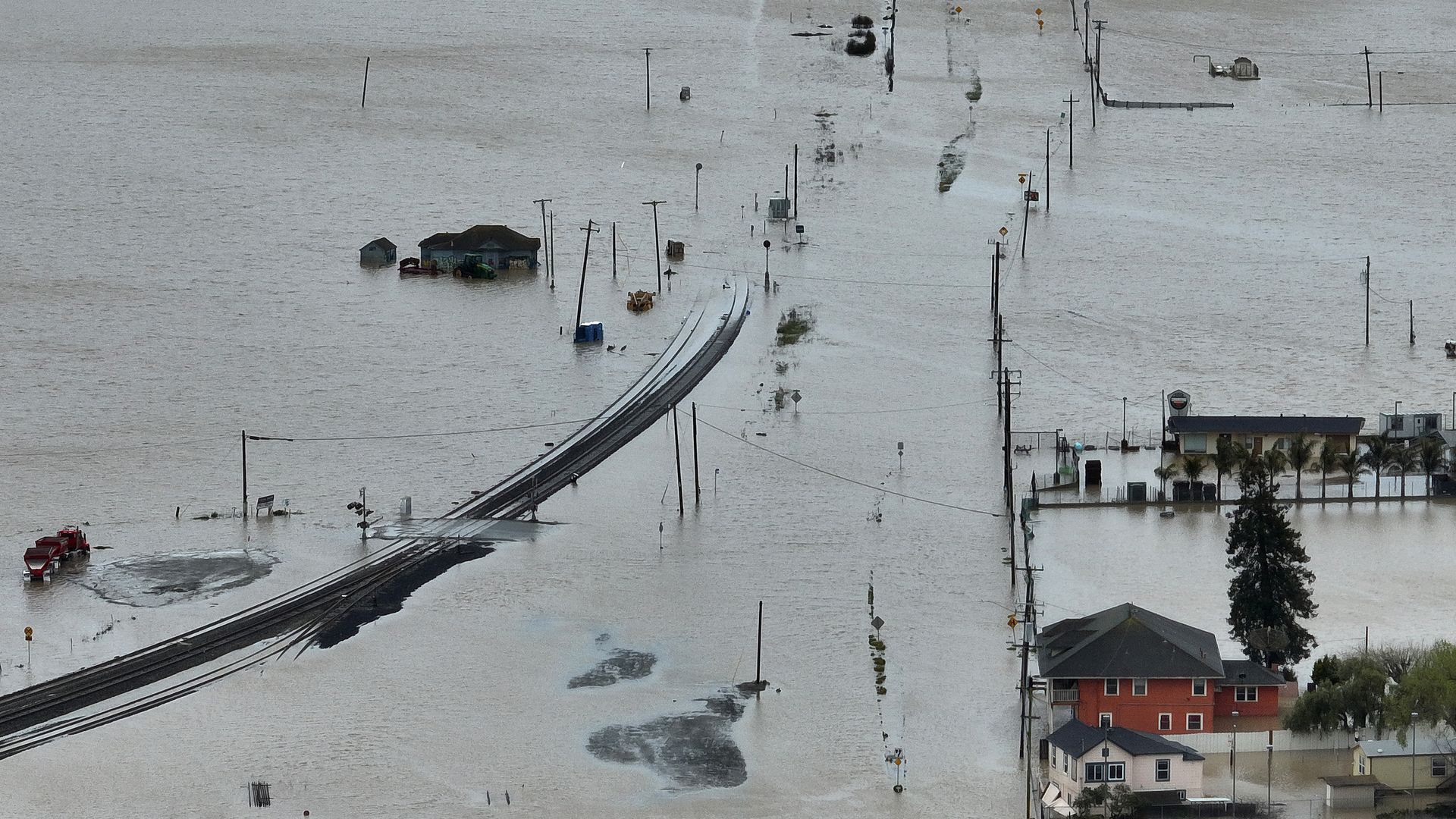 The latest atmospheric river to slam California brought damaging winds to the San Francisco Bay Area, felling trees and severing power to more than 300,000 customers, Andrew writes.
Driving the news: The storm also forced thousands to evacuate, and river flooding is continuing Wednesday.
The big picture: Climate change is increasing the odds and intensity of heavy rainfall events, including those from atmospheric rivers.
New research out Tuesday found the deadly heavy rainfall and associated floods that struck New Zealand in February were 30% more likely to occur in today's human-altered climate than during preindustrial times, and about four times as intense.
The Washington Post has more on another extreme precipitation study out this week, which detected precipitation changes using satellites.
6. 🚗 Number of the day: $120 billion
That's the amount of EV-related manufacturing investments — vehicles, batteries, and components — in the U.S. announced over the past eight years, per new analysis, Ben writes.
Why it matters: About 40% has surfaced since passage of the big climate law, signaling how the major tax incentives are speeding investment, per the Environmental Defense Fund and the firm WSP.
📬 Did a friend send you this newsletter? Welcome, please sign up.
🙏 Thanks to Nick Aspinwall and David Nather for edits to today's edition.