Axios Future
February 15, 2020
Welcome to Future. This is my last issue of the newsletter.
I've loved exploring the future of everything from firefighting to breakfast with you — and hearing from so many of you along the way.
Future is in great hands. Bryan Walsh, most recently the author of "End Times," is joining Axios and will be at the helm. And I'll still be at Axios, continuing to write about some of the big trends roiling society. Look out for my byline in this newsletter and in Axios' many others (Sign up for them here!).
Today's Future is 1,188 words — a 4 1/2 -minute read. Here we go...
1 big thing: The fraught future of recycling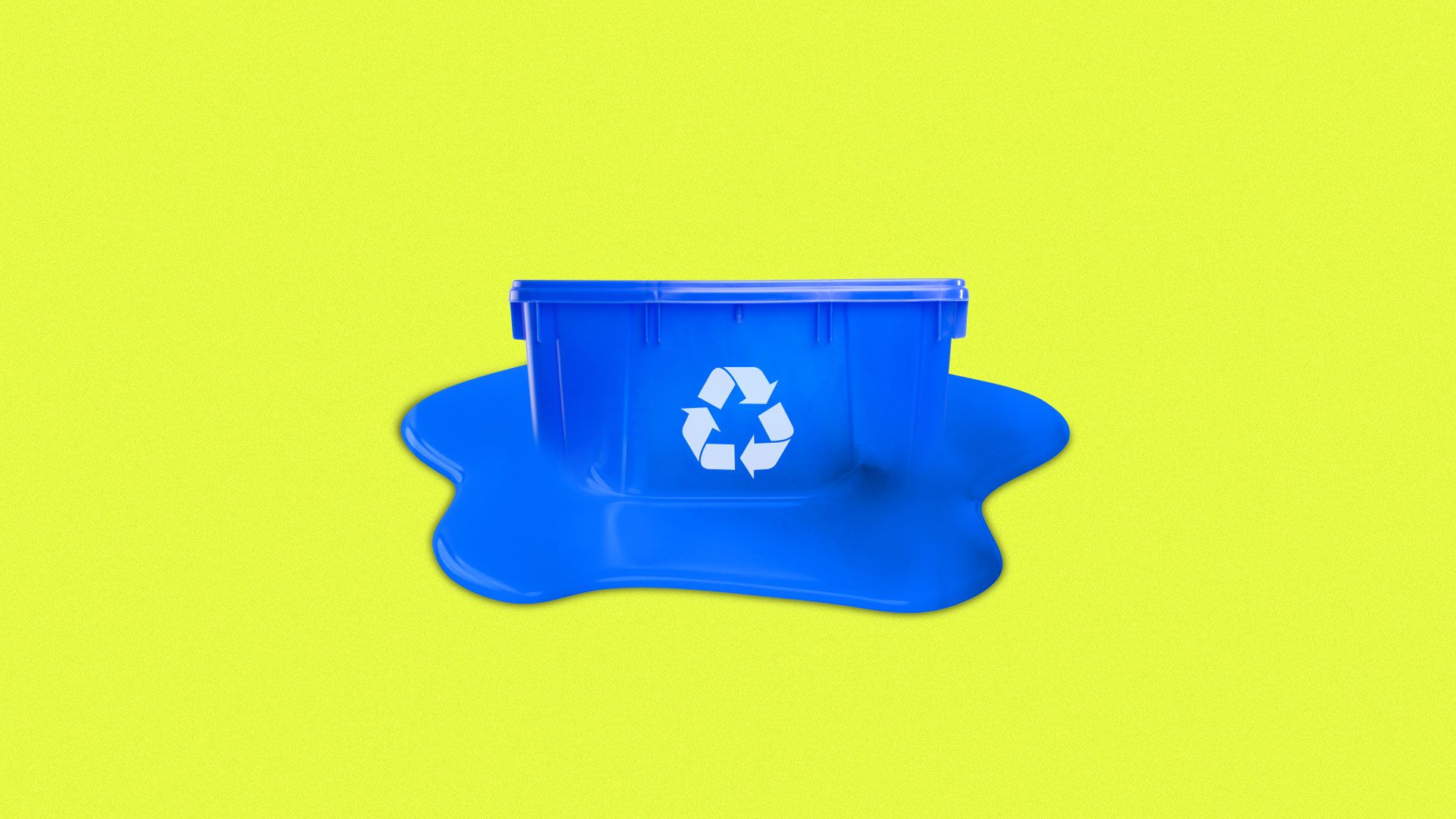 MANASSAS, Va. — The American recycling industry is in crisis — and cities are on the front lines, Axios' Kim Hart and I write.
The big picture: The economics undergirding the U.S. recycling system have fallen apart. Unable to absorb the extra cost, some cities are opting to kill recycling programs altogether — just as public concerns about climate change are ratcheting up.
China, the biggest buyer of U.S. recycled materials, has closed its doors. Before the ban, the U.S. was exporting around 70% of its waste to China.
Changing consumer behaviors have made the trash-sorting process more complex and expensive.
"The market for recycling has had a lot of shock," says Marian Chertow, a professor at Yale's School of Forestry & Environmental Studies. "Cities are thinking, 'Hm, is this really worth it?'"
How it works: A major recycling center in the Washington, D.C. suburbs used to turn a healthy profit from processing recycled materials from a 50-mile radius. Now it's having to pay vendors to truck material away and is re-negotiating decades-old contracts with cities at higher rates — and explaining to consumers why they suddenly have to pay for curbside pickup.
What we're seeing: Axios paid a visit to the center run by Republic Services in the heart of Prince William County. It operates up to 22 hours a day to process about 550 tons of thrown out paper, plastic, aluminum and glass delivered there daily.
Despite the heavy machinery and increased automation involved, the process is still extremely dependent on humans.
On each shift, 28 "sorters" sift through the material as it rolls down a series of fast-moving conveyer belts. The workers pull out non-recyclable trash from the stream so fast that they look like card dealers in a blackjack game.
Contamination is a huge problem. People throw surprising things — Christmas trees, old carpet, shoes, diapers and even cinder blocks — into their recycling bins.
Manassas is not alone. Several other cities are struggling to make recycling work.
About 60 cities, including Posen, Ill., and Thatcher, Ariz., have canceled their programs, according to Waste Dive.
Others have stopped accepting certain items. Alexandria, Va., and Katy, Texas, no longer collect glass. Baltimore County recently admitted it hasn't recycled the glass it's collected for the past 7 years. Hawaii County no longer accepts paper or plastic.
Some have seen massive increases in their costs. Omaha, Neb., received a bid for recycling services for $4 million, twice the city's budget. Milton, Mass., experienced a 36% increase in recycling costs.
What's needed: Cities have to renegotiate their contracts with recycling providers, many of which are 30 years old, to find a viable business model, said Richard Coupland, VP of Municipal Services for Republic Services.
That includes charging consumers for curbside pickup of recycled materials. Now that consumers are convinced of the environmental value of recycling programs, most are willing to pay for them.
And cities have to shift from collecting as much recycled material as possible to only the items that have a market. "If there's no one in your local area to buy and recycle glass, you spend more fuel and carbon trucking it somewhere that does — and the benefit to the planet falls apart," Coupland said.
What to watch: "There's a huge opportunity for innovation within recycling," Yale's Chertow says. Researchers are looking at developing robots that can more accurately and efficiently complete some of the tedious — and even dangerous — tasks within large facilities, such as sorting.
2. AI's energy controversy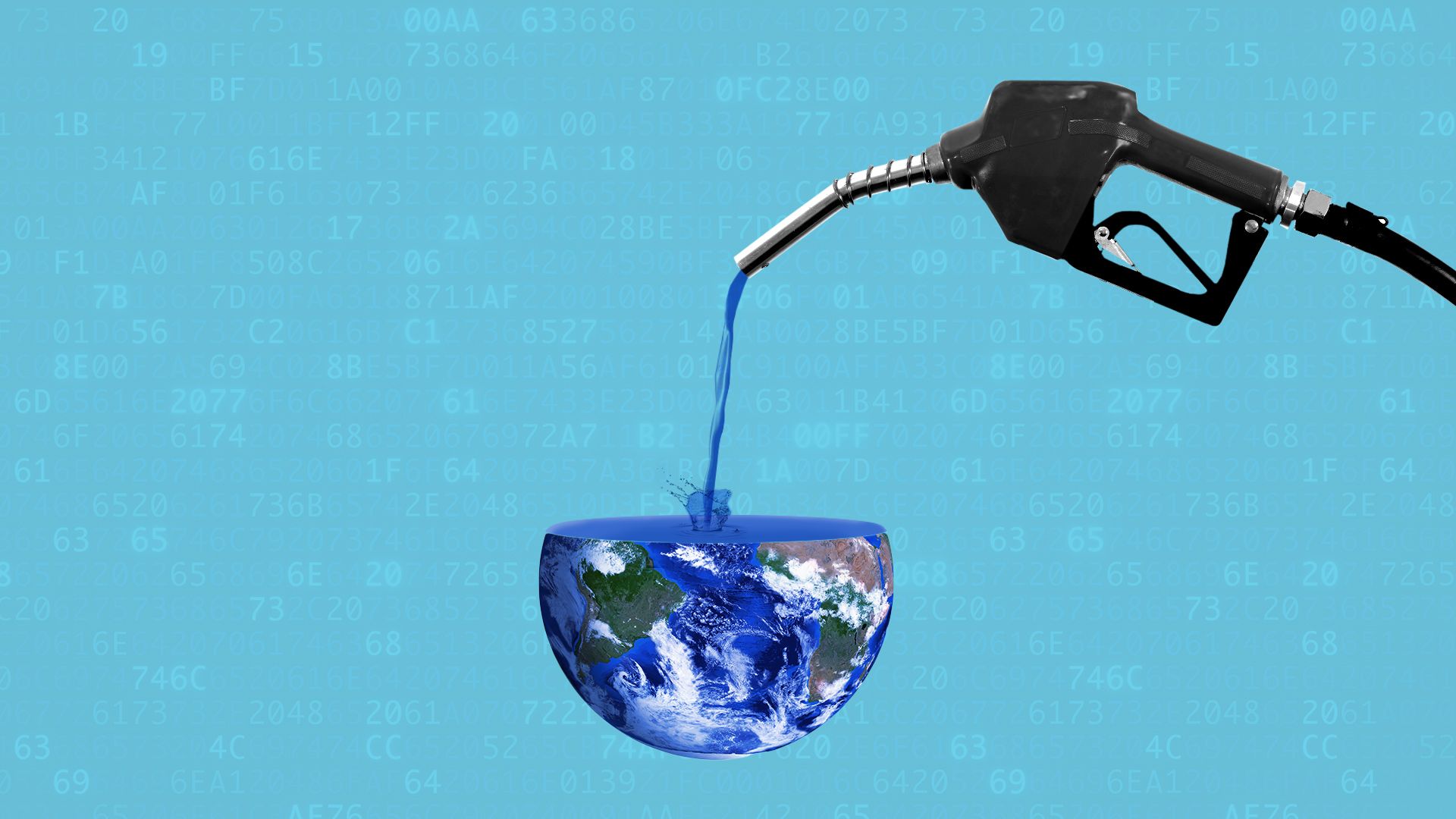 Big Tech is making a splash with its aggressive carbon reduction goals, but some of its employees and climate activists are criticizing Google, Microsoft and Amazon for nonetheless partnering with fossil fuel companies to use artificial intelligence to find hidden hydrocarbons and bring them to market, Axios' Orion Rummler writes.
Why it matters: Big oil companies are some of the richest, most resourceful enterprises in the world. They collect multiple terabytes of data daily but don't have the capacity to analyze and efficiently use that volume of facts without AI.
What to watch: Global spending on AI in oil, gas and renewable energy industries is expected to reach $7.79 billion by 2024, per BIS Research.
Some ways AI and cloud services are used for oil and gas:
Microsoft cloud computing software helps Chevron analyze drilling data from approximately 40 complex wells, including some in Kazakhstan and several in the deepwater Gulf of Mexico, Chevron spokesperson Jan Sieving told Axios.
Amazon provides its AI-enabled CloudWatch to GE Oil & Gas and heavily advertises its AWS machine learning as a tool to make oil drilling and production faster, reduce costs and analyze trillions of terabytes of data.
Google Cloud has helped Total quickly explore oil and gas fields through AI data analysis since April 2018, a Total spokesperson confirmed to Axios.
Some ways AI is used for renewable energy:
Microsoft Azure AI has been used to help energy providers in the U.K. avoid energy-balancing fees imposed by national energy authorities and analyze data for solar energy providers.
AWS' SageMaker helps a German-based energy company track customers' online behavior. It also supplies deep learning and predictive tech to New Zealand's largest electricity and gas distributor, a Nordic branch of World Fuel Services, a California energy and battery company, and the U.K.'s EDF Energy.
Google is still optimizing a DeepMind AI algorithm launched in 2016 to autonomously run its data centers' cooling systems. Their system was the first of its kind for industrial facilities and data centers, Google spokesperson Mara Harris told Axios.
3. Walmart fumbles in the battle for wealthy shoppers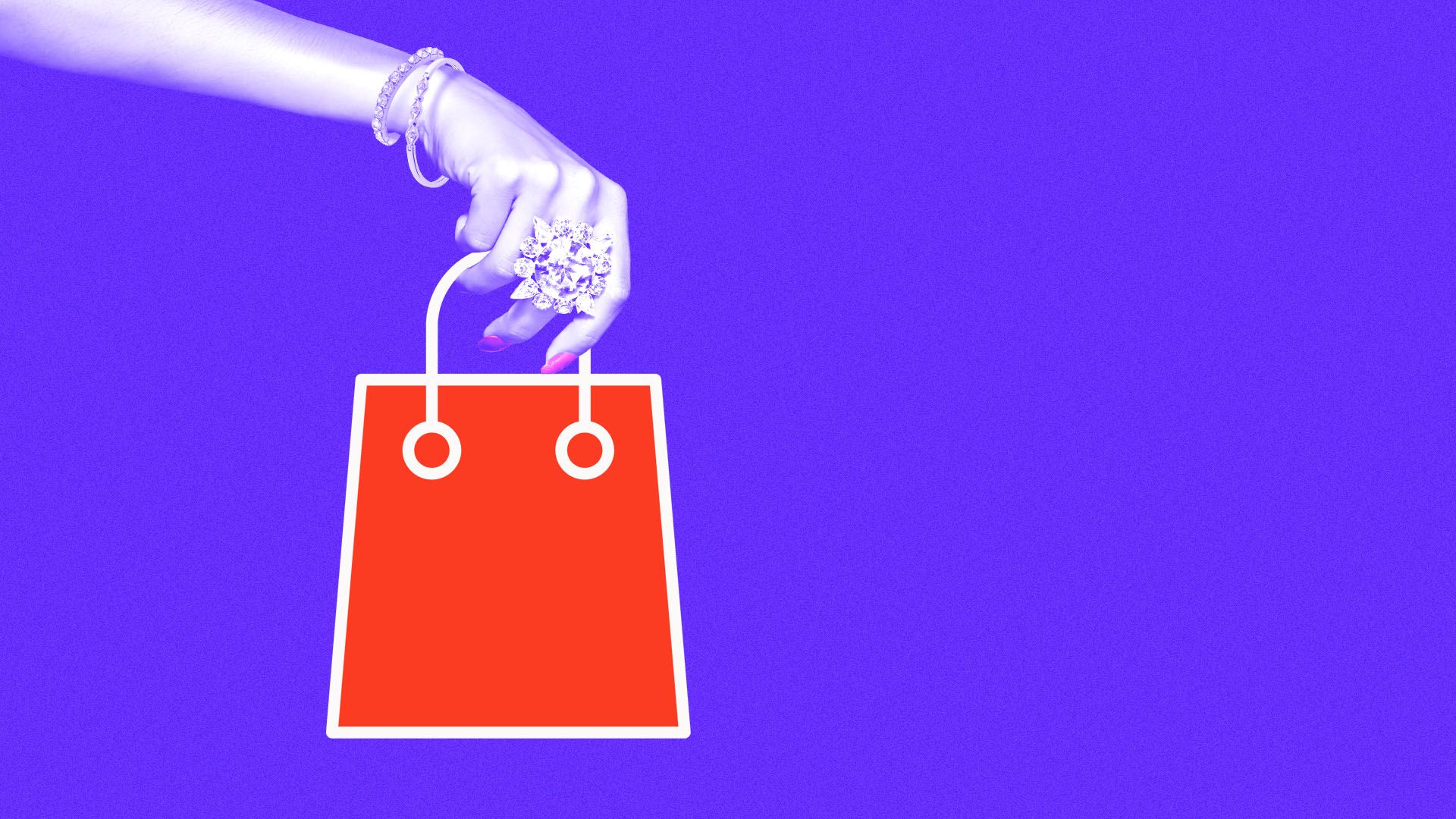 Walmart's expensive attempt to woo wealthy shoppers is ending in failure.
Driving the news: Jetblack, Walmart's personal shopping startup, is closing its doors, per WSJ. The service, which charged members $600 a year for a personal shopper whom they could text to get anything delivered — except fresh food — was costing the company thousands of dollars because it just never gained much popularity.
Jetblack was only available in New York City. Still, "in a city of 8+ million people, fewer than 1,000 were signed up for Jetblack as of last year," according to Retail Brew.
The big picture: Walmart and Amazon have long dominated two different cohorts of shoppers. While Walmart reigns over redder, more rural and lower-income America, Amazon commands the larger, liberal metros.
But recently, as each behemoth seeks to own the future of retail, they've been stepping on each other's toes.
Walmart's Jetblack was its signature attempt to crack the market of the very wealthiest American shoppers, many of whom are already Prime members. But Amazon's ubiquitousness in big cities and among wealthier consumers is difficult to crack.
4. Worthy of your time
Curbing immigration won't stop America's accelerating racial diversity (Stef Kight — Axios)
The ride-hail utopia that got stuck in traffic (Eliot Brown — WSJ)
Coronavirus is a data time bomb (Alexis Madrigal — The Atlantic)
America's first undergrad degree in weed (Jenni Avins — Quartz)
Sex, bots and audiotape (Zoe Schiffer — The Verge)
5. 1 dispatch from the Diamond Princess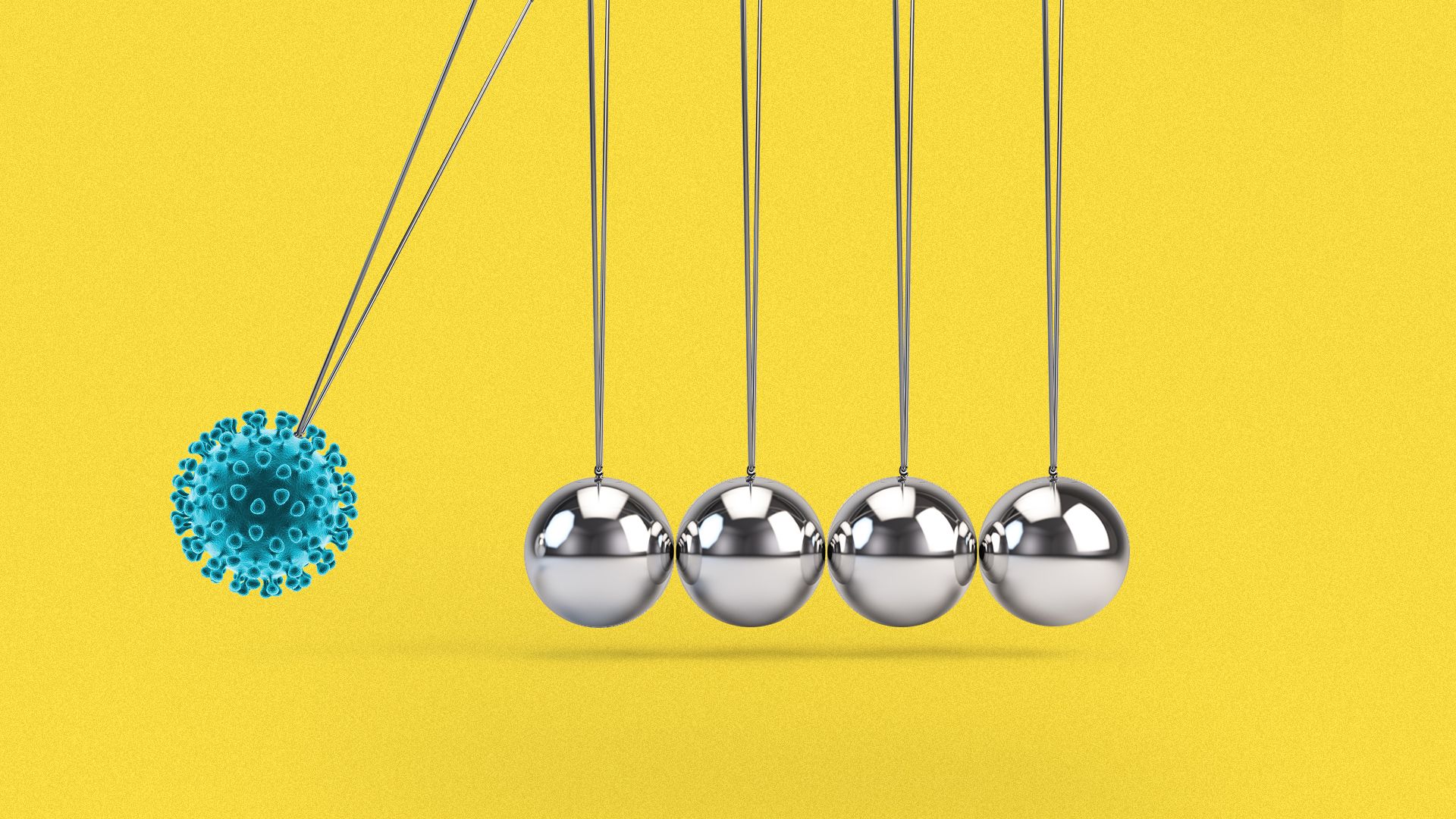 As I wrote earlier this week, a Future reader who's quarantined aboard the Diamond Princess cruise ship has been corresponding with me about his experiences onboard.
Both he and his wife are healthy, and they've now heard from the U.S. Embassy in Tokyo that they'll be evacuated — alongside the 150 or so other Americans on board — to Travis Air Force Base in California.
The bad news: Upon reaching the base, they begin a second, 14-day quarantine.
He writes...
"We are flying out tomorrow night via US federal chartered plane. ... If we don't take the flight, the US won't let us back into the country. ... It starts all over again."