September 09, 2020
Welcome to Axios Future, where today it's everything but blue skies.
Thanks to Alison Snyder and Jacob Knutson for filling in on Future while I was on vacation last week!
If you haven't subscribed, please do so here.
Send feedback and tips to

[email protected]

.
Today's Smart Brevity count: 1,760 words or about 7 minutes
1 big thing: No more pandemic blue skies
After months of cleaner air because of lockdowns, air pollution in many major cities has nearly returned to pre-pandemic levels — and in a few cases, exceeded it.
Why it matters: Smoggy skies are a major, if under-recognized, danger to human health and a substantial drag on the economy. If the lockdowns demonstrated what city life could be like with cleaner air, the fact that pollution has rebounded before the global economy has, underscores how difficult it is to stop.
By the numbers: Levels of nitrogen dioxide (NO2) — a key ingredient in smog — declined by an average of 27% in 12 major global cities 10 days after lockdowns were initiated, compared to the same period during 2017–2019, according to the Centre for Research on Energy and Clean Air (CREA), an environmental think tank.
Levels of particulate matter less than 2.5 micrometers wide (PM2.5) — which is directly harmful to health — fell by an average of about 5%.
Air pollution isn't just about what we see. Its real impact is felt in human health, from cardiovascular disease to neurological development to more severe cases of COVID-19.
Air pollution is estimated to contribute to at least 5 million premature deaths around the world each year.
CREA estimates that the temporarily improved air quality during lockdowns in 12 major cities saved about 15,000 lives.
But, but, but: Even during the tightest periods of the lockdown, when city streets were essentially emptied of passenger cars, air pollution didn't fall as much as scientists expected — a sign of just how difficult it is to keep the skies clear.
In some U.S. cities, levels of ozone — another key ingredient in smog — barely decreased compared to a five-year average, despite traffic reductions of more than 40%, according to an NPR analysis from May.
The big picture: Environmentalists are increasingly arguing that climate action would more than pay for itself through the additional health and economic benefits of reduced air pollution, as David Roberts wrote last month for Vox.
The global economic burden caused by outdoor and indoor air pollution was estimated to be $2.9 trillion in 2018, or 3.3% of global GDP.
Drew Shindell, an earth scientist at Duke University, testified before Congress last month that reducing U.S. greenhouse gas emissions enough to keep global temperatures from rising above 2°C would prevent 4.5 million premature deaths over the next 50 years.
My thought bubble: Given the economic sacrifices we've made — more or less willingly — to reduce COVID-19 deaths, it would seem to make even more sense to act aggressively to reduce air pollution.
But as the name indicates, the novel coronavirus is new, so its effects show up clearly. Air pollution has been an urban threat for more than a century, so we've learned to live with it — even as millions of people die from it.
What to watch: Whether stimulus spending in response to the pandemic favors cleaner energy sources.
Early data from China shows that air pollution in many areas is overshooting pre-pandemic levels, indicating what experts call a "dirty recovery."
As my Axios colleague Amy Harder reported, the U.S. has allocated just 1.1% of its pandemic stimulus money to clean energy — even less than China — while the EU is allocating more than 20%.
The bottom line: The average person takes at least 17,280 breaths per day, providing plenty of opportunities for air pollution to do its damage — and the pandemic air holiday is just about over.
2. Concerns about "armed insurgency" in the U.S.
Growing waves of street violence between armed groups — combined with evidence of record gun sales — has some experts worried the U.S. could be facing an "incipient insurgency."
Why it matters: Despite its high murder rate compared to other rich countries, organized political violence has been rare in the U.S. in recent decades. But growing clashes in the streets, combined with an election that may remain uncertain for weeks, forecasts a turbulent fall — and beyond.
What's happening: A report published last week by the Armed Conflict Location & Event Data Project found that 20 violent groups on both the left and the right have taken part in more than 100 protests related to the George Floyd killing, as Fred Kaplan noted in a smart piece in Slate.
Counterdemonstrations led by right-wing militant groups rose from 17 in June to 160 in July, with 18 featuring violence.
At the same time, FBI background checks for gun sales hit an all-time high of 3.9 million in June, eclipsing a record set way back in ... March, the month pandemic lockdowns kicked in.
The ubiquity of guns — there were nearly 400 million firearms in the U.S. as of 2018 — acts as an accelerant to violence of all kinds, including the politically motivated.
What they're saying: Insurgency expert David Kilcullen wrote in a June report that the U.S. is in a state of "incipient insurgency," where "inchoate action by a range of groups" leads to increasingly frequent violence — and violence that is increasingly organized.
Yes, but: Viral videos aside, the streets of major U.S. cities are generally peaceful, and murder rates — while up from last year — are still well down from earlier eras.
"The upcoming election — how it plays out, as well as how it ends up — could determine how deeply into crisis the country continues to plunge."
— Fred Kaplan
Go deeper: American society is teetering on the edge
3. Better ways to use — and measure — AI in medicine
A group of newly published studies outlines how AI can be used to improve care in hospitals and enhance clinical trials.
Why it matters: Patients stand to benefit hugely from the use of AI in medicine, but only if there is solid evidence the interventions work — and it can be done without introducing errors or compromising privacy.
What's happening: In a paper published today in Nature, researchers from Stanford University reviewed the field of "ambient intelligence" — the use of hospitals and homes that employ sensors and AI to improve patient care.
They note that as many as 400,000 Americans die each year because of medical errors, many of which could be prevented with smart sensors that alert doctors and caregivers when things are going wrong — or when they're making mistakes.
As infrared sensors get cheaper and more ubiquitous, they can be used for everything from detecting whether visitors have washed their hands upon entering a hospital room to alerting doctors when patients are writhing beneath bedsheets.
Yes, but: One challenge in determining the effectiveness of AI in medicine has been the quality of the research itself.
A paper published last year found less than 1% of 20,500 studies of AI in health care were good enough for independent readers to have confidence in their conclusions.
Now in a pair of studies published today, researchers laid out the first international standards for the reporting of clinical trials for AI.
The rules specifically call on researchers to indicate how AI studies handle poor-quality or unavailable data, as well as how involved humans are in supposedly AI solutions.
The bottom line: We need to know AI can work in medicine before we put it to work.
4. Where the kids aren't all right
Adolescents are reporting low levels of mental well-being in a number of countries — including rich ones like the U.S., according to new research.
Why it matters: That it's a cliche doesn't make it any less true: Children really are our future. And the countries that best prepare the next generation will have a leg up in that future.
What's happening: The latest UNICEF Innocenti Report Card measures 41 countries on the mental well-being, physical health, and academic and social skills of their children.
Not surprisingly, rich northern European countries with generous social systems like the Netherlands, Denmark and Norway dominated the rankings, while the U.S. came 36th in the overall rankings.
Yes, but: On the question of life satisfaction, the rankings were a little different.
90% of 15-year-olds in the Netherlands reported high life satisfaction, but it was followed by poorer countries like Mexico and Romania.
The U.S. didn't fare much better on teen happiness, however, coming in sixth from the bottom.
The survey was taken before the COVID-19 pandemic, which has exacted a major psychological toll on children, even if they've been mostly spared its physical effects.
The future may be bleaker — new research from the OECD projects learning loss from pandemic school closures could reduce GDP growth by 1.5% on average over the remainder of the century.
5. Worthy of your time
Why every year — but especially 2020 — feels like the worst year ever (Rebecca Renner — National Geographic)
Historically speaking, at least, 2020 is not totally the worst. But the sheer deluge of social media makes it seem that way.
Digital banking, now halal (Andrew Deck and Sri Kusmiati — Rest of World)
Fintech startups in Indonesia have to present themselves before the Muslim-majority country's Ulema Council to ensure their apps adhere to religious codes.
Working from "anywhere" is possible — but not sustainable (Hyejin Youn — Fast Company)
Even in the age of COVID-19, research indicates startups will be more successful if they base themselves in the biggest possible cities.
Targeted (Kathleen McGrory and Neil Bedi — Tampa Bay Times)
A terrifying investigation about how a Florida sheriff created and abused an AI program that purported to predict crime but was really used to harass citizens.
6. 1 sci-fi thing: "Blade Runner 2049" in 2020
Rapidly spreading wildfires on the West Coast killed the sunrise and created an eerie orange sky across parts of Northern California today — a scene out of the dystopian sci-fi film "Blade Runner 2049."
Why it matters: Pretty much this:

What's happening: Large parts of California have been burning for weeks, as wildfires have consumed 2.3 million acres — 20 times the area that burned all of last year.
The haze is so intense and the smoke has risen so high that sunlight was almost completely blocked from reaching the ground in some parts of the state.
All of which looks like this: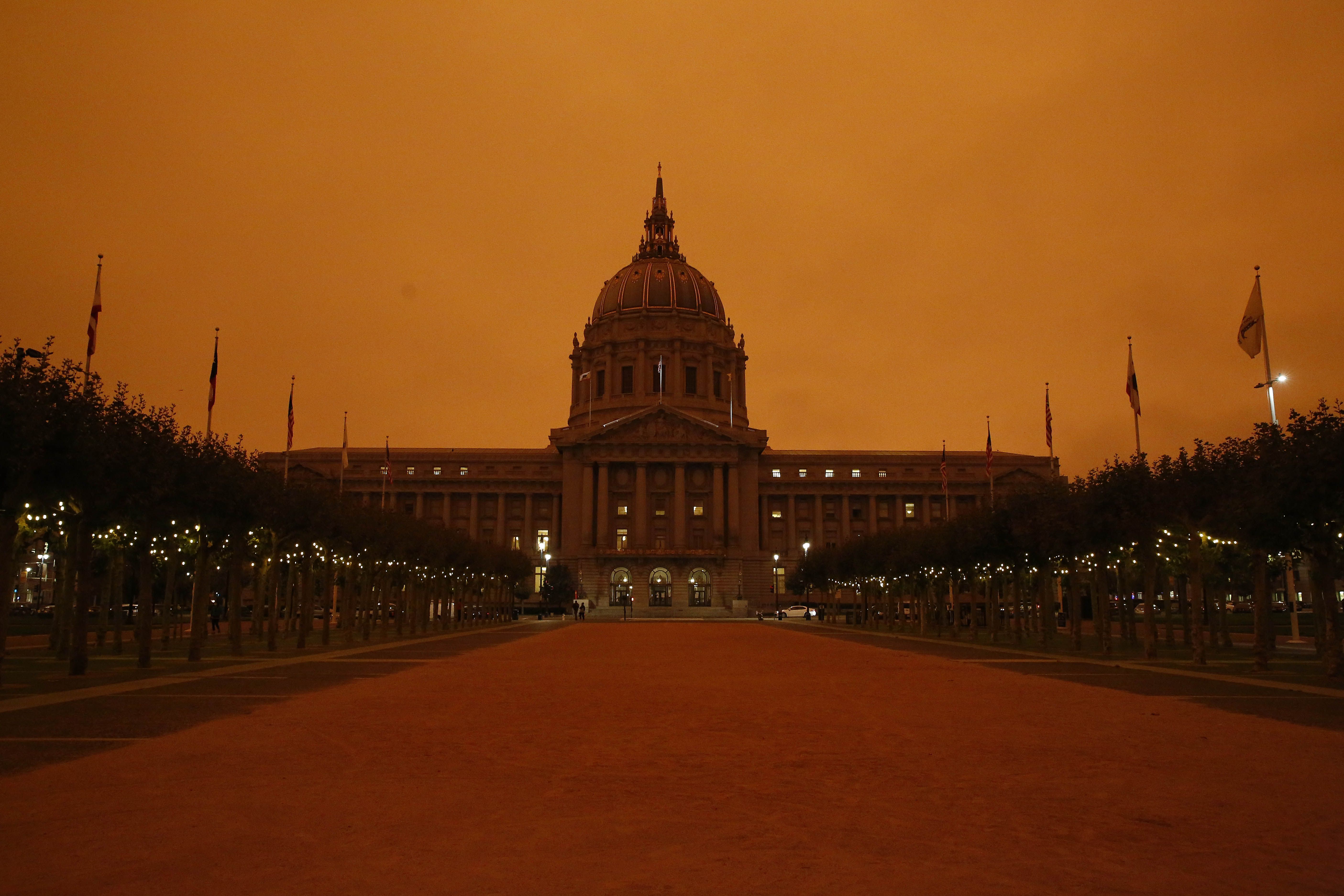 This backdrop may look familiar to fans of sci-fi and/or Ryan Gosling in leather jackets, as it's essentially the color scheme of "Blade Runner 2049," the sequel to the classic sci-fi film about rogue androids and the maybe-androids who hunt them.
It cost "Blade Runner 2049" director Denis Villeneuve over $150 million to make post-apocalyptic LA look quite this orange, but today all we needed were out-of-control wildfires and punishing climate change.
The movie was a commercial flop, but no need to worry — Villeneuve is back with a similar color scheme in the forthcoming "Dune."
The bottom line: Movie quotations aside, what's happening in the West is nothing short of horrific. It's never a good sign when the present day arrives in an apocalyptic future, 29 years ahead of schedule.