Axios Crypto
January 30, 2023
GM!
♊️ Any former Gemini employees out there? We would very much like to talk. We don't need to use your name if you don't want: [email protected].
Today's newsletter is 1,284 words, a 5-minute read.
1 big thing: White House, dim view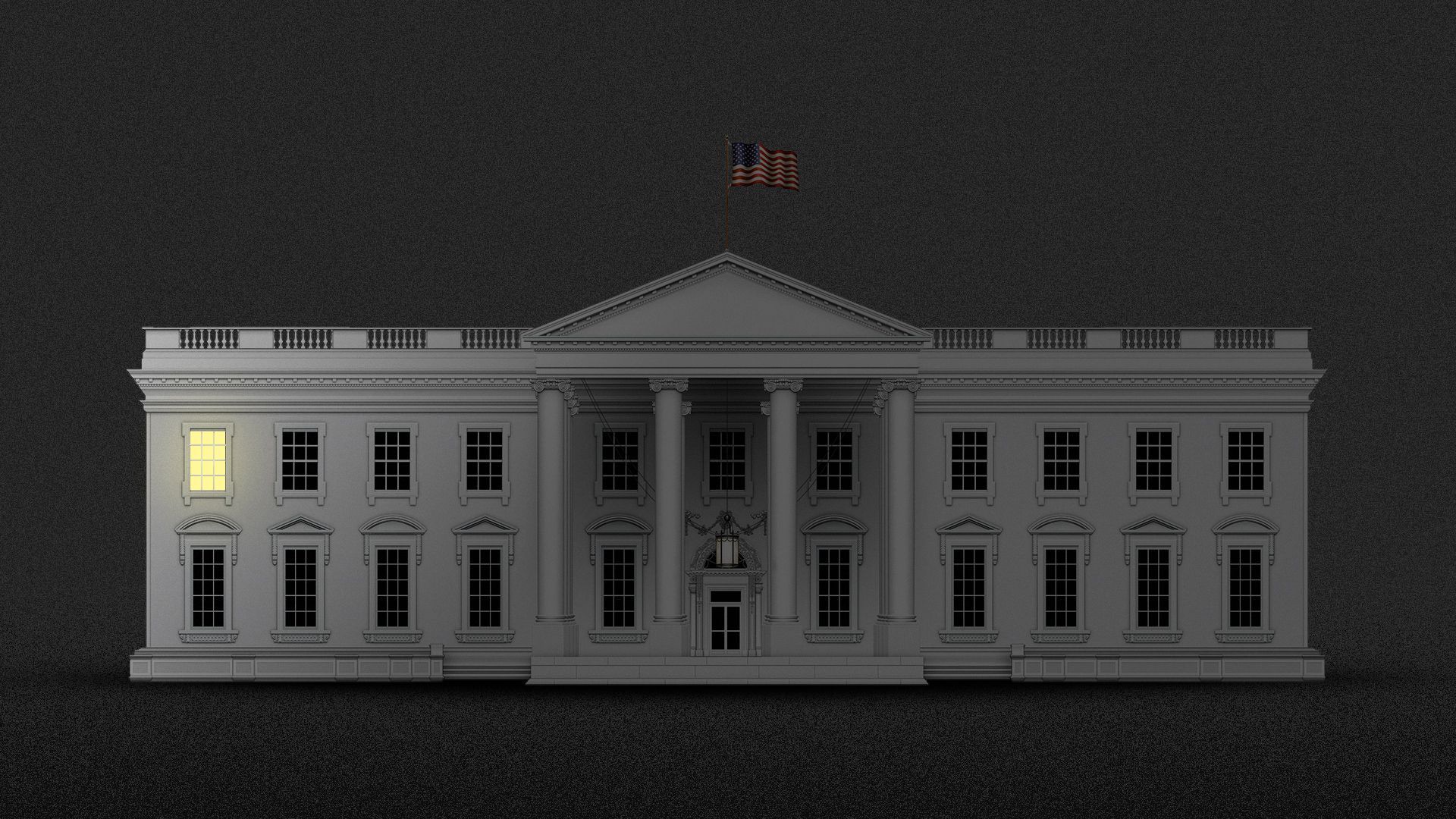 The vibes out of the White House and the agencies its appointees lead were bleak Friday, at least for anyone trying to run a cryptocurrency business.
Quick take: The words were neutral-sounding bureaucratese; the subtext was full-on hostility, Brady writes.
Why it matters: If a full crackdown on the business begins in Washington, insiders shouldn't look for prices to start going up and to the right again any time soon.
Blockchain investors folded quickly in 2018 when the U.S. Securities and Exchange Commission (SEC) sent out some hostile letters. That was one agency, and they were only letters.
Recap: A lot happened on Friday.
First of all, as Crystal reported, Wyoming's Custodia Bank got a firm denial to join the Federal Reserve System.
As if that didn't make the point clearly enough, the Fed also put out a policy statement on banks engaging in crypto activity.
Tl;dr: It basically says banks have to ask permission to do anything in the space, and a "yes" in such cases sounds about as likely as a Bitcoin ETF.
Key quote: "The proposed policy statement also would reiterate to SMBs [State Member Banks] that legal permissibility is a necessary, but not sufficient, condition to establish that an SMB may engage in a particular activity," the Board of Governors asserted.
Even if a business line looks legal, still: Ask for permission.
The big picture: But the real show was at the White House, which put out a big picture statement on cryptocurrency signed by four staffers, from its economic, technology and security teams.
It included the standardly tepid line: "The Administration wholeheartedly supports responsible technological innovations."
But the really telling line was this one: "While congressional action in these areas would be welcome, Congress could also make our jobs harder and worsen risks to investors and to the financial system."
Flashback: On Jan. 3, the Fed, the FDIC and the Office of the Comptroller of the Currency all put out a letter warning banks about the cryptocurrency business.
The statement said that "banking organizations are neither prohibited nor discouraged from providing banking services," but it's a fair bet that they were discouraged anyway.
The intrigue: SEC chair Gary Gensler also made the decidedly strange move of posting excerpts from a conversation about crypto that included the U.S. Army on Friday.
The bottom line: Last March, the Biden administration put out a call for its agencies to study the topic of cryptocurrency. Friday's events suggest that it's done studying, and it's come to a conclusion.
🇬🇧 2. Help wanted: U.K. CBDC chief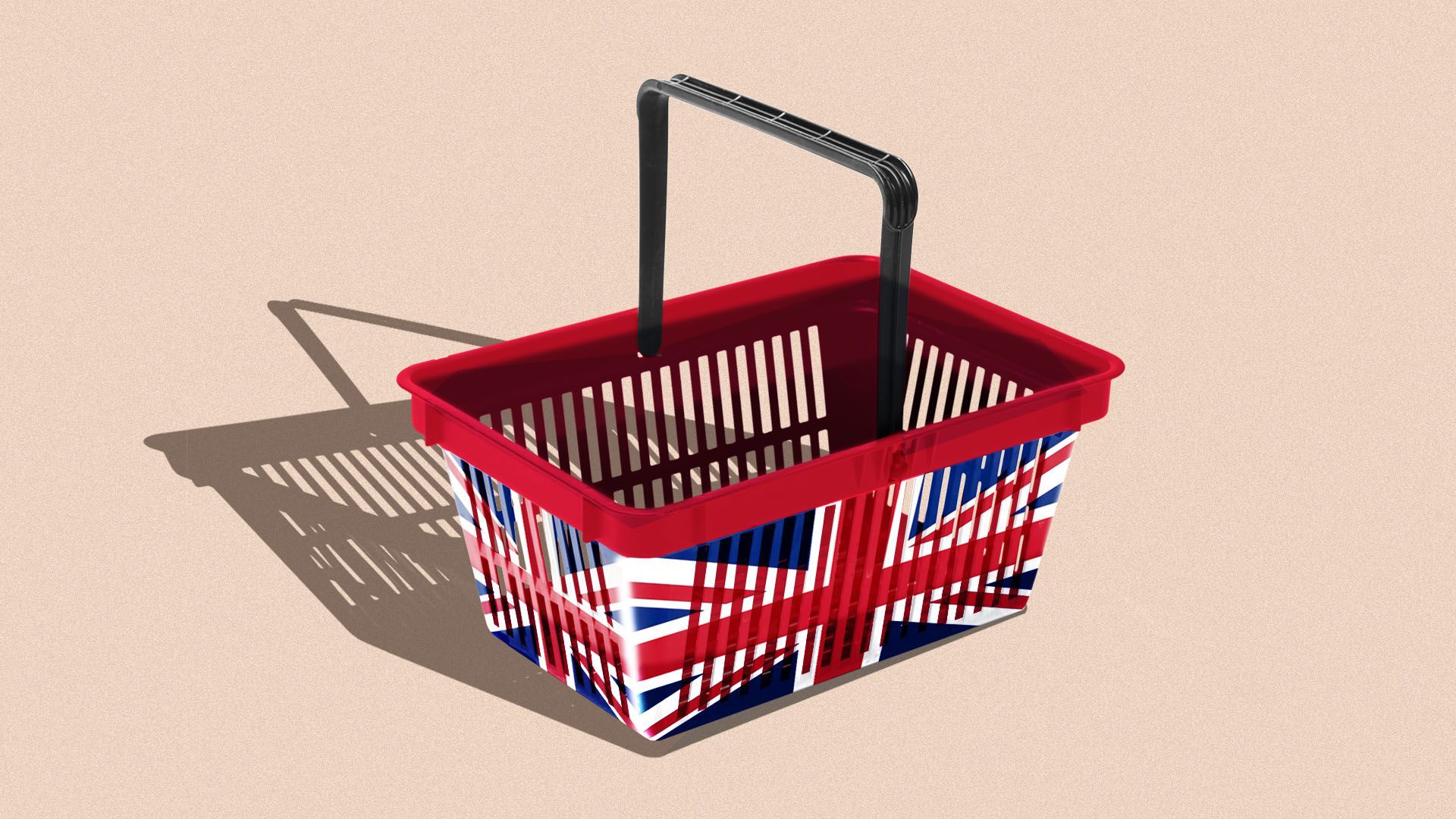 The U.K. treasury has a job opening for a head of central bank digital currencies, Brady writes.
What they're saying: "Today, the Bank of England issues only physical bank notes. A digital pound would be a new form of digital money for use by households and businesses issued directly by the Bank of England," the notice says.
"Treasury and the Bank of England are working together through the CBDC Taskforce to explore the case for a digital pound."
Context: CBDCs are government money issued a digital way. They are just as real as paper money. That doesn't mean they have to necessarily be on a blockchain.
Quick take: Check out the description of the hiring process. Apply by Feb. 7.
3. Gemini's FDIC name-checking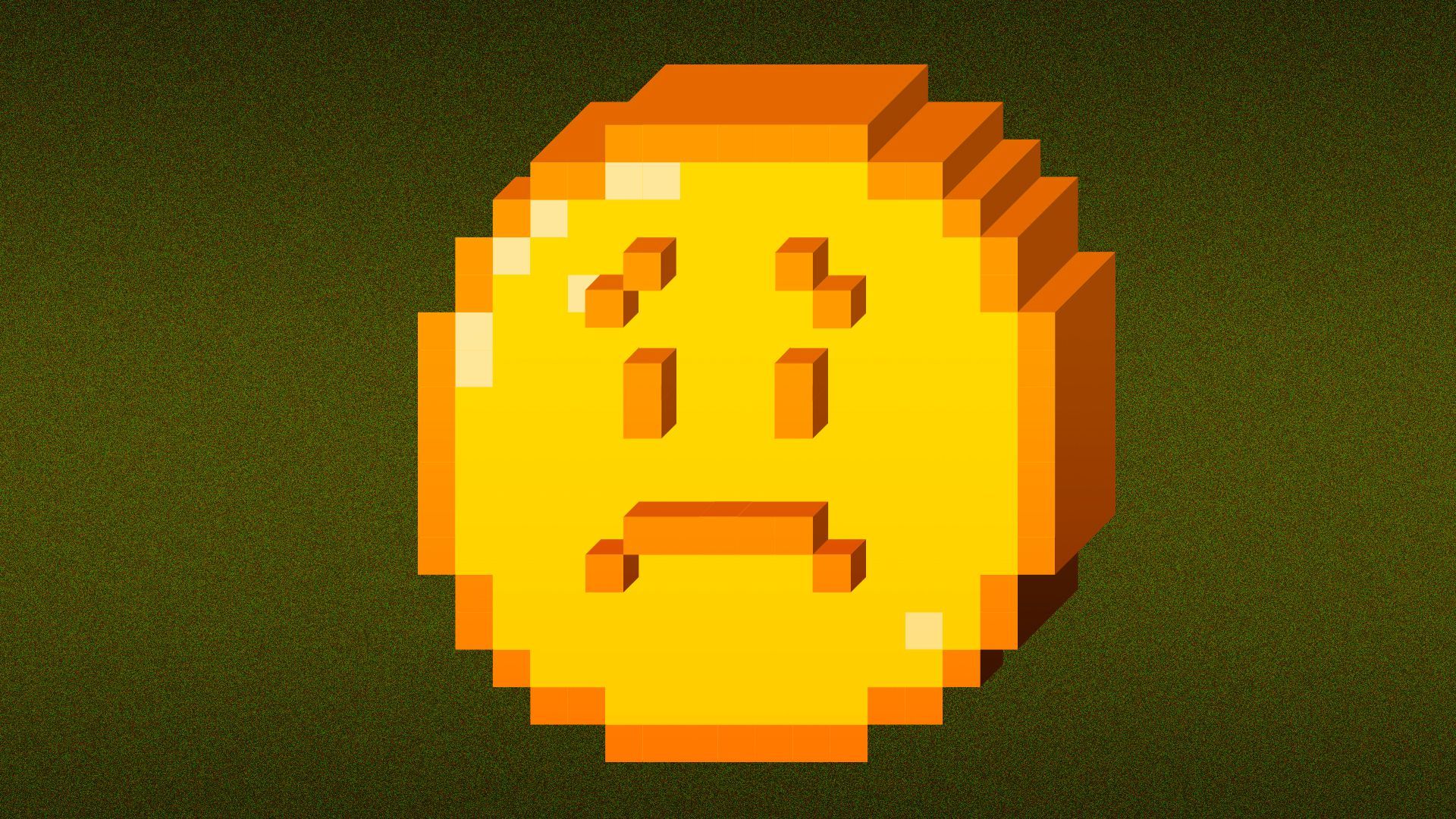 As the cryptocurrency market imploded last year, Gemini Earn customers repeatedly asked the company if their assets were safe. Some of Gemini's responses, reviewed by Axios, emphasized connections to the Federal Deposit Insurance Corporation.
Why it matters: Customers say that led them to believe their accounts were insured by the government agency. They weren't, Axios' Emily Peck and Matt Phillips write.
The backstory: Gemini's Earn product resembled a savings account. Investors put in funds — either their own cryptocurrency or they paid dollars for Gemini's stablecoin, GUSD — and were told they'd make as much as 8% APY.
Gemini didn't say explicitly that its Earn program, or GUSD, is directly FDIC insured. Instead, on its website in a section called "FDIC Insurance," Gemini says that GUSD is at least in part backed by dollars that may be held in FDIC "eligible" accounts.
Gemini used similar language in a July 24, 2022, email to Earn investor Manohar Venkataraman, an IT consultant in New York. Venkataraman had asked about the safety of his GUSD. "I've seen references to FDIC insured," he wrote.
The reply he received two days later appears to be a standard response by Gemini customer service: "All fiat currency held by Gemini to redeem your GUSD is held by our partner financial institutions in a secure account and is eligible for FDIC insurance."
At the time, Venkataraman was reassured. "It seemed like they were saying they'd make good on all the money." But now? "It's pretty obviously misleading," said Venkataraman, who has about $40,000 worth of frozen GUSD with Gemini Earn. "I thought they were as good as dollars."
Another customer service email in response to a 24-year-old Gemini Earn investor who was worried about his GUSD reads: "GUSD reserves are held by Gemini in accounts at U.S. FDIC-insured bank accounts and money market funds holding short-term treasury bonds."
"The cash portion of these GUSD reserves may be eligible for FDIC 'pass-through' insurance for Gemini customers, in the event of the failure of a bank holding the U.S. dollar deposit portion of the GUSD reserves."
"So responding to your question, the risk of holding GUSD is minimum, and in the unlikely event of any trouble/issue, your funds remain secure" [emphasis ours].
The investor works in investment banking and asked for anonymity because he's embarrassed to have fallen for this. He says the emails "reassured" him at the time.
Ian McCray, a truck driver in Syracuse, New York, with about $17,000 of savings in Gemini Earn, said he thought Gemini Earn was FDIC-insured when he started investing in November 2021. He saw the term all over Gemini's website, he said, and "it made it seem like it was safe, literally."
The big picture: Federal law prohibits anyone from "implying that an uninsured product is FDIC–insured or from knowingly misrepresenting the extent and manner of deposit insurance."
For the record: In response to an Axios inquiry, Gemini declined to comment.
Of note: Gemini is primarily a cryptocurrency exchange. Earn was an add-on service it created for customers' idle assets.
Be smart: Current and former FDIC officials say the inclusion of the word "knowingly" in a provision of the law that makes it illegal to misrepresent the existence of deposit insurance makes enforcement difficult.
Top coins
🧚‍♀️ 4. Catch up quick
📵 Federal prosecutors asked the FTX judge to stop founder Sam Bankman-Fried from contacting current and former employees. (CoinDesk)
⚽️ French NFT platform Sorare inked a four-year licensing agreement with the Premier League. (TechCrunch)
🫥 Ruja Ignatova, aka "Cryptoqueen," who is charged with fraud and is on the FBI's most wanted list, appears to have resurfaced. (Decrypt)
🤼‍♀️ Inside Binance and India's crypto exchange WazirX's dispute. (CoinDesk)
📰 5. Culture hash: Unforeseen consequences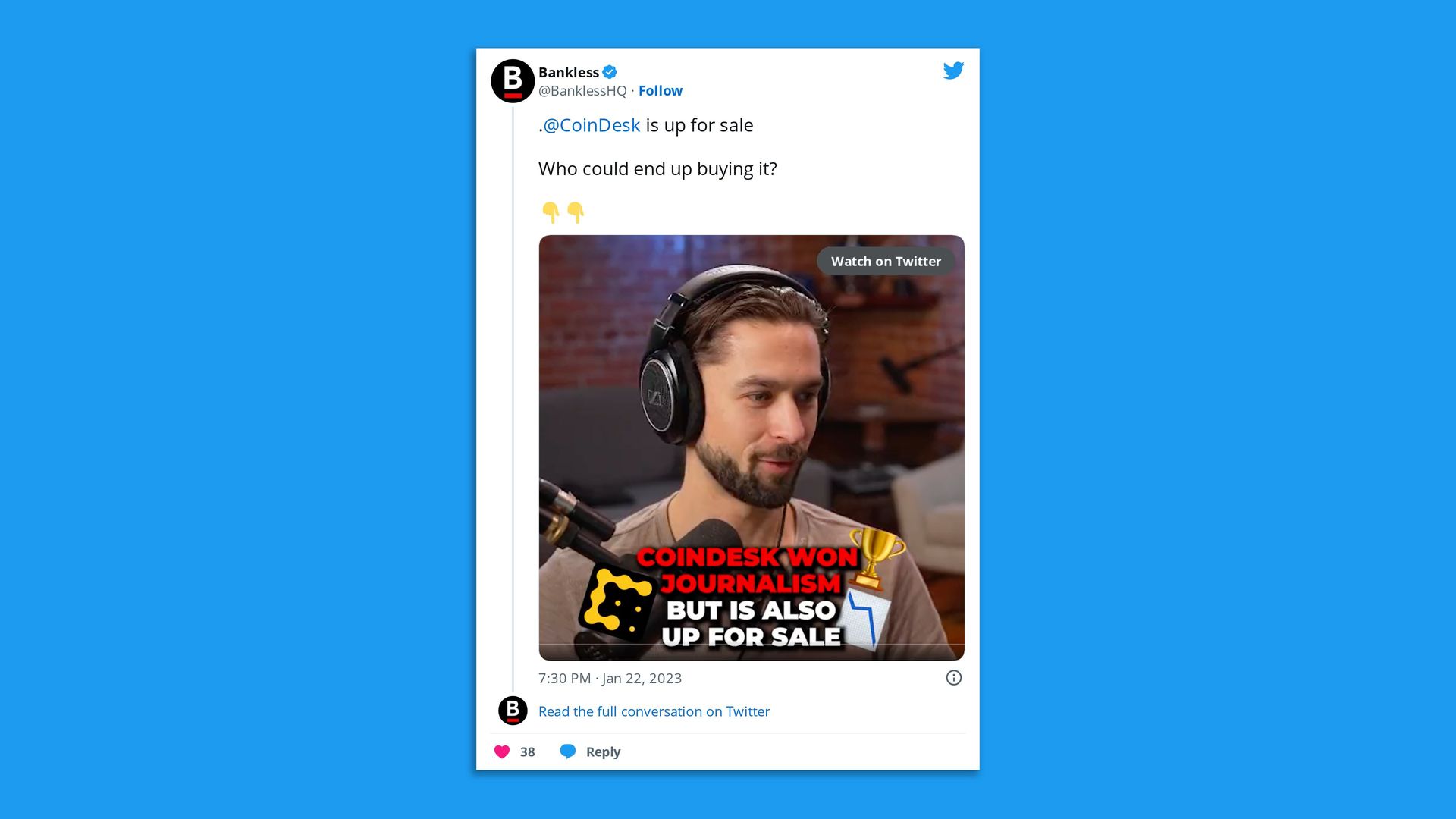 The top crypto news website, CoinDesk, is for sale, according to the Wall Street Journal.
As the Bankless guys point out in the high-energy video attached to the above tweet, the genesis of this news was a Nov. 2 CoinDesk article.
It started dominoes falling until its own corporate parent, the Digital Currency Group (DCG), started to look short on cash, Brady writes.
We have covered that shakiness a lot in this newsletter, but not so much the knock-on effects on other parts of the company, such as its subsidiary CoinDesk (my employer for 3.5 years).
Flashback: This is not CoinDesk's first crisis. It began publication under founder Shakil Khan in 2013, but it nearly went under in 2016, before DCG saved it.
That bet has paid off handsomely.
This newsletter was edited by Pete Gannon and copy edited by Carolyn DiPaolo.
Bitcoin is over $23,000 but who knows how long the rally will last? —C & B