January 20, 2023
🤸 Hey there, Friday. Try a dynamic hamstring stretch. You'll be glad you did.
🌤 Today's weather: Mostly sunny with a high near 55. Watch out for a gust or two of wind.
Situational awareness: The Georgia Bureau of Investigation identified the protester killed Wednesday near the future site of Atlanta's controversial public safety training complex: 26-year-old Manuel Esteban Paez Teran.
Today's newsletter is 942 words — a 3.5-minute read.
1 big thing: Morris Brown's comeback
Morris Brown College — known as the only college in Georgia created solely by African Americans — has quietly been pursuing a renaissance after years on the brink of closure.
Driving the news: After losing its accreditation for financial mismanagement, bankruptcy and even having the water cut off, the Vine City-based historically Black college received its largest grant in decades this week: nearly $3 million from the federal government.
Why it matters: Morris Brown is the only Black college to come back from losing its accreditation, the school's president Kevin James told Axios.
When he started in 2019 the school had 20 students. They're hoping to have more than 400 this fall.
What they're saying: "No one thought that this was possible," James told reporters at a press conference announcing the grant. "The fact that we're here today, even just open, is a miracle in itself."
Between the lines: Sen. Jon Ossoff (D-Ga.) said he made a campaign promise to support the college's resurgence.
Ossoff has already pushed for the restoration of eligibility for student veterans to attend the school and crucially, for students to qualify again for federal financial aid.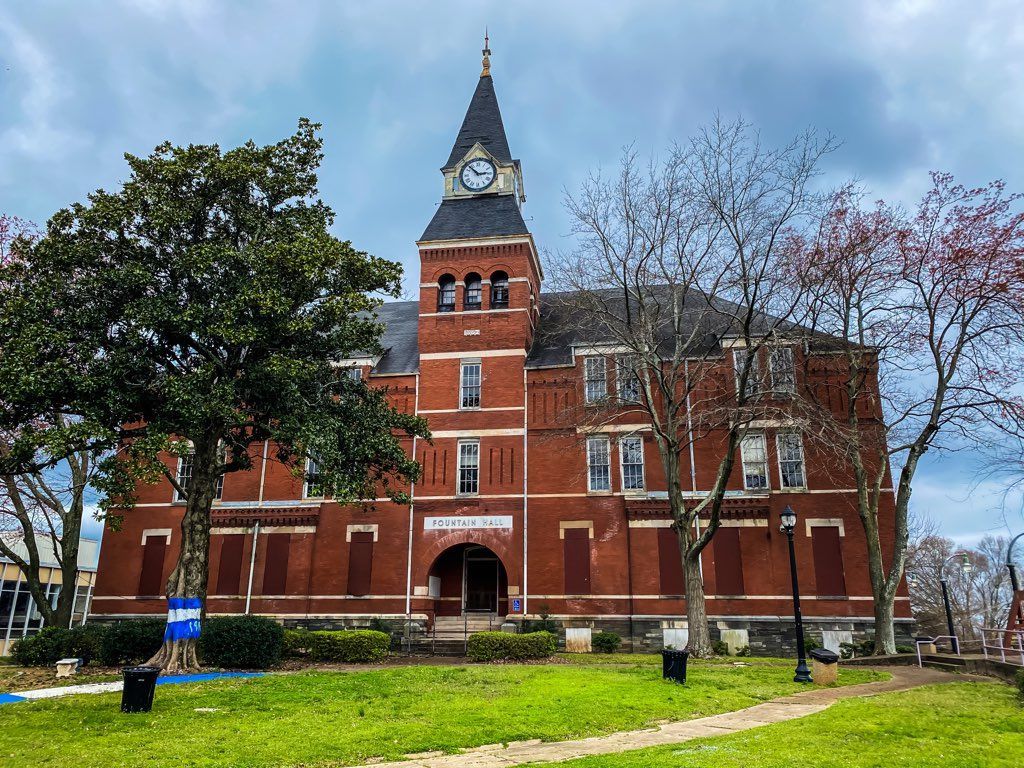 Catch up quick: Morris Brown was founded in 1881 by formerly enslaved leaders in the African Methodist Episcopal Church. Its list of alumni include the late Rev. Hosea Williams and Alberta Williams King, the mother of Martin Luther King Jr. W.E.B. Du Bois was on the faculty.
Zoom in: James said the school is making unique academic investments. Through a partnership with Hilton and an investment group the school is building a hotel and hospitality management training complex on campus — the first hospitality major at an HBCU in Georgia.
The college is also the only school in Georgia with a degree in esports performance, he said.
What we're watching: About half a million of the federal funds will go towards restoration of the school's iconic Fountain Hall, which is a National Historic Landmark. Additional fundraising remains underway.
2. 🚗 Atlanta traffic's costing us time and money
Metro Atlanta drivers spent more than three days sitting in traffic last year.
Driving the news: For the second year in a row, the metro ranked 10th in the country for traffic congestion, according to the 2022 INRIX Global Traffic Scorecard report released this month.
Globally, Atlanta ranked 28th.
Details: Drivers on average lost 74 hours due to congestion in metro Atlanta last year — still down 10% compared to pre-pandemic figures, but up slightly from 2021.
Why it matters: Bottlenecks cost drivers about $1,257 in lost time.
Metrowide, the gridlock added up to more than $3 billion in lost time.
What they're saying: "I hate to say traffic congestion is welcome," Bob Pishue, a transportation analyst at INRIX, told the Washington Post. "But it does signify a little bit that 'return to normal' that most of us were used to."
3. Why you should visit Warm Springs
👋🏼 Emma here. After five years in Atlanta, this World War II-era history major finally made the pilgrimage to Warm Springs — a place about 75 minutes south of Downtown that's closely tied to former President Franklin Delano Roosevelt.
Why it matters: Warm Springs was more than just a place with mineral springs that helped FDR's polio. It was also where Roosevelt (a child of wealth from Hyde Park, New York) was first exposed to rural Southern poverty on his drives around the area.
That exposure, historians say, helped inspire his landmark New Deal programs.
Zoom in: I was fascinated to learn that it was the water's warmth and buoyancy from its high mineral content that allowed FDR and other polio victims relief. He said in 1924, the year he first visited, that the swims had allowed him to move his right leg for the first time in years.
What to do: Warm Springs is a very doable day trip from Atlanta. You can easily spend a few hours at Roosevelt's Little White House and learn a lot in the museum about our nation's longest-serving president.
Yes, and: Downtown Warm Springs is well worth a visit on your way in or out. There are some charming shops to explore, and I personally loved Lightnin' Bugs Cafe & Bakery.
What we're watching: Sadly, the historic Warm Springs pools are closed and in disrepair. But a fundraising campaign and full restoration to re-open them are in the works.
4. 🧧 ATL events: Lunar New Year, Braves Fest
The weekend is short, so don't waste it by sitting around at home. Get outside and check out these events.
5. Five-ish Points: Cobb County brawl