Axios AM
May 25, 2017
1 big thing: Trump's "street fighters"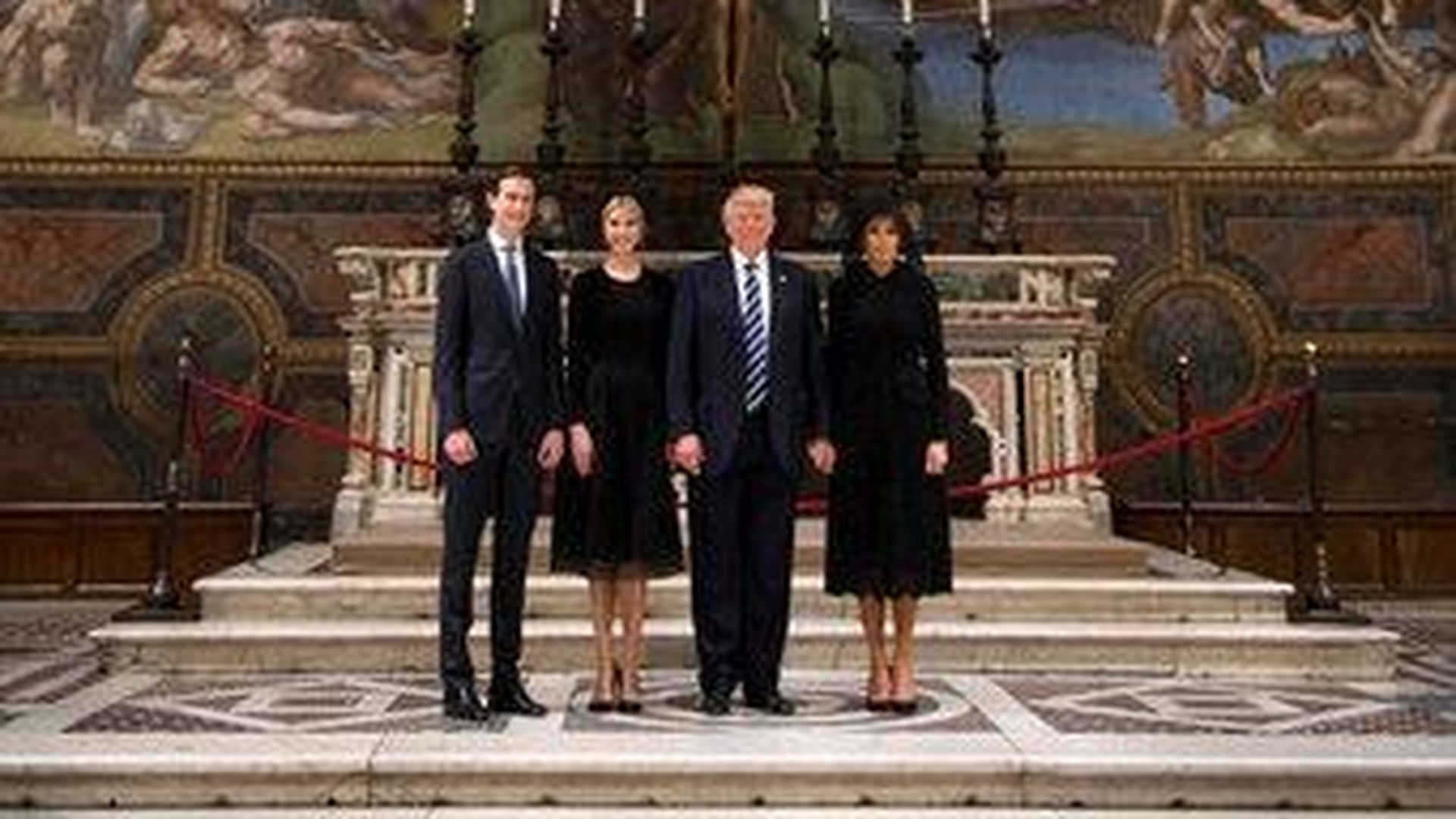 West Wing officials are prepping for a years-long war with investigators and the bureaucracy, with plans to beef up legal, surrogate, communications and rapid-response teams as part of a "new normal" for President Trump — besieged.
"The White House is embracing the fight, which is going to last as long as Donald Trump is president," said a Trump ally familiar with the preparations. "We're getting street fighters ready to go."
A West Wing official said Trump has been frustrated by the ferocity of the incoming, and has demanded a more visible response.
Trump aides recognize that besides being in the crosshairs of investigators on Russia, they will be the continuing target of leaks from the bureaucracy. The Trump ally referred to this second enemy as "nameless, faceless, deep-state types" who have been inflamed and are punching back through the media.
What's next: Proposed war-room org charts have been prepared, and final decisions on the structure will be made after Trump returns this weekend.
Jonathan Swan hears that comms/rapid response structures are being considered for both inside the White House and on the outside.
The moving parts: Reince Priebus and Steve Bannon broke off from the trip and returned early, in part to quarterback planning. Numerous officials are involved. There was extra urgency because fired FBI Director Jim Comey had been expected to testify on the Hill next week. But that has been postponed so he can first meet privately with special counsel Robert Mueller.
The backstory: Aides recognize they should have built more push-back capacity from the beginning. But the weakness reflects the minimalist transition planning and thin staffing that have beset the whole Trump machine.
Be smart: The new machinery is an effort to compartmentalize the scandals, so that some officials can focus on probes and revelations while others do their day jobs. But the success of that plan depends partly on President Trump's willingness to compartmentalize. Close aides have trouble imagining that.
2. Screen time
Top White House officials tell me the key to forcing a more disciplined President Trump like the one onstage overseas is limiting his screen time. In Trump's case, it's curtailing his time watching TV and banging out tweets on his iPhone.
Trump himself has been pushing staff to give him more free time. But staff does everything it can to load up his schedule to keep him from getting worked up watching cable coverage, which often precipitates his tweets. It has worked well overseas so far.
Fun thing: POTUS' current device is an iPhone with ONE app: his tweeter.
3. CBO woe for GOP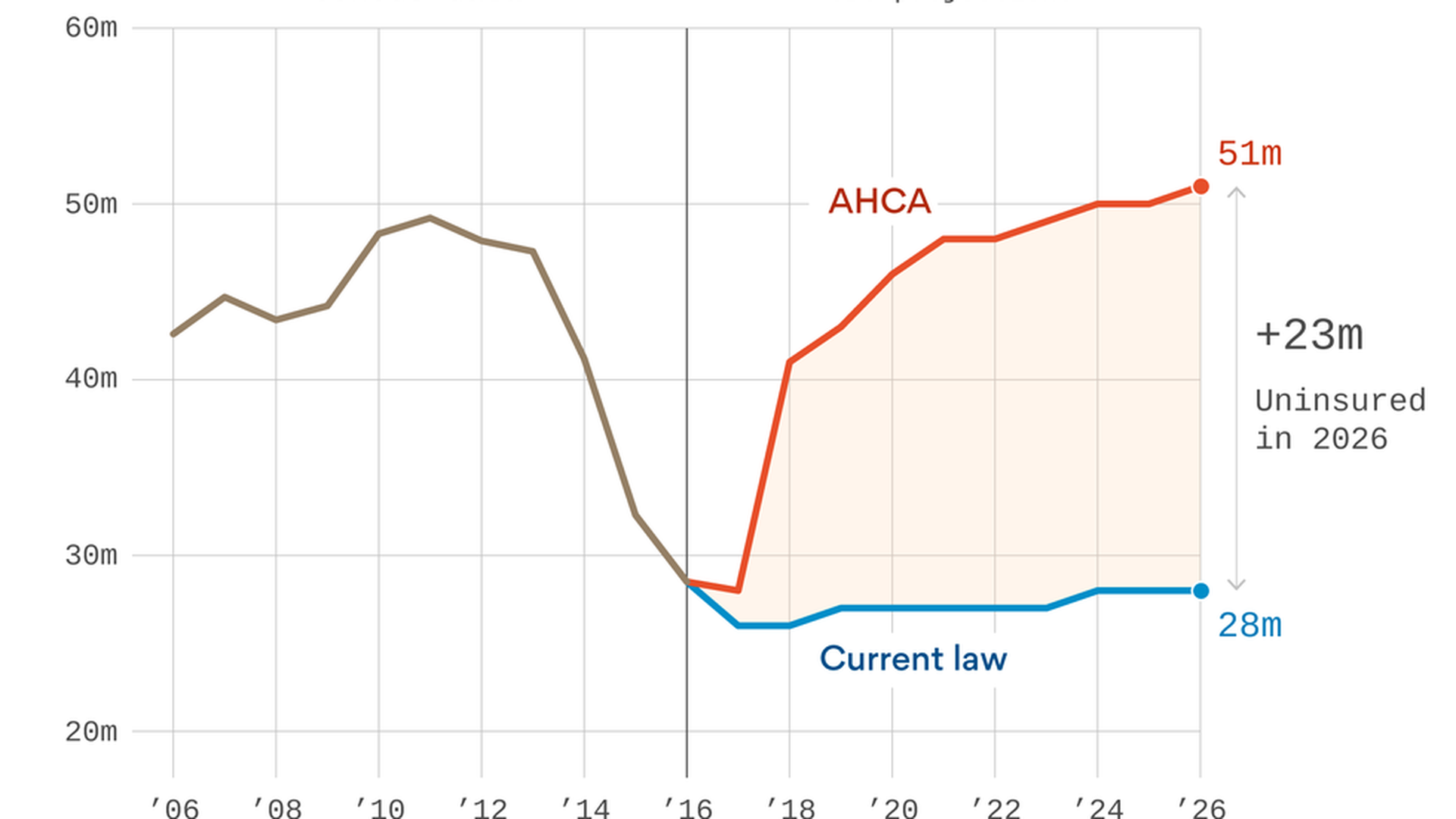 The Congressional Budget Office scoring of the House healthcare bill was laden with bad news for Republicans, putting them in a terrible political position and making it even harder to find a way out in the Senate.
Under the CBO projections, the House bill will still un-insure a lot of people (23 million vs. 24 million before the "fix"), save less money in deficit reduction than the prior version, and open up a can of worms that could make people with employer-sponsored insurance worry that their policies might change.
Anyone with a preexisting condition now covered by Obamacare will worry that they might lose coverage (and they could). Opponents will argue that it disproportionately hurts older, sicker, and poorer Americans, and makes insurance more expensive for the sick and the pregnant.
The big takeaway ... "Final House health care bill could cause some state markets to unravel," by Axios' David Nather: "The last-minute changes to the [House] bill didn't affect the cost or coverage estimates that much. ... But CBO is warning Congress that the latest changes — letting states opt out of two of the ACA's main insurance regulations — could ruin the insurance markets in those states even if they make insurance cheaper for healthy people."
4. Drips filling the bucket
CNN's Manu Raju and Evan Perez: "Attorney General Jeff Sessions did not disclose meetings he had last year with Russian officials when he applied for his security clearance."
"Sessions initially listed a year's worth of meetings with foreign officials on the security clearance form, according to Justice Department spokeswoman Sarah Isgur Flores. But she says he and his staff were then told by an FBI employee who assisted in filling out the form, known as the SF-86, that he didn't need to list dozens of meetings with foreign ambassadors that happened in his capacity as a senator."
N.Y. Times lead story, "Top Russian Officials Discussed How to Influence Trump Aides Last Summer," by Matthew Rosenberg, Adam Goldman and Matt Apuzzo: "American spies collected information last summer revealing that senior Russian intelligence and political officials were discussing how to exert influence over ... Trump through his advisers," mainly Paul Manafort and Michael Flynn.
5. U.K. furious at U.S. leaks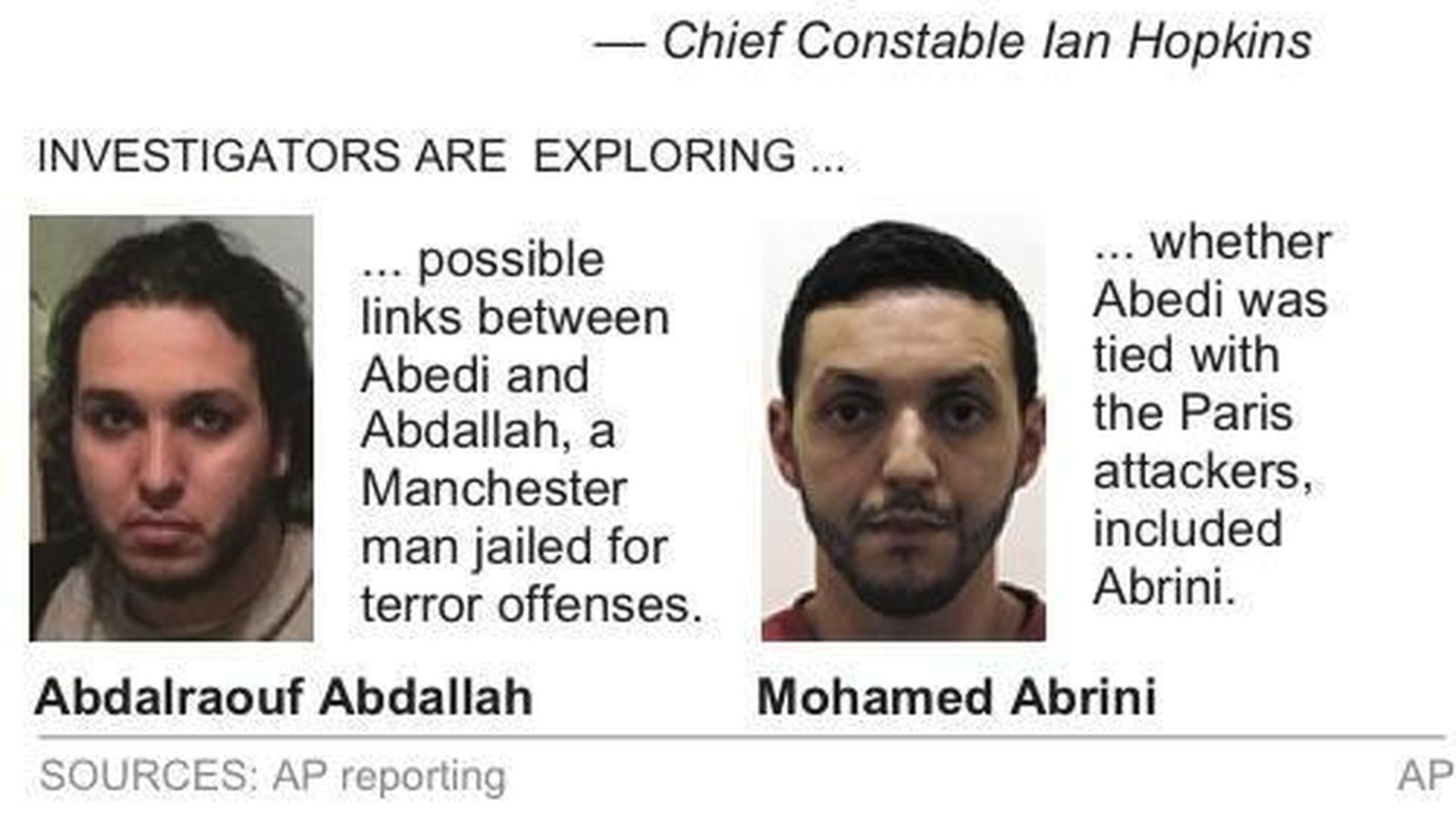 "Police investigating the Manchester Arena bomb attack have stopped sharing information with the US after leaks to the media, the BBC understands."
"UK officials were outraged when photos appearing to show debris from the attack appeared in the New York Times. It came after the name of bomber Salman Abedi was leaked to US media just hours after the attack.
Prime Minister Theresa May "said she would tell Donald Trump at a Nato meeting that shared intelligence 'must remain secure.'"
6. Big Sky beatdown?
Today is special Election Day in Montana, to fill the sole congressional seat, and the favored candidate has been charged with assault ...
"Republican candidate charged with assault after 'body-slamming' Guardian reporter ... Audio of Greg Gianforte attacking Ben Jacobs corroborated by Fox News journalists in the room, who described candidate 'slamming him to the ground.'"
"Ben Jacobs, a Guardian political reporter, was asking Greg Gianforte, a tech millionaire endorsed by Donald Trump, about the Republican healthcare plan when the candidate allegedly 'body-slammed' the reporter.
"A statement by campaign spokesman Shane Scanlon blamed Jacobs for the altercation, saying that he 'entered the office without permission, aggressively shoved a recorder in Greg's face, and began asking badgering questions.'"
Why it matters, per N.Y. Times' Jonathan Martin: "It was an extraordinary development in a race that was already being closely watched for clues about the national political environment in the tumultuous first months of the Trump presidency."
7. Media trends: Cord-cutting explodes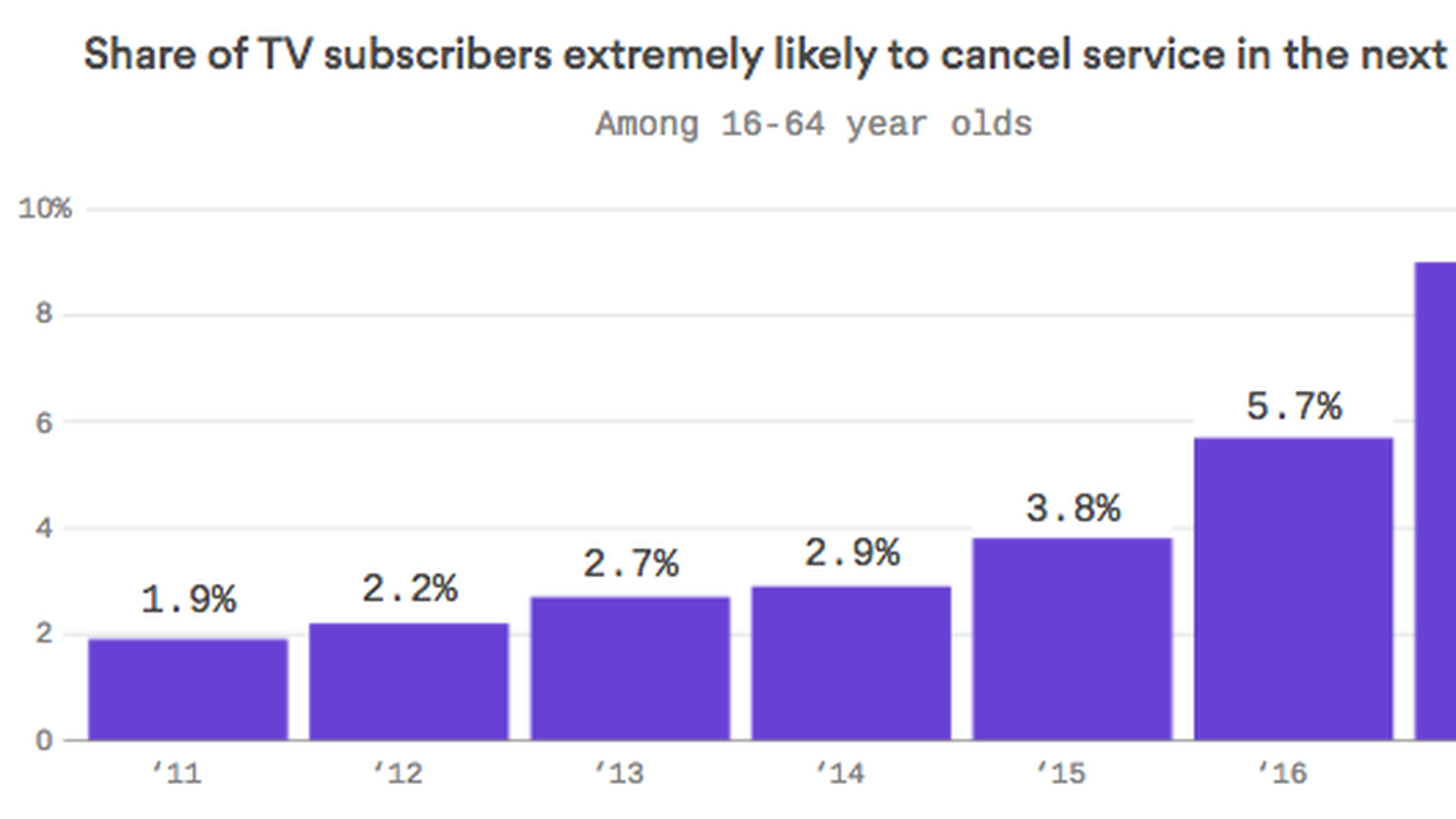 Cord-cutters are ditching their cable packages faster than ever opting instead for cheaper, bundled digital TV options, Axios' Sara Fischer writes.
Why it matters: The trend (new figures from Magid Broadcast Study) reflects consumers' preferences to ditch bundled cable packages for more affordable, niche bundled services that can be accessed on TV box tops or on mobile.
For consumers, there are more bundled packages than ever, all popping up around similar price ranges. YouTube TV and Hulu TV launched within the past two month, joining the likes of SlingTV and DirectTV Now — all at a roughly $40 monthly price point — a bargain considering the average American pays $92 monthly for cable.
Cord-cutting is being matched by a rise in streaming, also at a rate faster than ever. Per the Interactive Advertising Bureau's latest TV industry study, 56% of U.S. adults own a streaming-enabled television, up from one-third of adults in 2015.
"Skinny" is the new trend: Most major content providers are transitioning to "skinny" bundles — smaller channel packages that combine only a few highly-desired channels. Earlier this year, Apple announced it would offer a "skinny bundle" of HBO, Showtime and Starz.
8. Top-paid female CEOs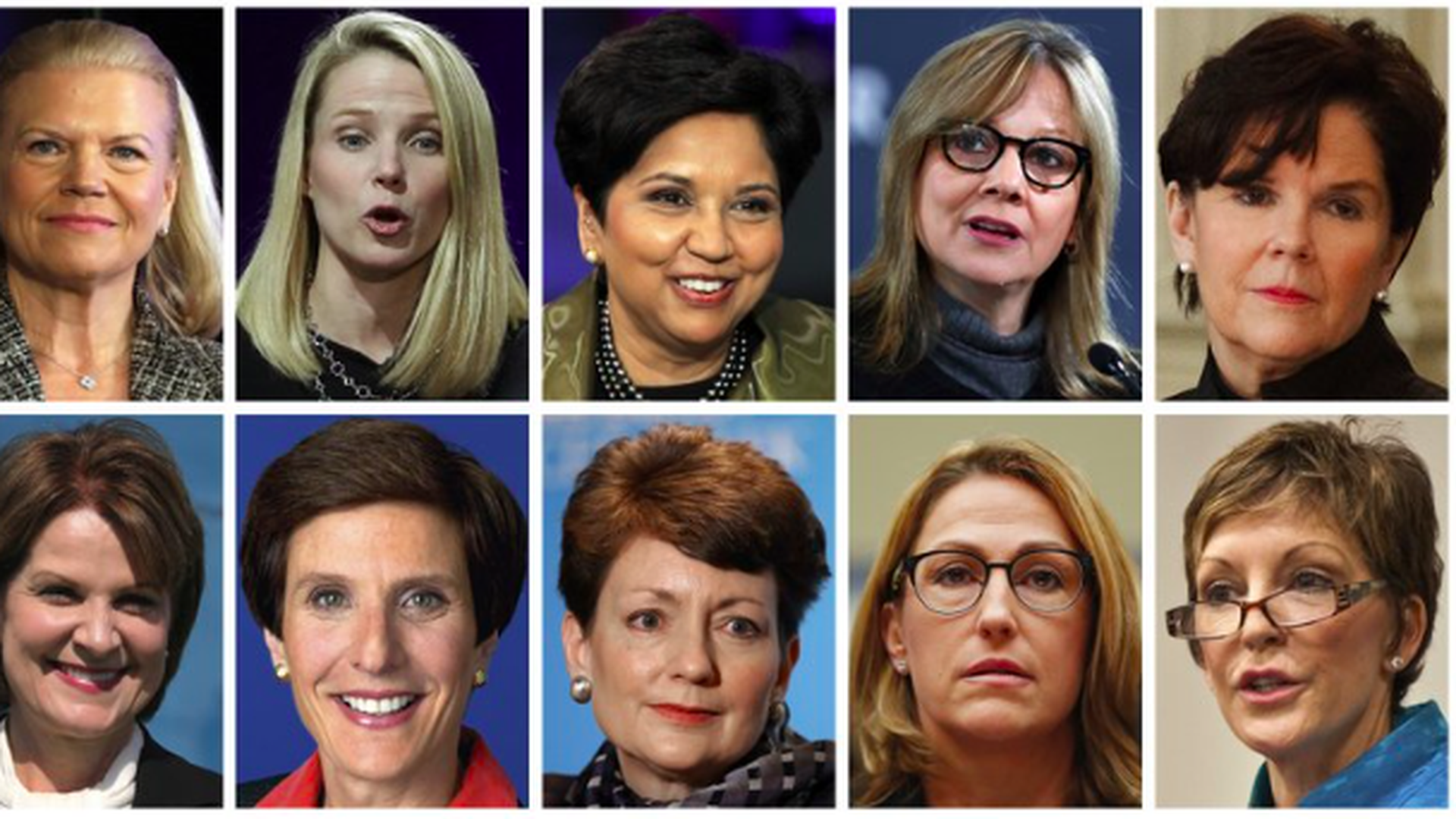 The 10 highest-paid women CEOs for 2016, as calculated by The Associated Press and Equilar, an executive data firm (with change from last year):
Ginni Rometty, IBM, $32.3 million, up 63%
Marissa Mayer, Yahoo. $27.4 million, down 24%
Indra Nooyi, Pepsico, $25.2 million, up 13%
Mary Barra, GM, $22.4 million, down 22%
Phebe Novakovic, General Dynamics, $21.2 million, up 4%
Marillyn Hewson, Lockheed Martin, $19.4 million, down 4%
Irene Rosenfeld, Mondelez International, $15.8 million, down 13%
Lynn Good, Duke Energy, $13.5 million, up 26%
Heather Bresch, Mylan, $13.3 million, down 27%
Susan Cameron, Reynolds American, $13.1 million, down 3%
9. Fastest-growing cities
New Census Bureau figures ... 10 of the 15 fastest-growing cities with populations of 50,000 or more were spread across the South in 2016, with four of the top five found in Texas, AP's Terry Wallace reports from Dallas:
"Conroe, Texas, a northern Houston suburb, was the fastest-growing of the 15, seeing a 7.8 percent increase from 2015 to 2016, a growth rate more than 11 times that of the nation."
"The rest of the top five fastest-growing large cities were Frisco, Texas, a northern Dallas suburb ... McKinney, Texas, another northern Dallas suburb ... Greenville, South Carolina ... and Georgetown, Texas, a northern Austin suburb."
"New York remains the largest U.S. city by a wide margin, its population of 8.5 million people being more than twice that of the 4 million of runner-up Los Angeles. Chicago trailed in third place with 2.7 million residents, despite a population loss of 8,638.
"Phoenix showed the largest one-year numerical population increase of 32,113 from 2015 to 2016."
10. 1 fun thing
"Al Gore on the French Riviera: Why he was reluctant to make 'An Inconvenient Sequel,'" by L.A Times' Kenneth Turan:
"Gore is in Cannes to promote the worldwide release of an impassioned and involving new documentary, 'An Inconvenient Sequel.' Due in U.S. theaters on July 28, it brings us up to speed on where the battle against climate change stands more than a decade after the Oscar-winning documentary 'An Inconvenient Truth.'"
"A pair of factors, Gore explains, made the difference with the new film, co-directed by Bonni Cohen and Jon Shenk. First was the fly-on-the wall / cinema verite philosophy of the filmmakers, ... who for two years shadowed their protagonist everywhere, even watching as he changed soaking-wet socks."
"The other factor was Gore's belief that 'though the crisis is worse, we now have the solutions we need' in wind and solar power, whose costs are dropping dramatically as use increases."