January 24, 2022
☕ Happy Monday! Smart Brevity™ count: 1,191 words ... 4½ minutes. Edited by Zachary Basu.
💰Situational awareness: Tax season opens today. The IRS warns of heartburn for filers because of a worker shortage and the workload from pandemic programs.
1 big thing: Omicron puts wrench in recovery
The latest COVID surge hit business hard — but hasn't hurt entrepreneurs' optimism, Axios business editor Kate Marino writes.
Why it matters: The economic recovery is moving in fits and starts, in tandem with new peaks in cases. Look no further than the thousands of canceled flights and shuttered Broadway theaters amid Omicron.
About 8.8 million people didn't work during the period of Dec. 29 to Jan. 10 because they had to care for someone, or were sick themselves with COVID symptoms, according to census survey estimates.
That's nearly triple the number of people who said so during the first two weeks of December.
Zoom out: In a Goldman Sachs survey out today, "Small Businesses on the Brink," 71% of respondents said the COVID surge due to Omicron had negatively impacted their revenue.
🔮 What's next: Despite the headwinds, 73% of small business owners in the Goldman Sachs survey said they're optimistic about the financial trajectory of their businesses this year.
Go deeper: Read the Goldman Sachs survey, "Small Businesses on the Brink."
2. Shifting definition of "fully vaccinated"
The definition of "fully vaccinated" is evolving even as the CDC resists officially changing it, Axios health care editor Tina Reed reports.
Some businesses and universities have begun including boosters as part of vaccination mandates. But most are using the CDC's definition of "fully vaccinated," which just means completing your first vaccine.
Between the lines: CDC officials are trying to convince Americans who've already gotten their original doses to now get boosters — while also encouraging Americans with zero shots to get vaccinated.
👀 What we're watching: Pfizer CEO Albert Bourla said this weekend he would recommend an annual COVID vaccine over frequent booster shots, Reuters reports.
3. U.S. threatens Russian smartphones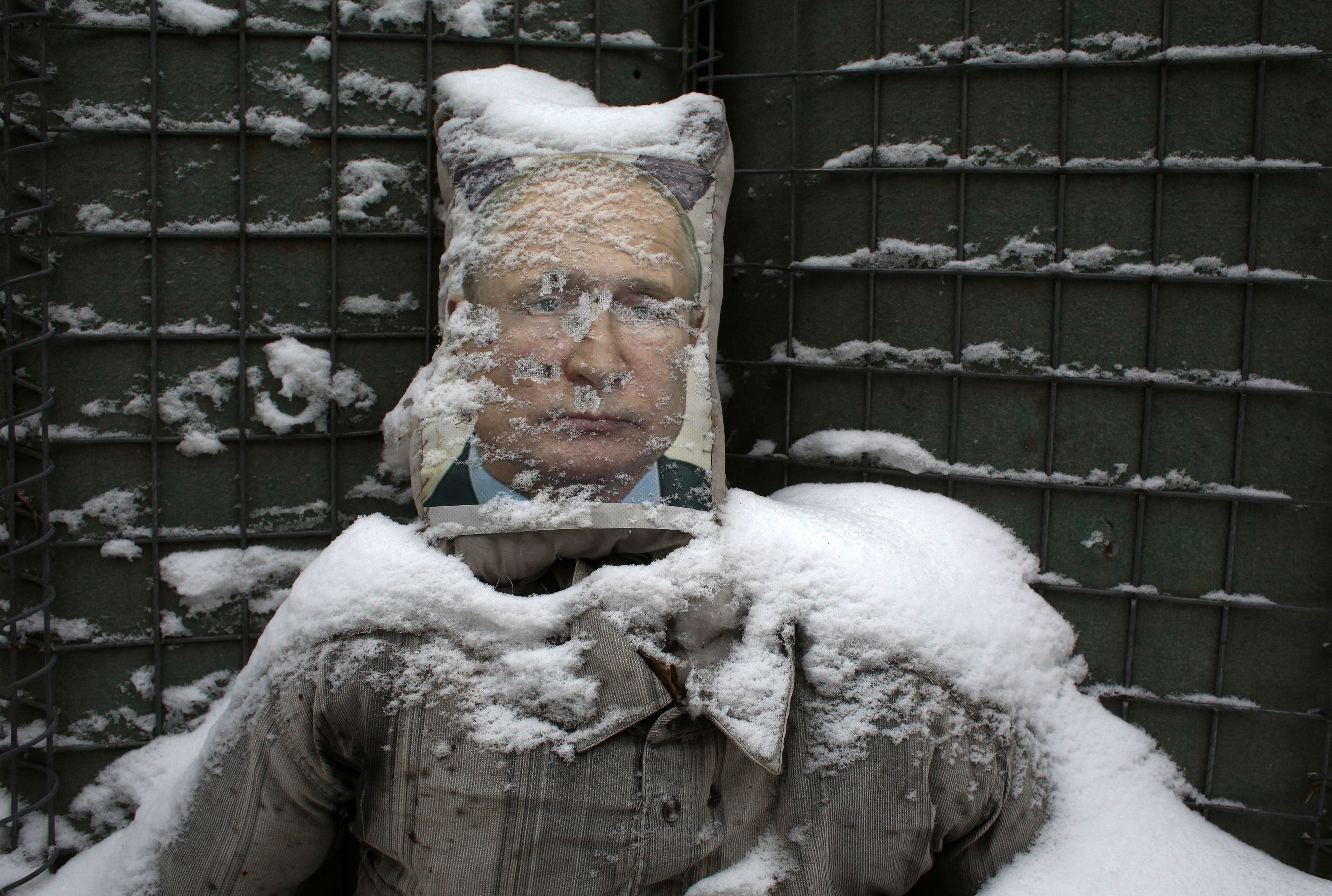 "The Biden administration is threatening to use a novel export control to damage strategic Russian industries, from artificial intelligence and quantum computing to civilian aerospace, if Moscow invades Ukraine," The Washington Post reports.
Why it matters: "Such moves would expand the reach of U.S. sanctions beyond financial targets to the deployment of a weapon used only once before — to nearly cripple the Chinese tech giant Huawei."
"The administration may also decide to apply the control more broadly in a way that would potentially deprive Russian citizens of some smartphones, tablets and video game consoles."
Two other big developments, as war threatens Eastern Europe:
At Camp David on Saturday, Pentagon officials presented President Biden with the option of "sending 1,000 to 5,000 troops to Eastern European countries, with the potential to increase that number tenfold if things deteriorate," The New York Times reports. Biden is now weighing the possible deployment.
The State Department will begin evacuating families and non-essential staff from the U.S. Embassy in Kyiv this week. The move underscores U.S. fears that a Russian invasion could destabilize Ukraine and threaten the embassy's ability to assist Americans, Axios' Zachary Basu and Jennifer Koons report.
In photos: Behind Ukraine's front lines ... Go deeper: State Department travel advisory.
4. Mapped: Strictest, laxest road laws
State highway laws, and their enforcement, are getting new scrutiny as traffic deaths climb at record rates — despite fewer miles being driven, we learn from Axios Columbus and Axios Tampa Bay.
Go deeper: Annual "Roadmap of State Highway Safety Laws."
5. Future shock: Drone danger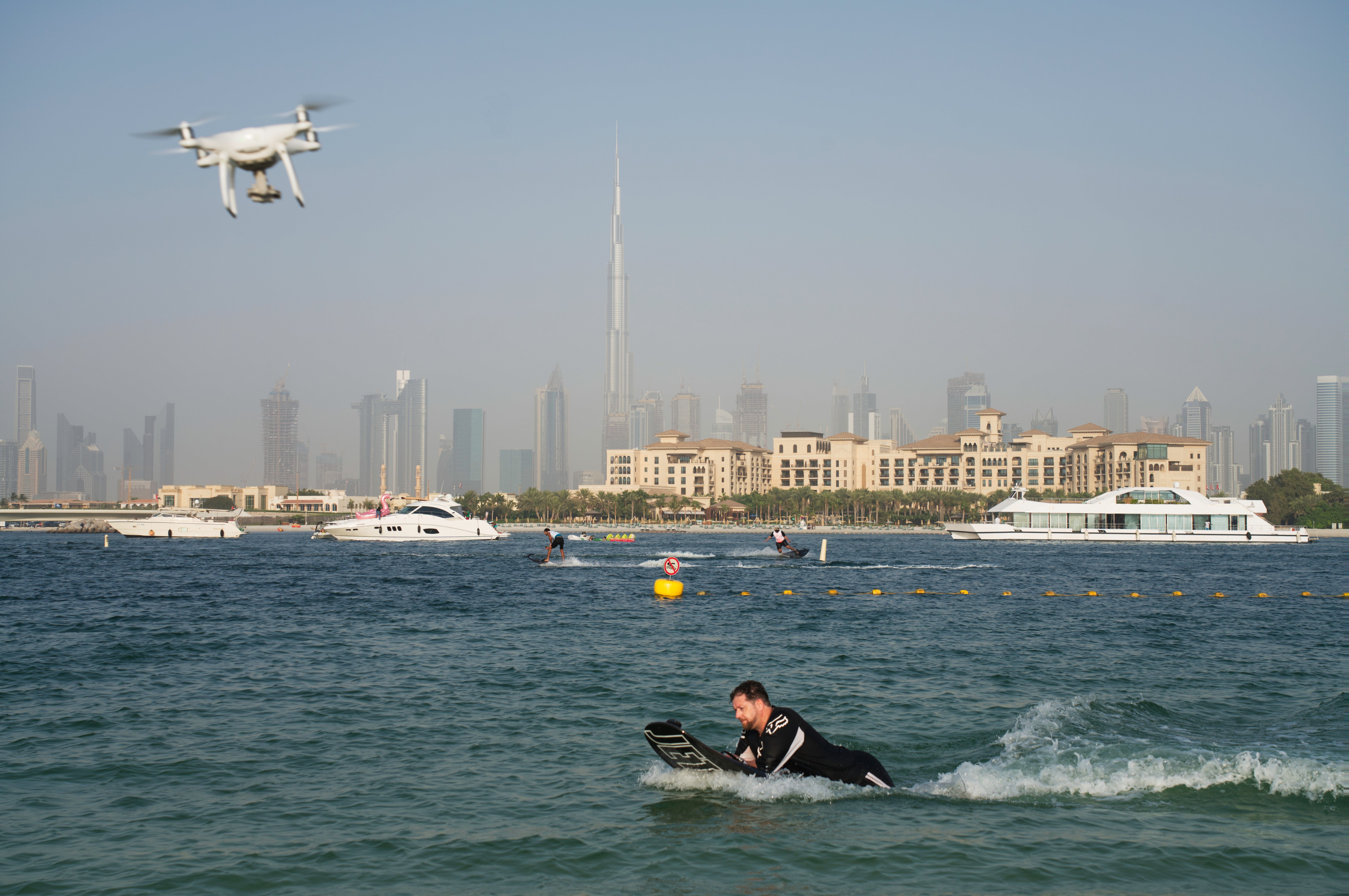 The United Arab Emirates has banned the flying of drones for recreation after Yemen's Houthi rebels claimed a fatal drone attack on an oil facility and major airport in the country, AP reports from Dubai.
Drone hobbyists and other operators of light electric sports aircraft now face "legal liabilities" if caught flying the objects.
⚡ Breaking: Today, the UAE intercepted and destroyed two Houthi ballistic missiles, with remnants falling around Abu Dhabi. Get the latest.
6. Opting out of Valentine's Day
A growing number of brands are giving customers the chance to opt out of marketing emails ahead of Valentine's Day and other holidays, Axios' Shoshana Gordon and Erica Pandey report.
Why it matters: Ads and promotions around holidays — particularly ones that celebrate relationships — can cause anxiety and depression.
What's happening: Retailers, florists, media companies and more are taking a thoughtful approach to holiday marketing, trying not to inundate their customers with ads that'll hurt them.
Etsy, for instance, lets people opt out of Valentine's Day emails and offers as well as marketing around Mother's Day and Father's Day.
🔮 What's next: Look for more brands to collect insights on which holidays their customers celebrate — just like they keep track of demographic data — and use those insights to target marketing.
7. Pic du jour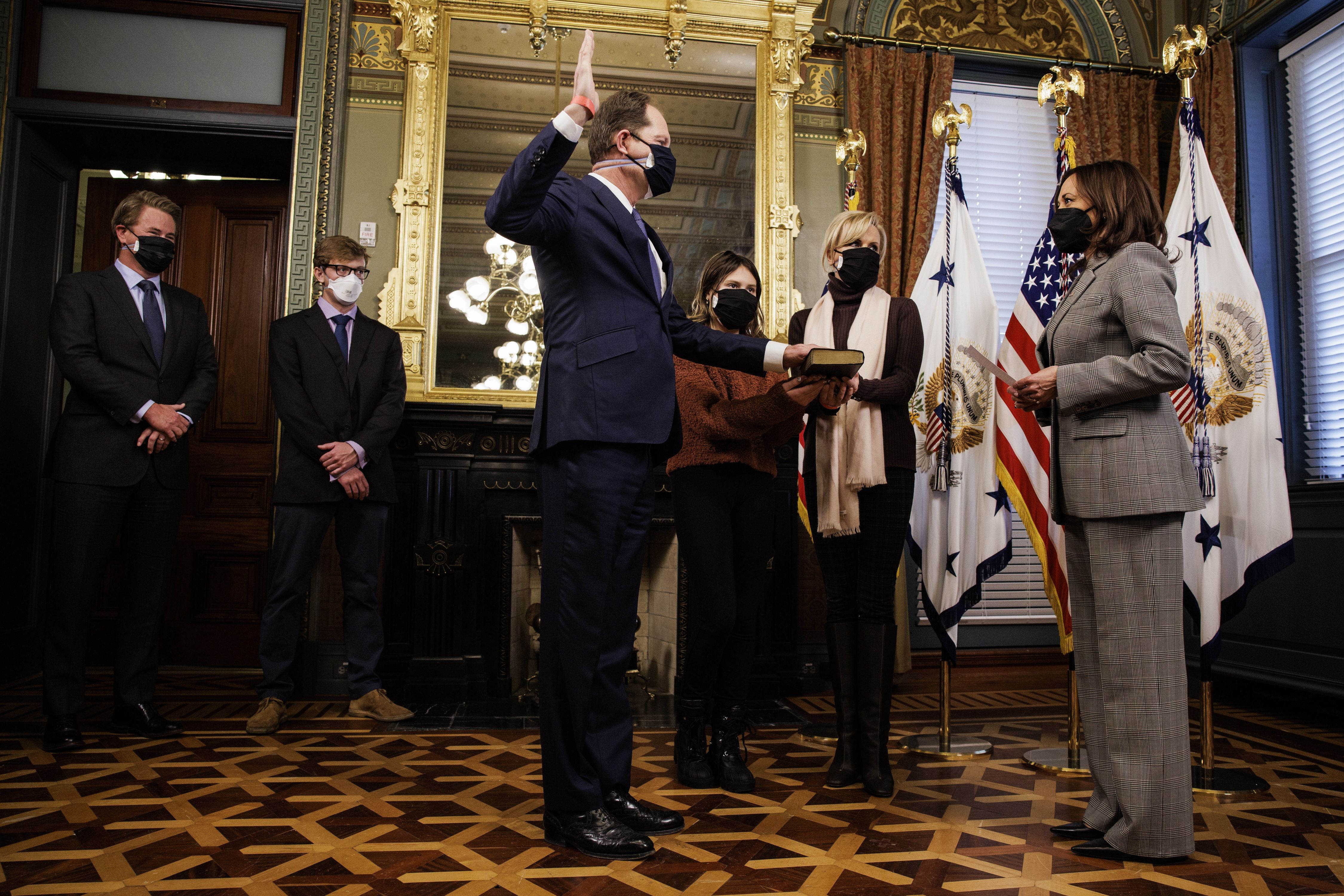 Vice President Harris swears in Mark Brzezinski — son of legendary national security adviser Zbigniew Brzezinski — as U.S. ambassador to Poland in her ceremonial office.
He was joined by his sister, Mika Brzezinski ... her husband, Joe Scarborough ... nephew Will Brzezinski ... and his daughter, Aurora.
8. 🏈 Greatest NFL weekend of all time
For the first time in NFL history, all four Divisional Round games ended in walk-off wins. It was the greatest playoff weekend ever, Axios Sports editor Kendall "All-Nighter" Baker writes.
Last season marked the first time a team (Tampa Bay Bucs) played the Super Bowl in its own stadium. The L.A. Rams are one win from making it happen two years in a row.
The average margin of victory this weekend: 3.8 points.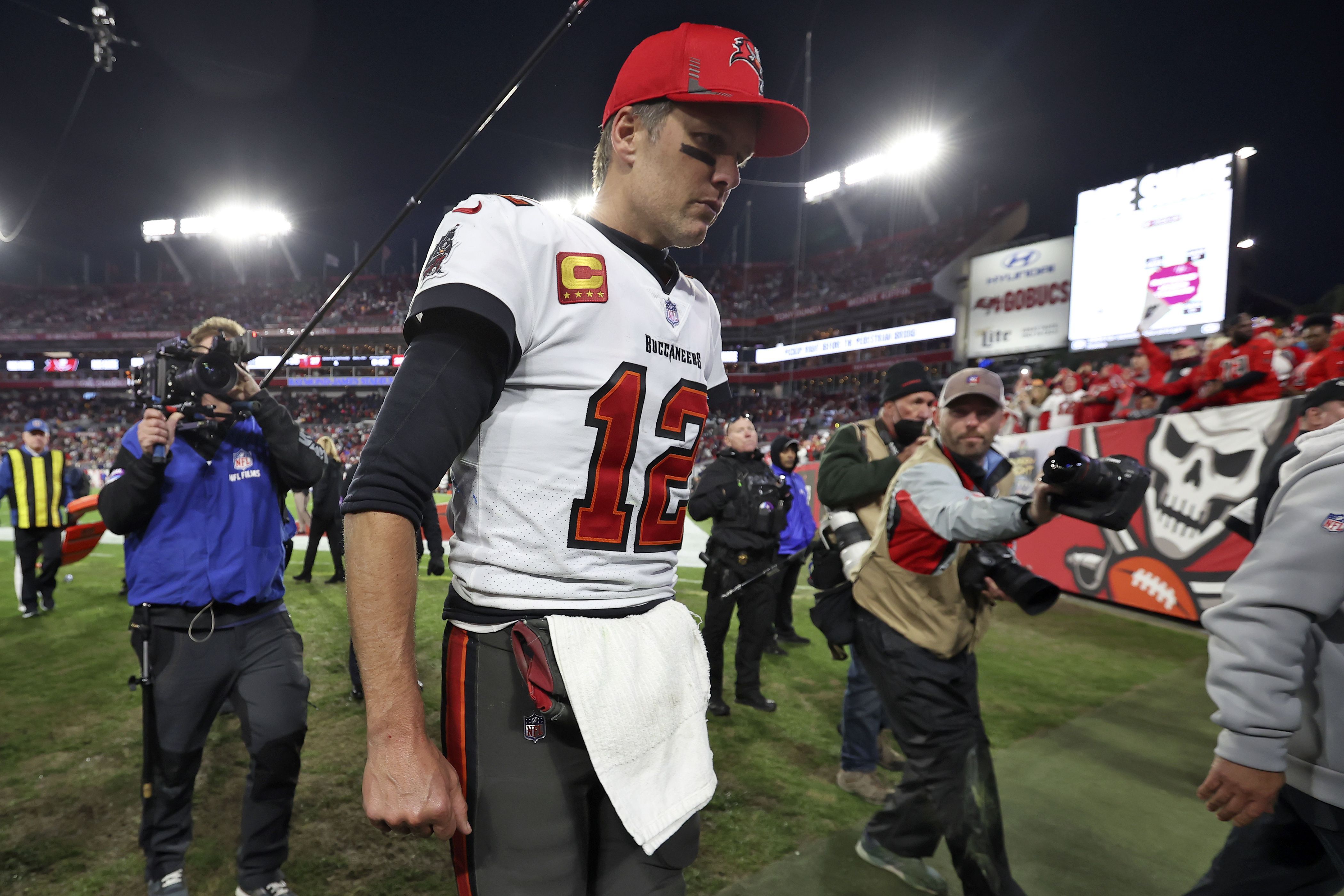 Next Sunday's conference championships: Chiefs open as TD favorites over Bengals (AFC) ... Rams open as 3.5-point favorites over 49ers (NFC).
📬 Was my email forwarded to you? Join the conversation: Sign up here for your own personal copy of Axios AM and Axios PM.