Axios AM
August 22, 2018
☕️ Good Wednesday morning in the August doldrums.
Situational awareness: Facebook discovered several new state-sponsored disinformation campaigns stemming from Iran and Russia, Axios' Sara Fischer, Ina Fried, and Scott Rosenberg report.
Separately, Twitter announced it had suspended 284 accounts, many originating in Iran, for "engaging in coordinated manipulation."
1 big thing: GOP fears Cohen set road to impeachment
Impeachment proceedings against President Trump went from a theoretical danger to a vivid reality with yesterday's guilty plea by former Trump lawyer Michael Cohen, sources close to the White House tell Jonathan Swan and me.
Cohen's guilty plea (with the president identified as "Individual-1") said Trump directed him to arrange hush money during the 2016 campaign to keep women from speaking out about affairs.
So Cohen was accusing Trump of pushing him to commit a crime.
Look for Cohen's statement to form the basis of a 2019 impeachment attempt if Democrats win control of the House in November.
A big cause for fear: White House officials now see a future where this damning charge of criminal behavior is simply part of a broader case against Trump, including:
Obstruction of justice around the firing of James Comey, with similarly damning testimony by former national security adviser Michael Flynn, who is cooperating with investigators, and White House Counsel Don McGahn, who has spent 30 hours with Mueller's team. 
Charges of illegality or shady behavior related to the infamous Russia meeting at Trump Tower, as well as other contacts with Russian officials.
Some officials fear that even if Trump himself did nothing wrong, this all will be seen in a different light when stacked on top of the others. 
The plea by Cohen, paired in a split screen with the near-simultaneous conviction of Paul Manafort, is what Trump's aides feared all along:
The Mueller investigation would lead these hardened investigators down rabbit holes that only Trump and his murky associates knew about.
The crimes detailed yesterday have nothing to do with colluding with Putin to throw an election — but are felonies, nonetheless.
And, in a stunning twist, the president's former attorney — the guy who would yell obscenities at reporters and threaten them in the obsequious, unquestioningly loyal service of his boss — is now the greatest known threat to the Trump presidency.
Trump friends say for the first time that they're worried about the president:
A source close to Trump said: "I must admit a bit of concern about what he [Trump] would do fully backed into a corner." 
"By striking a deal with Mr. Cohen that includes prison time," the N.Y. Times reports, "federal authorities were aware of the risk that the president might pardon him."
Presidential historian Jon Meacham brings in the orchestra, telling MSNBC:
"This is rather like the third week of June, 1973, when [former White House counsel] John Dean went to the Senate and began his testimony" before the Watergate committee.
"It's not unlike ... the second week in July in the same year, when [former Nixon White House aide] Alexander Butterfield revealed that there was a White House taping system."
"It's the kind of moment that you can begin to see a genuine inflection point."
A few hours before the verdict, I asked Trump lawyer Rudy Giuliani — in Scotland where he's attending a wedding — about Trump's mood:
"It's certainly not affecting his golf game, or his negotiations about North Korea. ... He feels that people are finally getting to see his accomplishments. And public opinion each month — the whole thing has switched when it was originally very much in Mueller's favor, it's now somewhat against him."
Be smart ... A usually buoyant outside West Wing adviser suddenly sees darkness:
"Booming economy, robust bull market, troops in harm's way but not in a large scale war. And yet the President is enmeshed in a series of scandals and controversies."
"And that is before the Dems in House start with the investigations" if they take the majority.
Go deeper: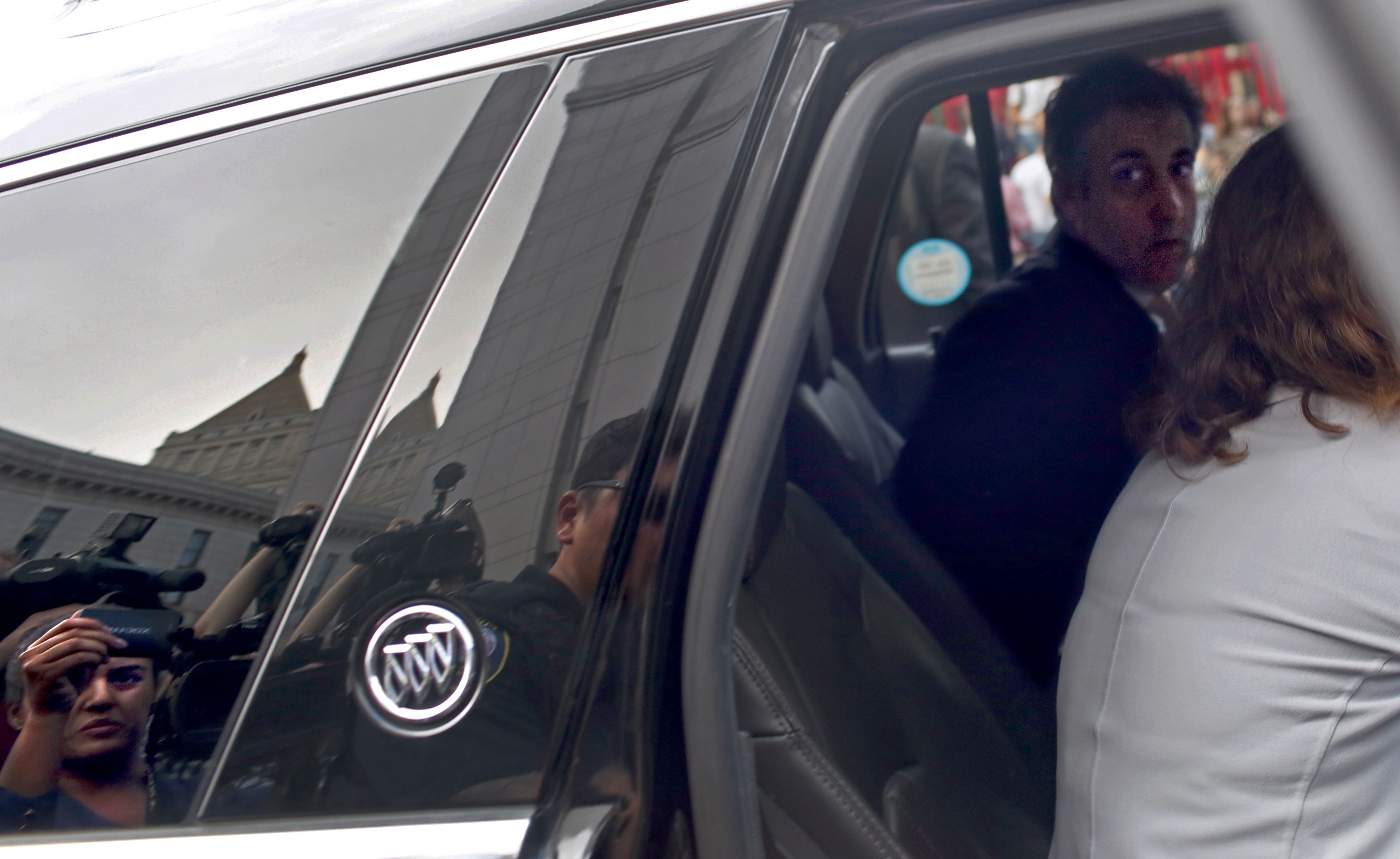 2. GOP's midterm nightmare: Party "looks like a criminal enterprise"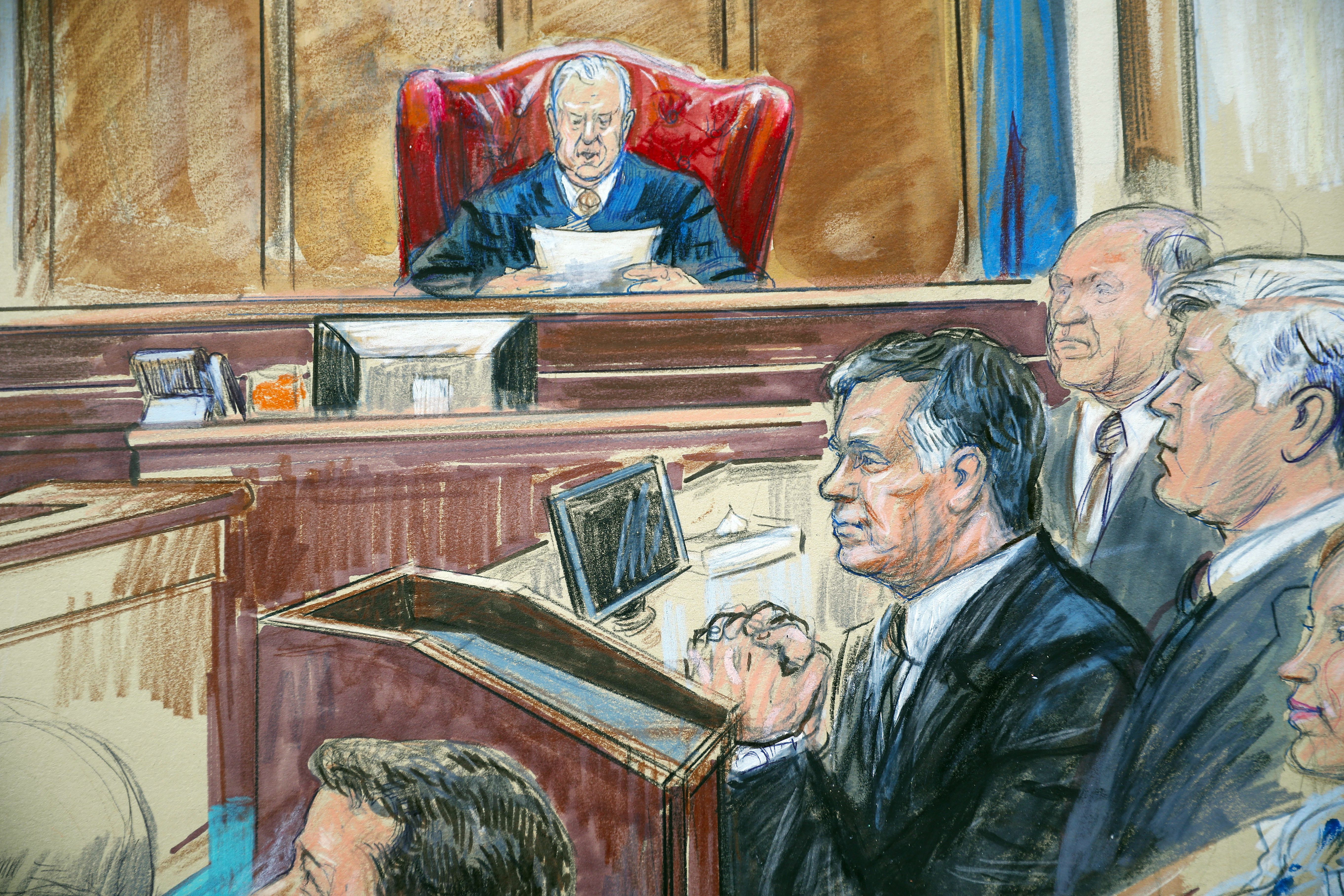 Corruption instantly becomes a centerpiece issue in the midterm campaigns — a huge new weight for Republicans in marginal races.
With a corruption indictment of Rep. Duncan Hunter (R-Calif.) capping Republicans' hell day, a top GOP guru told Axios: "The Republican Party looks like a criminal enterprise."
Top Democratic strategists tell me they're poised to exploit this massive vulnerability.
One operative close to House Democratic leader Nancy Pelosi pointed out that during an April press conference, she was already talking about "the Trump Administration's culture of corruption."
The key, Dem strategists tell me, will be for campaigns to keep the focus on corruption rather than impeachment, which could backfire.
Be smart ... With all the bad news already swirling, look at what will unfold during the heat of midterm campaigning:
Lanny Davis, Cohen's lawyer, to MSNBC's Rachel Maddow: "Mr. Cohen has knowledge on certain subjects that should be of interest to the special counsel, and is more than happy to tell the special counsel all that he knows. ... He is now liberated to tell the truth — everything about Donald Trump that he knows."
Mueller prosecutors said in a filing yesterday that Trump's former national security adviser, Michael Flynn, is not yet ready to be sentenced, "a sign that Flynn's cooperation with investigators is continuing," per AP.
A week from today (Aug. 29): Deadline for U.S. "to decide whether it wants to retry the 10 counts that were declared a mistrial," per N.Y. Times.
Sept. 17: Manafort goes on trial in D.C. "on charges including conspiracy to defraud the United States, failing to register as a foreign agent, money laundering, witness tampering and making false statements," per AP.
Dec. 12: Cohen will be sentenced. "The government calculated the sentencing guidelines at from 51 to 63 months and the defense put them at 46 to 57 months," per N.Y. Times.
No sentencing date has been set for Manafort.
3. And don't forget ...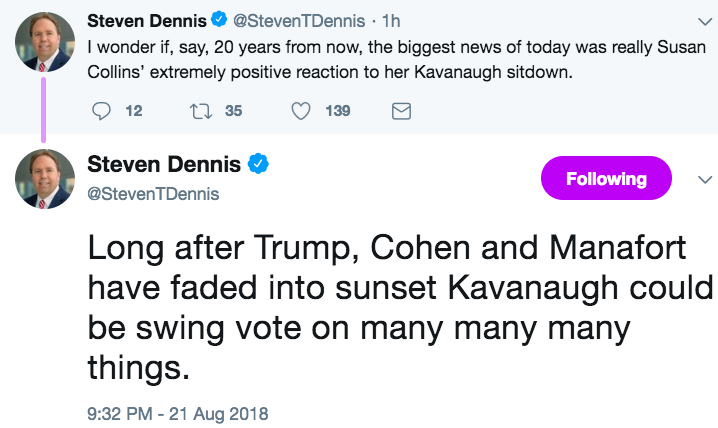 1. How Kavanaugh could get Dem votes ... The White House feels extremely good about Supreme Court nominee Brett Kavanaugh's meeting yesterday with Sen. Susan Collins (R-Maine), a key swing vote, per Jonathan Swan:
A White House official said they're "very happy" with the Collins meeting.
A source with direct knowledge of the meeting believes that if Kavanaugh performs well in his confirmation hearing and repeats what he has been telling senators privately, Collins will likely vote for him.
The source said the White House doesn't think a Democrat would put the vote over the top.
But if Collins clinches the vote, and the Democrat wouldn't be No. 50 (with Vice President Pence as the tie-breaker), then a few Democrats (Sens. Joe Manchin of West Virginia, Heidi Heitkamp of North Dakota, Joe Donnelly of Indiana — all up for reelection) could come aboard.
2. "The U.N. nuclear watchdog said it did not find any indication that North Korea had stopped its nuclear activities, adding to doubts about the country's willingness to abandon its arsenal," Reuters reports.
Jonathan Swan asked White House, the NSC and the State Department whether they had any response, given that Trump declared there was no longer a North Korean nuclear threat after his summit with Kim Jong-un.
They didn't.
Bonus: Pic du jour
Nick Merrill shares this summery evening shot, taken by a drone off the coast of Stonington, Maine.
4. Time capsule
5. Stunning read: Worthy of your time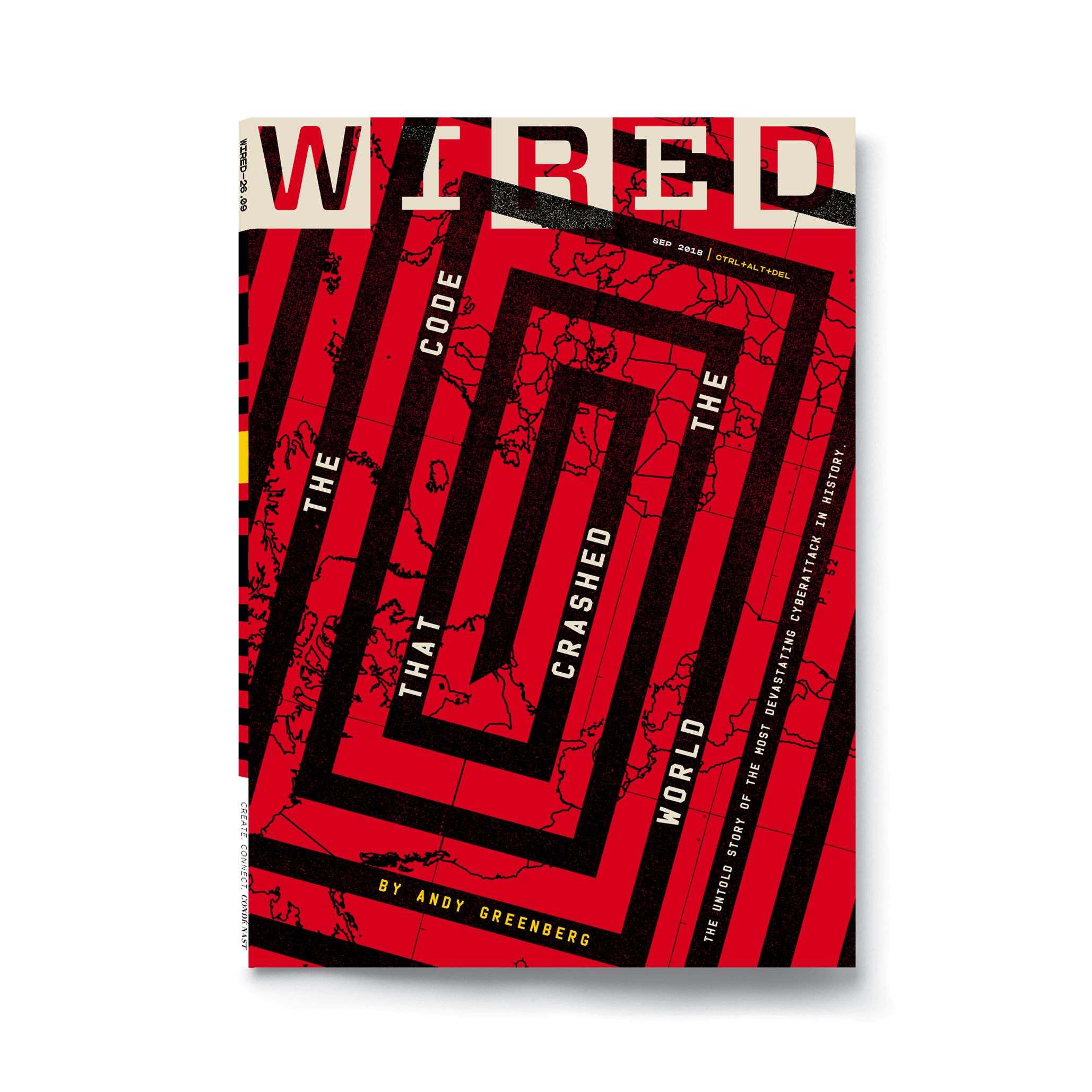 WIRED's September cover story ... "NotPetya, the most devastating cyberattack in history," a Russian hit on Ukraine in June 2017 that went global — by senior writer Andy Greenberg (adapted from his forthcoming book, "Sandworm"):
"Crippled ports. Paralyzed corporations. Frozen government agencies. How a single piece of code crashed the world."
"For days, ... one of the world's most complex and interconnected distributed machines, underpinning the circulatory system of the global economy itself, would remain broken."
"The result was more than $10 billion in total damages, according to a White House assessment."
Why it matters: "This is the confounding geography of cyberwarfare: In ways that still defy human intuition, phantoms ... in a gritty corner of Kiev spread chaos into the gilded conference rooms of the capital's federal agencies, into ports dotting the globe ... and across the global economy."
6. Zuckerberg and co-founder pour millions into midterms
Facebook co-founders Mark Zuckerberg and Dustin Moskovitz are mounting campaigns to get voters to approve housing and criminal justice reforms at the ballot box in November, Axios' David McCabe reports.
Why it matters: Silicon Valley's newer philanthropists are melding charity, advocacy and private sector investment — and have the potential to be hugely influential for decades.
7. Bull market is now longest in history
The bull market is expected to become the longest on record today, having persisted for 3,453 days, Axios' Courtenay Brown writes (in her Axios AM debut!).
Why it matters: Investors have been in the black for nearly a decade, immediately following the worst financial crisis of most of their lifetimes.
The generally accepted start date is March 9, 2009 — when the S&P 500 hit a low of 666.
8. Republicans want to make Mollie Tibbetts a household name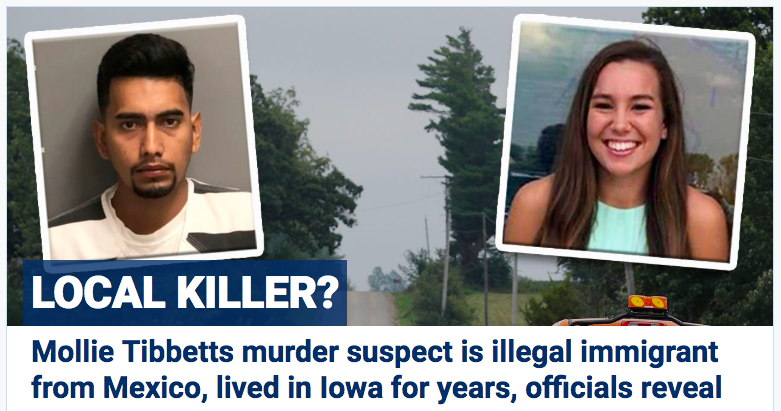 Fox News led with this, on air at 7 p.m. and online, ahead of Cohen-Manafort ... Authorities in Iowa filed charges against an undocumented immigrant in connection with a recovered body believed to be that of 20-year-old University of Iowa student Mollie Tibbetts, who disappeared from her home a month ago.
"[T]he stunning news that a Mexican man living in the U.S. illegally has allegedly confessed to kidnapping and murdering her thrust the case into the middle of the ... immigration debate and midterm elections," per AP.
"Trump asked his audience at a rally [last evening] in Charleston, West Virginia, whether they had heard about the 'illegal alien' from Mexico." (AP)
Behind the curtain ... Former Speaker Newt Gingrich emailed me to make sure I'd be covering this story, and I asked for his take on why it matters:
"We are living in two alternative political universes. In one, Manafort-Cohen is dispositive. In the other, illegal immigrants killing Mollie Tibbetts is dispositive."
"If Mollie Tibbetts is a household name by October, Democrats will be in deep trouble. If we can be blocked by Manafort-Cohen, etc., then GOP could lose house badly."
9. 🇬🇧 London calling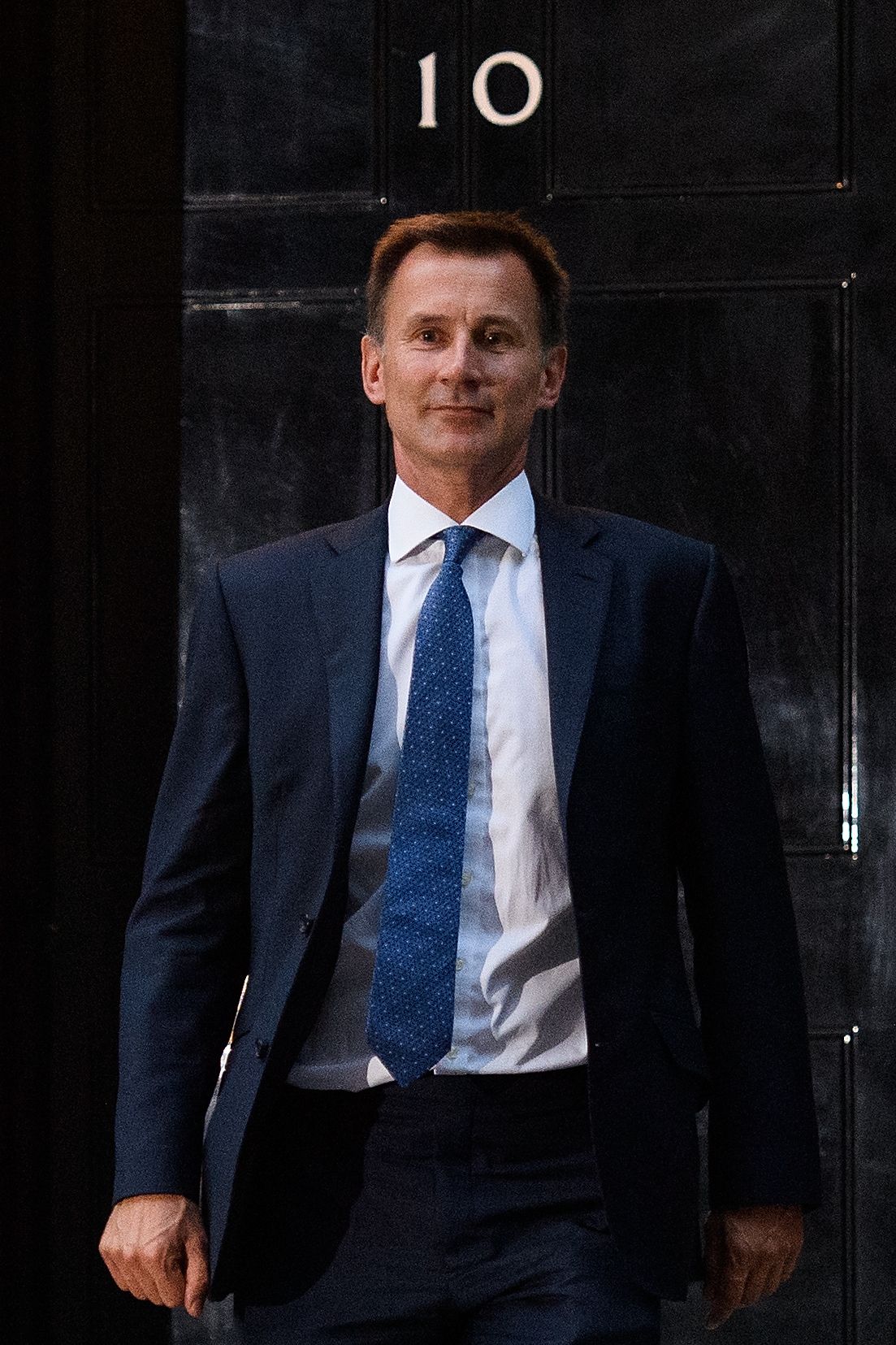 U.K. Foreign Secretary Jeremy Hunt sat down with Axios on his first visit to Washington since replacing Boris Johnson last month, and said his early interactions with President Trump lead him to believe Trump "is actually trying to do something quite different from what a lot of people think."
"I met him on my second day on the job," Hunt told Axios World editor David Lawler at the U.K. ambassador's residence.
"And then I went to meetings at Chequers with [Prime Minister] Theresa May and him in a very small group. And I was coming to this with an open mind and probably quite a lot of the prejudices that a lot of people would have about him."
"I think he absolutely understands the importance of the international order as we know it. You don't have to persuade him that Russia is up to nefarious activity which is not acceptable and breaches international norms. But his view is that if this international order is going to work, it's got to be reformed. It's got to change."
Sign up free for David Lawler's twice-weekly Axios World newsletter.
10. 1 food thing
Tapas, vegan pasta ... Fancy menus are the new normal at college campus dining halls, USA Today's Zlati Meyer writes:
"Universities now cater to a wide variety of diets, such as vegan and locavore, and today's college 'cafs' resemble fast-casual chain restaurants with a focus on healthy, protein- and vegetable-centric, customizable dishes."
Food is now part of admissions decisions:
"In an era when colleges are using everything from their fitness facilities to luxury dorms to lure students, high schoolers can turn to a variety of online sources to scan college food ratings as they make their application choices."
Thanks for sharing history with us. We'll have constant updates on Axios.com.