January 15, 2021
☕ Hello, Friday. Today's Smart Brevity™ count: 1,172 words ... 4½ minutes.
💻 You're invited to join Axios' Caitlin Owens today at 12:30 p.m. ET for a virtual event on health care access and affordability in the Biden administration. Sign up here.
1 big thing: The post-Trump GOP, gutted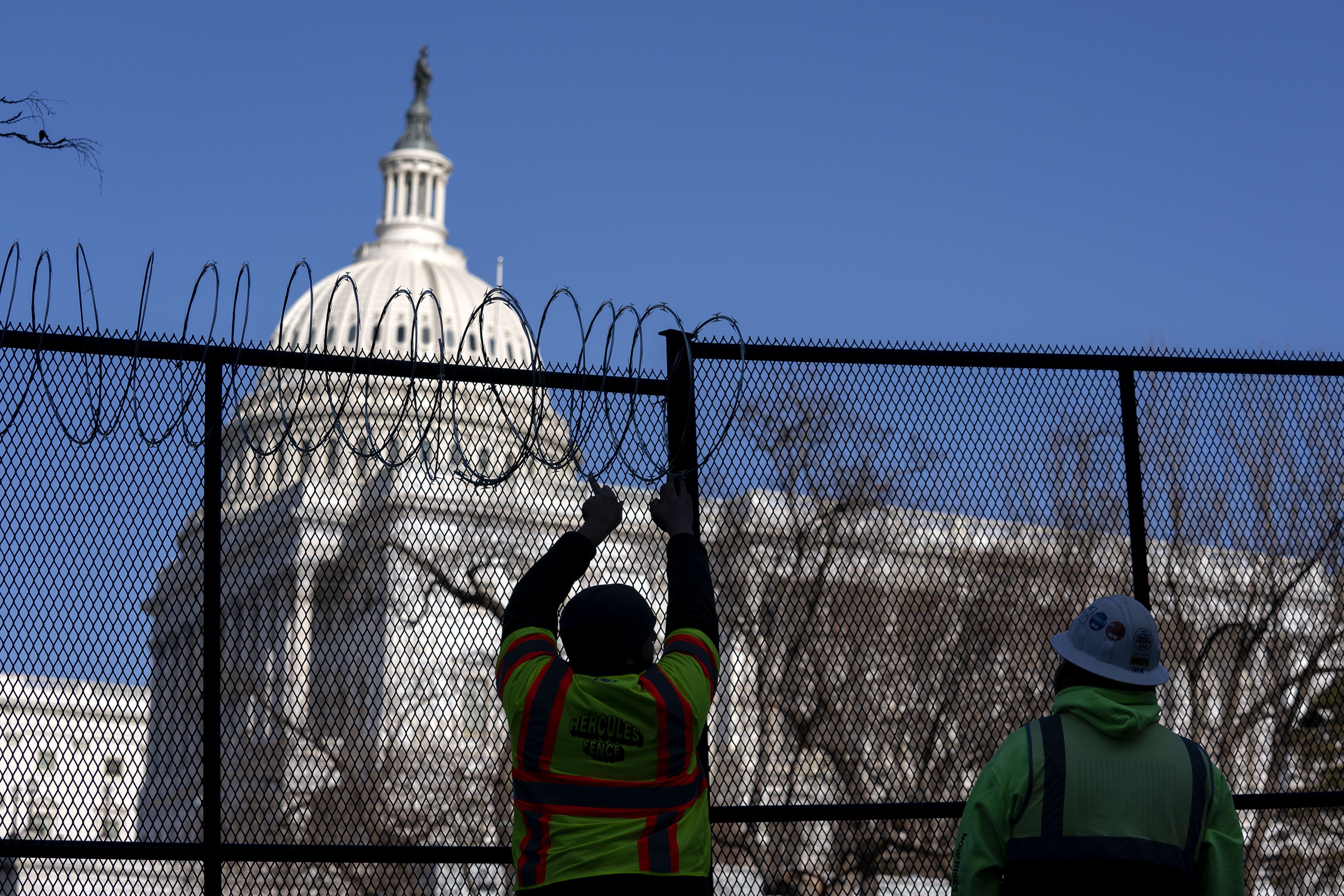 Republicans will emerge from the Trump era gutted financially, institutionally and structurally. The losses are stark and substantial:
They lost their congressional power.
Their two leaders, Mitch McConnell and Kevin McCarthy, are hamstrung by corporate blacklisting of their election-denying members.
The GOP brand is radioactive for a huge chunk of America.
The corporate bans on giving to the 147 House and Senate Republicans who voted against election certification are growing and virtually certain to hold.
The RNC is a shell of its former self and run by a Trump loyalist.
Democrats crushed them in fundraising when they were out of power. Imagine their edge with it.
Sheldon Adelson, the party's biggest donor, died Monday.
The NRA is weaker than it has ever been, after massive leadership scandals.
The U.S. Chamber of Commerce, once controlled by rock-ribbed Republicans, also gave to Democrats in 2020.
Rank-and-file Republicans are now scattered on encrypted channels like Signal and fearful of Big Tech platforms.
The big picture: Conservatives hold power in the courts and state legislatures, two foundational pieces to rebuilding their party. But they likely will face a raging internal war over policies and political leaders as they grapple with a post-Trump world — whenever that might be.
2. ⚡ Our promises to you: Axios Bill of Rights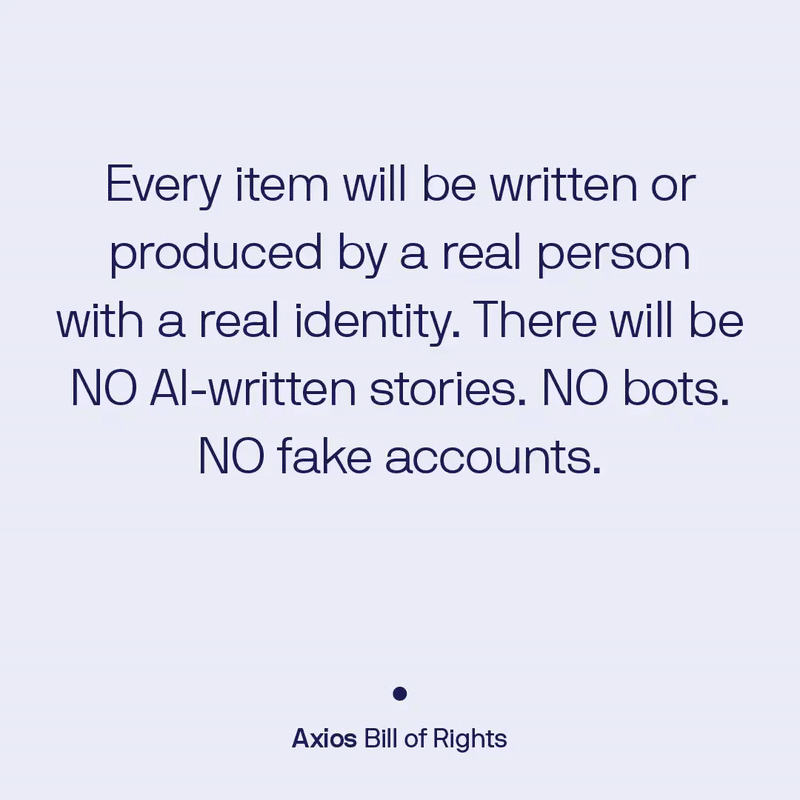 Axios is expanding into local news this month, and broadening our mission to help restore trust in fact-based news with an audience Bill of Rights. 
Why it matters: Nothing matters more than winning the war for truth. Here are the promises we are making to our readers, viewers and listeners:
Every item will be written or produced by a real person with a real identity. There will be NO AI-written stories. NO bots. NO fake accounts. 
We take responsibility for all content that appears on our public platforms.
Every item will be written or produced to inform, analyze and explain. We will never have an opinion section.
We will sacrifice scale for quality, and always aim to save you time by delivering content in the most efficient and healthy way.
We will be transparent about how we make money, and provide clear ways for you to tell us how we can better serve you. (Email us at

[email protected]

)
We will play no games with your data or privacy. We will be careful and transparent, and will provide clear, intuitive ways for you to know how your data is handled. (Our policy is here)
We are committed to helping revive local journalism — and invite local readers to help us best serve their community. (Email us at

[email protected]

)
All employees are asked to refrain from taking/advocating for public positions on political topics. 
We will always cover the topics of greatest consequence with clinical, critical and balanced eyes. (For more on the fact-based framework guiding our coverage, read our editorial manifesto)
We believe high-quality journalism should not be an exclusive privilege. We will provide free access to the majority of our content.
Please hold us accountable for living up to our obligations to you. 
3. Scoop: Anita Dunn to join White House as senior adviser
Anita Dunn, veteran communications and campaign strategist, will join Joe Biden's White House on a temporary basis, helping him to advance his opening agenda from inside the West Wing, Axios' Hans Nichols reports.
Dunn, a former communications director to President Obama, took on an expanded role in Biden's campaign when it faltered last winter, helping guide it through a party nomination and general election victory.
Dunn will work closely with Kate Bedingfield, who'll be White House communications director, and press secretary Jen Psaki.
Dunn played a key role in overseeing strategy and personnel during the campaign and was involved in debate preparation along with her husband, Bob Bauer, a former White House counsel.
Dunn had planned to return to her public affairs and political consulting firm, SKDKnickerbocker, and still intends to do so later this year.
Most of Biden's top campaign aides and longtime advisers will come into the White House:
Chief of staff Ron Klain first worked for Senator Biden in the late 1980s.
Bruce Reed, who'll be deputy chief of staff, was a chief of staff to Vice President Biden.
Longtime confidants Steve Ricchetti and Mike Donilon will be in the West Wing.
Biden announced his American Rescue Plan "to tackle the pandemic and get direct financial assistance and relief to Americans."
Biden said that next month, before a joint session of Congress, he'll lay out a Build Back Better Recovery Plan, with "historic investments in infrastructure and manufacturing, innovation, research and development, and clean energy."
Go deeper: "We cannot afford inaction."
Felix Salmon: "Biden's COVID package also progressive wish list."
4. The cloud-based car is arriving
The notion of the car as a "computer on wheels" is moving past the realm of hype and closer to reality, Axios Navigate author Joann Muller writes.
Why it matters: Long-promised technologies like 5G mean cars will improve over time, instead of depreciating the minute they leave the lot.
5. Public floods National Guard with food offers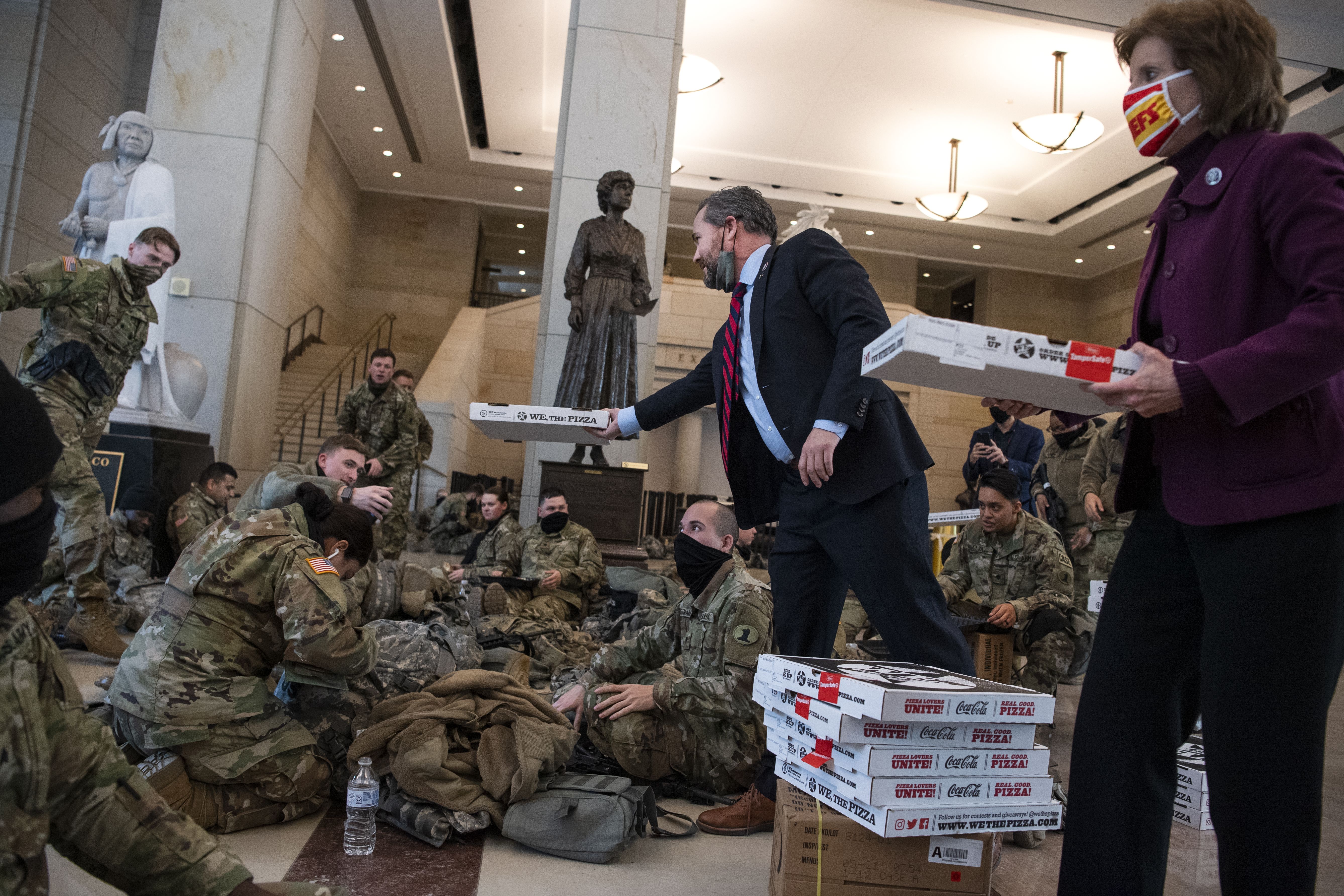 You're not the only one who wondered: Where's the chow and cots?
Shocking images of members of the National Guard sleeping in the Capitol have prompted public offers of pizza and other comfort food, but the military is saying "no thanks," Axios' Kadia Goba reports.
We the Pizza, which delivered a few hundred pies to the soldiers from nearby on Pennsylvania Avenue SE, added an option to its online order page for customers to donate to the National Guard at $12 per pie, D.C. Eater reports.
"While we appreciate the many offers and people who care about our soldiers and airmen, we are not logistically able to accept donations," a National Guard spokesperson told Axios.
The spokesperson said the Visitors Center has been designated as a rest area for the National Guard members when they are on duty but between shifts.
Troops have sleeping quarters — mostly in rotation at downtown hotels.
6. Battling Black mistrust of vaccine
Civil rights leaders and Black sports icons are publicly taking COVID-19 vaccines to bolster confidence as social media misinformation exploits Black distrust of vaccines, Axios race and justice reporter Russell Contreras writes.
Why it matters: African Americans have been infected with COVID-19 at nearly three times the rate of white Americans, according to the National Urban League.
Health officials are racing to reassure skeptical populations that the vaccines aren't clandestine experiments, but needed measures to tame the pandemic.
7. Global temps soar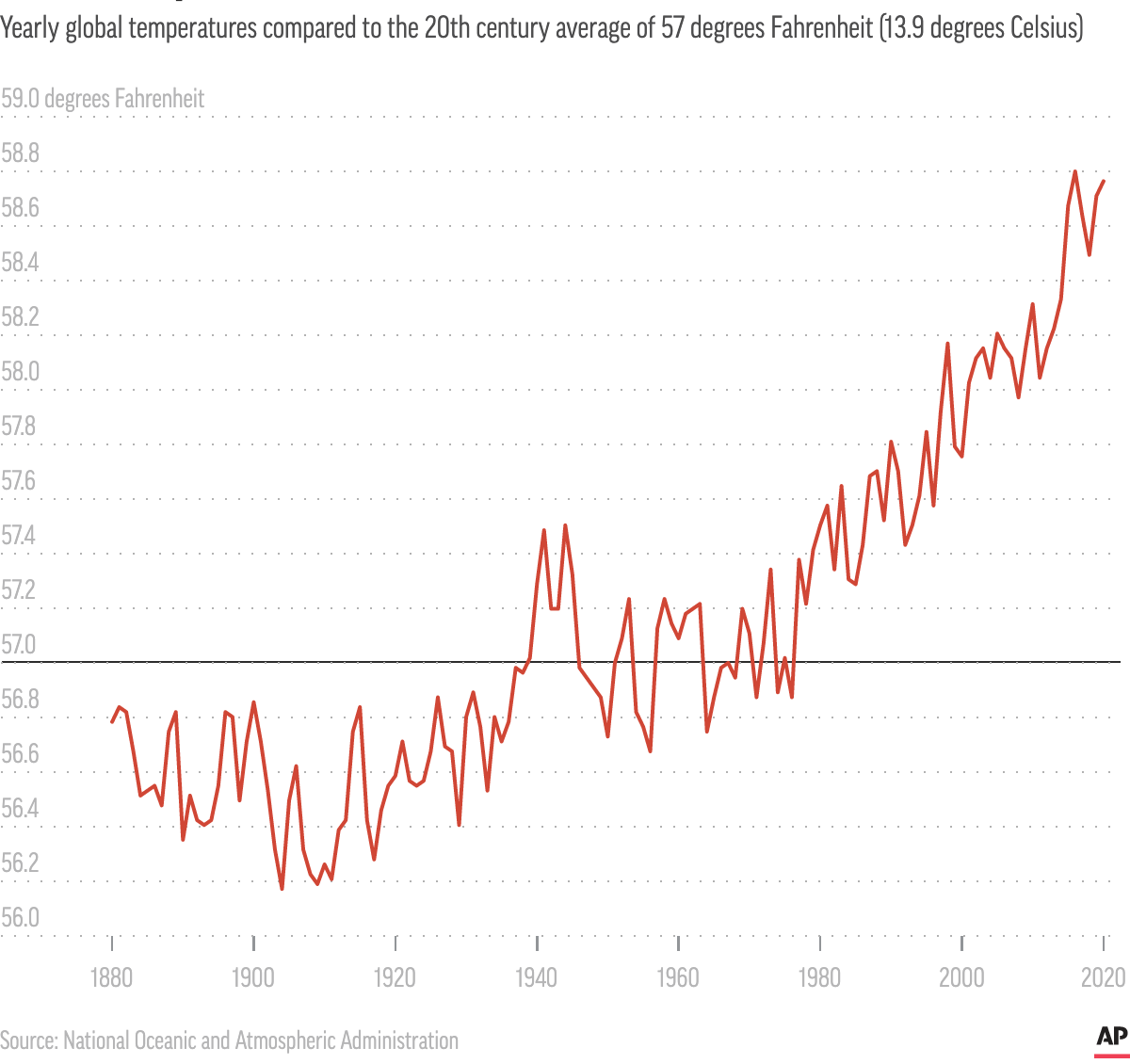 The six warmest years on record have been the six years beginning 2015, AP writes from NASA, NOAA and other monitoring groups.
The 10 warmest have all been since 2005.
8. 🐦 Twitter CEO defends Trump ban
Twitter CEO Jack Dorsey acknowledges that it could set a dangerous precedent: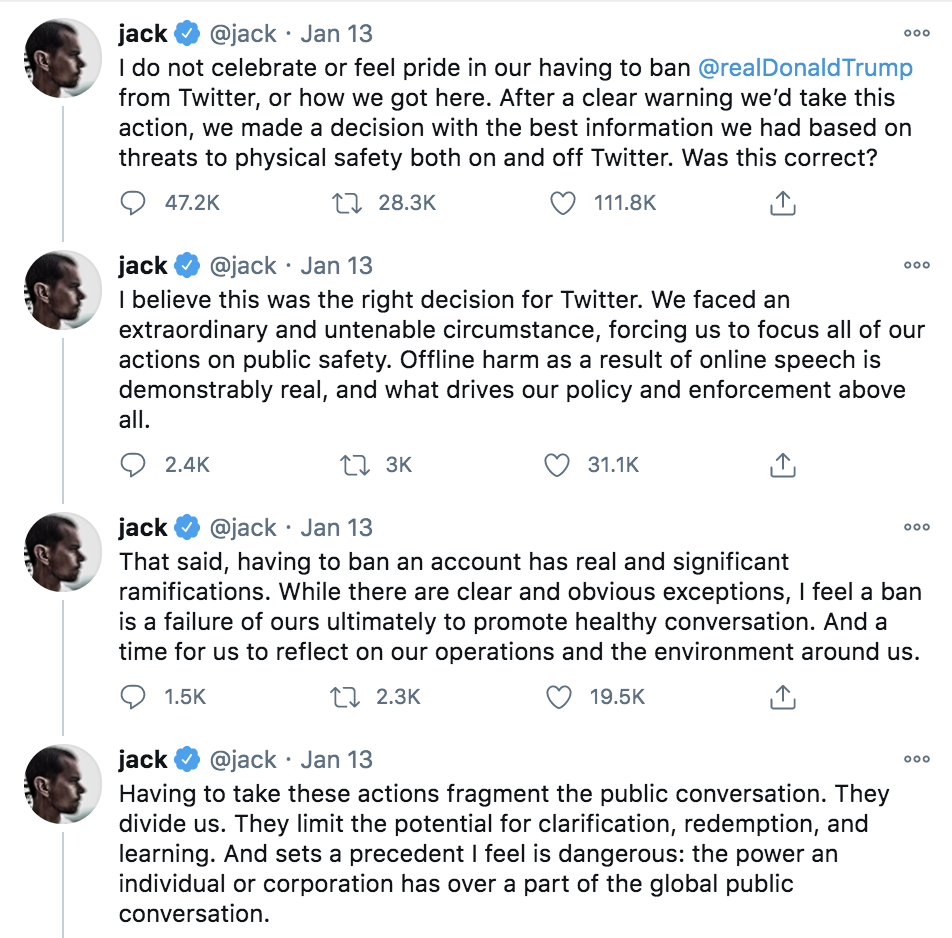 9. 📚 Coming attractions: "Q: Inside the Conspiracy"
Daily Beast reporter Will Sommer, who has followed QAnon since its earliest days and has been targeted by believers, will be out later this year with "Q: Inside the Conspiracy."
The book is billed by HarperCollins as "an exposé on QAnon's growth and its effects on the real world in ways that are at once violent, disturbing, and sometimes comically bizarre."
Sommer was repped by Javelin founders Matt Latimer and Keith Urbahn.
10. 🎂 Wikipedia is 20 today
What began as a free alternative to encyclopedias has become a testament to the power of the open Web — and turns 20 today, Scott Rosenberg and Ina Fried write in Axios Login.
By the numbers:
Wikipedia has 55 million articles, across 300 languages.
More than 280,000 volunteers help update the site.
Wikipedia is edited 350 times per minute, and read more than 8,000 times a second. 
📬 Thanks for starting your day with us. Please invite your friends to sign up for Axios AM/PM.