March 12, 2020
Today's Smart Brevity™ count: 1,190 words ... 4½ minutes.
1 big thing: Coronavirus pandemic and panic
A subdued President Trump speaks from the Oval Office, the NBA suspends its season, collegiate officials announce March Madness will be played without fans, Tom Hanks is diagnosed and a global body declares a "pandemic."
Why it matters: Within just a few hours yesterday, the coronavirus went from ominous background noise to the dominant national conversation and concern, with every school and workplace in America scrambling to respond.
Older people, and those who love them, have an urgent new worry.
Young people are bracing for weeks, if not months, of home-schooling.
The economy, which has spoiled us for years, suddenly is in peril from all the businesses being disrupted, and the ripple effects through our daily lives.
Your quick catch-up:
The NBA suspended its season "until further notice" after the Utah Jazz's Rudy Gobert tested positive. (ESPN)
Tom Hanks confirmed via Instagram that he and his wife, Rita Wilson, had both tested positive for the virus.
From Savannah to Scranton, St. Patrick's Day parades have been postponed across the country, including New York City's massive gathering.
Italy shut down all commercial activities, except grocery stores and pharmacies, in a bid to stop the spread. (BBC)
German Chancellor Angela Merkel warned that up to 70% of the country's population could ultimately be infected. (CNBC)
Congress' in-house doctor told Capitol Hill staffers at a closed-door meeting that he expects 70 to 150 million people in the U.S. — roughly a third of the country — to contract the virus.
A bear market set in for the Dow Jones, as the index plunged 20% from its record high in February.
The bottom line: We're living through a once-in-a-lifetime crisis that has suddenly injected alarm and uncertainty into American life, commerce, culture and politics.
CNBC headline now: "DOW SET FOR ANOTHER 1,000+ POINT DROP."
Reality check: We have no clue how bad this will be, how long it will last and how much damage will be done.
But every organization in America is preparing for months of life at home. Even if this is all a national overreaction, it's become a self-fulfilling prophecy, as each closing begets another.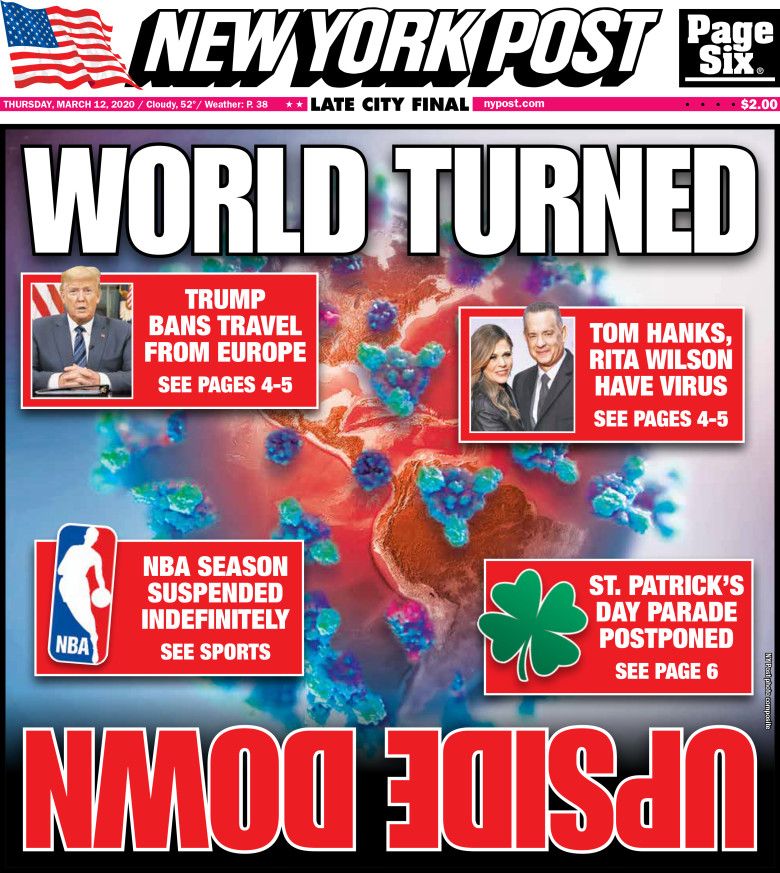 2. March Madness without fans
The NCAA made the unprecedented decision yesterday to prohibit spectators from attending all of its upcoming championships, including the men's and women's basketball tournaments, due to the coronavirus outbreak, writes Axios' Kendall Baker.
Why it matters: March Madness, a cultural phenomenon and one of the biggest sporting events in America, will be played without the madness of the crowd.
What to watch: Now that the NBA has suspended play, the NCAA will face increased pressure to do the same — and will likely have no choice if and when a player tests positive.
The bottom line: Earlier this week, there was a belief that the coronavirus might have a positive impact on March Madness because overall interest and TV ratings would go up with so many Americans working from home or self-quarantining.
It's time to start preparing for at least a few weeks — maybe months — of fan-less sports — or, perhaps, no sports at all.
🏀 Sign up for Kendall Baker's daily newsletter, Axios Sports.
3. Brace for coronavirus supply shocks
Products from major American companies, including Apple, GM, Coca-Cola and even Facebook, may soon become unavailable, as the fallout from the coronavirus outbreak backs up and shuts down global supply chains.
Why it matters: Consumers should brace themselves for products — often unexpected ones — to go missing in the coming weeks and months, Axios' Dion Rabouin, Joann Muller, Bob Herman and Courtenay Brown report.
By the numbers: A survey released Wednesday by data provider ISM shows the outbreak has caused supply chain disruptions for nearly three-quarters of U.S. companies.
Many are already pricing in revenue losses this year as a result.
The big picture: "As East Asia starts to recover, the focus turns to Europe and then to North America," Joe Brusuelas, chief economist at tax and consulting firm RSM, tells Axios.
He expects a cascade of shocks to continue, "with the worst impact for businesses to come in April and May."
Chinese supply chains may be lumbering back, but there will likely be rolling auto parts shortages in other regions of the world, mirroring the spread of the virus, throughout 2020.
The next risk will likely come from Korea, where most of the world's memory chips are made.
Other potential shortages could include components imported from Italy: Brembo brakes, Pirelli tires, FiatChrysler engines and transmissions.
Shipping and delivery could become a new operational chokepoint, especially if more regions end up in lockdowns like Italy's.
4. Exclusive: DNC chair "not contemplating" online convention
In an interview with Jonathan Swan for "Axios on HBO," Democratic National Committee chair Tom Perez flatly denied that he was considering canceling July's Democratic convention in Milwaukee and replacing it with an online convention due to the coronavirus outbreak.
"We'd have to change the rules," he replied. "We're not contemplating rule changes."
Between the lines: Such a move would require the DNC — which has suffered major problems with technology and information security — to oversee a secure and seamless digital convention with the pressure of American citizens and America's foreign adversaries bearing down on them.
5. Tracking the spread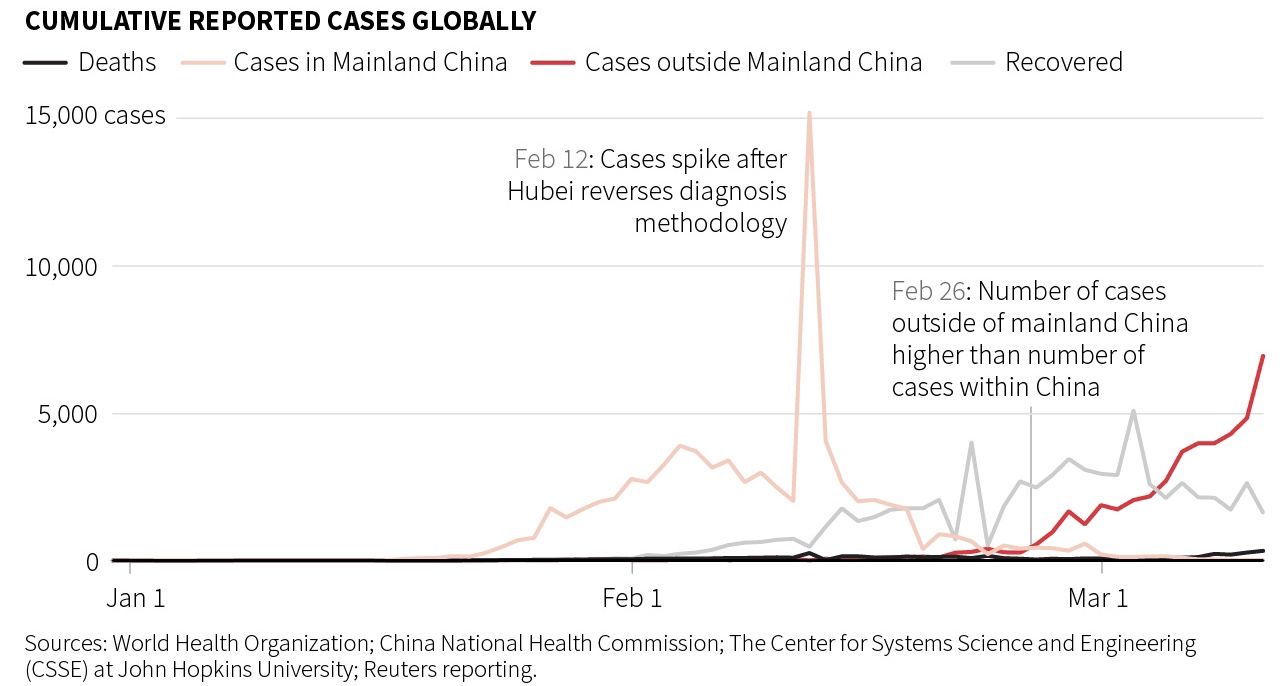 6. Virus exposes online inequality
With more human activity being pushed online, inequality in connectivity — usually invisible — suddenly could become a major problem, Axios' Margaret Harding McGill writes.
Why it matters: The coronavirus crisis is offering vivid case studies of real-world, everyday differences between those who can afford high-speed internet, and those who cannot.
By the numbers: The FCC estimates 21 million Americans lack access to high-speed broadband, though that number could be higher due to problems with data collection.
The gap is largest in rural areas and on tribal lands: More than 26% of residents in rural areas and 32% on tribal lands lack access.
7. Hospitals prep for onslaught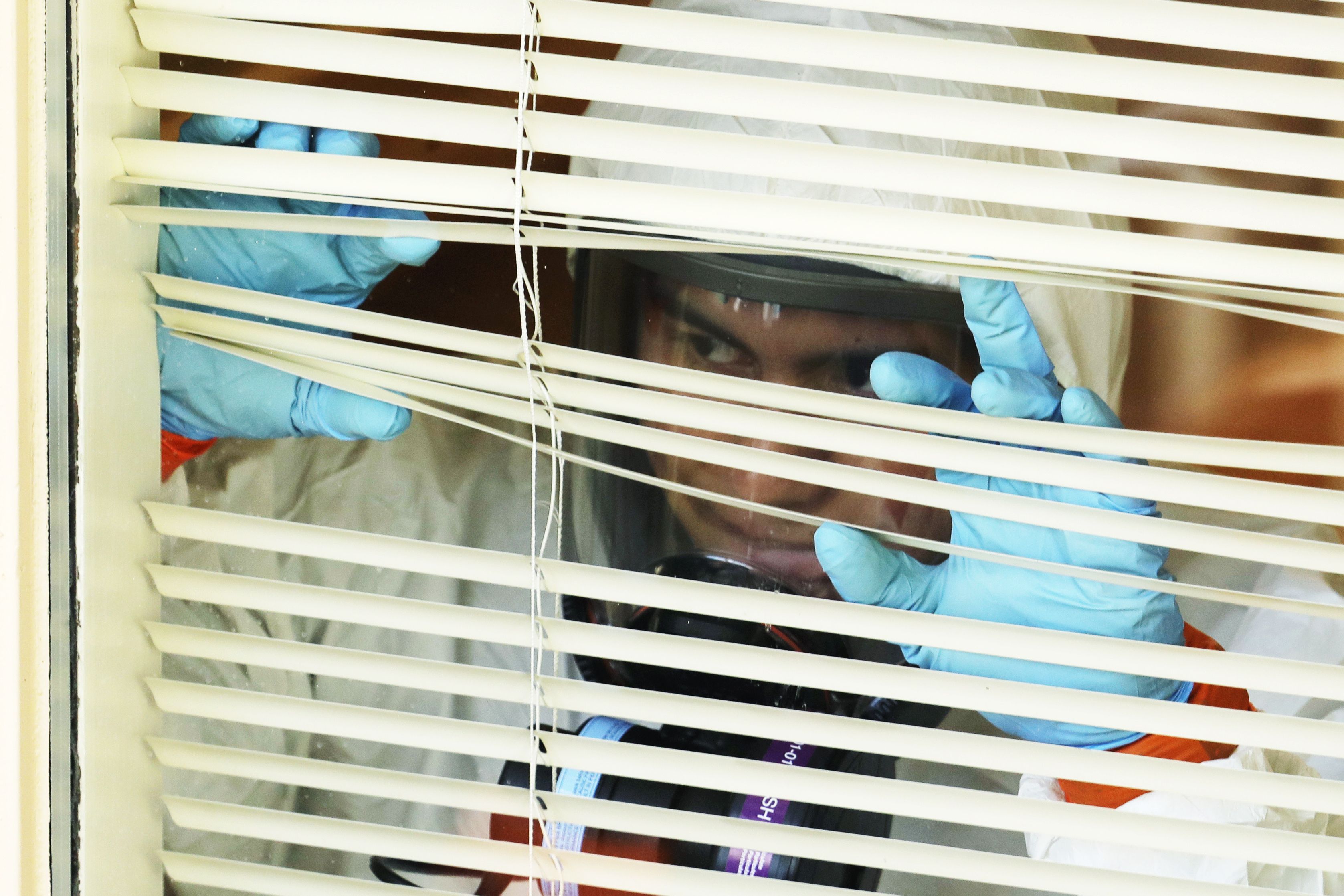 U.S. hospitals are preparing for millions of potential hospitalizations and dusting off pandemic preparedness plans in anticipation of supply shortages and overcrowded waiting rooms, Axios' Marisa Fernandez writes.
What they're doing: Hospitals and clinicians are exploring ways to delay the influx by pushing in-home care, and possibly limiting elective surgeries.
EvergreenHealth in Kirkland, Wash., has been rationing supplies like goggles and overworking staff across all departments while caring for nearly 70 patients, the N.Y. Times reports.
Massachusetts General Hospital doctors are pushing for pop-up clinics and more testing, the WashPost reports.
Johns Hopkins University is looking to turn entire medical units into a respiratory isolation unit for patients.
What's next: Doctors overseas are stressing how ill-prepared hospitals are if they reach capacity, as has happened in Italy, per the Times.
9. Weinstein may die in prison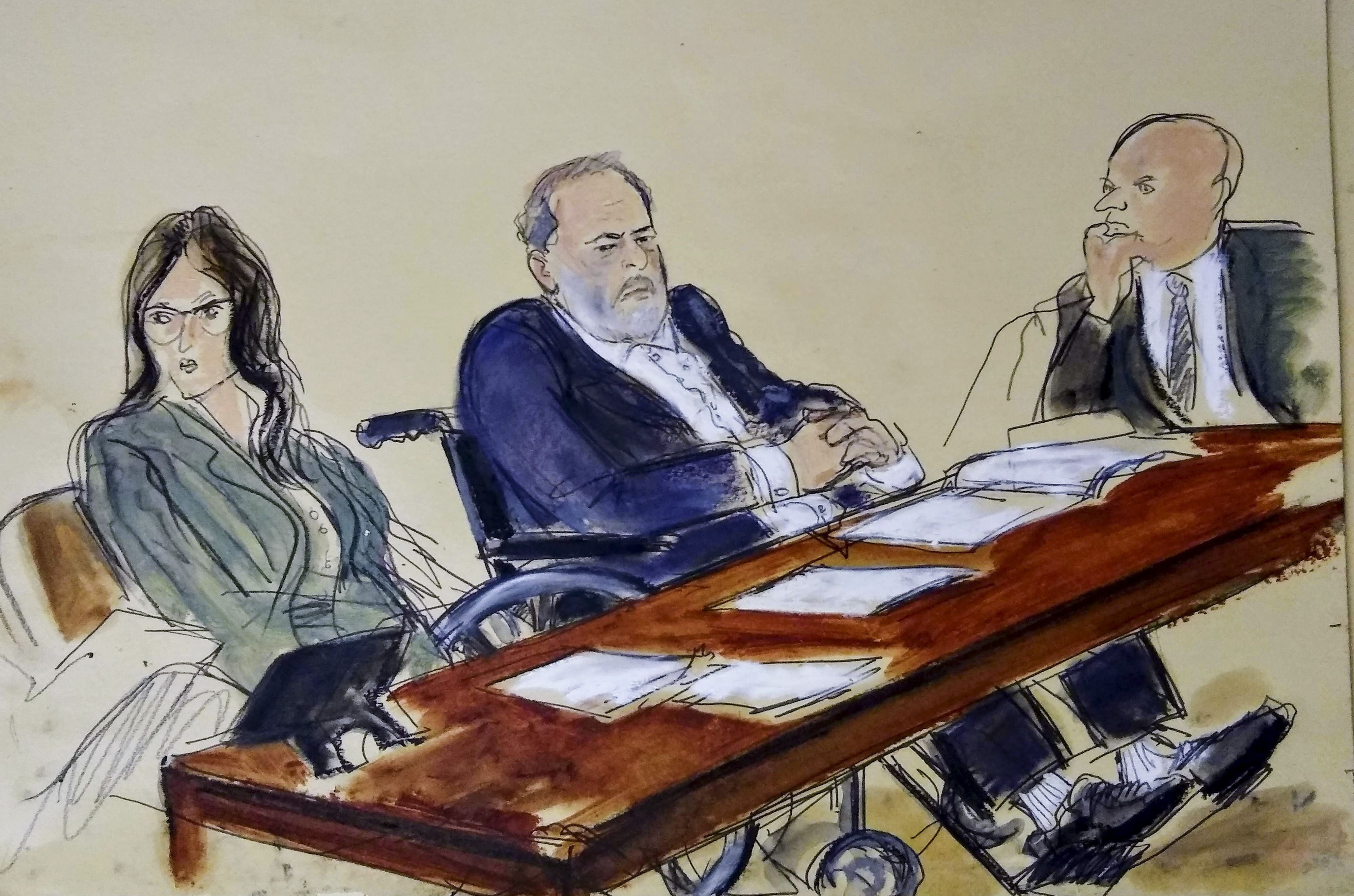 Harvey Weinstein, 67, was sentenced to 23 years in prison yesterday for sex crimes "as the six women who had testified against him watched from the courtroom's front row, holding one another, some in tears," reports the N.Y. Times' Jan Ransom.
Why it matters: The women who spoke up against him allowed others "around the world to speak about mistreatment at the hands of powerful men, shifting the cultural landscape with the #MeToo movement."
"The long sentence meant that Mr. Weinstein, who is ... in poor health, could very well spend the rest of his life in prison."
10. 1 news thing: Covering a crisis
Newsrooms are creating contingency plans to make sure that they can adequately inform the public about coronavirus while keeping their own employees safe, Axios' Sara Fischer writes.
Why it matters: Some news products — including newspapers, magazines, video and events — require in-person manpower to produce. With work-from-home policies in place, products and editorial procedures are changing.
Media companies are going all-in on coronavirus coverage, launching dozens of pop-up podcasts, newsletters and special reports.
But much of that coverage has shifted to accommodate journalists working from home.
The bottom line: "We've faced challenges and crisis before over the 168-year history of the Times from war to natural disaster to disease," a New York Times spokesperson emailed.
"Our coverage of the coronavirus outbreak is a daily demonstration of our unwavering commitment to keeping the public informed."