November 03, 2020
🗳️ Good morning and welcome to Election Day — Tuesday, Nov. 3, 2020 — a day you'll always remember. Soak it in, maybe keep a diary on your phone (something simple, or you won't do it), and take care of yourself.
Thank you to the Axios AM audience — the most interesting, demanding and delightful breakfast table in the world — for trusting us along the journey, and for all that we've learned from each other.
If you missed Jim VandeHei's eight tips for a safe, sane election night, now's a good time to check them out — or share them if they served you.
🎧 See you all night on Axios.com, and on 5-min. pop-up editions of our "Axios Today" and "Axios Re:Cap" podcasts, with hosts Niala Boodhoo and Dan Primack joining forces.
Today's Smart Brevity™ count: 1,193 words ... 4½ minutes.
1 big thing ... Scoop: Biden's plan to assert control
If news organizations declare Joe Biden the mathematical president-elect, he plans to address the nation as its new leader — even if President Trump continues to fight in court, advisers tell me.
Why it matters: Biden advisers learned the lesson of 2000, when Al Gore hung back while George W. Bush declared victory in that contested election, putting the Democrat on the defensive while Bush acted like the winner.
So if Biden is declared the winner, he'll begin forming his government and looking presidential— and won't yield to doubts Trump might try to sow.
Biden's schedule for today includes a clue to this posture: He "will address the nation on Election Night in Wilmington, Delaware."
Biden campaign manager Jen O'Malley Dillon told reporters yesterday that even if all the votes aren't counted tonight, the campaign should have "a very good sense of where we're headed":
"We're not really concerned about what Donald Trump says. ... We're going to use our data, our understanding of where this is headed, and make sure that the vice president is addressing the American people."
To show momentum, Biden may begin transition announcements quickly, starting with senior staff appointments.
That way, core aides won't have to worry about their own jobs, but will immediately be able to get to work.
Biden plans to adopt what one confidant called "a healing tone," and begin talking about the path forward in battling the coronavirus.
Look for Biden to embrace science, and talk up the role of Dr. Anthony Fauci, after Trump threatened Sunday to try to fire the trusted official.
From there, the transition would move with unprecedented speed:
Biden had eight years in the White House, and he's surrounded by aides with decades of government experience.
So the transition has made the most thorough agency-by-agency preparations in history, including offices no one's thinking about.
Biden has blueprints for staffing every single agency, and has extensive plans for executive orders, including ones to undo Trump actions.
Look for Biden to send all-business signals: He won't pack the courts, and is unlikely to push for repeal of the Senate's filibuster rule and its 60-vote requirement anytime soon.
Instead, look for Biden to push to pass as much as possible under the banner of budget reconciliation, which requires just a simple majority.
2. Tonight's viewing: Beware of mirages
The Democratic data firm that predicted an election-night "red mirage" — a theoretical early lead by President Trump, based on in-person votes, that Joe Biden overtakes as more mail-in ballots are counted — says late turnout modeling shows that could still happen, Axios White House editor Margaret Talev writes.
Updated voting data from Hawkfish, funded by Mike Bloomberg, says Trump may look as if he's on track to cross 270 electoral votes based on early returns, only to be overtaken once all mail-in ballots are counted.
Why it matters: It's a reminder that both parties believe the race is closer than swing-state or national polls make it look.
States have different ways of tabulating early votes: A "blue mirage" could occur in states that instantly tabulate mail-ins, while in-person tallies lag.
Between the lines: The "red mirage" is a data-based argument to remind us that we shouldn't expect to know the winner before we go to bed.
3. 📺 Watching the battlegrounds
If it's close, we could face a days-long waiting game to find out who the president-elect will be — especially if it comes down to Pennsylvania, where we might not know the results until at least Friday, Axios' Stef Kight writes.
Election officials in some states, including Georgia and North Carolina, expressed confidence in being able to have clear (but not final) results tonight or tomorrow.
Most key states — except Pennsylvania, Wisconsin and Michigan — have begun processing absentee ballots.
Arizona, Florida and large counties in Texas have already started counting.
Michigan could take until Friday.
Reality check: No matter what anyone says on election night, waiting for mail ballots to be counted is normal and happens in every election.
4. Pics du jour: Last lap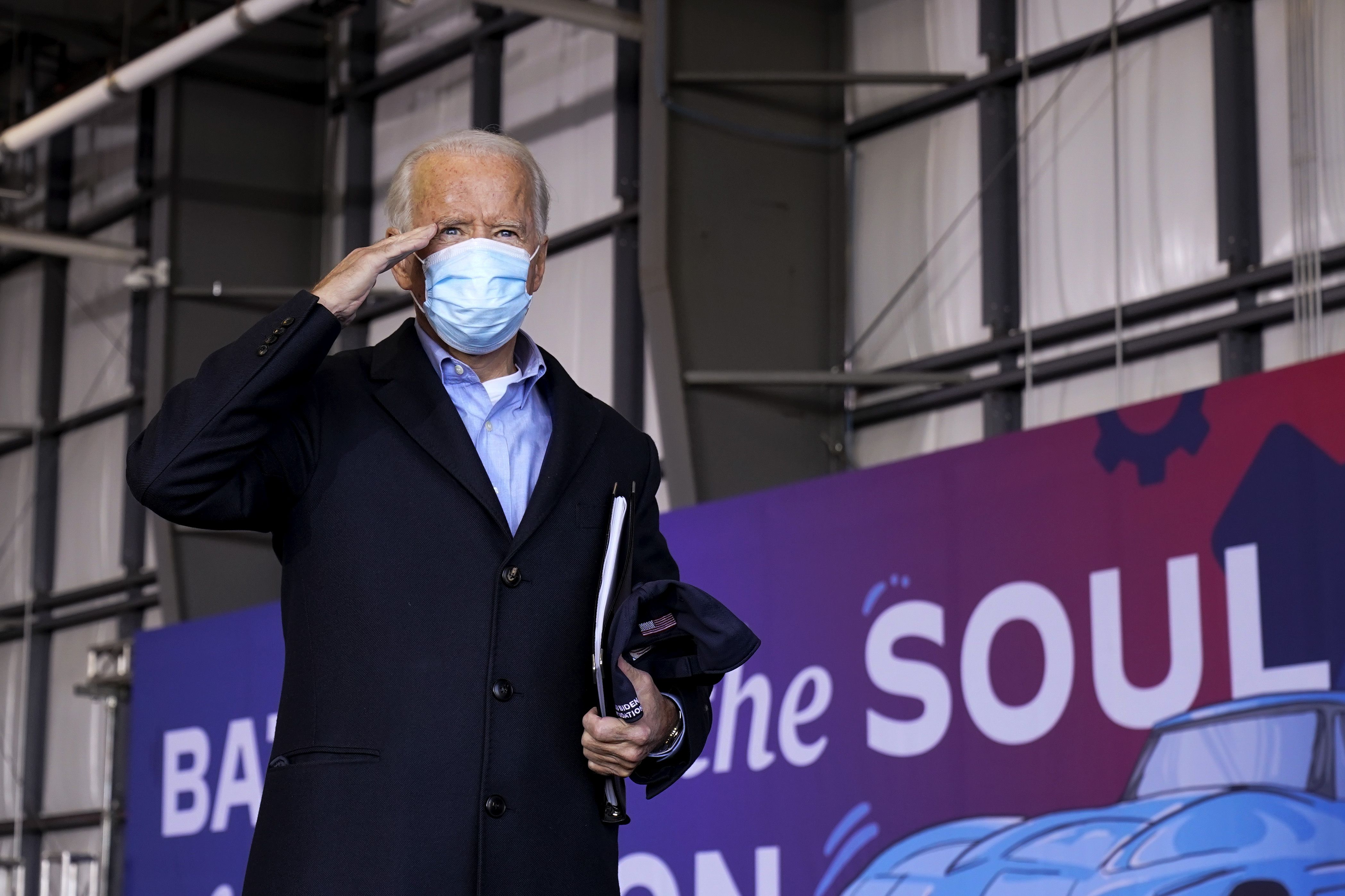 Joe Biden salutes after speaking yesterday at Cleveland Burke Lakefront Airport in Ohio.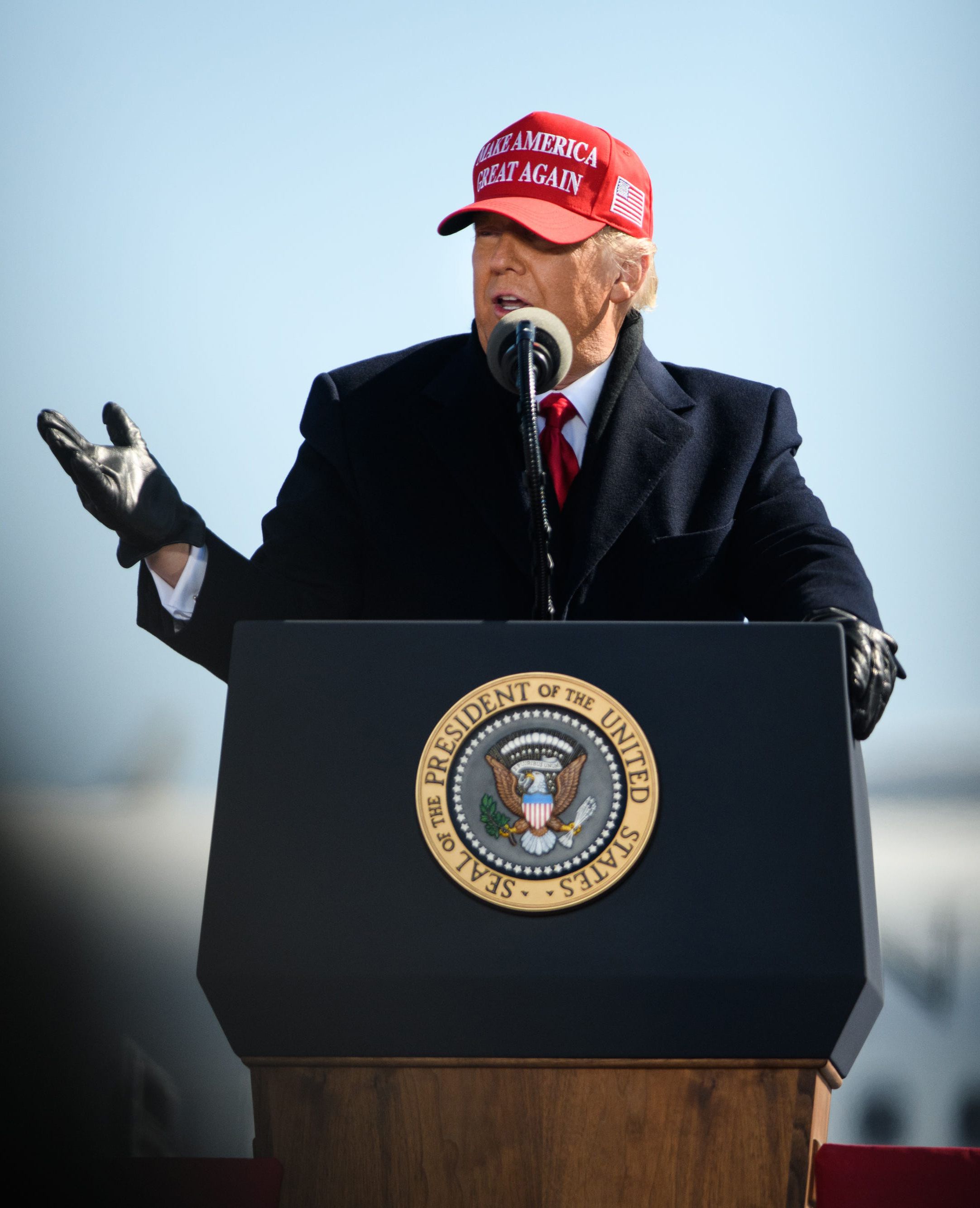 President Trump held a "Make America Great Again Victory Rally" yesterday at chilly Fayetteville Regional Airport in Fayetteville, N.C.
5. Cable ramps up news about news
On cable news, mentions of "misinformation" and "disinformation" have skyrocketed in the past few weeks, surpassing mentions of "Social Security," "climate change" and "immigration," Sara Fischer writes in her weekly Axios Media Trends newsletter, out later this morning.
The data, from the Stanford Cable TV News Analyzer, measures "minutes mentioned" about issues by networks over time, going back to 2010.
Viewership of stories about media disinformation and bias surged from September to October, according to Parse.ly:
A 717% increase in views on stories related to disinformation.
A 357% increase in views on stories about censorship.
204% more views on stories about media bias.
Between the lines: Journalists have focused on covering misinformation as a defensive maneuver against President Trump's "fake news" charge.
6. How partisanship affects public health
Who Americans voted for in 2016 was a strong predictor of how they reacted to the pandemic, Axios' Caitlin Owens writes from a new study in Nature.
"Partisan differences in physical distancing were linked to higher growth rates of infections and fatalities in pro-Trump counties than necessary," the authors write.
Using geotracking data of about 15 million people per day, the study found that counties that voted for President Trump in 2016 saw a 24% decrease in movement and visits to non-essential services between March 9 and May 29 of this year. Counties that voted for Hillary Clinton saw a 38% drop.
This partisan gap remained after factoring in variables like counties' coronavirus case counts, population density, income, racial makeup and age makeup.
The partisan gap increased with time.
The partisan response is likely at least partially attributable to Americans' polarized media consumption.
7. The journey
The Ohio State political scientist Tom Wood shows that "2020's momentous political events ... seemingly had precisely zero effect on national presidential polling":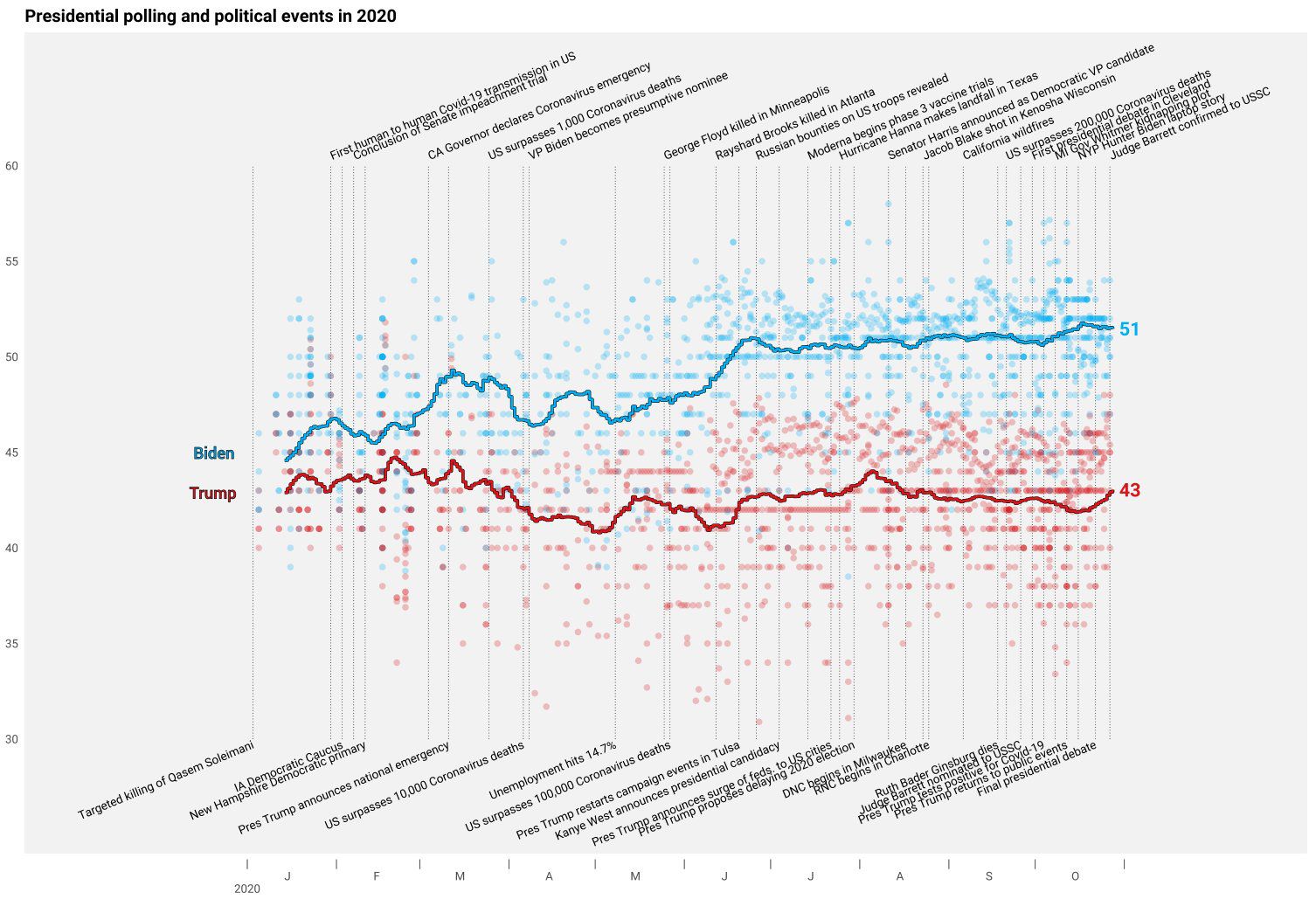 9. 🐦 Nostalgia tweet
10. 🦈 Most-watched YouTube ever
"Baby Shark Dance," the kid-friendly earworm launched in 2015, has become the most-viewed YouTube in history — over 7 billion views — passing "Despacito" (also 7 billion+), by Puerto Rico's Luis Fonsi and Daddy Yankee.
Baby shark! Doo doo doo doo doo doo!
Baby shark! Doo doo doo doo doo doo!
Baby shark! Doo doo doo doo doo doo!
Baby shark!
Mommy shark, doo doo doo doo doo doo ...
How we got here, from creator PinkFong: "Baby Shark" recorded "a 20-week-streak on the Billboard Hot 100 and #6 on the Official Singles Chart, the highest position ever achieved by a children's song in history."
The viral dance challenge #BabySharkChallenge generated over 1 million cover videos around the world.
📬 Thanks for starting your week with us. Invite your friends to sign up for Axios AM/PM.