Axios AI+
September 27, 2023
Ina here, coming to you from Code Conference in Dana Point, California. Today's AI+ is 1,283 words, a 5-minute read.
1 big thing: FTC's Amazon case is no slam dunk

The FTC's new lawsuit against Amazon — like similar recent and historic antitrust litigation against other tech giants — faces a tough uphill climb because it takes a lot of certainty before the U.S. government will hogtie a U.S. corporation, Axios' Scott Rosenberg reports.
Why it matters: Much of the public, along with the media, shares a visceral sense that tech giants like Amazon, Google, Apple, Facebook and Microsoft are way too powerful and ought to be knocked down a few pegs — but, for better or worse, you don't win an antitrust lawsuit based on gut feelings.
Driving the news: The FTC's Amazon suit lays out detailed charges that the company's practices have raised prices for consumers, blocked competitors and stifled innovation.
It will now be up to a federal judge in Washington state to decide whether the case and evidence are strong enough to rule that Amazon should be liable for damages or "structural remedies," like limits on its conduct or even some kind of break-up.
Yes, but: As with the Justice Department's antitrust suit against Google, which is now being tried in a Washington, D.C., courtroom, there's a long list of complex hurdles that the government has to clear in order to win.
It has to prove that Amazon is a monopoly in specific markets. The FTC's lawsuit defines two markets in which Amazon has a "durable monopoly": the "online superstore market" and the "online marketplace services market."
Then it has to prove that Amazon used its monopoly powers to harm consumers and competitors. The FTC lays out detailed claims that, for instance, Amazon's "exclusionary anti-discounting conduct" artificially boosts prices and its rules for sellers to "coerce" them into using its fulfillment services.
These charges can sound persuasive in the pages of the FTC's 172-page lawsuit filing. But Amazon is about to unleash all the lawyerly energy that a trillion-dollar corporation can afford to buy.
Its lawyers are likely to question every assumption, definition and number in those 172 pages — which is why antitrust trials are notorious for their length and their lack of drama.
Between the lines: Microsoft famously lost its 1998 antitrust case (later mostly reversed on appeal) by losing the confidence of the presiding judge through what many saw as condescending executive testimony and counsel behavior. It's highly unlikely any tech firm will make that mistake again.
The big picture: However many people may feel that "Amazon is too big," antitrust law is specifically aimed at limiting monopoly power — and tech's current era of rule by a quintet of corporate giants means that there's still a ton of competition out there.
Amazon's retail power is undeniable, but its Amazon Web Services cloud business faces a strong challenger in Microsoft and, to a lesser extent, Google.
Amazon has a dominant position in the e-book market, but its efforts to break into the Apple- and Google-dominated phone business were a disaster.
Tech's big five are in one another's business all over the product landscape, as we've previously mapped out.
What's next: The artificial intelligence boom has set off a new melee among the tech giants.
Amazon is a big player in that game but Microsoft and its OpenAI ally are coming on strong.
Google is a not-to-be-counted-out veteran, Meta is an open-source AI spoiler — and laggard Apple could just be waiting for the right moment to move in and clean up.
The bottom line: These companies all still fear each other far more than they fear the threat of antitrust litigation. That can look like arrogance — but it also looks like competition.
2. Writers' strike deal sets historic new AI rules
The agreement to finally end the 148-day-long Hollywood writers strike includes landmark rules governing the use of AI in Hollywood projects, Axios' Sara Fischer reports.
Why it matters: Legal, creative and labor norms around AI are unsettled, and the guidelines set today are likely to set patterns for the future.
The use of AI in industries that center on intellectual property, such as acting, publishing and journalism, has become a big issue for other companies negotiating labor contracts.
Details: The deal establishes regulations for the use of AI in projects involving writers who are subject to the contract.
It says that AI "can't write or rewrite literary material," and AI-generated material "can't be used to undermine a writer's credit or separated rights," which are held by a writer individually rather than by some larger entity.
Writers can choose to use AI when performing writing services with consent from their production partners, but they can't be forced to do so.
Studios are also required to disclose to writers if any materials given to them have been generated by AI or incorporate AI-generated material.
Zoom out: The new deal gives writers most of what they had been asking for, including better wages, benefits and staffing minimums.
But the parameters around AI are particularly notable, because they create standards for writers just as tools like ChatGPT are beginning to go mainstream.
What's next: SAG-AFTRA, the union that represents striking actors, has said that it would review the terms of the writers' deal as it continues its own ongoing negotiations with Hollywood movie studios.
Actors are also fighting for guidelines around AI as a part of their ongoing contract negotiations.
Go deeper: What happens after the Hollywood writers' strike ends
3. Net neutrality: The never ending story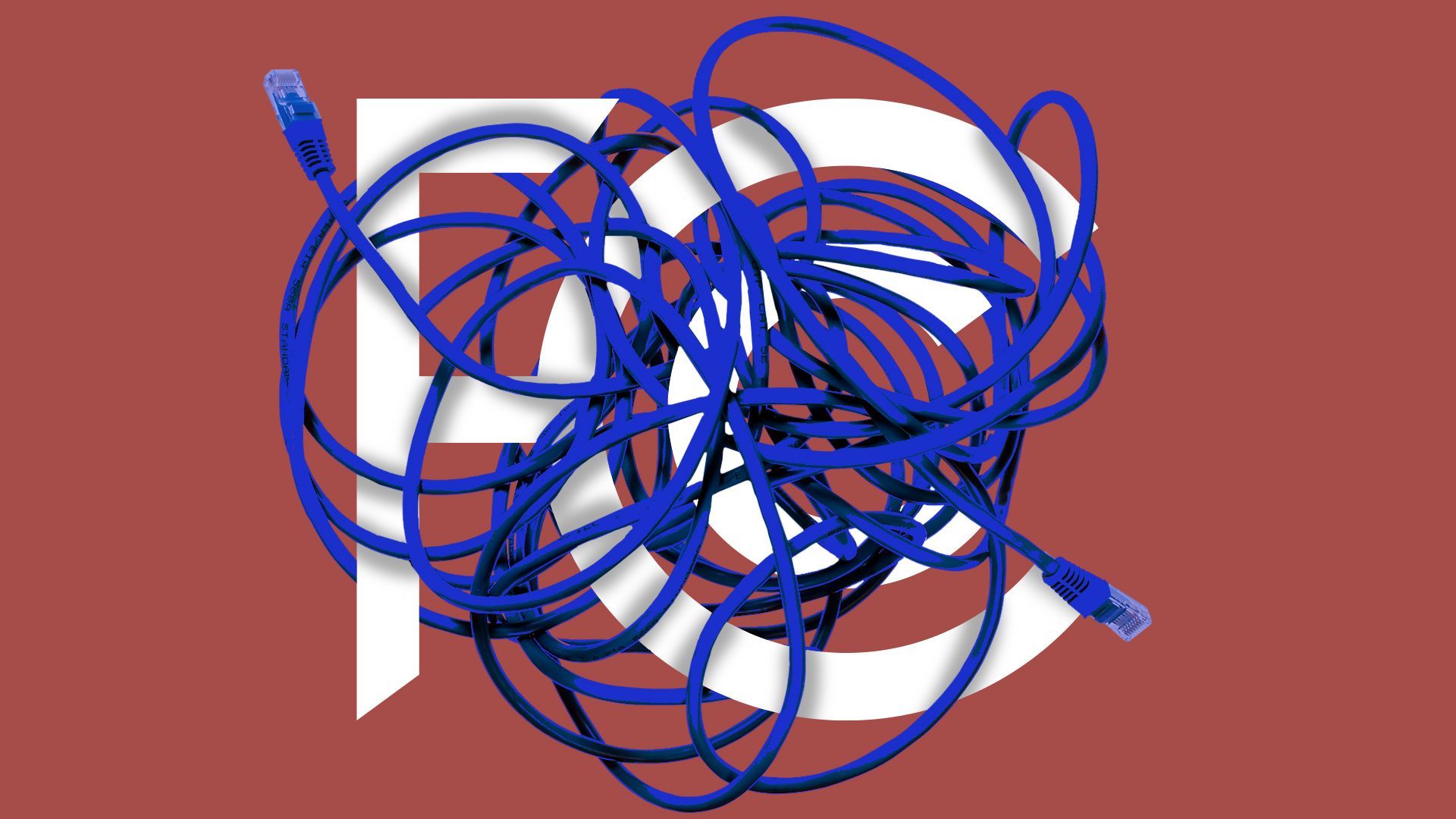 FCC chair Jessica Rosenworcel just announced plans to restore net neutrality rules previously reversed during the Trump administration, Axios' Maria Curi reports.
If approved, the net neutrality rules would place providers under the same classification as phone companies, allowing the FCC to treat the internet as an essential service subject to greater regulation.
Why it matters: Proponents of the rules say they're necessary to ensure that information flows freely and consumers continue having access to an open and free internet, as well as to defend national security and advance public safety.
Reality check: Fights over net neutrality go back to the 1990s and this fight will likely be no different. The vote will follow a draft of the proposed rules, public feedback, likely lots of lobbying and lawsuits.
The FCC's rules aim to prevent internet companies from slowing down service, blocking content or showing preferential treatment to websites that pay by, for example, increasing speeds.
What they're saying: Representatives from the broadband industry are skeptical of the FCC's plans.
"The Chairwoman's proposal would hamper the development of the Internet at a time when consumers need it most. Proponents of utility-style regulation of the Internet have been proven wrong by history .... The FCC should reject the proposal," Information and Technology Innovation Foundation director of broadband and spectrum policy Joe Kane said in a statement.
Of note: Some states like California already have net neutrality rules, and the agency's move is an effort to replace what they call a patchwork of rules with one strong federal standard.
What's next: The agency on Oct. 19 will vote on whether to advance the draft rules.
Thanks to Scott Rosenberg and Megan Morrone for editing and Bryan McBournie for copy editing this newsletter.
Editor's note: The second item in yesterday's newsletter was corrected to note that Mignon Clyburn is a former policymaker, not a former member of Congress.