Google, DOJ kick off biggest tech antitrust trial in decades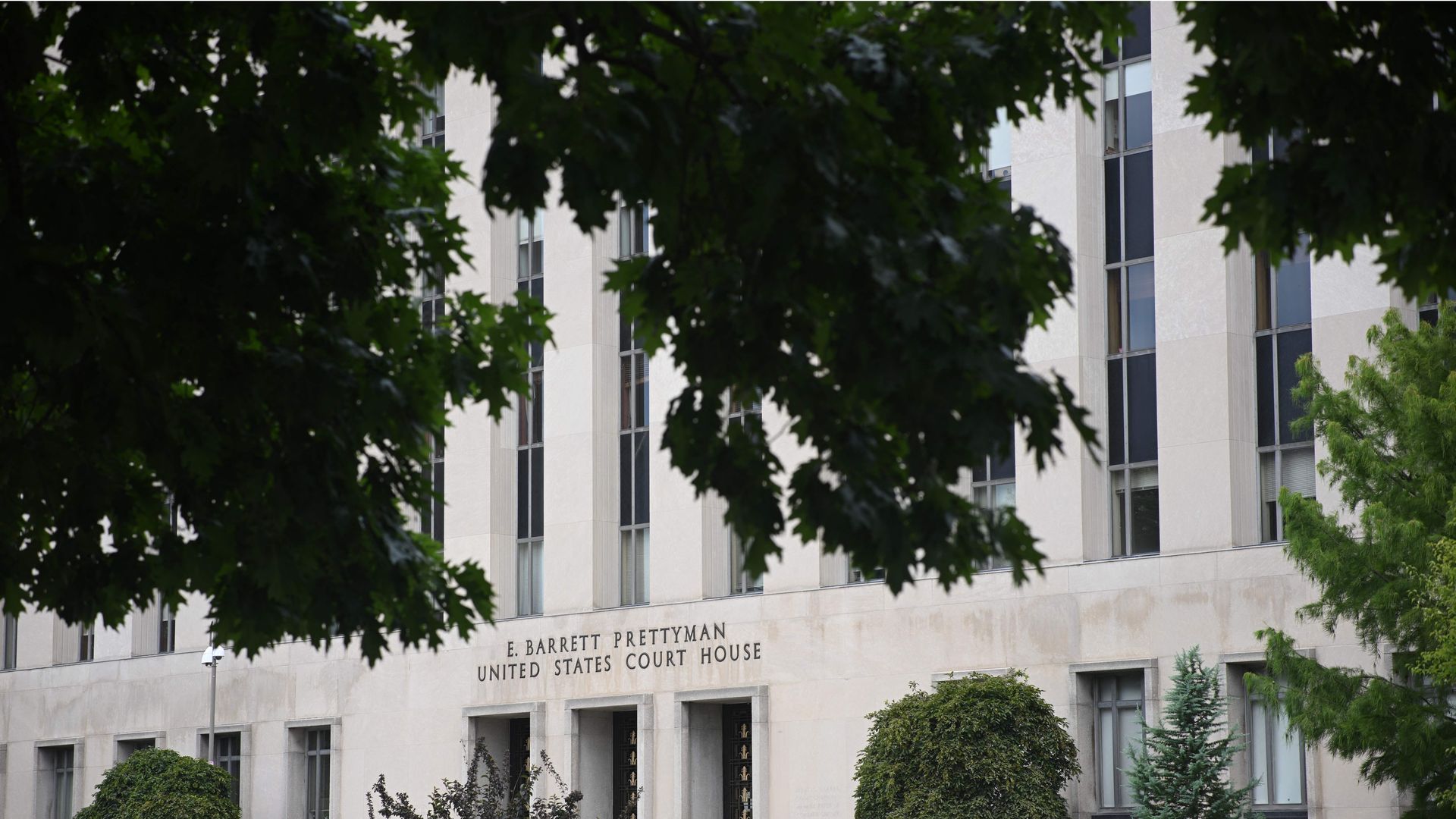 The Justice Department argued that Google has maintained an illegal monopoly for online search by locking other companies into restrictive and anticompetitive contracts during the first day of a long-awaited trial between the tech giant and the government.
Driving the news: The Justice Department, state attorneys general and Google kicked off what could be months in the courtroom with fiery opening statements.
What they're saying: "Google's scale hermetically seals it from competition," said Kenneth Dintzer, who made the DOJ's argument. "Google's market share is locked in by enormous barriers to entry."
Dintzer said Google began "weaponizing" default search agreements in 2007, establishing a monopoly and maintaining it since at 2010 using specific and binding agreements with third parties like Apple, Mozilla and Android.
Throughout the trial, the court "will hear from various sources that defaults are the most efficient way to increase search traffic," Dintzer said, highlighting examples of Google's contract terms that the DOJ has deemed anticompetitive and exclusionary.
The other side: "As a matter of law, this court cannot intervene in the market and say Google, you're not allowed to compete," said John Schmidtlein, the lead attorney arguing for Google.
Other parties like Mozilla and Apple have chosen Google because it's the best search engine, not because they are forced, Schmidtlein said, echoing Google chief legal officer Kent Walker's previous arguments.
"There is no bigger competition than trying to get your product on one of these devices," said Schmidtlein. "[Companies] want to be the default because there is tremendous value with it... If Google is prevented from competing, that won't make Yahoo or DuckDuckGo run faster, or any of the other analogies offered this morning."
The intrigue: The DOJ painted a picture of these default search agreements as binding, restrictive and made entirely on Google's terms, essentially trapping partners into accepting payments they need to keep functioning.
Schmidtlein, Google's lawyer, said that companies decided to have default competitions themselves, all recognize the value of a default browser and that the agreements allow for rivals to be promoted and accessed easily.
D.C. District Court judge Amit Mehta appeared to cast doubt on part of that theory, pressing Schmidtlein on whether these competitions are actually fair to parties other than Google.
Mehta asked whether Google would be showing evidence of how many people actually switch their default browser.
What to watch: Schmidtlein said executives from Apple and Mozilla will be testifying that "Google won these competitions on the merits" and that "intense competition for browser defaults has resulted in higher quality search."
Hal Varian, Google's chief economist, was set to be the first witness to testify Tuesday afternoon.
Dintzer argued that Google's monopoly has allowed it to stop improving, and that results and user privacy have suffered.
Google Search executives will also testify about the innovations and changes the product has rolled out over the years to stay competitive, Schmidtlein said.
Flashback: The Justice Department and 11 state attorneys general first filed a complaint against Google in 2020, accusing the tech giant of violating Section 2 of the Sherman Antitrust Act.
Since then, the case has been consolidated and narrowed.
Go deeper:
What to expect when the DOJ takes on Google
What's at stake in Google's antitrust trial
Google, DOJ square off over search dominance
Editor's note: This story is breaking news and may be updated.
Go deeper