What to expect when the DOJ takes on Google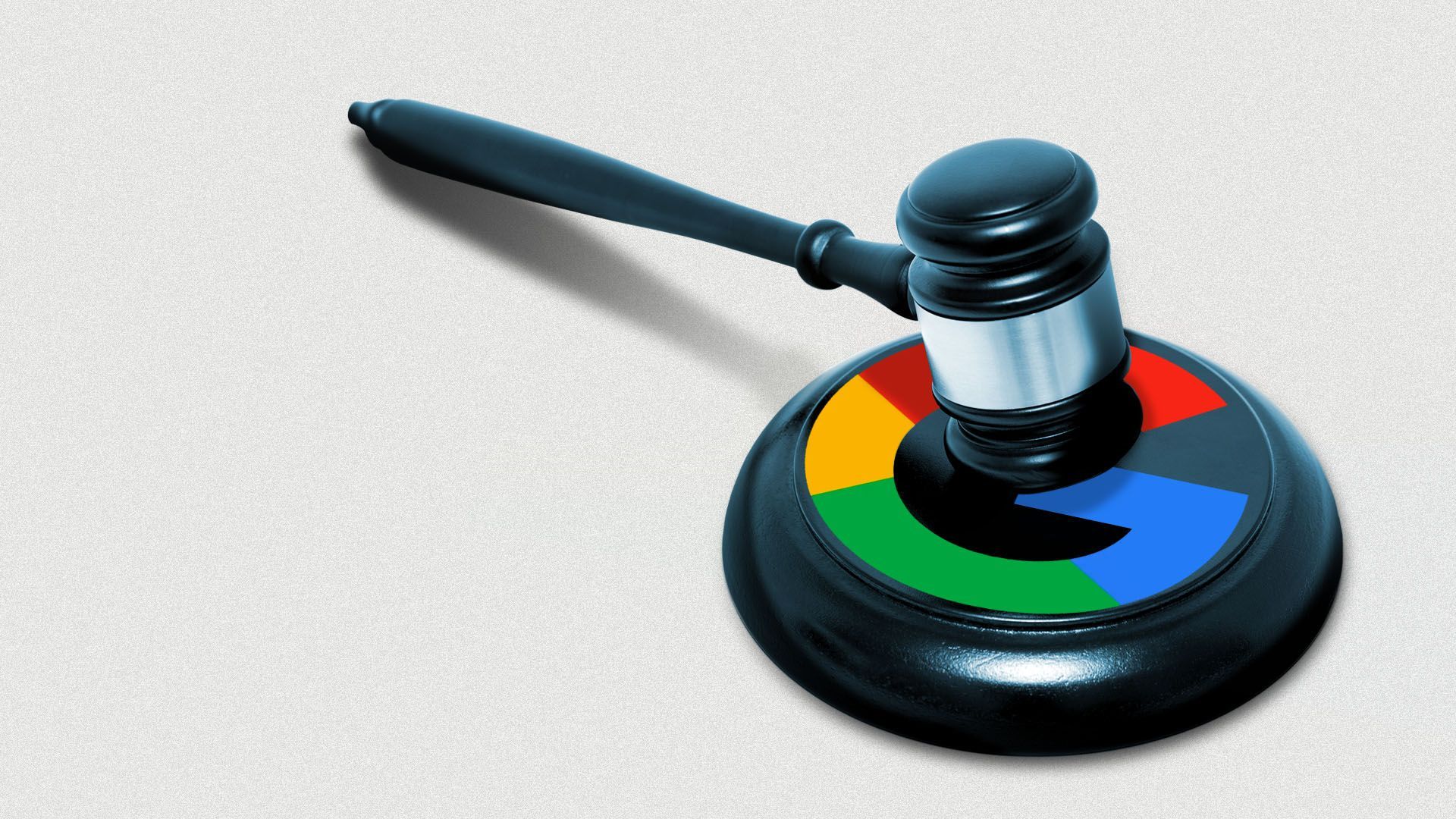 The Justice Department's highly anticipated antitrust case against Google goes to trial Sept. 12 after years of preparation and buildup.
What's happening: The DOJ, state attorneys general and Google are gearing up to make their opening arguments.
This portion of the case is expected to take eight to nine weeks. Any remedies sought by the judge will be sorted out in another phase of the case, which could take the same amount of time.
Catch up quick: In his summary judgment, U.S. District Judge for the District of Columbia Amit Mehta touched on a number of issues the case may end up addressing. But at its core, the case now is about two key questions:
Whether Google's exclusivity deals with web browsers like Mozilla and preloading its Google Search services on Android to be the default search engine are anticompetitive;
Whether Google's Search Ad 360 product discriminates against ad features used by other search engines, like Bing, through slower development of ad tools for non-Google products.
What they're saying: "People don't use Google because they have to, people use Google because they want to," Kent Walker, Google's chief legal officer, told Axios in an interview. "We compete hard for those default positions, we bid for them so that people can easily access our products."
"Our success comes down to the quality of our products, not the quality of our contracts. It's innovation, not pre-loading," he said. "It's easy for people to find alternatives in the marketplace."
Walker called it "ironic" that this "backwards-looking case" is happening during an "unprecedented forward-looking innovation" in artificial intelligence in the field.
He pointed to competitors like Amazon, TikTok, Instagram and Spotify as alternative ways people search for information online.
State of play: Walker said companies like Mozilla and Apple choose to design their browsers using a default search engine because "that's what's easier for users. Open competitions are held for these settings, and "they pick the best search provider for their users."
"People know that there are choices out there and will go to their preferred choice if that is what they want to do," he said.
On Google's arrangements to be pre-loaded on Android phones, Walker likened it to supermarkets charging cereal companies for their products to be displayed at eye level: "That's never been illegal under American law; if anything, it's pro-consumer."
Walker also said arrangements with Android keep their phones low-cost.
Walker called the remaining Search Ads 360 claims a "small" part of the case: "We didn't have to build this tool in the first place. We're pretty confident the law does not require a company to build our products to meet the specs of competitors."
The other side: For the DOJ, this case is a major inflection point in how competition law applies to the modern internet age. The department is likely to argue that Google got to its position of superiority in search engines not by accident or by having a superior product but through illegal monopoly maintenance.
That maintenance, the DOJ argues, is due to those exclusivity agreements, which cost billions of dollars and allow Google search to have billions of daily automatic inquiries.
The DOJ may argue that Google's power of scale hurts everyday American consumers through privacy violations and a degradation of search results, and that this case is not about the quality of products but how Google was able to defeat its rivals through illegal means.
Though Judge Mehta threw out state attorneys general claims that specialized search companies like Yelp and Expedia are purposely down-ranked by Google, the DOJ may argue that downstream impacts of Google's monopoly maintenance are relevant issues to the trial.
By the numbers: Google's share of U.S. general search services was 90% in 2020, with its closest rival Bing at 6%, per Mehta's summary judgement.
Google has argued that Apple, Mozilla and other companies chose to make its search engine the preset default search provider. But Mehta wrote in the summary judgment that that "does not change the fact that Google has exclusive rights to the default across multiple web browsers."
What we're watching: Executives from companies like Apple and Mozilla are also expected to testify about negotiations of agreements with Google and why they were made.
Both Google and the DOJ are likely to bring up the explosion of generative AI and what it means for the search engine market.
Go deeper