Meet Wisp, Tampa's TikTok-famous cat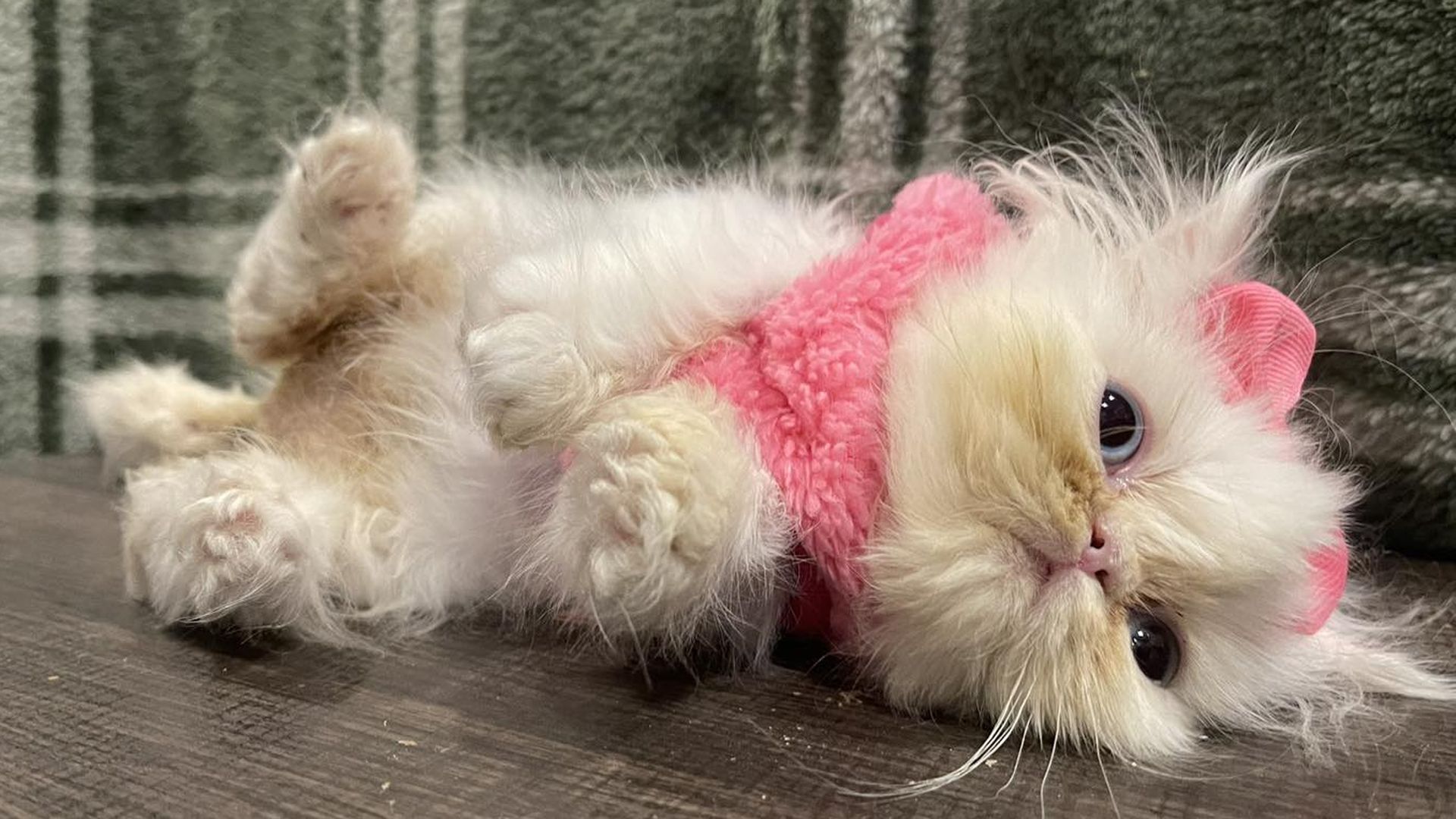 She's inspired Halloween costumes and pumpkin carvings, fan drawings and animations, even a manicure. She's the internet's crustiest kitten and, in the words of her owner, our fair "icky stinky queen."
She is Wisp, and she is one of us.
What's happening: The 3.5-month-old Persian kitten from Tampa Bay has taken over the internet with her scroungy fur, clumsy gait and sassy, soprano mews.
Videos of the cat and her adventures with both her human and cat moms have racked up millions of views on the TikTok and Instagram accounts of Tampa-based Rags to Riches Animal Rescue.
Thousands of fans flock to the comments to obsess over her resemblance to a used tissue — and, lately, how the teeny fur ball had begun to, against all odds, look like an actual cat.
Why it matters: It's a cold, dark world out there. Sometimes we've just gotta take a moment to appreciate an internet-famous cat — especially one living in our own backyard.
State of play: Dominique Amerosa, 27, started Rags to Riches in June 2022 after growing up helping the stray cats and dogs that hung around her dad's shop near Raymond James Stadium, she told Axios.
She grew up with cats, too; her first-ever kitty was a black cat named Chocolate who would hang with baby Amerosa in her crib.
After high school, she continued rescuing and fostering animals. Eventually, she quit her job at a bakery and started a nonprofit.
Driving the mews: Earlier this year, the rescue took in Wisp's mom after she was found with other Persians that were dumped in a storm drain. Dubbed Gerald, she was mistaken for a boy — until she popped out Wisp, a rare one-kitten litter. Mom is now called Gertrude.
Wisp was a drama queen from the start, Amerosa said. She refused to latch onto her mother for nursing, so Amerosa took to feeding her with a bottle every two hours.
Then, Wisp stopped pooping. It took several veterinary visits to figure out she had an intestinal stricture blocking her rectum. Along with taking her to the vet for ballooning procedures to widen the path, Amerosa has at times had to squeeze stool from Wisp's tiny body.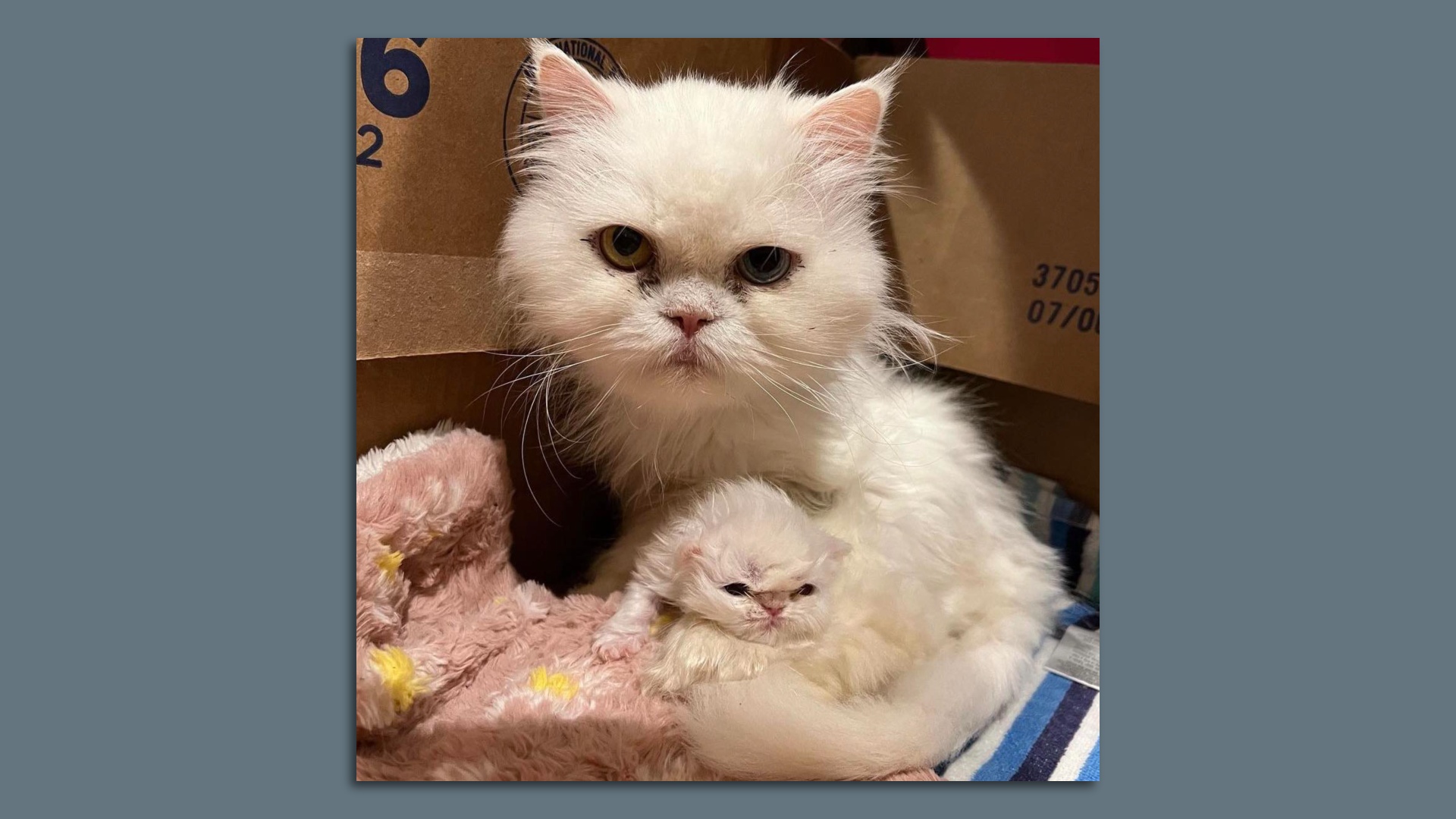 The intrigue: Maybe it's the dramatic (and gross) medical journey. Maybe it's Wisp's utterly scrungly appearance, the fur around her mouth stained an unsettling orange-brown from all the slurry (don't Google that if you're eating). Maybe it's Amerosa's hilarious video directing, taking viewers through Wisp's bath time or stitching together clips of her more talkative moments.
But when Amerosa started a TikTok account for the rescue and shared a couple Wisp videos, they caught fire like a Christmas tree in February. By the next morning, the account had around 300,000 followers and millions of likes, Amerosa said.
The latest: Rags to Riches has peddled the fame into Wisp-themed T-shirt sales and fundraising campaigns to benefit the rescue, which Amerosa runs with the help of a few volunteers.
The organization manages 60 to 70 cats and 30 to 40 dogs, all of whom live in foster homes.
It costs about $40,000 a month to run the operation, between supplies, medications, veterinary bills and gas.
What they're saying: "I always find the most disgusting animals," Amerosa said. "I used to joke that I turn them from rags to riches. … That's how I think of it with them: They have a second chance at life."
The bottom line: "Wisp is people's daily serotonin," she said. "It's so cool to get to do that for people."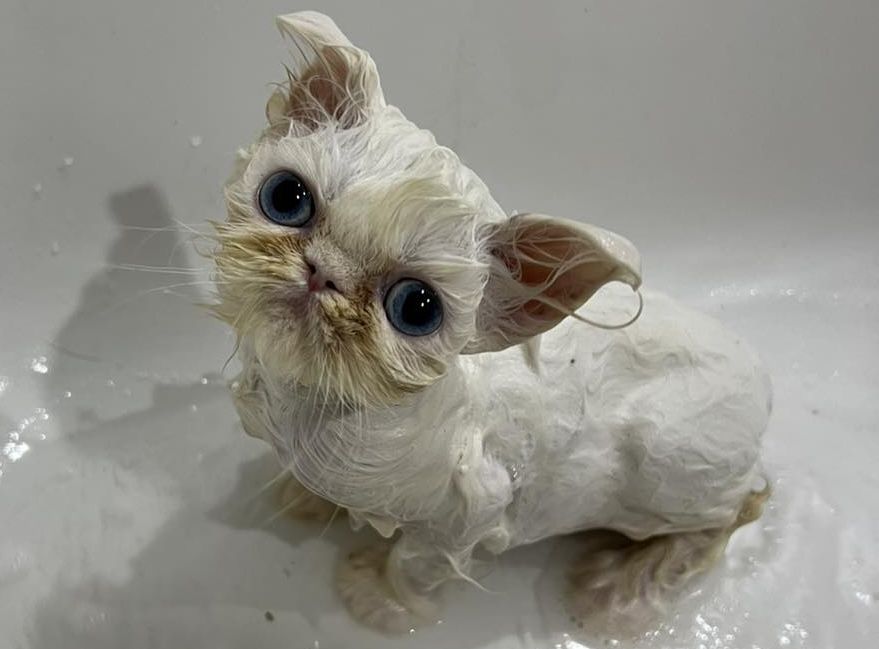 More Tampa Bay stories
No stories could be found
Get a free daily digest of the most important news in your backyard with Axios Tampa Bay.