St. Pete vampire bar's high-stakes legal battle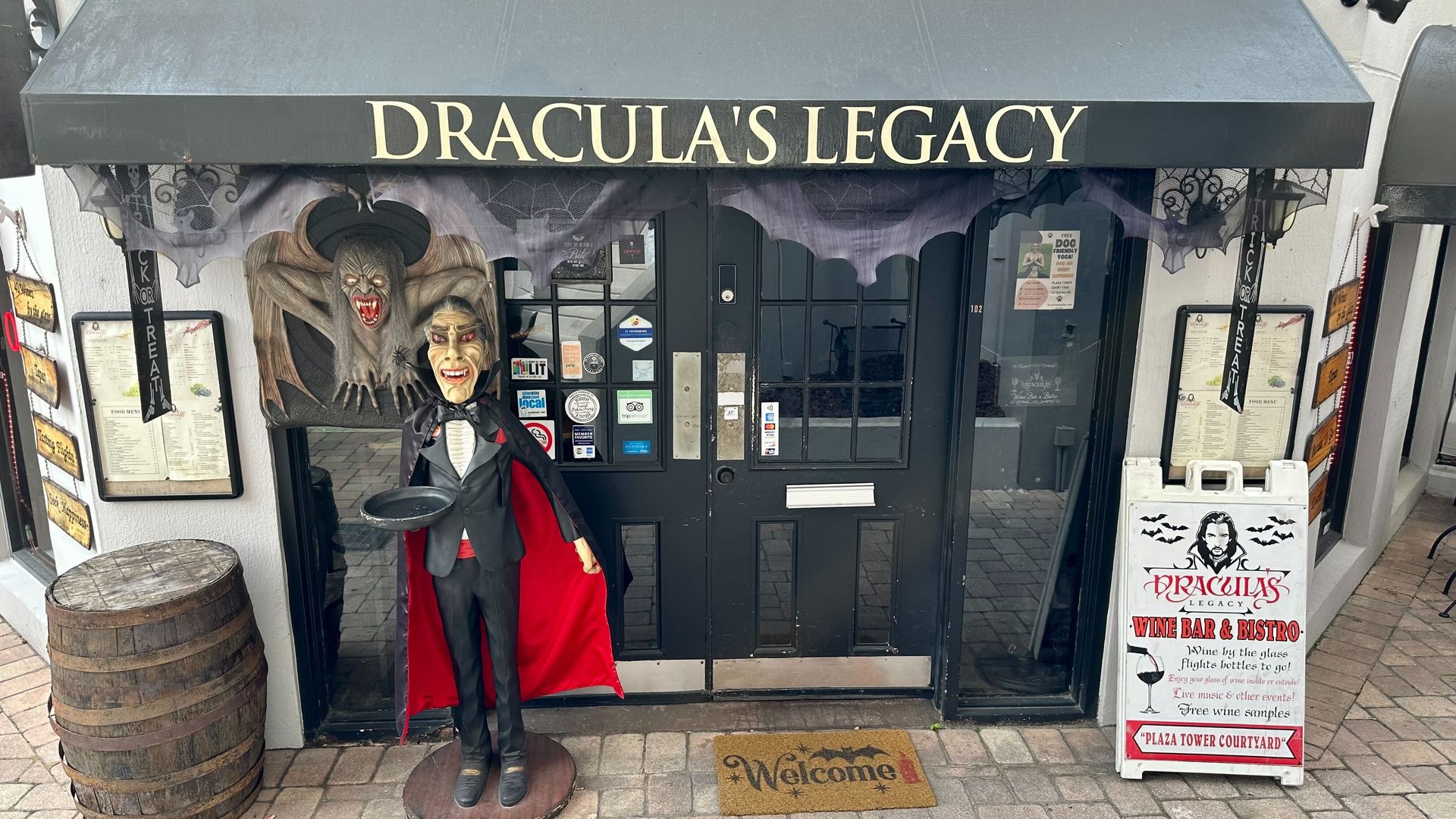 A vampire-themed company that's gone after big names like Hershey's, Taco Bell, Applebee's and 19 Crimes is sinking its legal teeth into a Tampa Bay bar.
What's happening: Dracula's Legacy, a downtown St. Petersburg bar is being sued by a California-based trademark lawyer whose company produces a bloodline of vampire-themed food-and-drink products.
Vampire Family Brands, which owns Vampire.com, is accusing Dracula's Legacy of infringing on its "Vampire" and "Dracula" trademarks in its decor and menu, according to court documents. The company is also suing a Romanian winery and a distributor that provide vampire-themed wines to the bar.
The case is set to go to trial in July 2025.
Zoom in: Dracula's Legacy is owned by the Neamtu family, who immigrated from Romania to St. Petersburg four years ago, according to a profile in The Crow's Nest. It's nestled in the courtyard of the Plaza Tower & Courtyard Shops, appropriately next to craft beer bar The Ale and the Witch.
The bar was only open two months before the pandemic shut it down in 2020, but the family has since bounced back and is preparing to open a second location in Downtown Tampa by the end of the year.
What they're saying: The Neamtus have denied the allegations and are also seeking to cancel Vampire Family Brand's trademarks.
"VFB [Vampire Family Brands] seeks to obtain a monopoly over a historical character, and entire class of fictional characters (e.g., vampires), that it did not develop or create," the owners claim in court documents. "Numerous third parties use Dracula or vampires to convey imagery and association with Dracula, vampires, goth culture, and Halloween."
The Neamtu family declined Axios' request for comment.
Fans of the bar in the St. Petersburg Reddit community were outraged when the lawsuit was initially filed in March.
"This makes me so mad," one user wrote. "It's not like Dracula's [Legacy] Wine Bar is a huge corporation."
Between the lines: Tampa trademark lawyer Don Conwell told Axios the case will likely come down to whether the two brands would be confused for each other, not who can use words like "Dracula" or "Vampire."
Vampire Family Brands owner Michael Machat will have to prove that Tampa Bay customers would get Dracula's Legacy and its products confused with those from Vampire Family Brands, which they can buy in stores like Publix.
The other side: Machat told Axios he pioneered the vampire food and drink product industry back in the 1990s, and has had to sue companies big and small to protect his business.
Flashback: Machat said he thought of selling vampire- and Dracula-themed wine after reading "Dracula" in 1985 while working as a music lawyer in New York. But no one else seemed to get it.
"People said, 'Who would want to drink that,' and I said, 'I would!'"
Romanian wineries weren't even interested, he said.
So he took his business to France and in 1988 made his first sale to MCA Records and Alice Cooper with a wine promoted under the slogan, "Sip the Blood of the Vine."
He later moved his business to Napa and expanded from wine and spirits into chocolate, coffee, olive oil and balsamic vinegar. He opened restaurants in Beverly Hills and New Orleans that served trademarked vampire tacos and vampire burgers.
When people question how Machat can have trademarks for vampires and Dracula, he compares the "Romanian hero," as he puts it, to American founding father Sam Adams, who has now become synonymous with beer.
His bottom line: He knows people think he's victimizing the owners of Dracula's Legacy, but he argues if he doesn't enforce his trademarks, he could lose them to bigger corporations.
"They're business people just like me, and they're trying to play the role of the victim when they're actually being the aggressor," Machat said.
More Tampa Bay stories
No stories could be found
Get a free daily digest of the most important news in your backyard with Axios Tampa Bay.