Florida's Corkscrew swamp, home to rare cypress forest, grapples with dropping water levels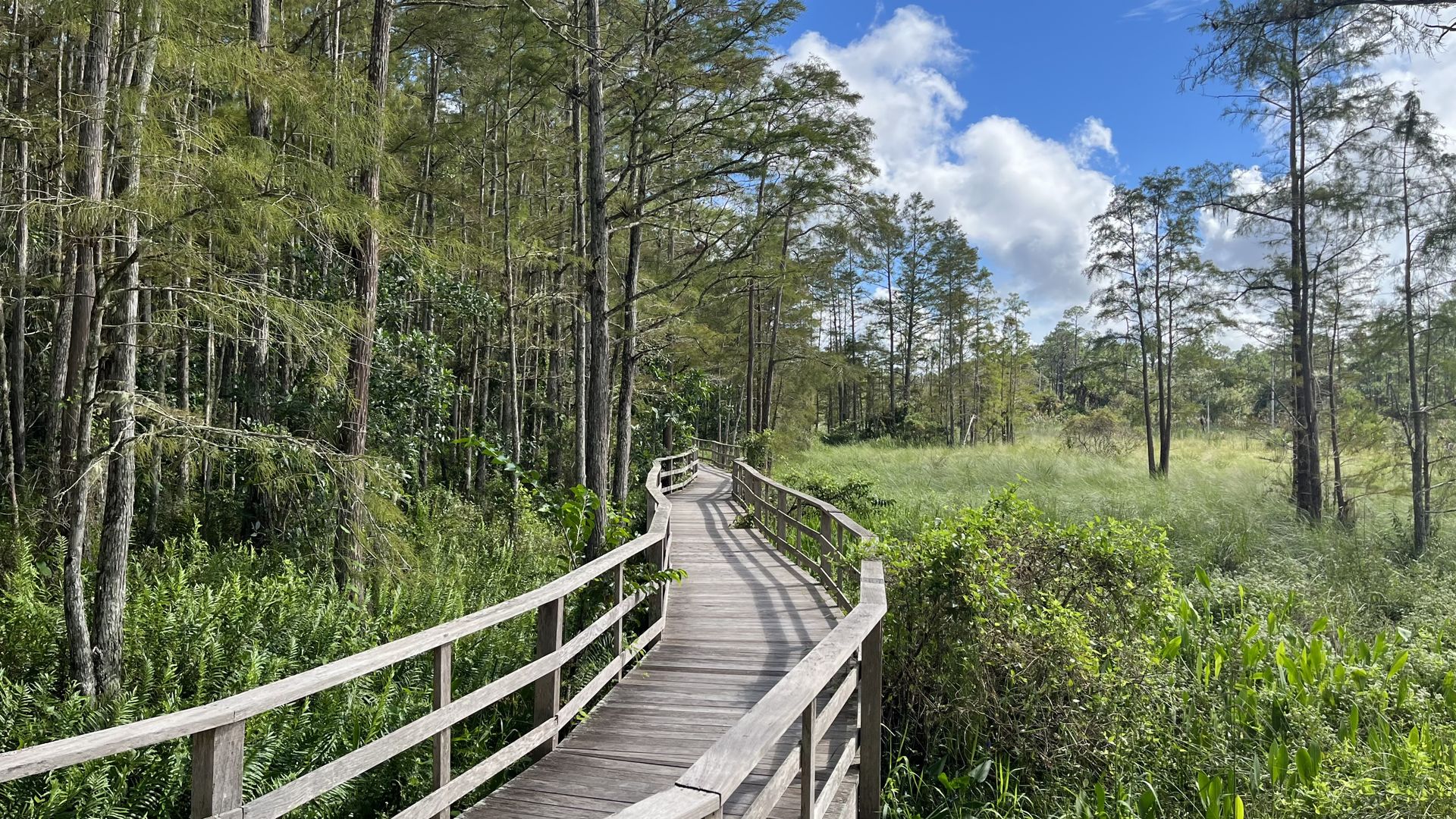 My nature-loving heart became a little obsessed with bald cypress trees after reading this piece in National Geographic about how sea-level rise is killing scores of them, leaving behind clumps of ashen, leafless trunks known as ghost forests.
Peppered throughout the article were mentions of Florida's Corkscrew Swamp Sanctuary. The Audubon-owned preserve northeast of Naples contains one of the last untouched bald cypress forests in the U.S.
Driving the news: I visited the swamp, to pay my respects to our branched ancestors and to find out if and to what extent human-driven changes are impacting it.
The intrigue: Corkscrew's water supply comes from rainfall, and it's high enough above sea level that saltwater intrusion isn't an urgent concern, director of conservation Shawn Clem told Axios.
But a canal system to protect neighboring communities from flooding is draining the swamp too quickly.
Why it matters: The lower water levels pose a higher wildfire risk to the swamp and surrounding houses, Clem said. The conditions have also prevented wood stork nesting in a habitat that was once one of the largest nesting sites in the U.S.
Plus: With climate change threatening cypress trees across the Southeast, protecting and understanding the remaining forests like Corkscrew takes on new importance.
What we saw: During a 2.25-mile tour through the forest, we spotted nine species of orchids, three types of ferns and towering trees up to 600 years old, their knobby knees jutting from the sweet-tea-colored water.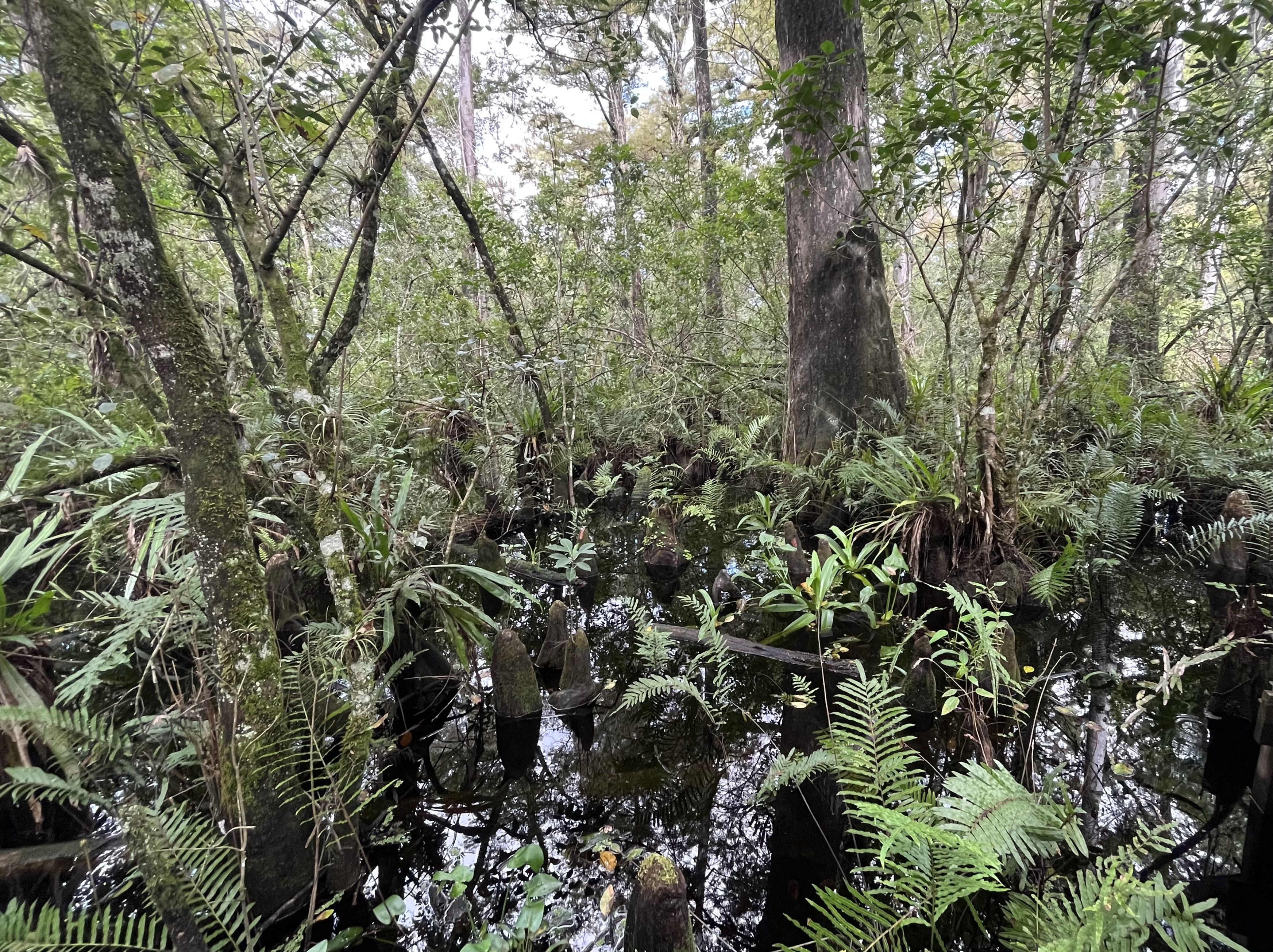 The big picture: Bald cypresses are among the oldest trees in the world, with some estimated at thousands of years old. Corkscrew is older than its trees let on. A layer of ash in the soil suggests a wildfire many years ago reset the forest.
Flashback: Protection of the wetland dates to the early 1900s, when a warden lived on the property to protect wading birds from hunters hoping to harvest their feathers, said director of public programs Sally Stein, who led the walking tour.
Later, loggers chopping down pine and cypress trees began to creep north from the Fakahatchee area, which is now a state park east of Marco Island.
With the help of locals who wanted to maintain their natural surroundings, Audubon brokered a deal with logging companies to buy the land for the price of the timber. The organization took over in 1954 when Naples was still a sleepy enclave.
State of play: Audubon began buying the land that is now Corkscrew in 1954. The sanctuary now covers more than 13,000 acres and boasts a wildly diverse ecosystem of native plants, including the rare ghost orchid, which wildlife advocates are urging the federal government to protect as an endangered species.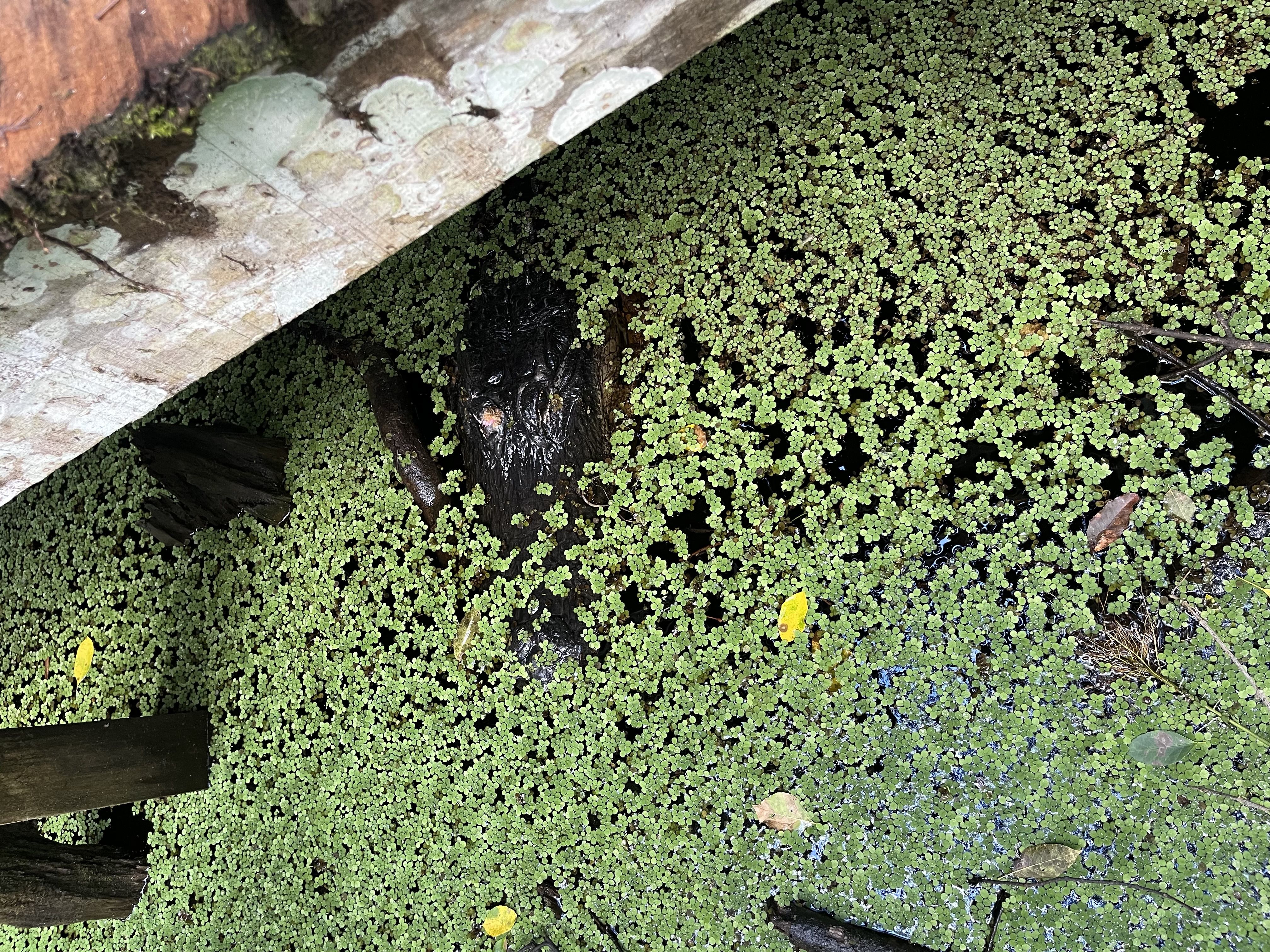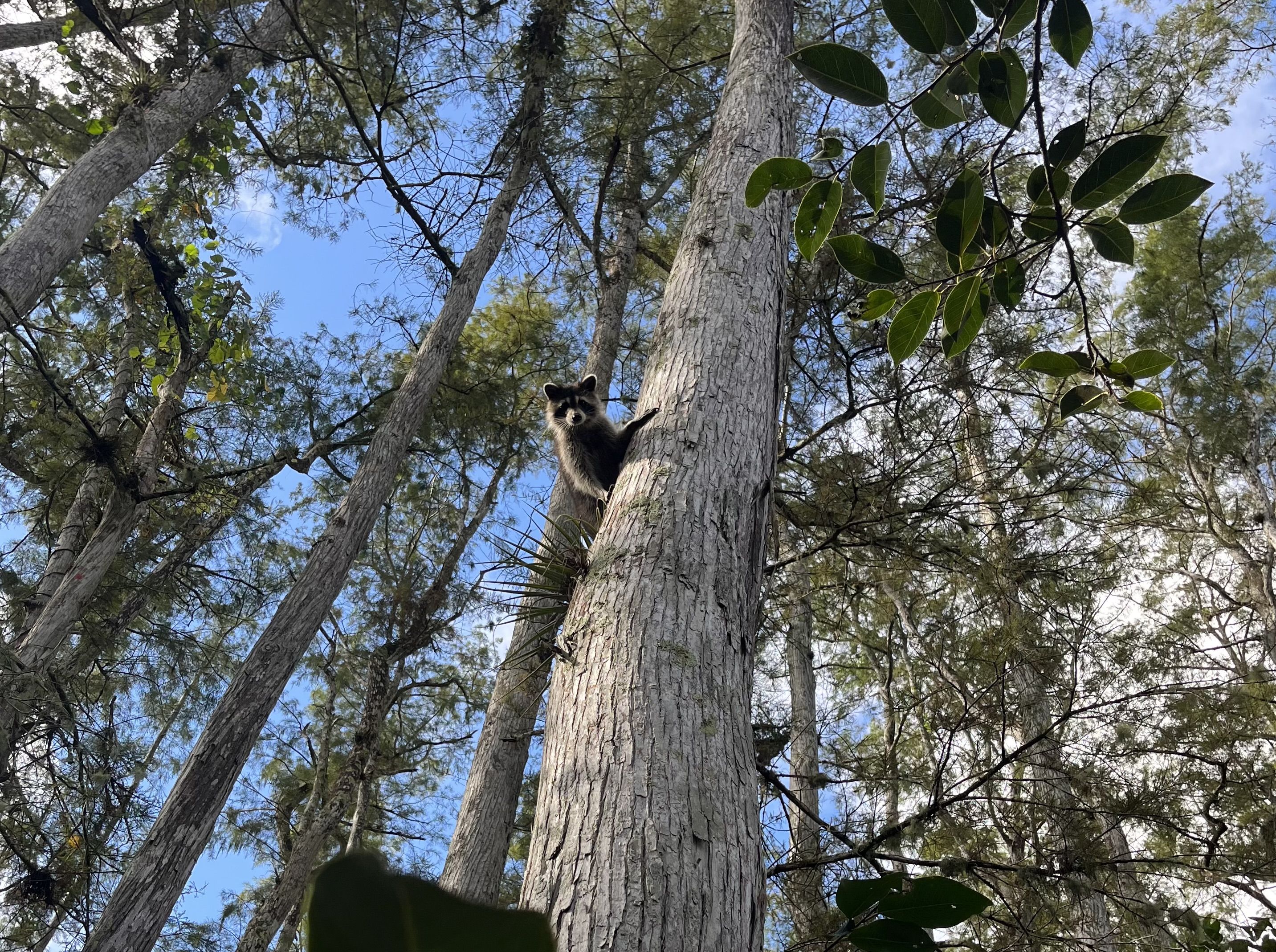 Zoom in: In the early 2000s, a sharp decline in wood stork nesting sparked Clem's inquiry into the wetland's water levels, drawing on historical records kept since Audubon's takeover of the property.
During dry seasons (winter and spring) before that point, the swamp would dry down once every five years for a few days, Clem said. These days, those dry conditions happen almost every year for several months at a time.
What they found: A hydrology study conducted in 2020 pointed to the flood-control canal system downstream from the swamp as the main factor.
The group is working with the South Florida Water Management District on engineering solutions to restore the water levels.
What they're saying: "We've saved Corkscrew from poachers, we've saved Corkscrew from logging. Now we're trying to save Corkscrew from all of these negative things that overdrying can cause," Clem said.
The sanctuary is "this remnant of what this whole region looked like prior to development. It carries a history … of this land and of this ecosystem that you couldn't reproduce in any other way."
Of note: Clem encouraged folks to visit the wetland to truly understand its value. The park is open daily and costs $17 for adults, $6 for children 6-14 and is free for kids under 6. It also offers programming such as the guided tour I went on. Binoculars are available to rent for $3.50.
My thought bubble: My tour group spent four hours walking just a couple miles, totally enchanted by the water ferns that spread out like a lush, green carpet.
And the anhinga with its tail feathers spread like a fan, just a slice of the wading birds that migrate through the swamp in the dry season.
And the blooming prairie of southeastern sunflowers.
And the entire ecosystems of resurrection ferns and bromeliads growing on the mighty cypress limbs.
And the many orchids, none of them blooming this time of year but giving us all the more reason to return again and again.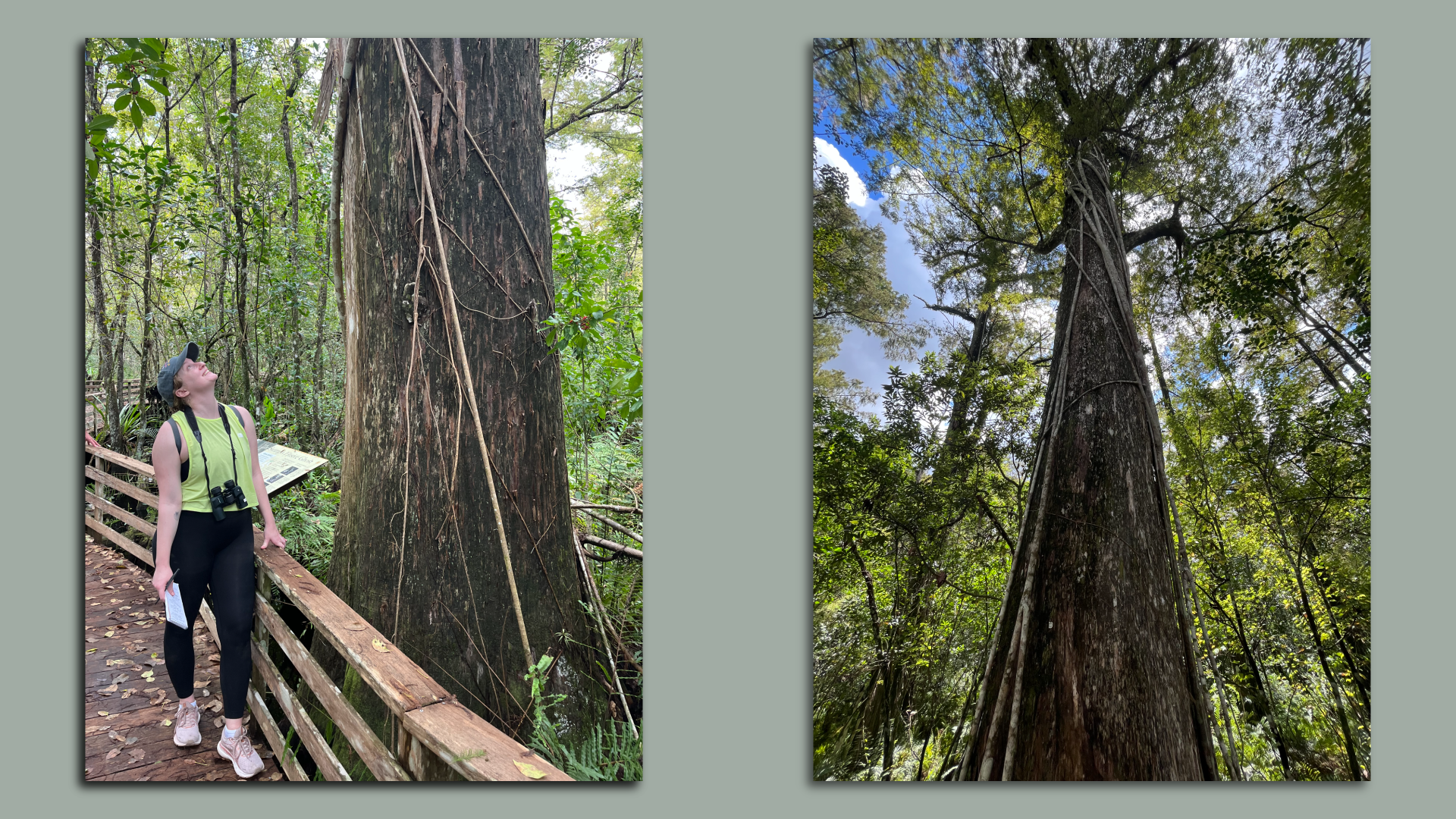 More Tampa Bay stories
No stories could be found
Get a free daily digest of the most important news in your backyard with Axios Tampa Bay.