Intergenerational friendships: Find your Nana or be one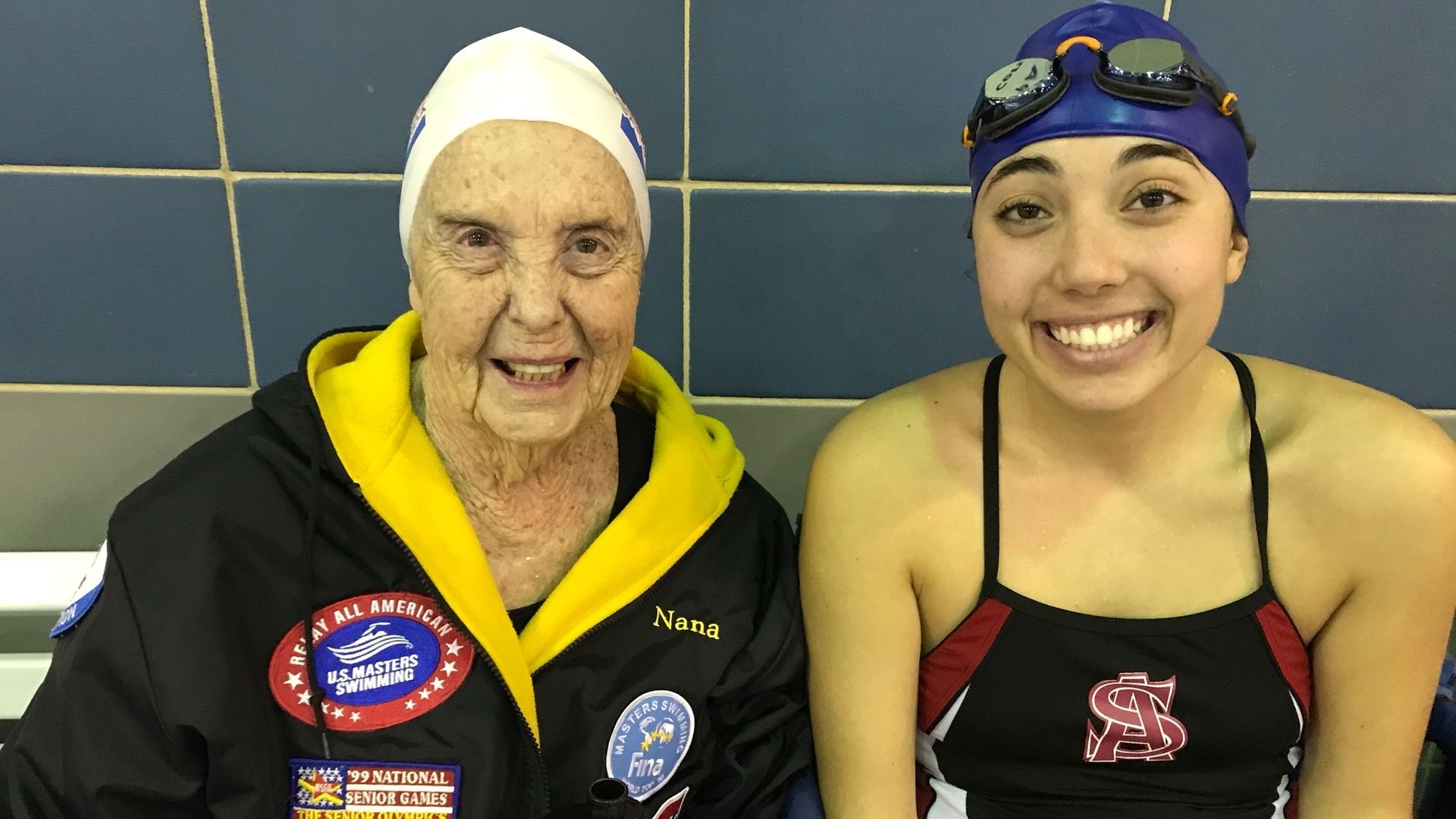 Axios Finish Line recently covered intergenerational friendships, and had me really missing my own.
Why it matters: Society thrives on strong friendships. But 27% of millennials say they have no close friends, and 22% say they have no friends at all, according to a recent YouGov survey.
Intergenerational friendships are more common among older generations — Gen X (41%) and boomers (39%) — than millennials (32%).
Flashback: I was lonely in 2017. I had just graduated from the University of Tampa and moved back to my parents' home in Maryland, where I had far less interaction with friends. To motivate myself to work out, and maybe meet some new people, I joined the Masters swim team at my local rec center.
As I suited up for my first practice, I pictured my new teammates — surely millennials like me, maybe fresh off college swimming careers — and the nerves swirled.
But when I got on the pool deck, those teammates turned out to be much older, mostly in their 60s and 70s. Some even in their 80s and 90s. I was even more surprised to find I wasn't the fastest in the pool by a long shot.
Thus began some of the best friendships I've ever had. We cheered for each other at weekend swim meets and shared post-practice dinners and lots of locker room laughter.
The next year, when I was in a shooting that left five of my colleagues dead, the team rallied around me sending cards and emails and attending community gatherings.
My then-83-year-old friend Nana had the flags put at half-staff of her retirement home when former President Trump initially refused to do so nationwide.
Getting back into the water with them was essential to my healing. "No one can tell you're crying in the water," Nana would tell me. She used the pool to heal when she lost her husband.
Fast forward: I left the team when I moved back to Florida in 2021, but I'm still in touch with several former teammates. Nana died this year, and I think of her every time I strap on my goggles. I hope I can be someone's Nana someday.
Go deeper: See more heartwarming stories.
More Tampa Bay stories
No stories could be found
Get a free daily digest of the most important news in your backyard with Axios Tampa Bay.