The hidden history of CrossGen, Tampa Bay's almost comic book empire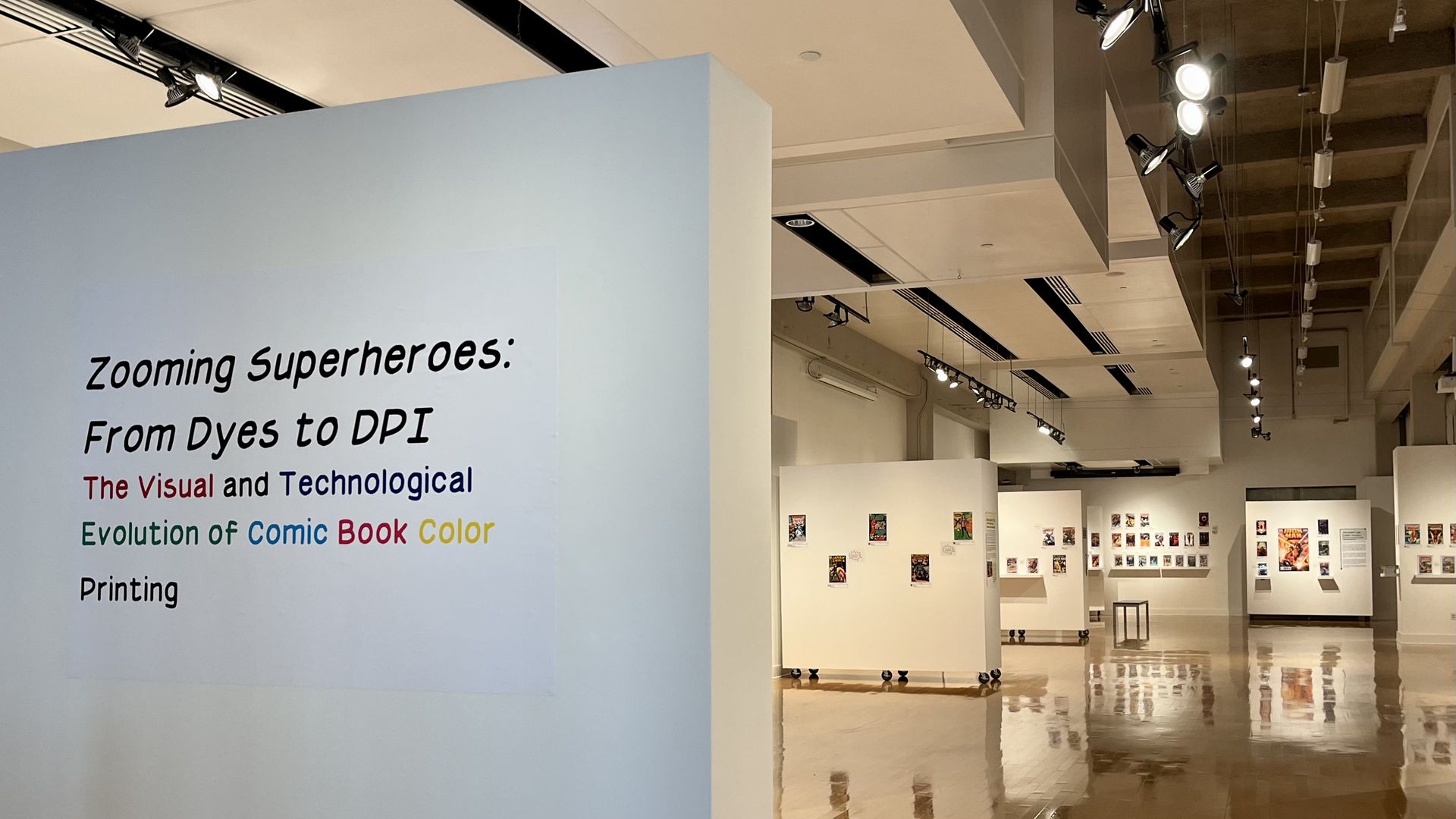 Once upon a time in the late 1990s, some of the best artists and creators in the country came together in Oldsmar to carry out an ambitious mission: turn comic book publishing startup Cross Generation Comics into an entertainment empire.
Why it matters: The company's innovative role in the industry and just how close it came to breaking into Hollywood before it all fell apart in the early 2000s is a lesser-known part of Tampa Bay history that's getting a new boost in an art exhibit that opened last month at the University of Tampa.
The exhibit, "Zooming Superheroes: From Dyes to DPI: The Visual and Technical Evolution of Comic Book Printing," seeks to highlight and credit the many artists who have contributed to comic book creation over the years in an industry that has long faced criticism over recognition, working conditions and pay for creators.
"We have such a superhero genre in our pop culture," co-curator Jocelyn Boigenzahn told Axios. "I wanted to take a moment to find out who those pieces of culture came from."
Plus: It comes at a time when Hollywood writers are facing their own fight for recognition and fair pay in an ongoing strike that has halted movie and TV production since May.
The intrigue: Cross Generation, also known as CrossGen, bucked that trend when founder Mark Alessi opted to hire artists and writers full time, with salary and benefits, rather than relying on the industry norm of contracting with freelancers, former senior vice president of productions Tony Panaccio told Axios.
Alessi, who died in 2019, formed the company in the late 1990s with the money he made selling his software startup to Perot Systems, Panaccio said.
He recruited artists from all over the world to relocate to sleepy Oldsmar, where CrossGen's staff worked out of a 13,000-square-foot warehouse with a stocked kitchen and cots for napping.
Alessi brought back the "bullpen" model, pioneered by Marvel in the 1960s, in which in-house artists worked together in one facility.
The stories: The publisher opted for fantasy and science fiction over the standard superhero stories, putting out titles such as "Sigil," an intergalactic war story that follows former mercenaries, and "Meridian," about a girl thrust into leading the city of Meridian while trying to harness new magical powers.
Most of the stories take place on planets in the futuristic Sigilverse, created by Alessi.
Zoom in: Dave Lanphear, a comic book letterer and cartoonist, relocated from Santa Monica to become the company's design director.
Lanphear had spent much of his career working as a freelancer, wearing many hats to see his ideas through and get paid, he told Axios, so he appreciated CrossGen's salary model.
What they're saying: "I didn't have to do any of the other hat-wearing. I could just focus on whatever needed to get done," Lanphear said. Making $60,000 a year — more than $100,000 these days — he could afford to buy a house in the area.
The environment was inspiring, he said. Working in the same space, artists could learn from each other and pore over their various comic book collections for inspiration.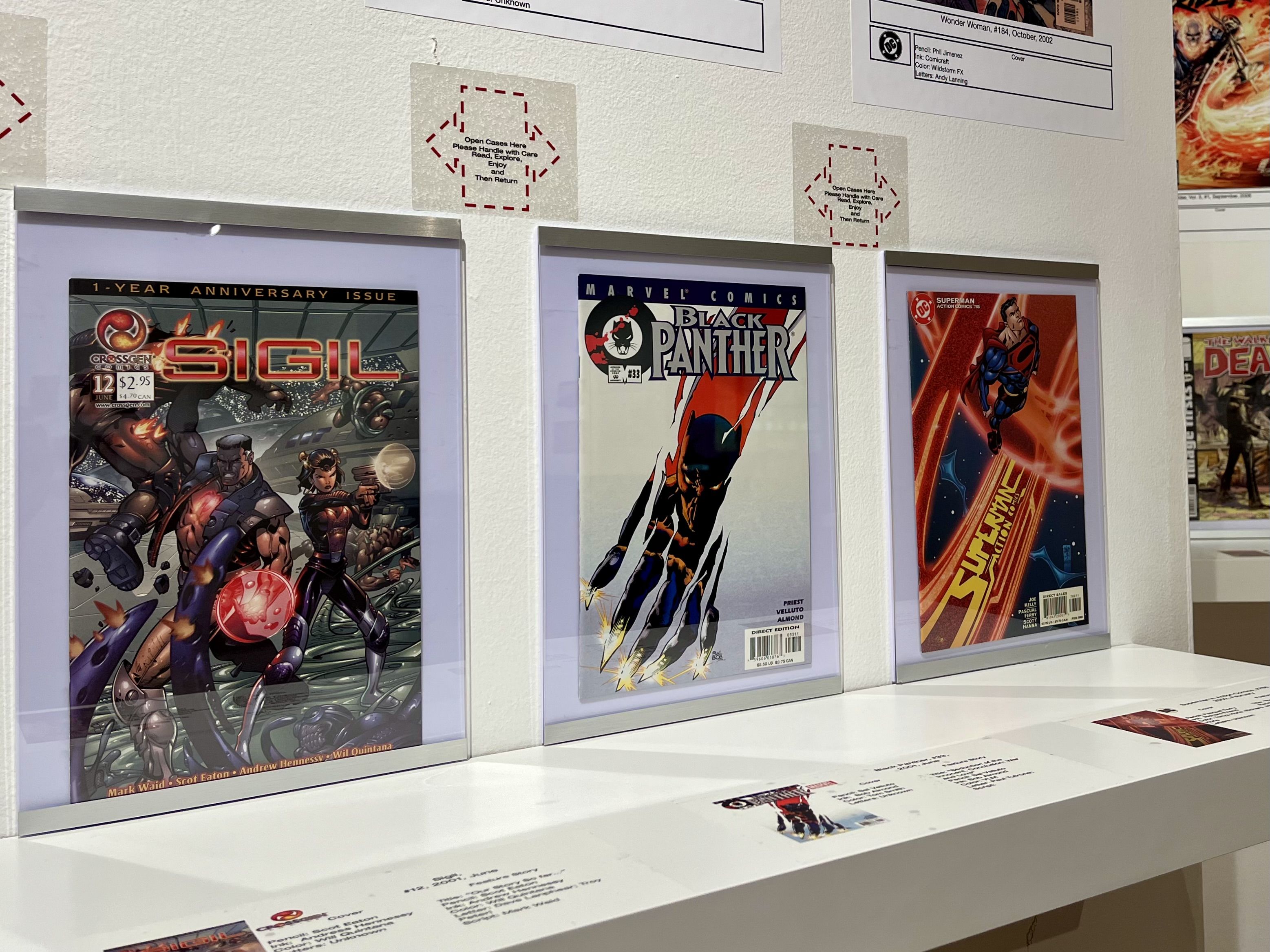 For five years, CrossGen churned out titles and became known as a nimble, innovative comic publisher. With Lanphear's help, it became one of the earliest adopters of digital publishing. The startup also invented comic book digital subscriptions, known then as Comics on the Web.
In a step toward his larger ambitions, Alessi struck a deal with Michael Uslan, executive producer of the Batman movie franchise, who started to make introductions and pitch CrossGen products in Hollywood, Panaccio said.
The closest it got was with DreamWorks, which optioned a comic called "Way of the Rat" about a martial arts adventurer in a medieval world, but it stalled out after Steven Spielberg never read the script, according to a 2016 article in the Hollywood Reporter.
Between the lines: All of that momentum then came to a halt. While trying to scale up the company, Alessi ran out of money after Perot's stock tanked, and there weren't enough interested investors to make up for it, Panaccio said. The company filed for bankruptcy in 2004.
Later that year, the Walt Disney Co. bought it at a court-sanctioned auction for $1 million. A Disney executive told a newspaper reporter at the time that there were a few titles that "we think are nothing less than brilliant." But the entertainment giant has since done little with CrossGen's characters and stories.
The ending was a tragic result for a rising-star company on the cusp of success. If just one movie, TV show or video game had taken hold, Lanphear said, they could've made it.
Yes, but: CrossGen's legacy persists in the industry today. Many of the publisher's artists and writers have gone on to work on big-name characters in Hollywood. Jim Cheung, for instance, co-created Marvel's Young Avengers.
"His run at Marvel is iconic," Lanphear said of Cheung. "And that's true for every artist at CrossGen. They went on to be bigger than they were."
Worthy of your time: You can check out an edition of "Sigil" and scores of other vintage and new comic books at the University of Tampa's exhibit, courtesy of an anonymous local donor who lent their personal collection.
The free exhibit runs through Oct. 6 at the university's Scarfone/Hartley Gallery.
More Tampa Bay stories
No stories could be found
Get a free daily digest of the most important news in your backyard with Axios Tampa Bay.