St. Pete's first Black mayor and more election results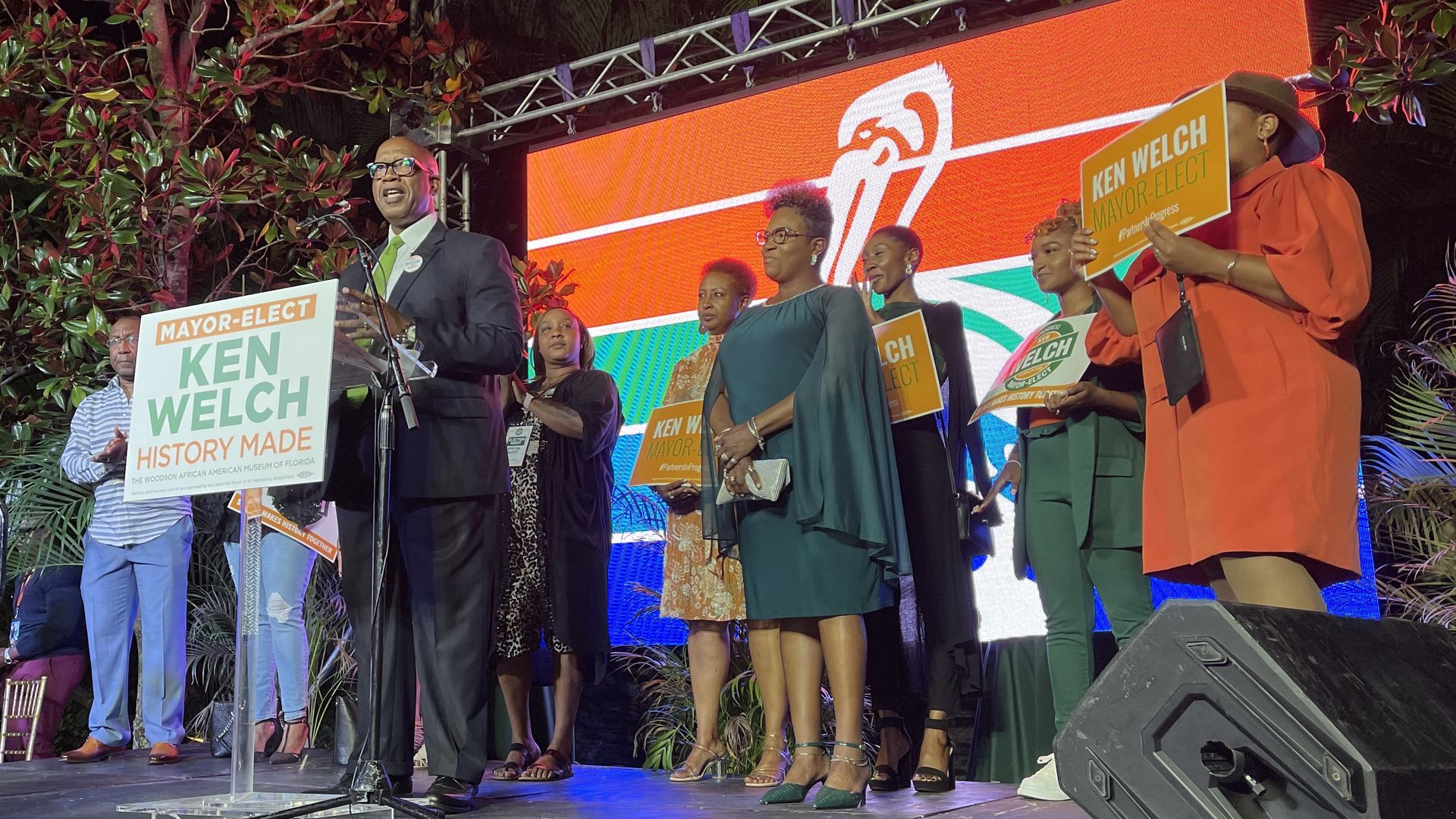 Ken Welch is the new mayor of St. Petersburg.
Why it matters: Welch is the city's first Black mayor, a moment he recognized as decades in the making but one he doesn't want to be the sole legacy of his tenure.
Welch wore the pin his late father, former city councilman David Welch, gave out when he ran for mayor in 1991. Welch said his father received death threats before he lost the race.
When asked what his dad would say, Welch responded to a scrum of reporters, "Get to work."
His focus: Keeping the promise of inclusive progress. Welch told reporters he's "in project planning mode," already thinking about how to solve issues like affordable housing and neighborhood safety.
"For me, making history without making a positive impact is an empty achievement," Welch told the crowd at the Dr. Carter G. Woodson African American Museum.
After Welch said, "This is the start, not the end of our journey," a crowd member shouted, "Welch for president!" The new mayor laughed and responded, "One day at a time."
As mayor, Welch replaces Rick Kriseman, who endorsed him.
Point of intrigue: Welch, who spent 20 years as a Pinellas County commissioner, declared his win less than 20 minutes after polls closed. Challenger Robert Blackmon conceded about 20 minutes after that, according to Welch.
The other side: Blackmon, a real estate investor, will finish out his last two months as city councilman as he figures out his next move.
"I want to do as much good as I can for the community while I'm still there," Blackmon tells Axios.
"It was a hard-fought race and he's a good guy. I hope to work with him. Just because someone is your opponent doesn't mean they have to be your enemy. I fully support him as our next mayor."
More election results
New councilmembers: Copley Gerdes replaces Blackmon in District 1 and Lisset Hanewicz takes District 4. Gina Driscoll keeps her District 6 seat. Richie Floyd eked ahead of Jeff Danner by a little over 100 votes for the District 8 race, but there will probably be a recount, per the Tampa Bay Times.
Charter amendments: Only amendments five and six passed. The referendum failed.
Polk:
Lakeland: Bill Mutz keeps his job as mayor. Sara Roberts McCarley also keeps hers as District C city commissioner. Mike Musick is the new District D commissioner. Both charter amendments passed.
Fort Meade: Jim "Possum" Schaill wins commission seat 1. Barbara Arnold wins seat 5.
Winter Haven: James H. "J.P." Powell keeps his seat as city commissioner.
Bradenton Beach: John Chappie remains mayor. Amendment 1 for the beach charter barely failed.
Holmes Beach: The commission race looked too close to call at time of publishing. John Monetti looks to be out of the race, but Renee Ferguson, Pam Moton, Terry Schaefer and Carol Soustek are deadlocked. One of them will not get a seat.
Referendums: The school board, fire control, Holmes Beach, and Longboat Key's referendums passed.
Helen Kirchner Moore won a second term as Venice City Council member in seat 3.
Jim Boldt took seat 4.
More Tampa Bay stories
No stories could be found
Get a free daily digest of the most important news in your backyard with Axios Tampa Bay.