Biden and DeSantis snipe over Florida's COVID response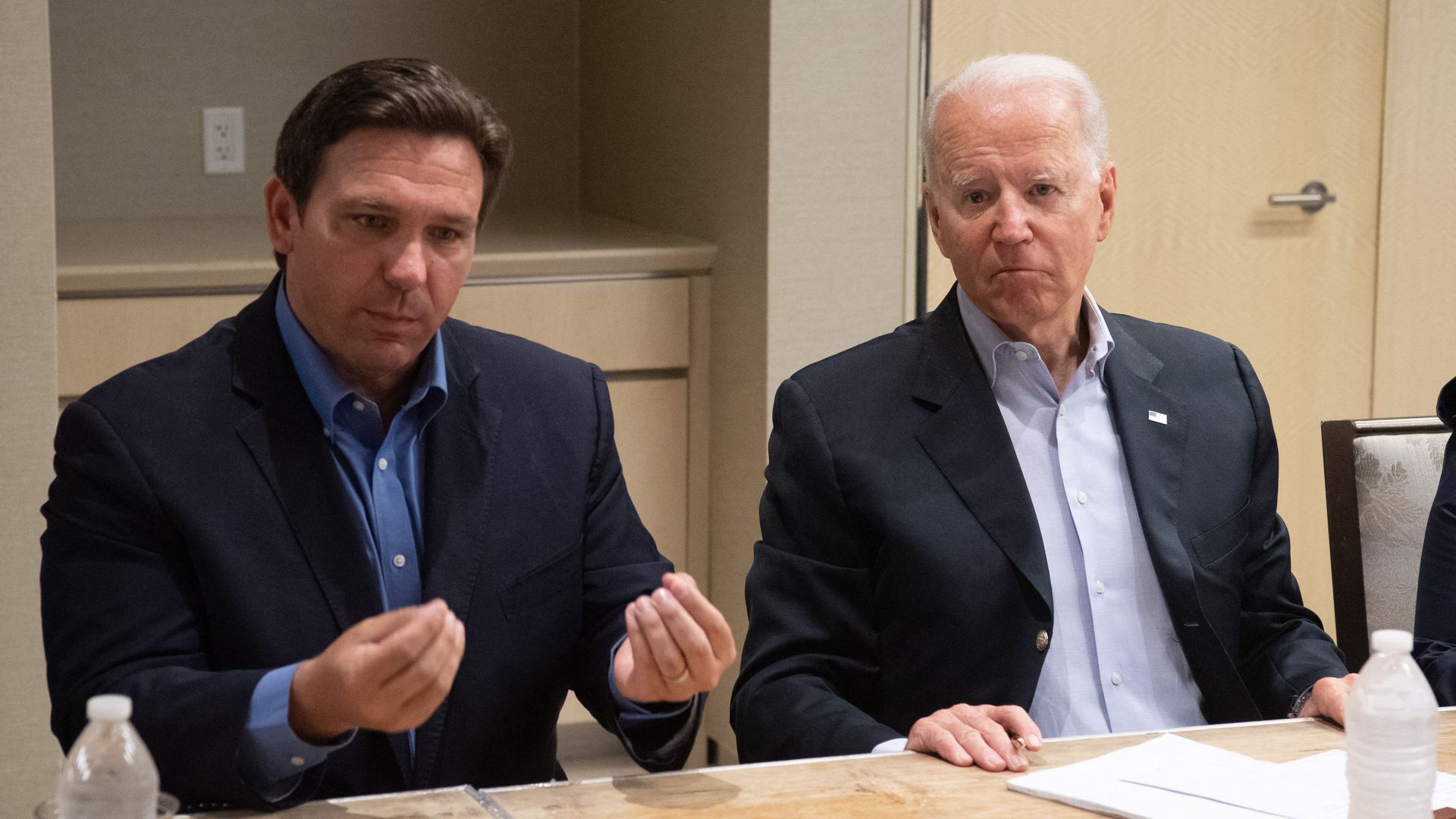 During a week when Florida has seen COVID cases and hospitalizations break records, Gov. Ron DeSantis blamed the spike on a "seasonal pattern" and "media hysteria."
His latest target: President Biden not securing the border with Mexico.
State of play: At a press conference in Panama City yesterday, DeSantis claimed that Biden is "facilitating" the virus by allowing "hundreds of thousands of people pouring across [the U.S.-Mexico border] every month."
"Why don't you get this border secure? Until you do that, I don't want to hear a blip about COVID from you," DeSantis jabbed.
The backdrop: DeSantis was responding to a Biden statement earlier in the day at the White House, when the president said that "some governors aren't willing to do the right thing to beat this pandemic" and encouraged businesses to take mitigation steps.
"I say to these governors, please help. But if you are not going to help, at least get out of the way of the people who are trying to do the right thing. Use your power to save lives," Biden added.
Why it matters: The back-and-forth might seem petty, but it shows who really has the power in stopping the spread of coronavirus — at least here in Florida.
As much as Biden may want DeSantis to "get out of the way," there's nothing he can do to make Floridians wear masks or get vaccinated outside of what he's already done.
DeSantis ultimately pulls the strings on whether businesses and schools can impose mask mandates or vaccine passports, and he's not letting them go any time soon.
Yes, but: Yes, but: Some school boards are defying an executive order DeSantis signed last week that threatens to withhold state funds from school districts that put masks mandates in place. The Alachua County School Board voted to require masks in classrooms for at least the first two weeks of the school year and Duval County is requiring masks for students unless their parents opt out.
Broward County last week voted to keep a requirement that students wear masks but now it may require only adults do so.
And new polling, via Florida Politics, shows that more than six in 10 Floridians believe schools should require all children to wear masks when classes begin later this month.
The same polling also shows U.S. Rep. Charlie Crist (D) narrowly leading DeSantis in a hypothetical head-to-head gubernatorial matchup.
More Tampa Bay stories
No stories could be found
Get a free daily digest of the most important news in your backyard with Axios Tampa Bay.