Dueling Van Gogh exhibits cause confusion across America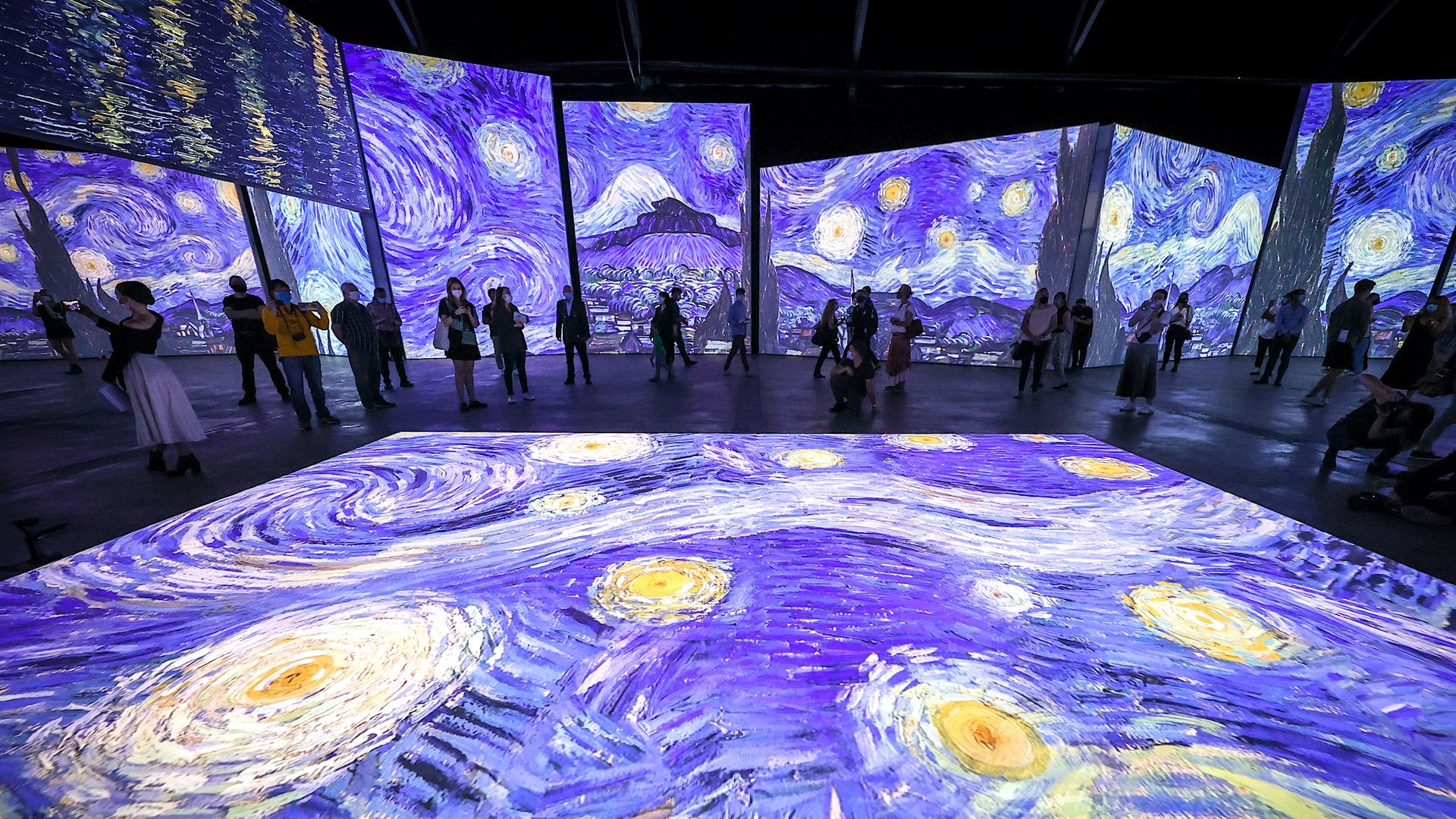 Will the real Vincent Van Gogh please stand up? "Immersive Van Gogh" is coming to Orlando this fall. It's not the same as "Van Gogh Alive" at the Dalí Museum in St. Petersburg. And definitely not "Van Gogh: The Immersive Experience" coming to Miami.
What's happening: If you're confused, so are other people who keep thinking they're buying tickets to the same exhibit.
There are five competing Van Gogh exhibits traveling the U.S. right now — all using projections, screens, music, virtual reality technology and sometimes even smells to create "immersive" experiences.
Afar has a concise list of the different exhibits, where they'll be and what their cost is. Some tickets can cost up to $100.
The big picture: Experiential art ventures like Superblue and Meow Wolf have raked in cash in the wake of the massive success of shows from the likes of Yayoi Kusama.
But Van Gogh — the artist currently leading the world in high-tech immersive exhibitions — has been dead for 130 years.
Worth noting: It's not like most of us can get to Europe right now, but the places you can view the most real Van Gogh paintings — the Van Gogh Museum in Amsterdam, the Kröller-Müller Museum in Otterlo and the Musée d'Orsay in Paris — are all still closed for COVID precautions.
So which Van Gogh "experience" is the original? There's no easy answer.
Grande Experiences' head of commercial operations Rob Kirk claims "Van Gogh Alive" was the first, starting in 2011. The others, he said, didn't exist before 2015. "Copycat experiences that have popped up in the U.S. have just been of the back of the success of 'Van Gogh Alive.'"
However, the recent popularity surge likely comes from Netflix using "Immersive Van Gogh" in its show "Emily in Paris."
The fight got ugly when ticket vendor Fever entered the ring with "Van Gogh: The Immersive Experience," charging the higher prices and competing in the same cities and dates as "Imagine Van Gogh." Fever, whose Better Business Bureau page is loaded with complaints, was even accused of ripping off a Boston media site to try to sell tickets.
Why Van Gogh? Kirk said people recognize the artist's vibrant colors and are intrigued by his story. Grande has similar experiences for Leonardo Da Vinci, Claude Monet and French Impressionists as well as urban street art.
Nearly 90% of Dalí Museum visitors reported they learned something new about Van Gogh at their exhibition, the museum's marketing director Beth Bell said.
But former art critic and visual artist William Powhida chalks it all up to fair use. Van Gogh's work has been around long enough to be legally reproduced. It's the same thing that fueled a 2001 fight between dueling website owners ripping off the artist.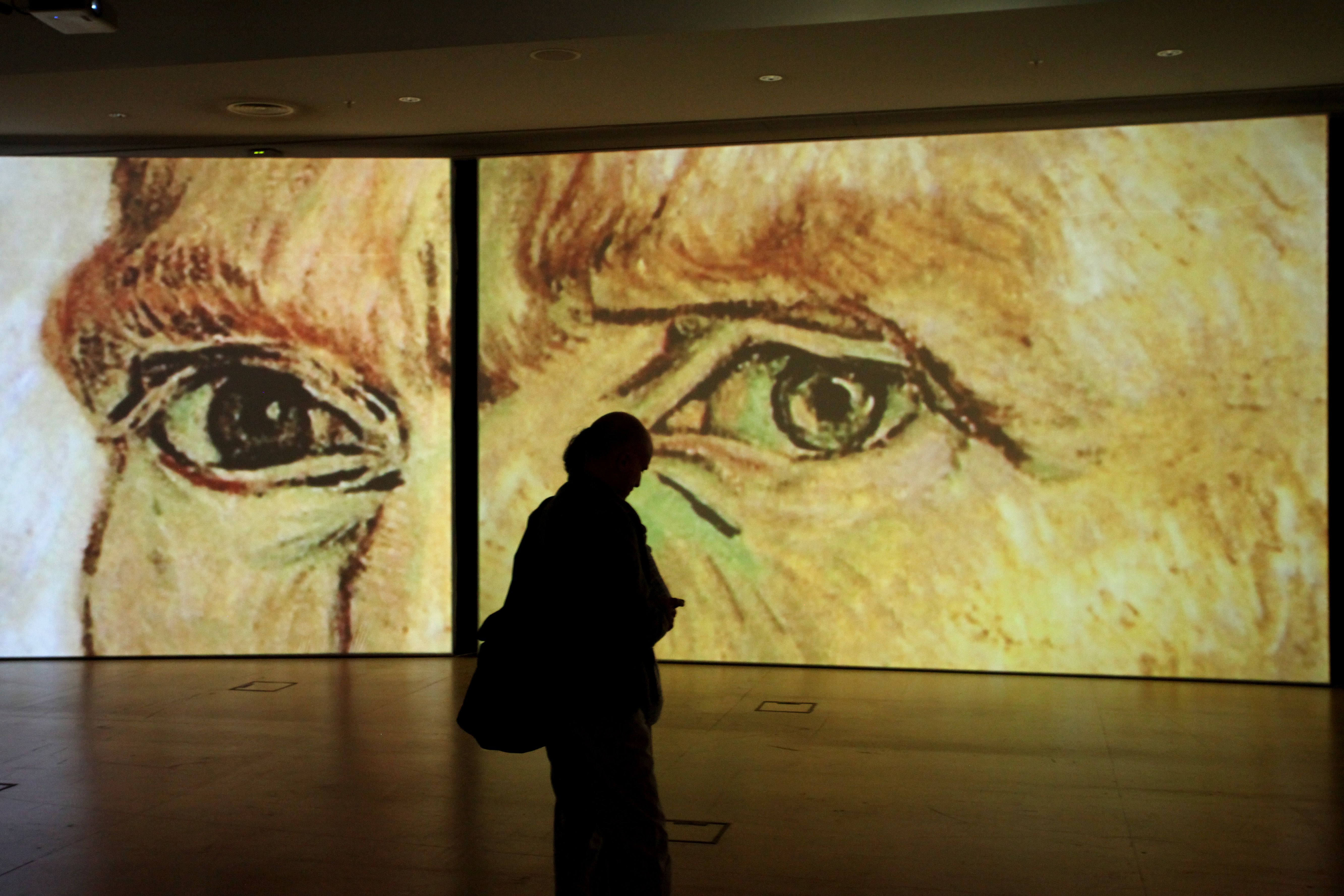 My thought bubble: I visited "Van Gogh Alive" at the Dalí Museum and thought it was a fun way to learn about the artist and feel like I was inside his work.
Now, realizing how many versions there are with even steeper prices and sunflower selfie stations, I feel more like I got the fancy version of the Shrek 4D ride at Universal Studios.
And I can't stop thinking about this last point Powhida made:
They are designed to create crowd-pleasing versions of an artist's existence who didn't sell any work in his lifetime. ... There's an irony to seeing an artist whose work didn't have that kind of economic value be turned into a tourist attraction.
Axios' Felix Salmon contributed to this story.
More Tampa Bay stories
No stories could be found
Get a free daily digest of the most important news in your backyard with Axios Tampa Bay.