How California serves as an example for a post-affirmative action world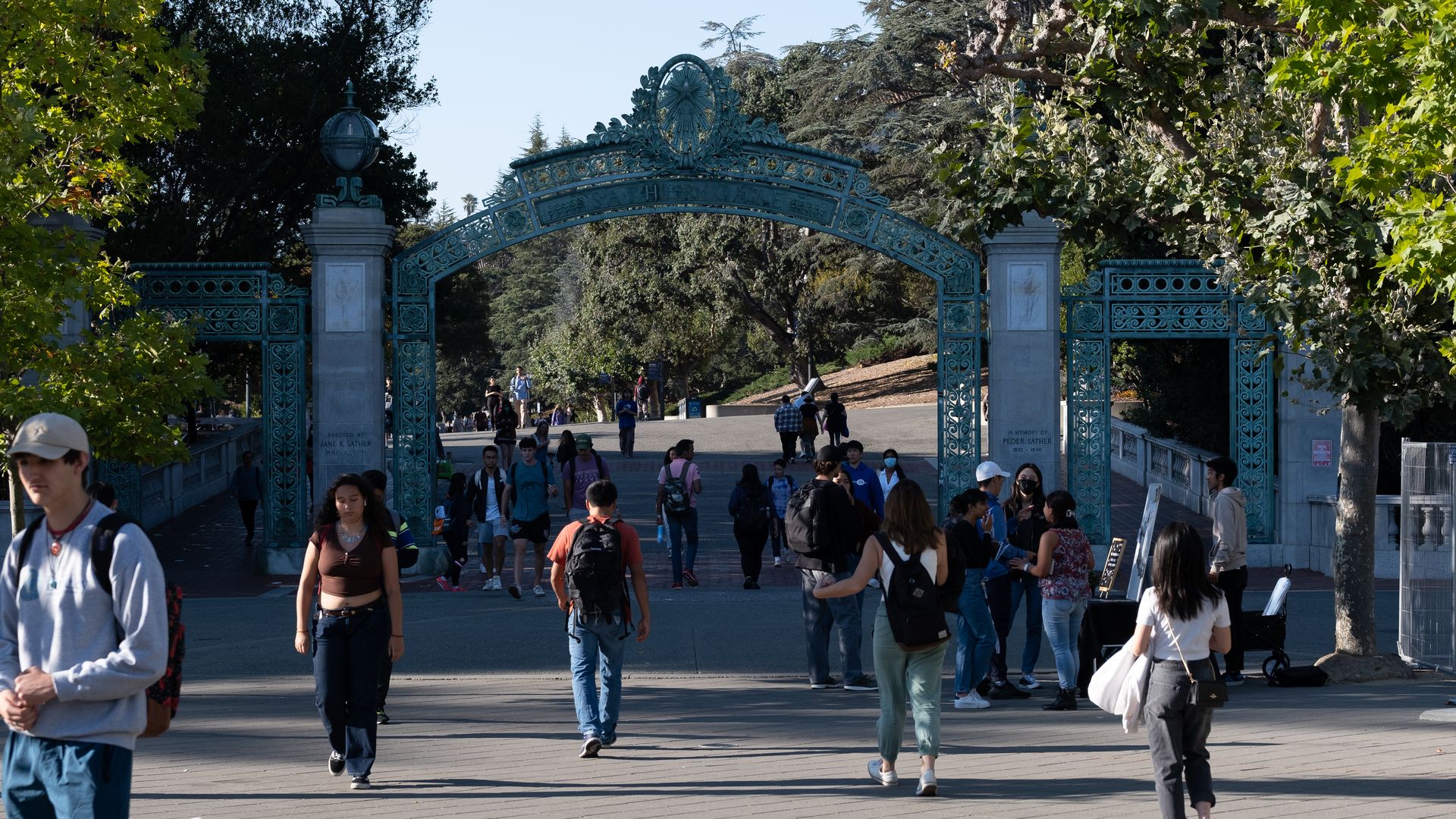 Colleges across the nation could soon look more like public universities in California in the wake of the U.S. Supreme Court's ruling on affirmative action.
Why it matters: After California voters approved a proposition in 1996 to ban race-conscious admissions at public institutions, top schools in the University of California system saw a drop in their percentage of Black and Latino students while gaining larger white and Asian populations.
Context: A 2002 study of UC admissions found that race-neutral processes make it difficult to provide proportional representation for underserved minority students at highly selective institutions.
That's caused a ripple effect, pushing these students into lower-tier colleges and, subsequently, to earn lower wages once they enter the labor market, according to a 2021 analysis published in The Quarterly Journal of Economics.
State of play: These trends are now likely to also appear at private institutions and other public colleges, which will have to seek other ways to bolster diversity that aren't explicitly race-based.
Research has shown that even alternatives to race indicators such as socioeconomic status and geography fail to replicate the same levels of diversity, said Eujin Park, an assistant professor at Stanford's Graduate School of Education.
Reality check: Opponents of affirmative action say eliminating it levels the playing field for white and Asian applicants, but research shows that California's ban also negatively impacted Asians, Park told Axios — especially those who are low-income or refugees.
She pointed to a 2015 analysis from the National Commission on Asian American and Pacific Islander Research in Education, which found a significant decrease in AAPIs' rate of admissions after the UCs reverted to a race-blind policy.
The study further indicated that the increase in AAPI enrollment at these campuses was most likely caused by demographic shifts in the state and higher enrollment out of accepted AAPI students.
The big picture: Asian Americans in California, who make up more than 35% of the UC undergraduate population, have played critical roles on both sides of the fight.
The Silicon Valley Chinese Association (SVCA) Foundation held events with Students for Fair Admissions (SFFA), the group that sued Harvard in the case that went before the Supreme Court. It also organized to defeat the 2020 ballot initiative that would've overturned the state's 1996 ban.
Meanwhile, the San Francisco-based Chinese for Affirmative Action (CAA) joined 31 other Asian American groups to file an amicus brief in support of Harvard, noting that Asian Americans wouldn't be where they are today without affirmative action at all levels of society.
What they're saying: CAA co-executive director Cynthia Choi told Axios that consideration of race allows for equity in education and remedies historical harms, including policies that affected Asians. "You can't be selective of when race matters," she said.
SVCA president Jason Xu told Axios he supports affirmative action policies in general — including UC programs for recruiting first-generation students — but opposes "racial preferences" because he believes in a merit-based system.
Choi countered, however, that meritocracy is a myth, citing legacy and athletics admissions. "We've never denied that these institutions may engage in discriminatory and inequitable practices," she added. "But it's not because of affirmative action."
Between the lines: Polling of Asian Americans' views on affirmative action has shown mixed results depending on the language used.
For many, concerns about bias are rooted in fear of historic exclusion.
47% of Asian adults surveyed by Pew Research Center earlier this year still said that considering race and ethnicity in admissions is good for promoting equal opportunities, compared with 29% who said it's bad.
More San Francisco stories
No stories could be found
Get a free daily digest of the most important news in your backyard with Axios San Francisco.