Ending affirmative action is watershed moment for higher education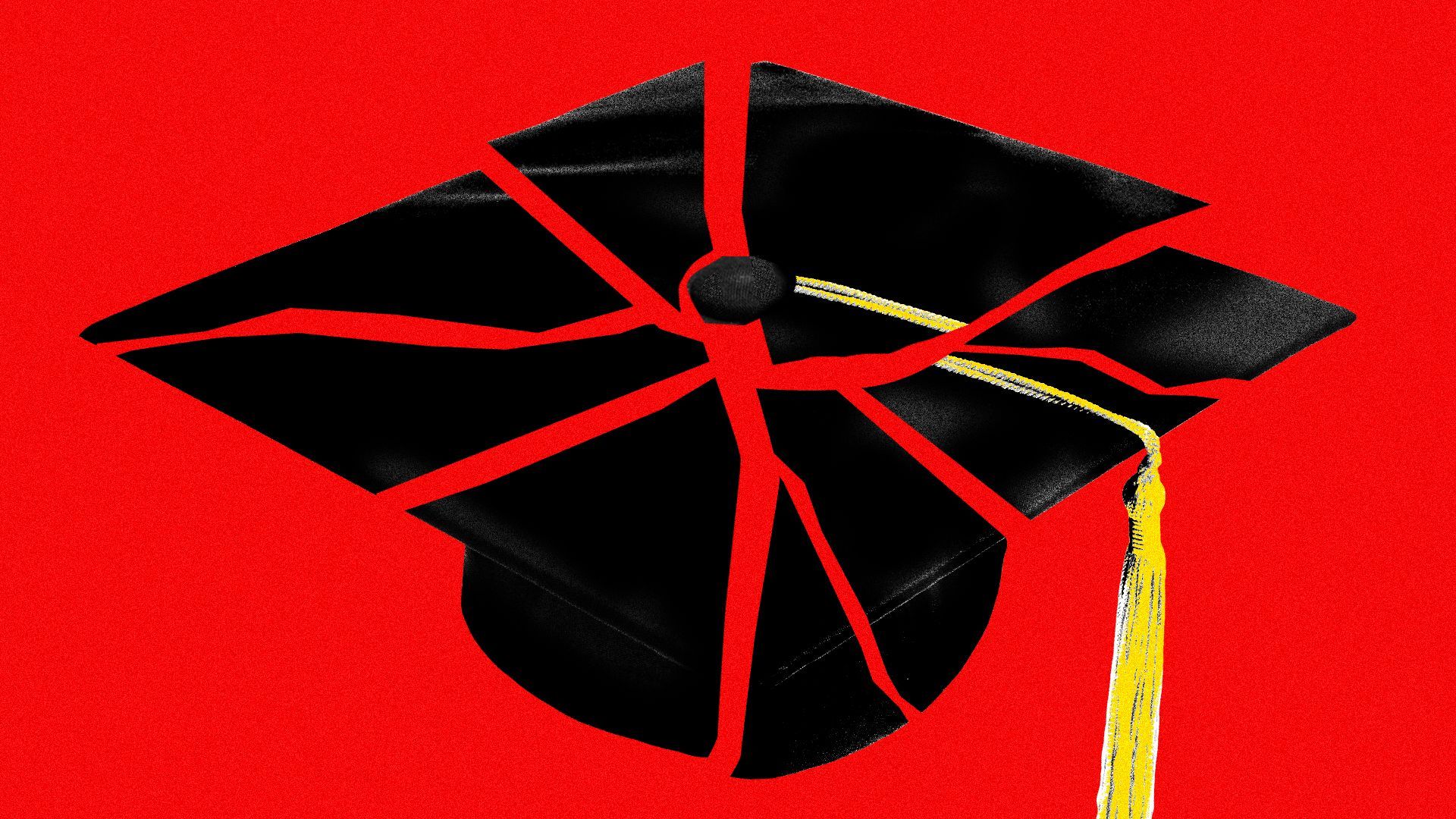 The Supreme Court's rejection of affirmative action could be a watershed moment for higher education, decreasing diversity in colleges and universities and eventually professional industries.
Why it matters: The decision will substantially affect the racial makeup of student bodies at institutions, especially selective ones, across the U.S., experts told Axios.
The 6-3 conservative-led decision on Thursday overturned more than 40 years of precedent in higher education admissions that affirmed considering race with the Regents of the University of California v. Bakke decision.
Higher education and law experts have compared it to the 2022 Dobbs v. Jackson ruling that ended federally protected abortion rights, almost 50 years after the Roe v. Wade decision.
The court sided with the conservative nonprofit Students for Fair Admissions, which argued that the universities' admissions processes discriminate against white and Asian American applicants.
Between the lines: The lived student experience is shaped by representation and diversity, said Natasha Kumar Warikoo, a professor of sociology at Tufts University who wrote a book about affirmative action.
Warikoo said admissions offices should look at how students can further universities' missions, such as influencing society or educating future leaders.
State of play: The Supreme Court's ruling deems that diversity is no longer a compelling interest under the Equal Protection Clause.
Universities will not be able to consider race explicitly in their college admissions, said Jerry Kang, a law professor at UCLA who has researched affirmative action and implicit bias.
The majority opinion said educational benefits from diversity are hard to measure, he said.
"It raises interesting questions about whether, over time, social science can provide more specific, quantifiable benefits to certain kinds of educational diversity that could invite the court to reconsider different race-conscious measures," Kang said.
In the Dobbs ruling, the Supreme Court rejected the Equal Protection Clause as an alternative ground for the right to abortion.
"This opinion is similar to Dobbs in the sense that it overturns more than four decades of precedent and that substantially unsettles our expectations," he said.
The decision's effects are expected to be felt immediately at elite and selective universities, he said.
"The next round of admissions, you'll see substantial drops in underrepresented minority representation," Kang said.
Nine states had banned affirmative action as of 2022, including California and Michigan.
California voters passed a ballot proposition in 1996 that banned public universities from considering race and gender in admissions.
Black students made up 7% of UCLA's student body before the ban, according to the New York Times. By 1998, that figure was below 4%.
At the University of Michigan, Black undergraduate enrollment had been at 7% in 2006 before a local ban. It dropped after the ban to 4% in 2021, the Times reported.
Highly selective institutions are expected to have even more pronounced disparity in racial makeup, especially with a decrease in Black and Latino enrollment, said Julie J. Park, an associate professor of education at the University of Maryland, College Park who has studied race-conscious admissions.
"It would have major negative consequences for everything," Park said, referring to its impact on undergraduate and graduate education, including medicine, business and law.
This would trickle into less diversity in the respective professional fields.
What's next: While they can't explicitly use proxies for race, schools may use other reasonable factors that help create a diverse environment, such as considering the zip codes where students live, Warikoo said.
Students will still be allowed to write about their lived experiences with race in personal essays.
"If we don't see representation from particular groups, then it feels like a threat to democracy," Warikoo said.
Go deeper: Supreme Court strikes down affirmative action at colleges.
Go deeper