Overturning affirmative action will change the college application process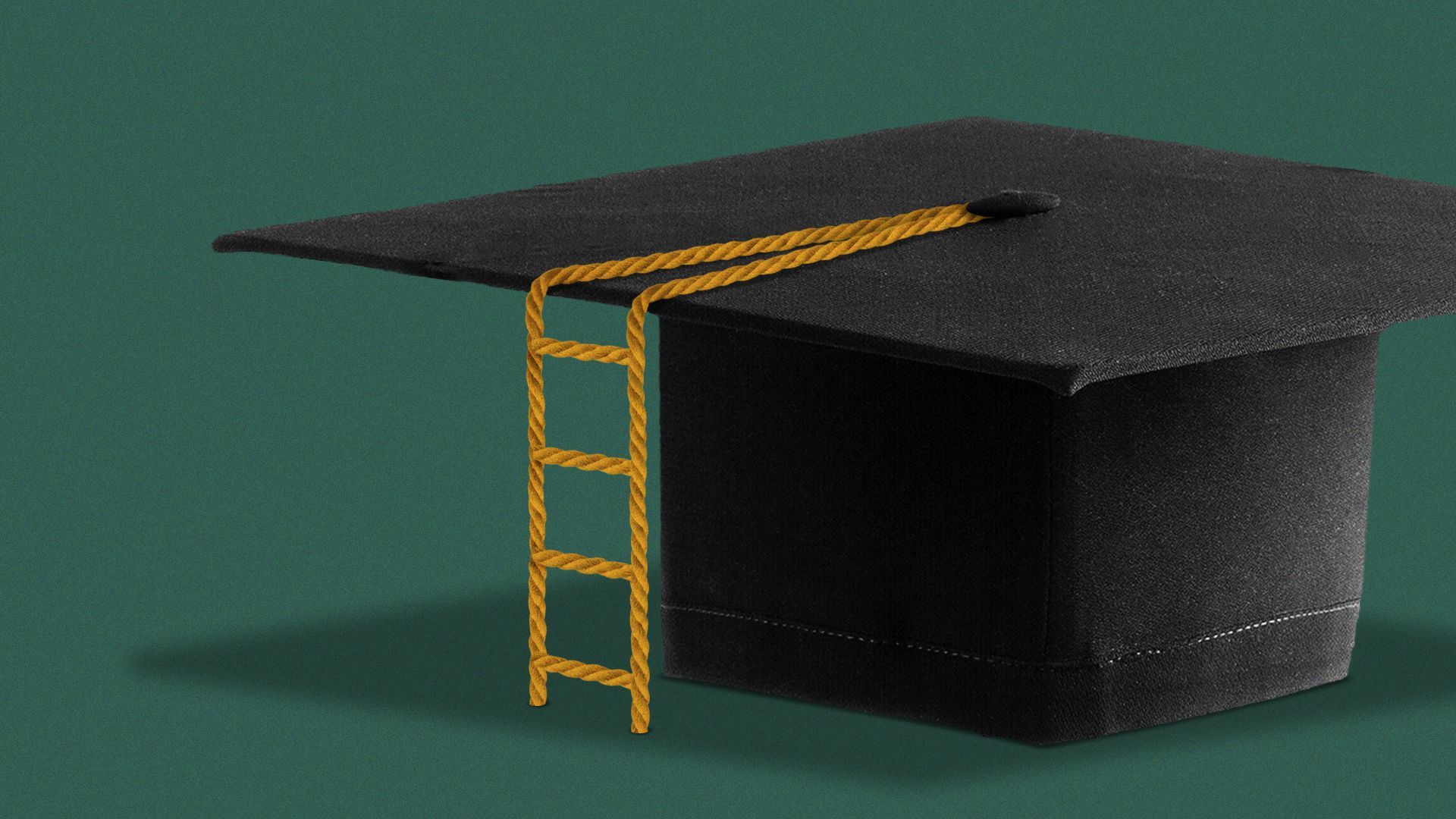 College applications and admissions processes will change as a result of the Supreme Court's Thursday decision to strike down affirmative action.
Why it matters: The ruling bars admissions offices from race-conscious admissions, a policy that was intended to remedy discrimination in the consideration of applicants from underrepresented groups. Universities will now have to create a new roadmap for maintaining diversity in their student bodies.
The Supreme Court ruled 6-3 against admissions processes at Harvard and the University of North Carolina, effectively rejecting affirmative action.
The decision is expected to decrease diversity, especially at highly selective universities.
"The elimination of affirmative action will have a monumental impact on college admissions," said Genesis Robinson, the political director for Equal Grounds, a Black-led voting rights organization in Florida.
"We've already seen in states that have banned affirmative action to date, there's been a decline in minority acceptance and enrollment."
The admissions essay, a cornerstone of the college application process, will still serve as a means for students to write about their racial background, the court said.
But the essay can't become a substitute for race-conscious admissions, either. "Universities may not simply establish through application essays or other means the regime we hold unlawful today," Chief Justice John Roberts wrote in the majority opinion.
The court's decision could potentially have a chilling effect on applicants' decisions to write about their identities, without knowing the ramifications, Robinson said.
"Students should always have an opportunity to write about their racial background or just their experience in life," he said. "But that is going to be a huge consideration as to whether or not students continue to do so out of fear that it might hurt their chances."
Between the lines: Students with financial support have typically had a leg up on other candidates. This Supreme Court ruling will likely keep that as the status quo.
"The process of admissions today is already quite opaque," said John D. Skrentny, a sociology professor at the University of California, San Diego. "There's a small industry of people who try to coach students and families on how to get their kids into these elite schools, so they stand to gain."
For students with fewer resources, a lack of extracurriculars may also impact their applications in the absence of affirmative action, Robinson said.
Those students often take on jobs or family responsibilities, limiting extracurricular activities that might otherwise bolster their applications, Robinson said.
"That is a direct impact on their ability to be on equal footing with someone who has the resources of a more affluent person," he said.
Standardized tests, such as the SAT and ACT, can serve as a proxy for race and socioeconomic status, said Harry Feder, the executive director of FairTest, an organization that advocates against the misuse and overuse of standardized testing.
The California public university system banned affirmative action in 1996 and is completely test free, meaning admissions officers do not consider students' standardized exam scores in their decision-making. More colleges and school systems might go this route as a result of the Supreme Court decision, he said.
"They won't want to use a single instrument as an overriding factor in admissions," Feder said. "Colleges will try to figure out how, through a holistic process, to maintain diversity in their schools."
What's next: The ruling will likely push admissions officers to find new ways to bring in as diverse classes as possible, Skrentny said.
At the same time, students from backgrounds with more resources will have the financial ability to leverage their experiences in a strong application package, he said.
Skrentny added that other factors can give insight into a student's background, such as where they're from or their socioeconomic status. In light of the ruling, admissions offices may begin to rely more on these factors, he said.
The bottom line: University systems in nine states have already admitted classes of students without considering race, but now universities across the country will have to create their own plans to factor diversity into their student bodies.
"U-M's experiences demonstrate what research has now shown clearly — that it is much more difficult to achieve racial diversity in the student body using only race-neutral methods than by including race in the admissions process in a narrowly-tailored manner," a University of Michigan statement said.
Go deeper: Affirmative action's end spells more isolation for students of color
Go deeper