What the Six Flags merger might mean for Kings Dominion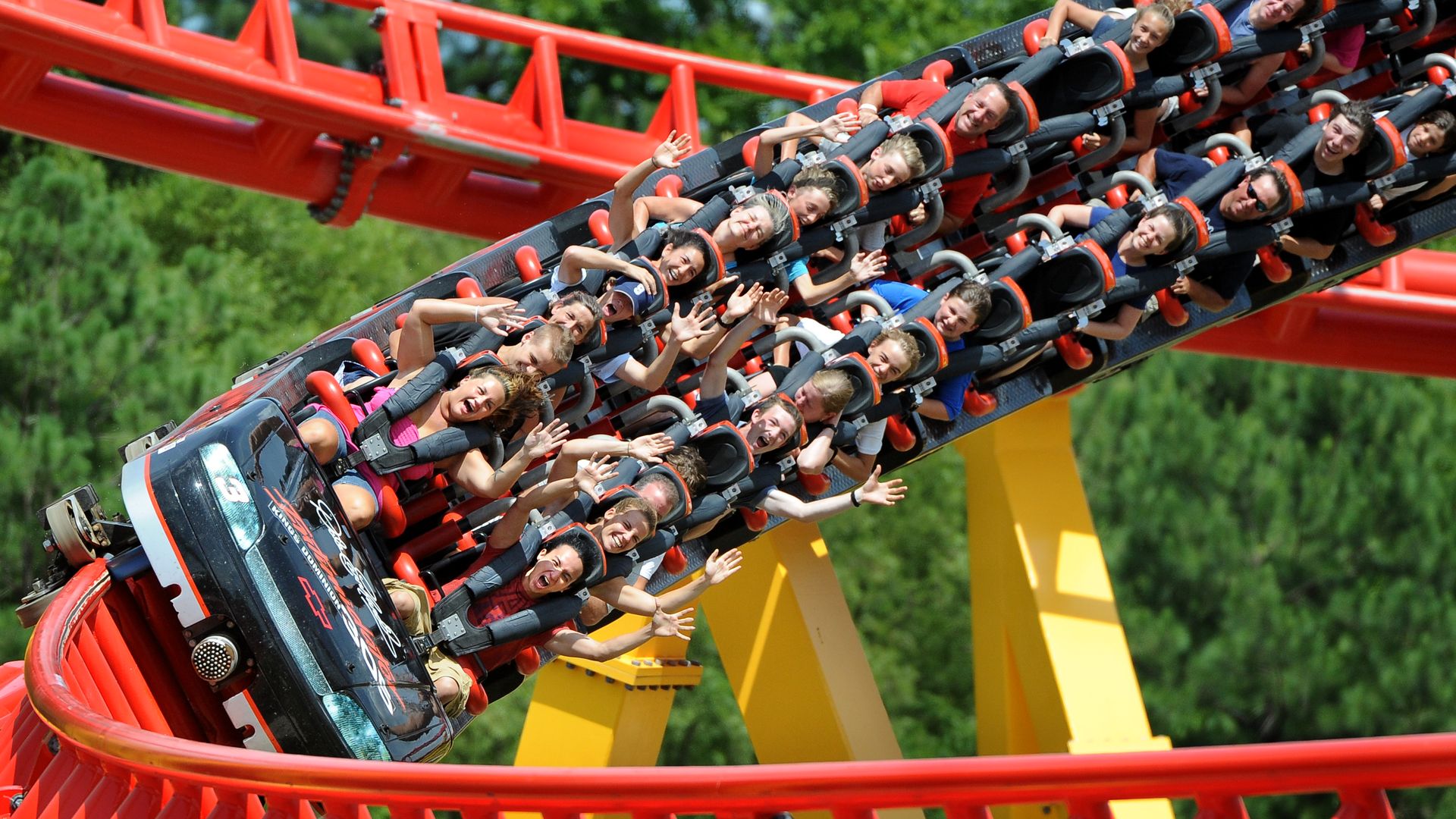 Karri here, still processing last week's Kings Dominion parent company/Six Flags merger news.
Why it matters: The merger, expected to close next year, will likely bring change to the theme park many of us grew up with.
What's happening: The new company — which will be named Six Flags — is set to establish one of the largest theme park operators in North America, with 27 amusement parks, 15 water parks and nine resorts in 17 states, Canada and Mexico.
Since the deal isn't done yet, there are no immediate changes.
In fact, Kings Dominion announced yesterday that its annual Winterfest starts next Friday and runs through the end of the year.
Still, with a deal of this size affecting dozens of theme parks, speculation abounds.
Here's what the theme park experts are speculating.
Fewer parks
Some parks could possibly close due to the merger, per Robert Niles, founder of the very real pub, Theme Park Insider.
Closing a few parks would allow the company to reallocate rides and possibly generate some cash from any real estate sales.
Niles sorted through the parks and listed which could possibly close based on attendance, competition and real estate value.
KD comes at the very bottom of his "probably not touchable" for sale list, in part because of its highly ranked coasters.
Six Flags America, about 100 miles north of KD in the D.C. suburbs, doesn't fare as well. Niles ranked it as "definitely touchable," largely due to its real estate value.
Worth noting: Each corporate owner owns the land Kings Dominion and Six Flags America sit on, according to their respective county records.
Six Flags America's 265 acres in Prince George's County is assessed at just over $26.2 million.
Hanover assessed Kings Dominion's 111 acres at $3.7 million.
Other changes could include:
A new name
The Six Flags name is likely to be attached to most of the former Cedar Fair parks, including Kings Dominion, sometime next year, per Theme Park Insider.
Would it be Six Flags Kings Dominion? Six Flags Doswell? Six Flags Virginia? Time will tell.
New brands
The parks use separate holiday branding, and one will likely come out on top. Will it be:
Halloween Haunt or Fright Fest?
Winterfest or Holiday in the Park?
Snoopy vs. Bugs Bunny
Each company holds licenses to different corporate characters: Six Flags has DC Comics and Looney Tunes characters, KD and company, the Peanuts crew.
So this could come down to a Bugs Bunny-Snoopy cage match.
Some good news
The merger could mean all-park passes, allowing folks to use their KD season pass at the other 26 parks in North America without spending extra. I think that's what they call synergy.
Plus, Six Flags' season passes and tickets are generally slightly cheaper than what KD visitors pay, which could bring down the cost to locals, Journal-News reports. Synergy.
More Richmond stories
No stories could be found
Get a free daily digest of the most important news in your backyard with Axios Richmond.