Three locally brewed pumpkin beers to try this season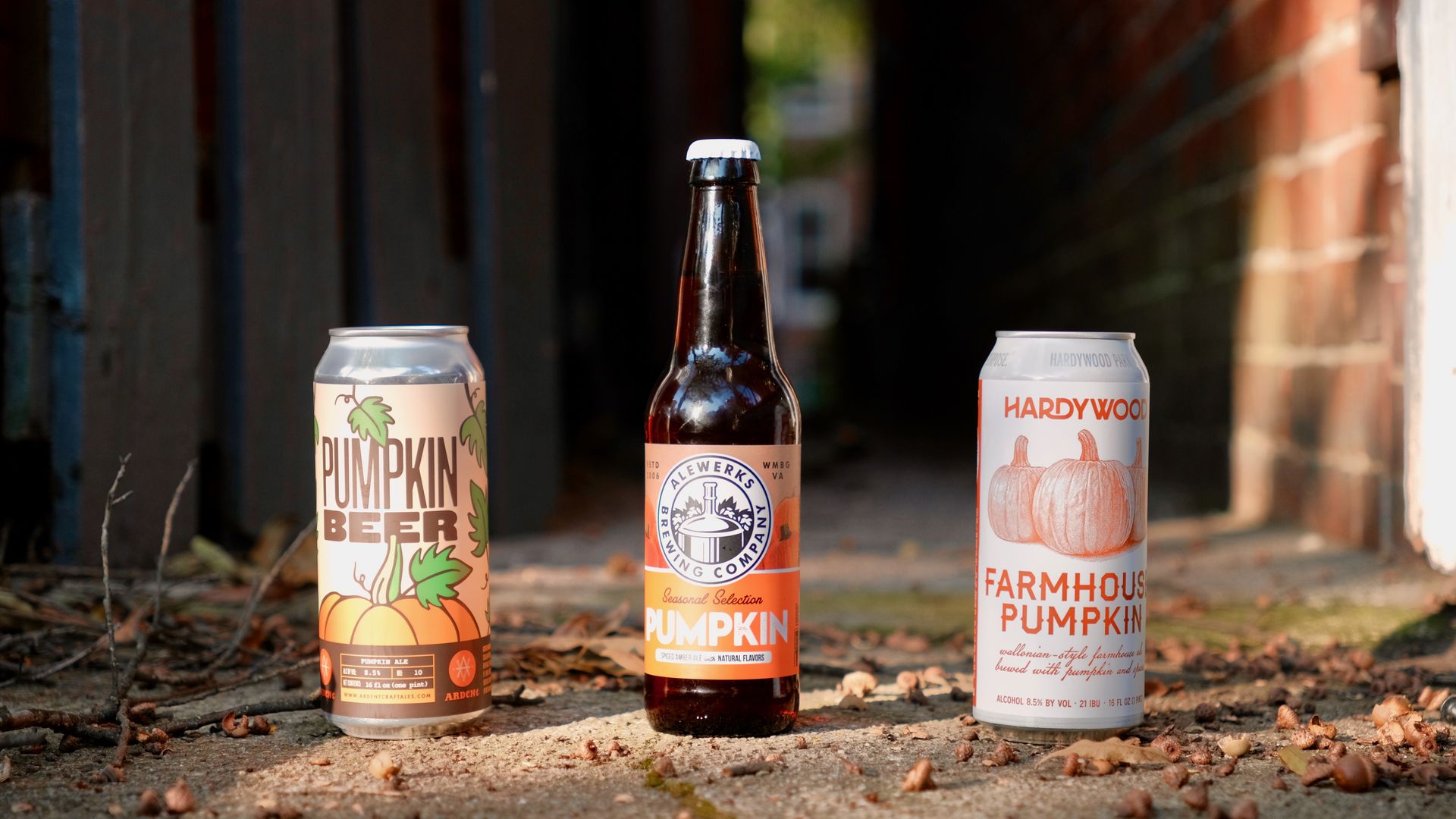 It's not even October yet and pumpkin beer is already selling out.
What's happening: At least three local breweries have pumpkin spice beers out this year, capitalizing on the long-running trend kicked off by Starbucks' lattes.
And customers are apparently drinking it up, because we had to search high and low to nab cans.
The big picture: Our favorite of the bunch was a new offering from Ardent called — and we don't know who thought of this — Pumpkin Beer.
It's an ale with 8.5% ABV and made with nearly 200 pounds of fresh pumpkin, per the brewery. We loved it (yes, there was an official Axios Richmond tasting on Ned's patio) for its crisp effervescence – almost like a cider.
Of note: It was the least sweet and had the least pumpkin spice flavor, which all turned out to be good things, but it was still festive as heck.
Hardywood's Farmhouse Pumpkin (also 8.5% ABV) was thicker, a little sour and heavier on the pumpkin spice mix taste, which the brewery credits to a spice blend from Richmond's own Sauer Brands (formerly the C.F. Sauer Company).
Good, but not as chill as the Ardent.
Alewerks' Pumpkin Ale (7.3% ABV) out of Williamsburg is nationally recognized, tastes like it sounds and is easy to find.
It had the biggest pumpkin spice flavor while still being recognizably beer. Ned thinks his dad would like it.
Reality check: At times we found ourselves doubting whether we'd be able to tell the difference between any of these and the Christmas spiced beers that'll be coming out in a few months.
Be smart: We found what might be the last cache of Ardent's Pumpkin Beer at the city Whole Foods in a display by the door.
But all three beers are on tap in their respective tasting rooms.
More Richmond stories
No stories could be found
Get a free daily digest of the most important news in your backyard with Axios Richmond.