How Richmond's neighborhoods got their names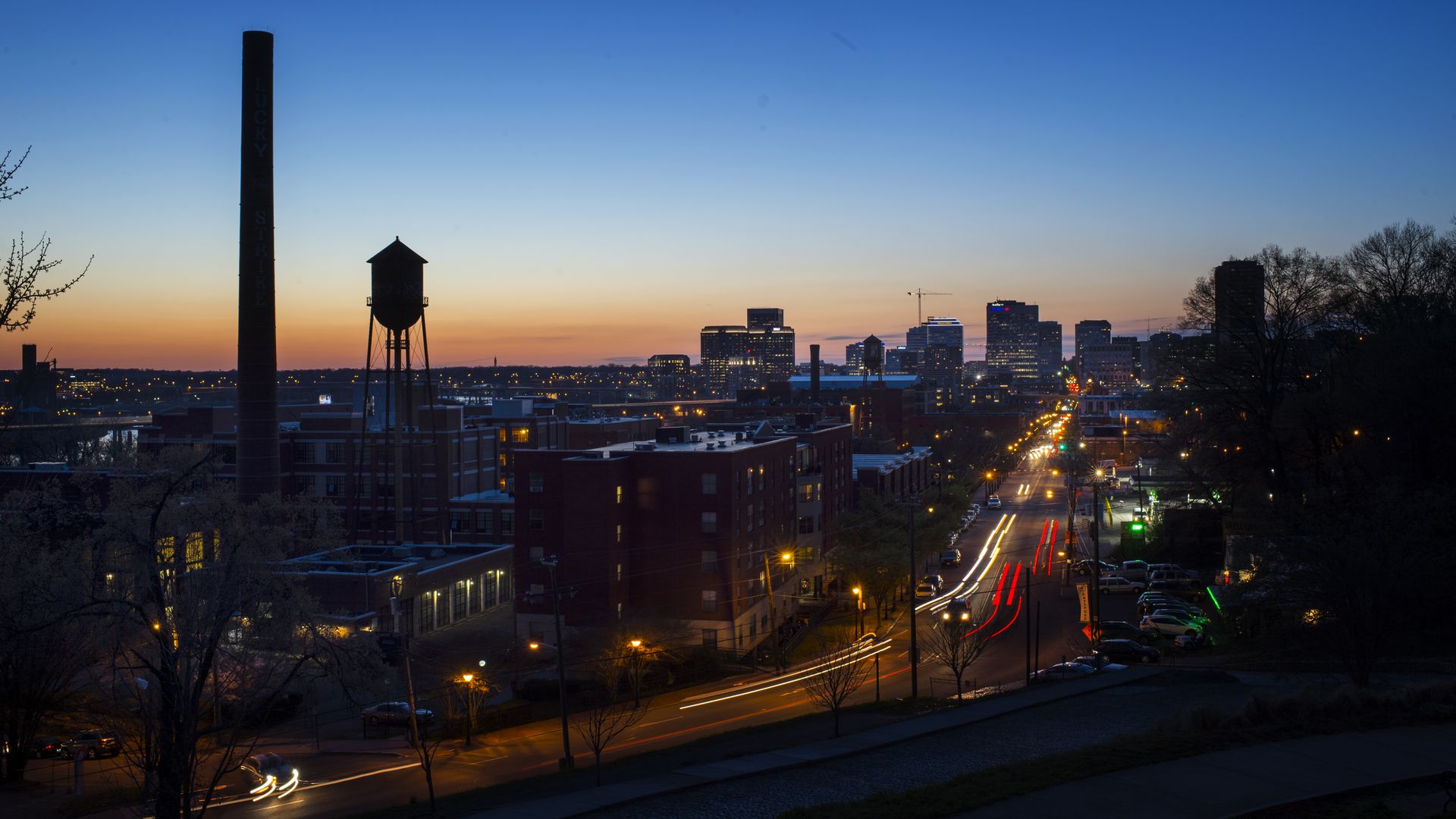 The story of how Richmond got its name is well known, but when it comes to the city's neighborhoods, the history gets a little murkier — and more interesting.
Why it matters: The names of Richmond's neighborhoods symbolize how the city evolved from its earliest days.
State of play: Richmond was named by its founder, William Byrd II, who while standing in Church Hill christened the town Richmond after the one in England with a similar view. Byrd's influence eventually extended to naming the neighborhood too.
Yes, but: Byrd didn't actually name Church Hill. For much of its earliest history, the 'hood atop the city was known "interchangeably as Adams, Church, or Richmond Hill," according to the Times-Dispatch.
Adams for Richard Adams, who owned most of the land in the 18th century, Richmond for the city and Church for the city's most famous one, built on land Byrd donated: St. John's Church.
Many Richmond neighborhoods got their names from the people who once owned the bulk of the land within it, like Fulton Hill, named for James Alexander Fulton, who in 1800 built his estate there, or Carytown, named after the street that was named after nearby landowner Col. Archibald Cary.
Oregon Hill started similarly. It was originally called Belvidera Hill, after the estate of William Byrd III, which took up most of the neighborhood, per the neighborhood's historic designation application.
But the neighborhood evolved into a working class enclave of iron workers who dubbed it "Oregon Hill," joking they were so far west of the city center they might as well be in Oregon, according to The Valentine museum.
Then there's the gritty, far western flung city neighborhood we today call the Fan District — its circa 1950s rebrand.
For most of its history, the neighborhood built from land also once owned by Byrd III was called Scuffletown, named after a 1781 skirmish between American troops and Benedict Arnold, per The Valentine.
Scuffletown was the place travelers would stop on their way into or out of Richmond, and it was barely a place until the 20th century, despite early 19th century plans to build a neighborhood called Sydney, laid out in a fan shape.
The plan for Sydney failed, but when development ramped up in the 1920s, they kept the idea for the fan shape while building the houses of Scuffletown, and in the 1950s the residents of the neighborhood gave it a rebrand in honor of its shape: the Fan District.
Those are just five of the more than 100 neighborhoods that make up Richmond. Which ones should we do next?
More Richmond stories
No stories could be found
Get a free daily digest of the most important news in your backyard with Axios Richmond.