Richmond Black Restaurant Experience is back starting Sunday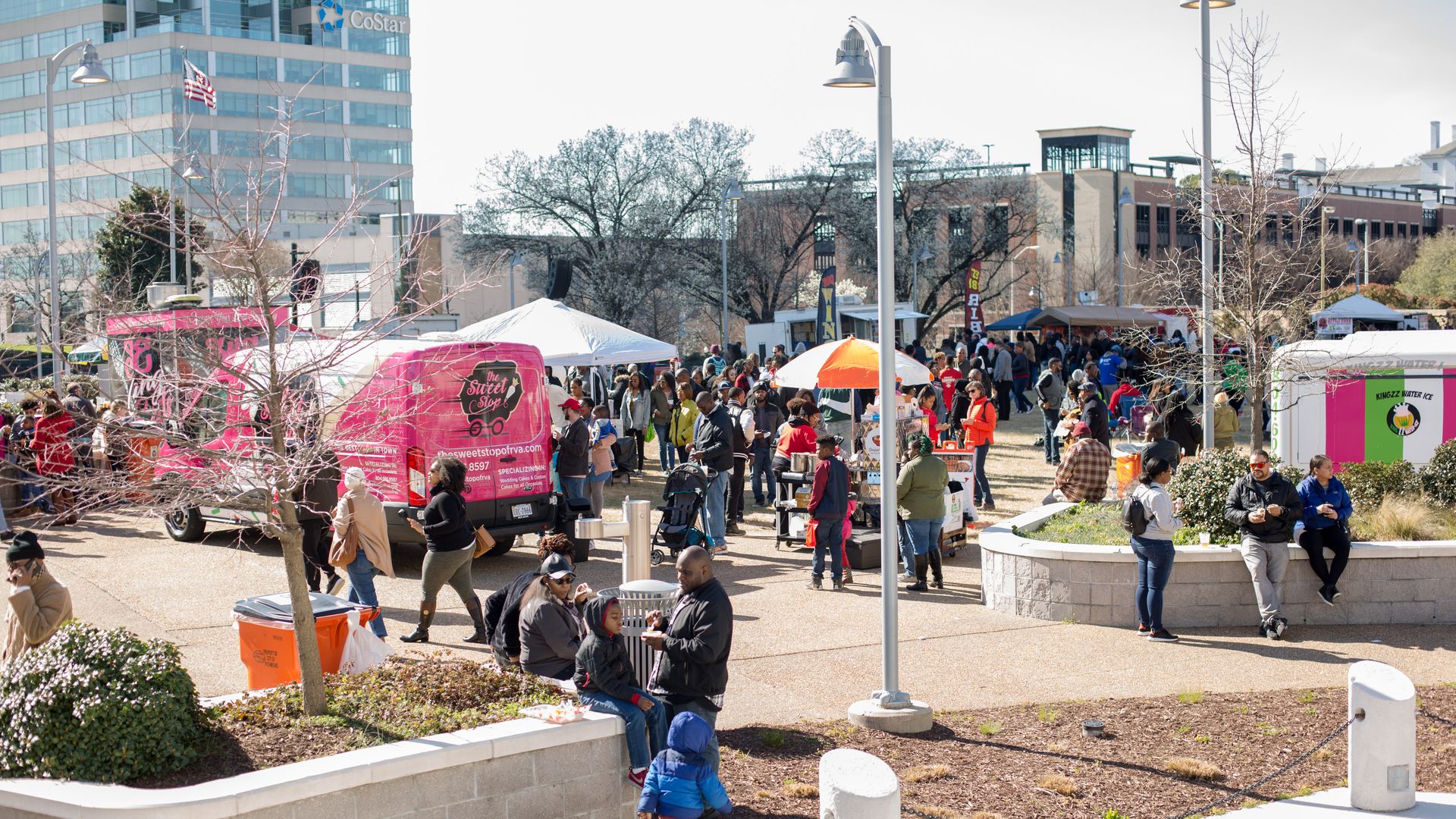 Richmond Black Restaurant Experience is back for its seventh year starting Sunday and running through next weekend.
Why it matters: The weeklong event celebrates Richmond's diverse and thriving Black culinary scene while honoring the significant historic contributions Black people made to the city and its food culture.
Plus, there's plenty of great food to eat all week.
What's happening: The concept of the event is simple — support participating Black-owned restaurants, food trucks and caterers by dining out at them all week.
But the beauty of the event is the conversations it inspires and the intentionality behind its execution.
What they're saying: Richmond is a critical place in the Black American story. " About 1 in 4 "Black folks can trace their history back to the docks here," RBRE co-founder Amy Wentz tells Axios of the significant role the city had in the American slave trade.
Food is an important part of that story.
"The Richmond food scene started with us," Wentz says, noting figures like John Dabney, the once enslaved Richmonder credited with perfecting the Mint Julep — and helping invent modern mixology.
With the event, "we're simply saying, as Richmond becomes this foodie town, we want to put our mark on it," she adds.
Unlike other restaurant week events, RBRE strives to include everyone involved in the culinary scene, not just Black restaurant owners, but chefs, cooks, caterers and food truck operators.
And the kickoff and closing events serve as incubators for young talent looking for advice — and are part of the reason the number of participating Black-owned restaurants has nearly tripled since the first event in 2007.
Details: Mobile Soul Sunday kicks the week off from noon-5pm at Monroe Park, highlighting 26 local food trucks and carts. Plus, attendees will find vendors, live music and kids activities.
During the week, 44 restaurants are participating, showcasing American, Southern, Caribbean and African cuisine — including Addis Ethiopian, Africanne on Main, Croaker's Spot, Lillie Pearl, Mama J's, Main Street Steakhouse, Pig & Brew, and Ronnie's BBQ.
"These are just a snippet of [Richmond's Black-owned] restaurants," Wentz says, adding that many local restaurants opt not be listed because they can't handle the volume the event brings.
At Stick a Fork in It — next Sunday, May 12 (noon-5pm) at Main Street Station — caterers and chefs who don't have their own restaurant will be serving up small plates and participating in cooking demonstrations and contests.
Tickets start at $10, and there will also be live music, art and cocktails.
More Richmond stories
No stories could be found
Get a free daily digest of the most important news in your backyard with Axios Richmond.