Exclusive: Richmond's acting police chief goes on the record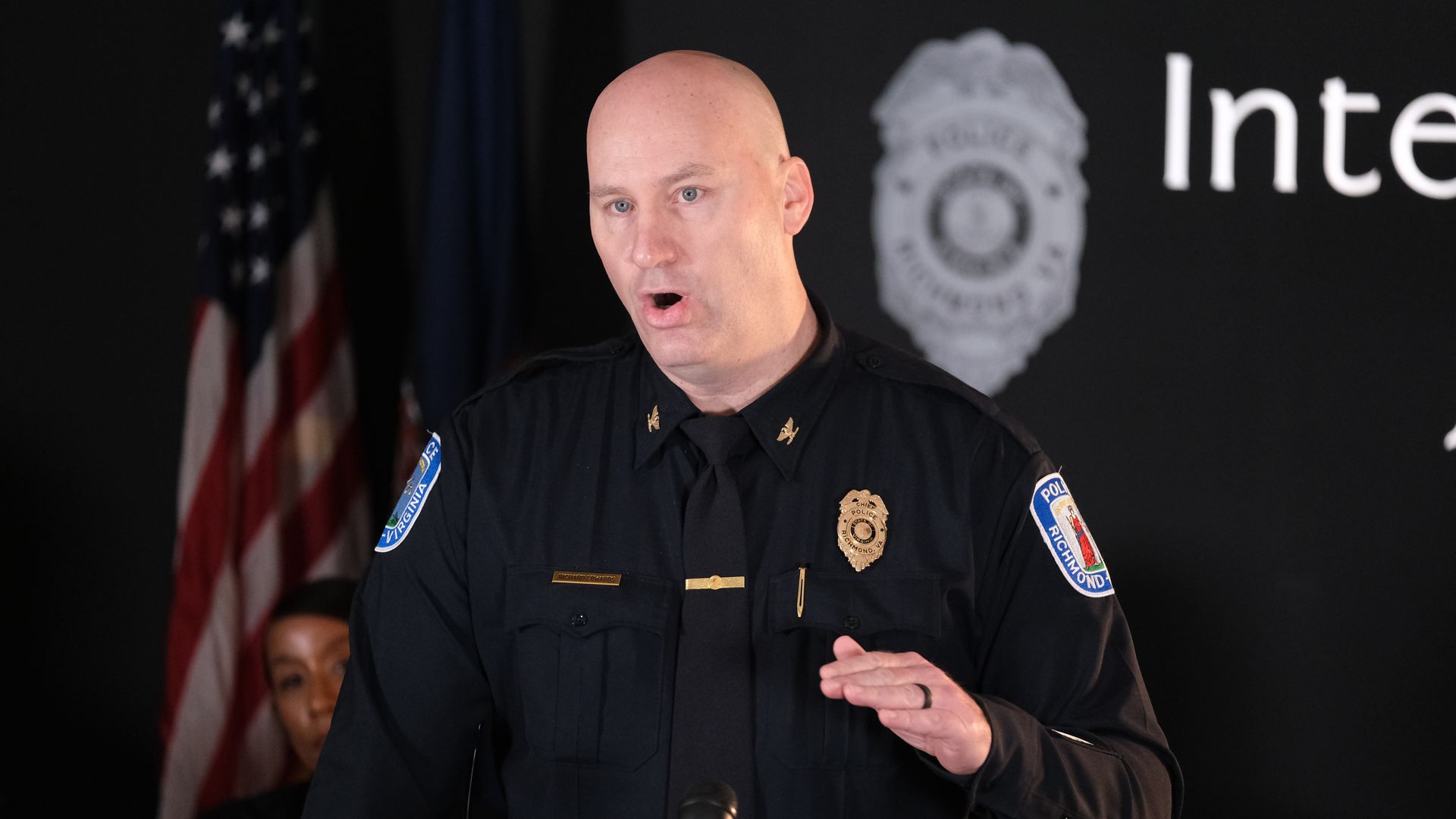 Acting police chief Rick Edwards has been at the helm of the Richmond Police Department since the unceremonious departure of his predecessor last October.
The big picture: He's an RPD lifer who began his law enforcement career at the department in 1991, slowly working his way up the ranks.
His appointment by Mayor Stoney delivered an immediate morale boost for rank-and-file officers, per the Richmond Coalition of Police.
What they're saying: Axios sat down with Edwards Wednesday.
He says he stuck with RPD his whole career because the pace at other area departments is too slow.
"The first night I joined Richmond, I was in a pursuit with a stolen car, chasing down bad guys, finding guns — that attracted me."
He thinks the department's biggest issue right now is staffing, with a shortage of 150 officers.
He says now that the city has upped pay, he's been able to recruit back 12 officers who had left for other departments.
But he says George Floyd's murder in 2020 has made it difficult to fill recruit classes: "I think a lot of us lost some of our pride after what happened in Minneapolis. … That cost us. That cost us legitimacy. That cost us recruits. That cost us good will."
To boost morale he says he's tried to make the department's leadership team more approachable.
He says he had the command staff answer calls with officers on New Year's Eve, a busy night when management would typically be off.
And he dropped the white shirts from the uniforms higher-ups have always worn in favor of the same blue uniforms frontline officers wear because "teammates wear the same color uniforms."
He thinks the whole Dogwood Dell/July Fourth terror plot claim cost the department credibility.
"I don't think that our community expects perfection out of myself or the police department at large," he says. "What they do expect is being honest when a mistake is made and owning up to it even when it's embarrassing. And that's something I'm committed to doing."
He says he wants to make sure people have better everyday interactions with officers.
"When I look at our complaints, it's not for racial profiling by and large. It's not for excessive force — it's for rudeness," he says. "I'm looking for ways we can measure that interaction with our officers."
He says he's interested in applying for the job on a permanent basis when it's posted by City Hall, but says he hasn't made a final decision.
"It's definitely something I'm considering. It's a great city and a wonderful police department, and it's been an honor just doing this."
More Richmond stories
No stories could be found
Get a free daily digest of the most important news in your backyard with Axios Richmond.