Nugget blew up during the pandemic. Now what?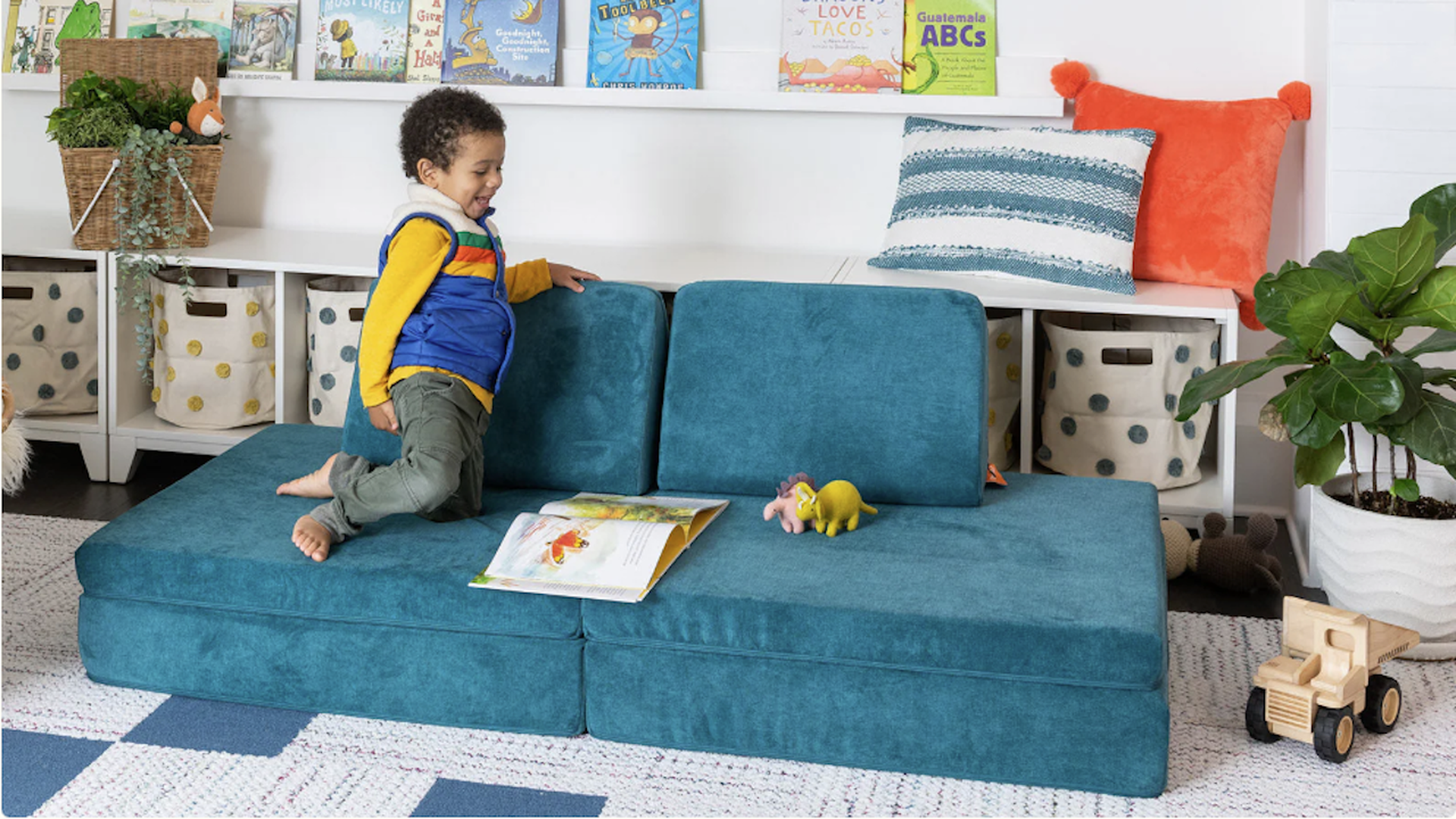 Six years ago, David Baron and Ryan Cocca were assembling couches alone in a decrepit tobacco warehouse in Durham, stuffing soft foam into fabric and trying to get an idea they had together at UNC-Chapel Hill off the ground.
Today, those same couches, which start at $249, are being assembled by dozens of workers at a factory in the small town of Butner, where their startup Nugget continues to try to keep up with a demand that skyrocketed during the pandemic.
Why it matters: Nugget has become one of North Carolina's most successful retail startups in the past decade, thanks to the success of its modular couch that lets children arrange its cushions in all sorts of shapes.
The idea — "toy minimalism for play maximalism," as Baron puts — is built off the belief that children's imaginations don't need an excess of toys. A cardboard box or a couch that can change shape is enough.
Zoom in: In a state where the furniture industry reigned and then crashed, Nugget is one of the industry's bright spots, now employing more than 100 people.
It did all of that without raising any investment money, outside a Kickstarter campaign — making it one of the few local startup successes in recent years to forego outside investment.
While that may have meant growing slower than they could have, it has kept the company firmly within the control of its three founders David Baron and Ryan and Hannah Cocca.
Flashback: After growing a loyal online audience from its playful and sincere tone and family-friendly content, word of mouth about Nugget spread like wildfire, from Facebook groups to playgrounds.
Soon, the release of a new Nugget color became like a rare shoe drop for parents, with queues of thousands of people scrambling to pre-order a couch before it sold out. Knockoffs from giant retailers like Sam's Club started popping up.
At Christmas time, the company had to shut off orders because it simply couldn't make enough of them in time for the holiday.
State of play: Nugget is in the process of transitioning from a scrappy startup trying to keep up with demand to a maturing machine that has produced more than 800,000 couches.
A marketing and creative department that was once just Ryan and Hannah Cocca is now staffed by 30 professionals. (The Coccas recently left the company to explore new projects.)
And come this holiday season, its Butner factory will hit a production volume never seen in the company's history.
What they're saying: "The scale of this is still hard to wrap my mind around," Baron told Axios, "especially in the holiday season when we are spinning a Nugget — a whole couch! — into a FedEx truck once every nine seconds. This holiday it will be once every five or six seconds."
How do you follow up the meteoric success of the Nugget couch — a product you fine-tune to captivate the imaginations of children?
That's the question that David Baron is thinking about nearly every day from his office just off the assembly line in Butner.
Zoom in: The couch remains Nugget's only product — a purposeful choice by its founders to not just come up with products for the sake of having something new to sell.
Baron is a hard-core adherent to the idea of toy minimalism and the belief that curiosity is better nurtured by using what is around you rather than picking up a new toy.
He notes Nugget could have faced more pressure to swiftly spin out a new product if they had investors on their board clamoring for growth.
Yes, but: The company has, however, been prototyping for many months on new products, Baron said.
Baron muses about the pressures there might have been to swiftly spin out another product — like a Nugget blanket — if they had investors on their board clamoring for growth.
It would be easy to make a Nugget-branded blanket, and people would likely buy it. But that would just be fluff, he said.
But "if we can't deliver something that exists because we've invented something new or that we're uniquely capable of making in a way that's better than what other people can do, then we shouldn't do it."
What we're watching: The company is not yet ready to reveal what its next product will be — and it remains wary of tipping off its copy-cat competitors. But Baron notes it will still be within the realm of furniture.
"They are going to do the job of certain pieces of furniture … and then on top of all that, they can be played with and they are open ended toys," he said.
"And sooner rather than later people will see that."
More Raleigh stories
No stories could be found
Get a free daily digest of the most important news in your backyard with Axios Raleigh.