North Carolina's banned vanity license plates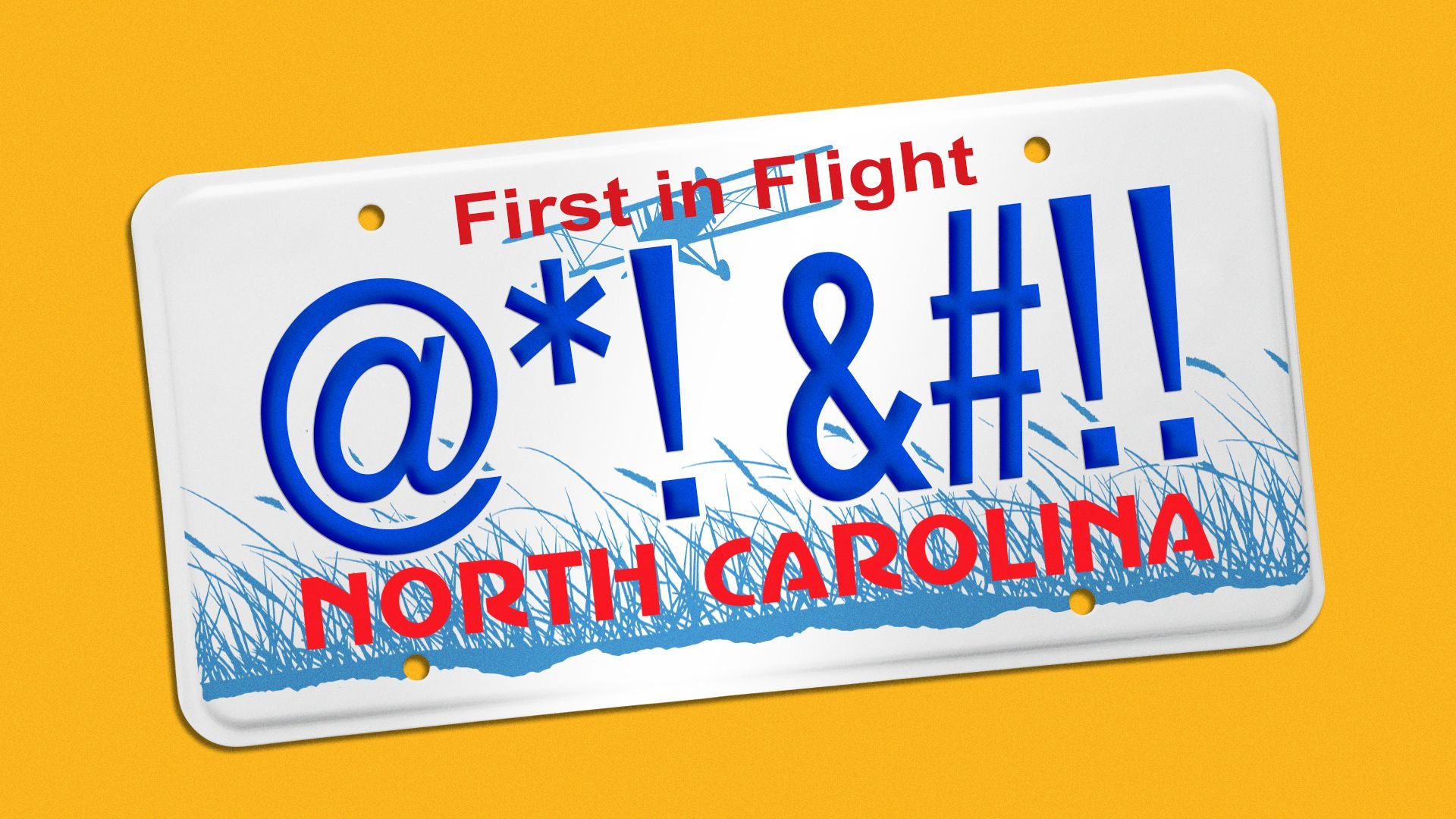 The N.C. Division of Motor Vehicles has rejected nearly 10,000 personalized license plates — a number growing every month in an attempt to keep offensive plates off the street.
Driving the news: Axios requested a list of the vanity license plate applications that the DMV rejected.
Catch up quick: The N.C. DMV keeps a running list of personalized license plates that are not allowed to hit the streets.
A personalized plate comes with an upfront cost of $30, plus an annual renewal fee.
The intrigue: Not all bans are forever. The state recently decided to allow specialized plates relating to the LGBT community that were once banned, like QUEER and GAYPRIDE, WFDD reported.
Sometimes, the DMV will approve a vanity license plate but then retroactively revoke it. Last year, an Asheville woman made national news for fighting to get her custom FART license plate back.
Here's a sampling of the plate applications that were nixed:
The political: BIDENSUX, DMPTRUMP, TRUMP 69, 0BAMALIE, H8FAUCI, H8LBRLS, NCDMVSUX
The school spirit: H8D00K, UNC SUXX, NCST8SHT, D00KY, ​​0HEELYA
What did you say to me?: UPYUR$, B0FADEEZ, BORN2KILL, B1TEME, SCREWU2, M0VEB, 0HELLNAW
I'm scared: DETHDLR, KILLER, GUN4HIRE, GUILTYAF, GUNRUNR, CUINHELL, MURDER, KILSH0T, IH8PPL
Stay off drugs: #1ST0NER, DANK, G0TTWEED, ACID, G0NJA, DRGDLR, C0KEDLR, RUHIGH
The indecipherable: 01101010, MNMMNNMN, MWWMMWWM, S5S5S5S5
More Raleigh stories
No stories could be found
Get a free daily digest of the most important news in your backyard with Axios Raleigh.