As N.C.'s legislature begins, here's what lawmakers are focusing on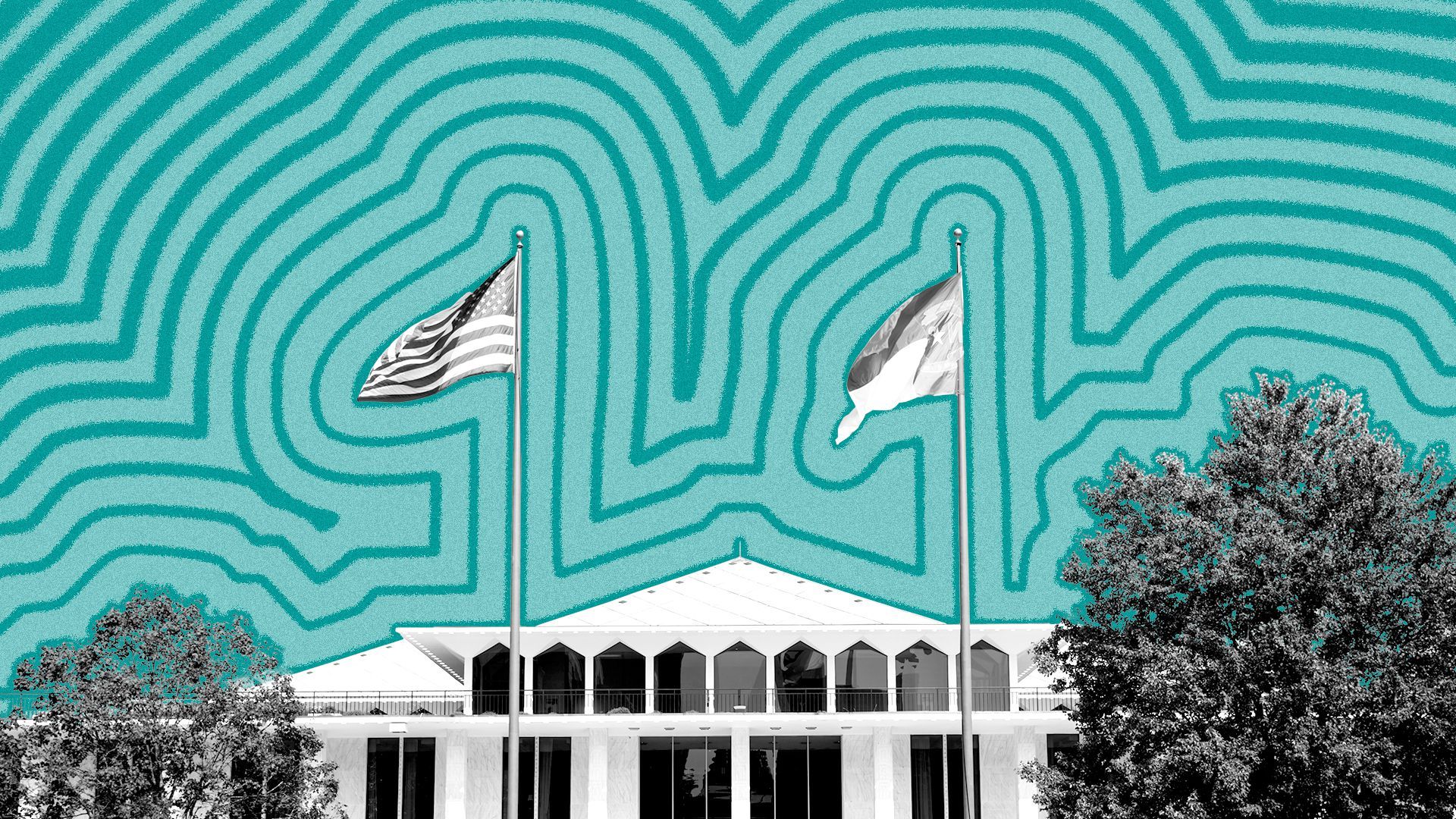 North Carolina's legislative session kicks off Wednesday, and the slate of issues on Republican leaders' agenda for the coming months could mean our state looks a lot different by this time next year.
Why it matters: The General Assembly's "long" session, which happens every two years in non-election years, is when they historically have taken up some of the issues with the greatest impact on North Carolinians.
It doesn't look like this year will be any exception.
Yes, but: Politics. Because nothing can ever be easy.
Catch up quick: Republicans have an effective supermajority in both chambers of the legislature. They only need one Democrat to help them override Democratic Gov. Roy Cooper's veto power.
"He'll either be overridden or he'll sign a bill he doesn't want to avoid being overridden," House Rules chairman Rep. Destin Hall told Axios.
"But we hope to reach a compromise on all these issues," Hall added.
Between the lines: The GOP may have trouble working out agreements among themselves on what should be included in some of the most consequential legislation of the session before it can even be voted on. Republican lawmakers in both chambers have vastly different views on issues like abortion, Medicaid expansion and medical marijuana.
That means this year's session is shaping up to be marked by more fights within the Republican party, rather than between the two.
Here are the five biggest issues we'll be watching in the coming months, based on interviews with lawmakers, lobbyists and other insiders:
Abortion
Republican leaders in both chambers have said they expect the legislature to restrict abortions to before around 12 weeks or so — eight weeks sooner than what's currently allowed under state law.
Context: Senate leader Phil Berger has said he'd support banning abortion after the first trimester, and House Speaker Tim Moore said he'd support a ban after a fetus' heartbeat can be detected (around five or six weeks). Both also said they supported exceptions.
Medicaid expansion
The legislature again plans to consider Medicaid expansion this year, after the House and Senate failed to come to a compromise last session on what other health care regulatory measures should be included with an expansion bill.
What we're watching: It remains to be seen how much influence hospitals, which played a central role in killing the legislation last year, and other health care providers will have on what's included in the final bill.
Worth noting: For every issue Republicans advance that Democrats want, like Medicaid expansion, expect a "poison pill," or an additional measure included in a bill that Democrats don't agree with but will have to support if they want some of their own legislative priorities to become law.
Those poison pills could include restrictions on Cooper's power or other agencies in his administration. Republicans could also package bills Democrats would generally support, like Medicaid expansion or the budget, with bills they would not, like lowering taxes.
Voting
Lawmakers will redraw at least two political maps this year, after a court deemed previous state Senate and congressional maps unacceptable.
They're also expected to propose legislation requiring identification to cast a ballot, after the state Supreme Court struck down their previous attempt to do so late last year.
If history is any guide, Republicans may also take shots at the State Board of Elections by proposing budget cuts or changes to its authority.
Gambling
A proposal to legalize sports betting failed last year by just one vote in the House.
The issue, along with other gambling legislation, is almost certain to come up again this year as professional sports teams and other stakeholders lobby in its favor.
Taxes
Berger wants the personal tax rate to fall even lower for North Carolinians, according to comments reported by the Charlotte Business Journal.
North Carolina Republicans have made aggressive moves to lower taxes in the state since they took leadership in 2011. Already, the corporate tax rate is expected to reach zero in 2030.
What he's saying: "We need to continue to drive our tax rates down," Berger said in Charlotte on Monday. "We have on the books a step-down of the corporate rate to zero. We have on the books a step-down of our individual income tax rate to 3.99 percent. I believe we need to get the individual rate down to 2.5 percent."
Berger added that lowering the tax rate would make the state more competitive with Florida, Texas and Tennessee — all states that have no personal income tax.
Honorable mentions: Medical marijuana failed to make it across the finish line last year but still has support, and education will be a major topic of debate as lawmakers put together a budget plan and weigh proposals to raise teacher pay and fund public schools.
More Raleigh stories
No stories could be found
Get a free daily digest of the most important news in your backyard with Axios Raleigh.