Moore County remains in the dark after "targeted" attack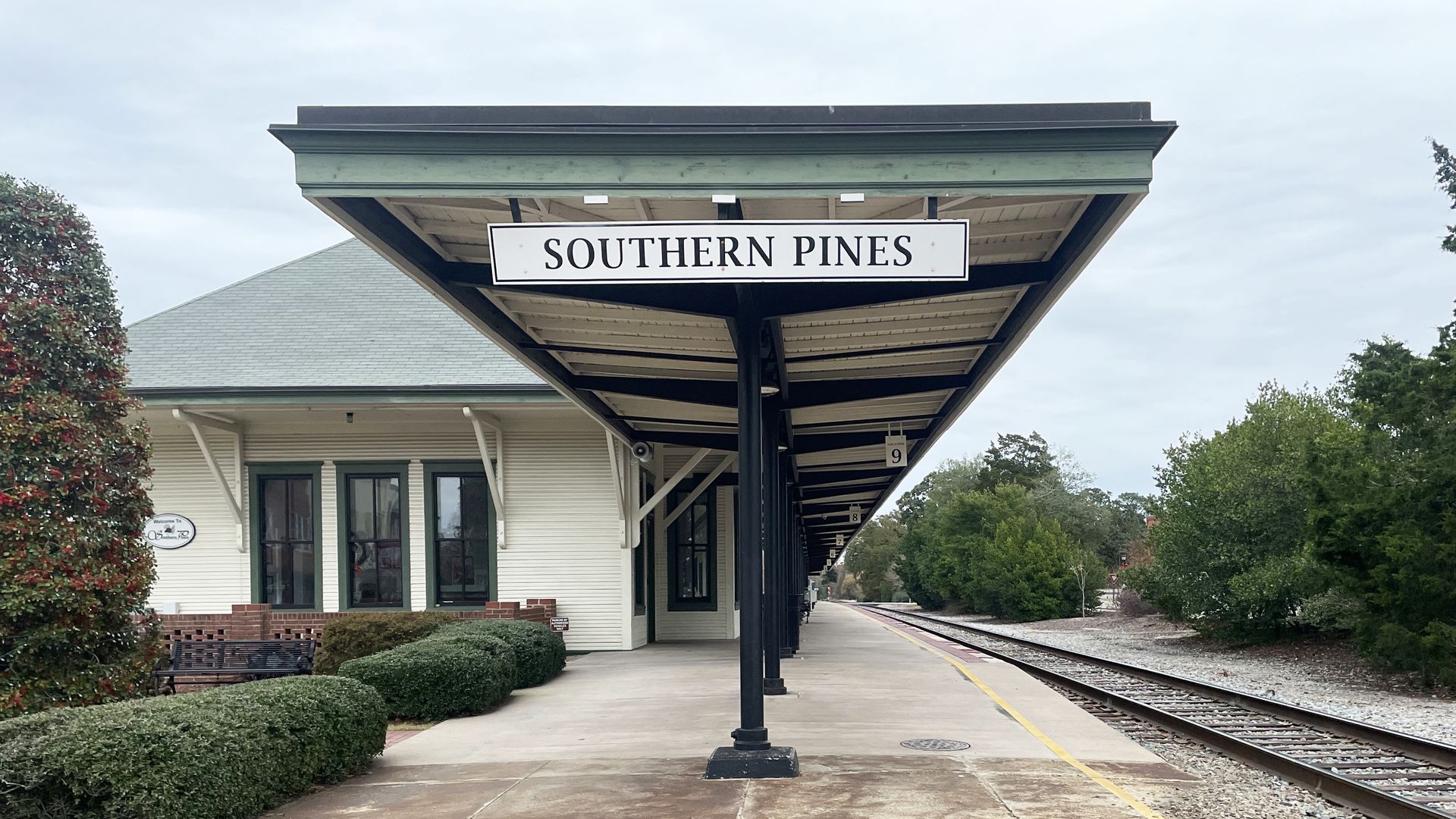 Almost 48 hours after Moore County went dark from a "targeted" attack on the county's power grid, downtown Southern Pines was dead silent Monday, save for a few generators powering a handful of local businesses struggling to keep their doors open.
Shops here should be jingling with holiday shoppers and houses should be glowing with Christmas lights. Instead, the outage has left nearly 40,000 homes and businesses without power.
Driving the news: Many questions remain unanswered, including who fired guns at two substations and why, while residents try to stay warm as temperatures dropped into the 40s overnight.
Why it matters: North Carolina knows disaster recovery. But this isn't a hurricane or a flood or an ice storm. The physical landscape of Moore County is the same as it was on Saturday morning: green with horse farms and golf courses and longleaf pines for miles.
But it felt downright apocalyptic in towns like Southern Pines, where a local wine shop was the only thing open until it closed at dark.
What they're saying: Gov. Roy Cooper said North Carolina, and the rest of the country, must learn how to safeguard from attacks that can bring communities to a standstill.
"We certainly need to learn from this incident as to what we may need to do because these kinds of things cannot happen," he told reporters at the sheriff's department in Carthage, the county seat. "We cannot tolerate this type of wide power outage to so many people."
Cooper, who said it was a criminal attack but stopped short of calling it an act of domestic terrorism, added: "We are deeply concerned about the small businesses that are losing out on valuable retail time right before the holidays."
What's happening: The effects of this widespread outage are also felt among the staff of The Pilot, the largest newspaper in the county. Half of the 11-person editorial staff is working out of a police station, while the other half is working from the home of a top editor, the paper's publisher, David Woronoff, told Axios.
Only a handful of homes seen on the drive from the sheriff's office in Carthage to downtown Southern Pines had lights on Monday.
People still are golfing; this is Moore County, after all. But Pinehurst Resort's famous clubhouse was closed, and the historic Carolina Inn — a traditional holiday destination for many North Carolinians — consolidated guests in rooms powered by generators.
Customers at The Wine Cellar wondered aloud when the power would come back on, and whether rumors of looting at a nearby Walmart were true. (The sheriff's department said yesterday one person was apprehended trying to steal from the store when they were trying to bring their power back on.)
Schools remain closed today and are unable to serve food to needy students, a Moore County Schools spokesperson told Axios.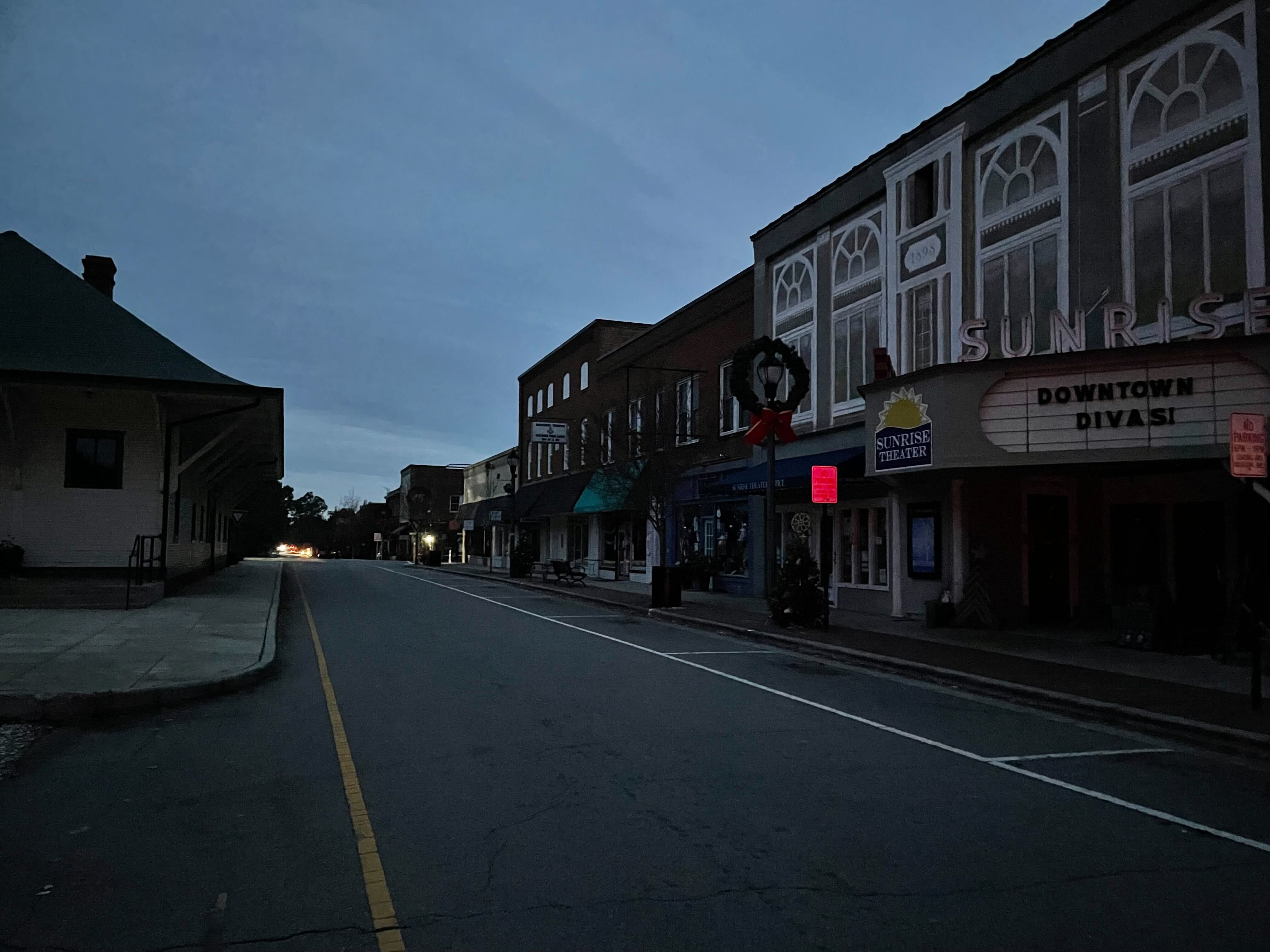 What we're watching: Leaders offered little new information regarding a possible suspect or motive. Both state and federal law enforcement have joined the investigation.
Duke Energy officials say crews are working around the clock, but power may not be fully restored until Thursday.
Until then, one of North Carolina's most charming places remains hushed.
More Raleigh stories
No stories could be found
Get a free daily digest of the most important news in your backyard with Axios Raleigh.