Swing voters largely back Sinema for Senate, but support Gallego over Lake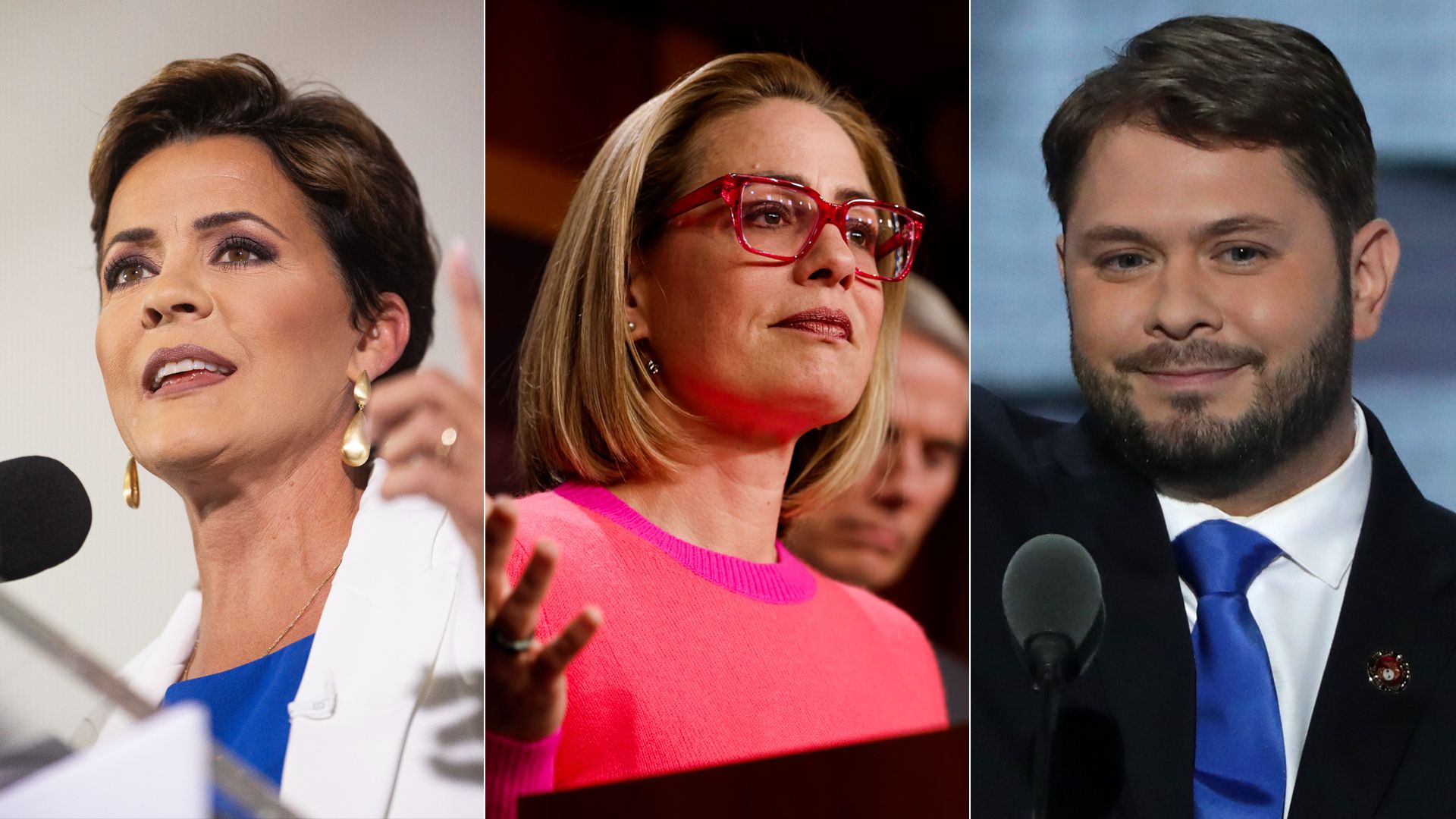 The majority of swing voters in a pair of recent focus groups would back independent incumbent Kyrsten Sinema in a three-way Senate race against Democrat Ruben Gallego and Republican Kari Lake.
In a head-to-head matchup between Gallego and Lake, most would support the Democrat.
Context: Axios sat in on two Engagious/Sago online focus groups last Tuesday night with 11 Arizonans who voted for Donald Trump in 2016 and Joe Biden in 2020. Two are Democrats, three are Republicans and six are independents.
While a focus group is not a statistically significant sample like a poll, the responses show how some voters are thinking and talking about current events.
The big picture: Eight of the 11 said they'd vote for Sinema if she were running against Gallego and Lake.
Two said they'd vote for Gallego, a U.S. congressman serving his sixth term in the House. Another participant said she was torn between Gallego and Sinema.
In a hypothetical three-way matchup, no one backed Lake, a former Fox 10 anchor who was the losing Republican candidate in last year's gubernatorial race.
None of the respondents said they voted for Lake in the 2022 governor's race.
Of note: Sinema hasn't said whether she'll seek re-election in 2024.
Meanwhile, all but one of the swing voters said they'd back Gallego in a heads-up race against Lake.
Zoom in: Chris, a 44-year-old Gilbert resident who said he switched from Republican to independent after the Jan. 6, 2021, attack on the Capitol, said he'd vote for Gallego because: "I like his character and integrity, and I like the way he's held his positions so far."
Between the lines: Many participants hold a negative opinion of Lake, describing her as "crazy," a "loose cannon" and a "Trump disciple."
Bob, 62, a Scottsdale independent, said Gallego is "just about as left as Kari is right," but he dislikes that Lake is an election denier and "she's a scorched-earth person just like Trump is. Chaos, chaos, chaos."
Suzanne, a 56-year-old Republican from Scottsdale, said she'd vote for Gallego "because I don't want Kari Lake in office."
The other side: The only voter who chose Lake in a two-way race said he likes that Gallego is a former Marine, but dislikes that he's a Democrat and thinks he's unprofessional.
John, a 53-year-old Republican from Mesa, "reluctantly" backed Lake because: "It might be good to have fresh new blood in there, even though she has no political experience."
The bottom line: "These Arizona Trump-Biden voters want Kari Lake as far from the levers of power as possible," said Engagious president Rich Thau, who moderated the focus groups. "Rarely do we hear such negative comments about a statewide candidate in any swing state."
The intrigue: Eight of the respondents said they'd view it favorably if a candidate described themself as a "McCain Republican."
"I could trust McCain with what he said. He's still a politician but I think he was different, a different Republican than what we have now. More integrity, a little more class, substance," said Joe, a 52-year-old Chandler Republican.
Lake routinely bashed the late U.S. Sen. John McCain and his wing of the GOP during her gubernatorial race.
What they're saying: "Arizonans are independent and Kyrsten is an Arizonan," Sinema spokesperson Hannah Hurley said in a statement.
Lake spokesperson Alex Nicoll called Sinema a "fake independent" and said she has no path to victory, adding she and Gallego have "enabled Biden's reckless open border policies."
"Kari looks forward to making the case to Arizona voters, who are fed up with open borders and high inflation," he said.
Gallego's campaign declined to comment on the focus group.
More Phoenix stories
No stories could be found
Get a free daily digest of the most important news in your backyard with Axios Phoenix.