A massive 2011 dust storm popularized the word "haboob" in Arizona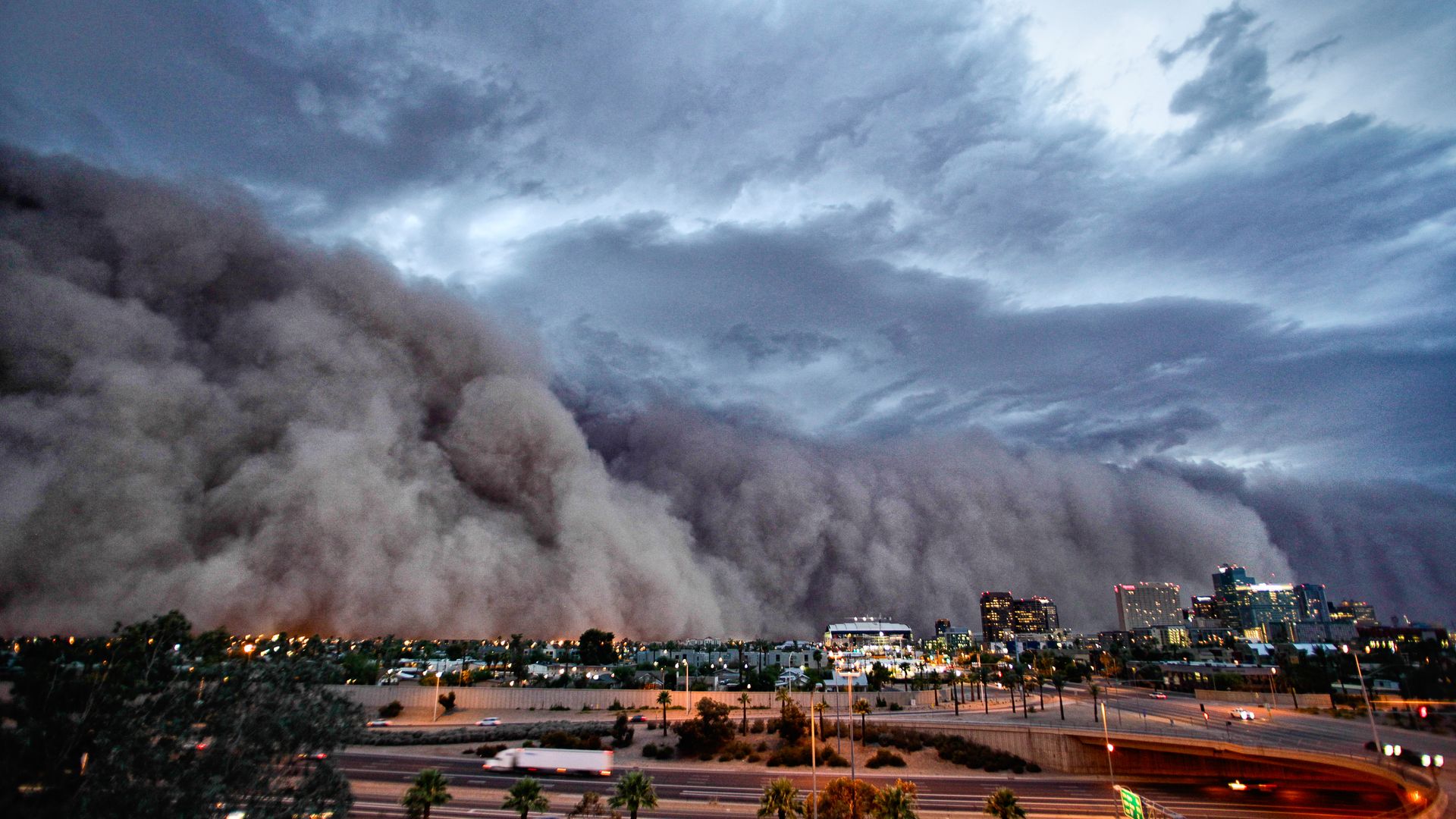 Huge dust storms have long been a fact of life here in the Valley, and you've probably wondered why seemingly everyone started calling them "haboobs" one day.
Context: Haboob is an Arabic word that originated to describe the massive dust storms seen in Sudan and are common throughout the region.
The terms are often used interchangeably, but not all dust storms qualify as haboobs — it's the wall or cloud of dust you see that typically qualifies the event as a haboob.
A 1972 article published by the American Meteorological Society stated that about 50% of dust storms in the Phoenix area qualify as haboobs.
Context: Royal Norman of Arizona's Family, who began his career as a meteorologist in the Valley in 1984, says the article is the first reference he's found using the term in Arizona, and he began hearing it on television around 1999, after he returned to Arizona from a three-year stint in Atlanta.
Flashback: But a massive dust storm that slammed into the Valley on July 5, 2011, truly popularized the term here, Norman says.
Photographer and storm chaser Mike Olbinski shot what quickly became famous photos and a viral time-lapse video of a giant wall of dust enveloping the Valley, posted online with the title: "Massive haboob hits Phoenix."
The National Weather Service also used the term to describe the storm, says Randall Cerveny, a professor of geographical sciences at ASU's School of Geographical Sciences and Urban Planning.
"Here we kind of just called them dust storms. But when I was staring at that one in Phoenix, it was the most insane, epic, post-apocalyptic wall of dust I'd ever seen here," Olbinski tells Axios Phoenix. "I was, like, if there's ever a haboob that happened in Arizona, this is it."
Zoom in: The term immediately caught on with local and national media and has been part of the local lexicon ever since.
Olbinski and Norman got the sense that one reason it caught on so quickly was people on TV simply liked saying "haboob."
Olbinski says he heard a lot of pushback — not everyone liked the term.
State of play: Olbinski loves being the person responsible for popularizing the word in Arizona. He even has a personalized license plate that says "haboob" and owns the website www.ilovebighaboobs.com, where he sells T-shirts with the slogan.
"I'm still not a big fan of the term," he says. "But I know what it means and you know what it means. So you know what? That's language, right?"
Between the lines: "Haboob" isn't the first weather term of Arabic origin to become part of Arizonans' vernacular. Norman recalls there was some lingering public resistance to the popularization of "monsoon" when he began his career.
Jeremy's thought bubble: As a Phoenix native, I quickly joined the "we've always just called them dust storms" camp when "haboob" came into common usage.
On the other hand, I never realized until recently that "monsoon" wasn't always a commonly used word here.
I'm still going to keep saying "dust storm," but Norman's comments gave me some food for thought on the changing nature of language, and I'm at least a little more receptive to "haboob" now.
More Phoenix stories
No stories could be found
Get a free daily digest of the most important news in your backyard with Axios Phoenix.