Coyotes developer files $2.3B claim against Phoenix over arena plan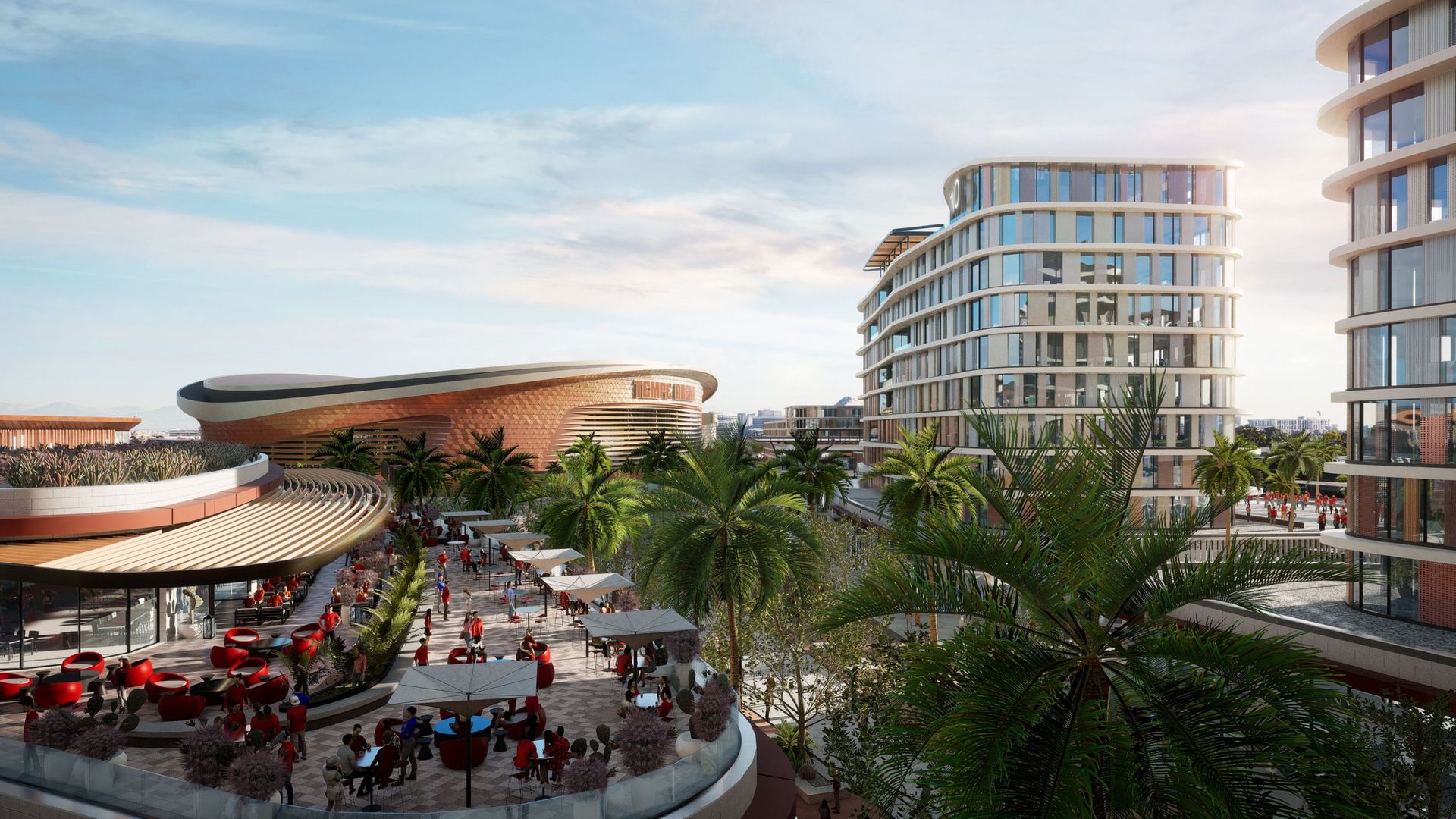 The Arizona Coyotes' developer, slated to build the Tempe Entertainment District that would include a new arena for the team, is pushing back against the city of Phoenix's lawsuit that aims to block the proposed development.
Driving the news: Bluebird Development, which shares an owner with the Coyotes, filed a notice of claim against Phoenix on Wednesday, alleging the city is trying to sabotage the proposed $2.1 billion Tempe Entertainment District and backtracking on assurances it would not oppose the plan.
A notice of claim is a precursor to a lawsuit against a government entity, which provides a 180-day window for a settlement before a plaintiff can go to court.
Bluebird said it's willing to settle the dispute for $2.3 billion, which it said is equal to the financial damages it'll suffer from Phoenix's actions.
The company is also asking a Maricopa County superior court judge to allow it to intervene in the litigation over Phoenix's lawsuit, which it wants dismissed.
Catch up quick: Tempe scheduled a special election for May 16 so voters can decide whether to approve a $2.1 billion deal with the Coyotes that would include construction of an arena, restaurants, retail and nearly 2,000 apartments on 46 acres of city-owned land near Tempe Town Lake.
Phoenix sued last week, alleging the proposal violates a 1994 agreement between the two cities that restricts Tempe from allowing new residences in high-noise areas along the flight path for Sky Harbor, about 2 miles west of the site.
Specifically, the agreement, which was designed to shield the airport from noise complaints from residents, applies to areas where the average sound level from aircraft is 65 decibels or higher.
Yes, but: Bluebird argues the agreement requires apartments in the 65-decibel zone only to be insulated from the noise, not banned altogether, and the firm notes that Phoenix hasn't objected to other apartments in that area over the past three decades.
Eric Spencer, an attorney for the firm Snell & Wilmer who is representing Bluebird, wrote in the notice of claim that Phoenix officials made statements "indicating their acquiescence" to the project.
Representatives of Bluebird also noted the Coyotes' proposal includes a provision indemnifying Sky Harbor from noise complaints related to the development.
However, "Phoenix has now embarked on a mission to torpedo the project," Spencer wrote.
The other side: Sky Harbor spokesperson Tamra Ingersoll said the city understands Bluebird's frustration but that it's "misdirected. They should be frustrated with Tempe."
She said Phoenix was forced to sue after Tempe rejected a compromise that would allow the entertainment district but prohibit future residential development within the 65-decibel zone.
More Phoenix stories
No stories could be found
Get a free daily digest of the most important news in your backyard with Axios Phoenix.