Celebrity chef Chris Bianco dishes on life and business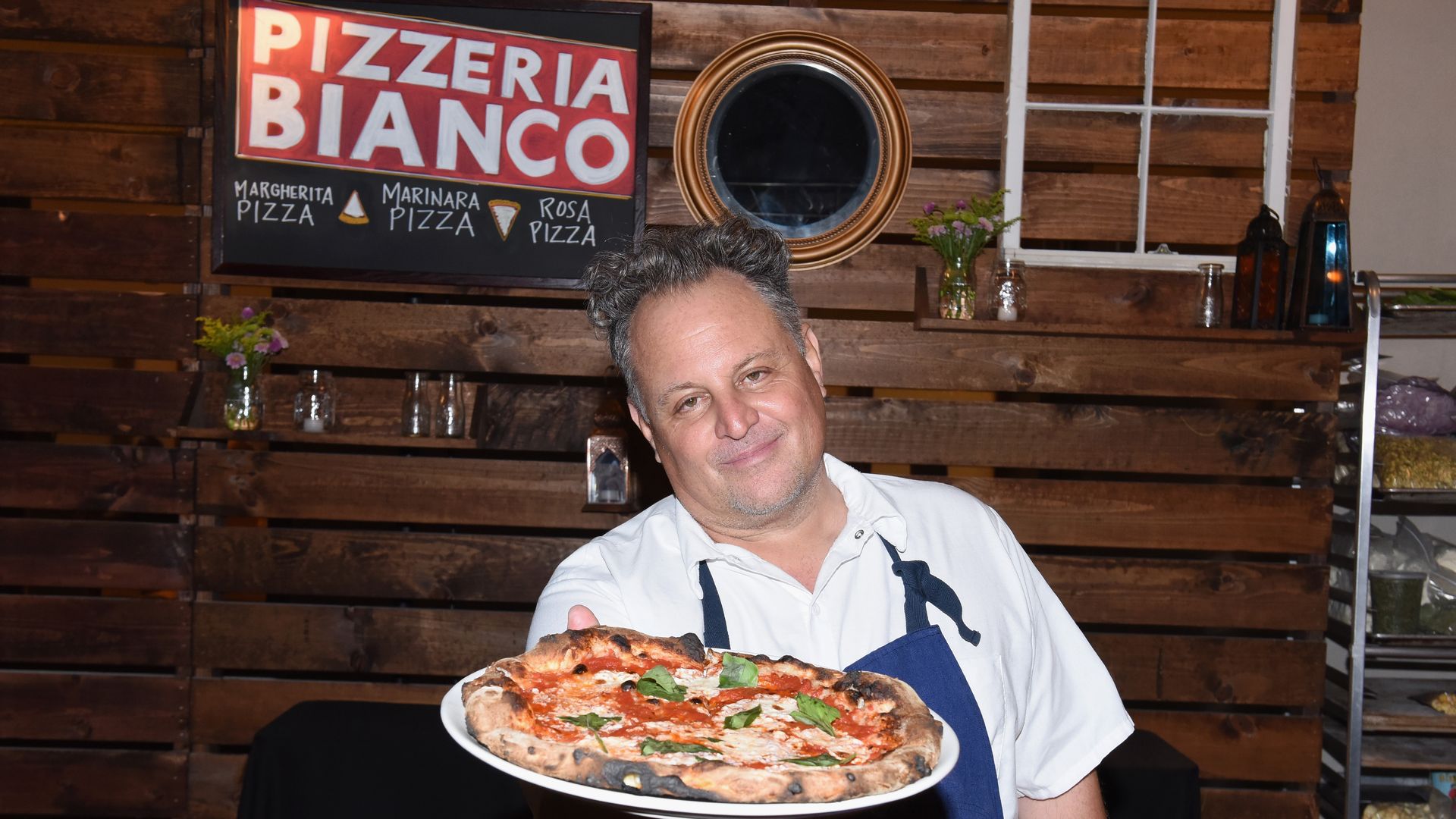 Chris Bianco owns six restaurants and splits his time between L.A. and Phoenix, where it all started in 1988.
Here's what we learned from the James Beard Award-winning chef, who you might have seen serving slices at a Super Bowl party.
1. Work-life balance didn't exist in the beginning.
Bianco sacrificed his personal life during the early days of his career, working grueling hours.
"I try to seek the same balance I seek in a dish in my own life in my later days," the seasoned chef tells Axios.
Now he tries to start and end the day with his three kids and wife of 10 years, whom he calls "the superhero of the mornings … and nights, and the middle, too."
"A successful day is when I can put my phone down, I don't hear a buzz or beep, and the people I love are in arm's reach."
2. Any business is a people business.
When he's not in L.A., Bianco makes his rounds to each of his Phoenix restaurants daily. His priority is to figure out the restaurants' needs, challenges and opportunities for the day and to make sure his people are OK.
For him, it's important to connect on a human level, too.
3. But when you are talking about food, "tasting good is far from being good."
Creating a good dish goes beyond flavor and what happens in the kitchen. Feeding someone is one of the "most intimate interactions you have," so you have to be intentional, Bianco says.
Being good is considering the source of your ingredients and systems you're supporting with those food choices, according to Bianco.
And the space you're serving in needs to feel sincere. It should set the right expectations for what the customer is about to experience.
"My job expands from the kitchen out," Bianco says.
4. The hospitality industry is at an inflection point.
A disappearing workforce, astronomical food costs and expensive real estate are just a few challenges the industry's faced with, Bianco says. The real cost of running a restaurant today isn't what it used to be, he says.
Even with three decades of experience, he's still learning.
The goal, he says, is to leave the industry a little better than he found it.
5. Being engaged with your community matters.
When it comes to running a restaurant, experience comes in handy, but you also need people around you who understand everything from the global economy to what's going on at the local farmers market, Bianco says. "I didn't understand 'food [is] politics' 30 years ago, but I understand now," he said.
6. "Don't save the good wine."
The local restaurateur left us with some practical advice:
If you want to cook, learn to scramble an egg, cook a chicken, make pancakes and whip up a simple pasta pomodoro.
Once you sharpen those skills you can build an orchard from your "Charlie Brown tree."
And when you do cook, set your table to receive the meal with a nice plate and cutlery.
"Don't forget the candles — ever. ... And don't save the good wine for the next special occasion," Bianco says.
More Phoenix stories
No stories could be found
Get a free daily digest of the most important news in your backyard with Axios Phoenix.