Arizona has yet to elect one of its own as president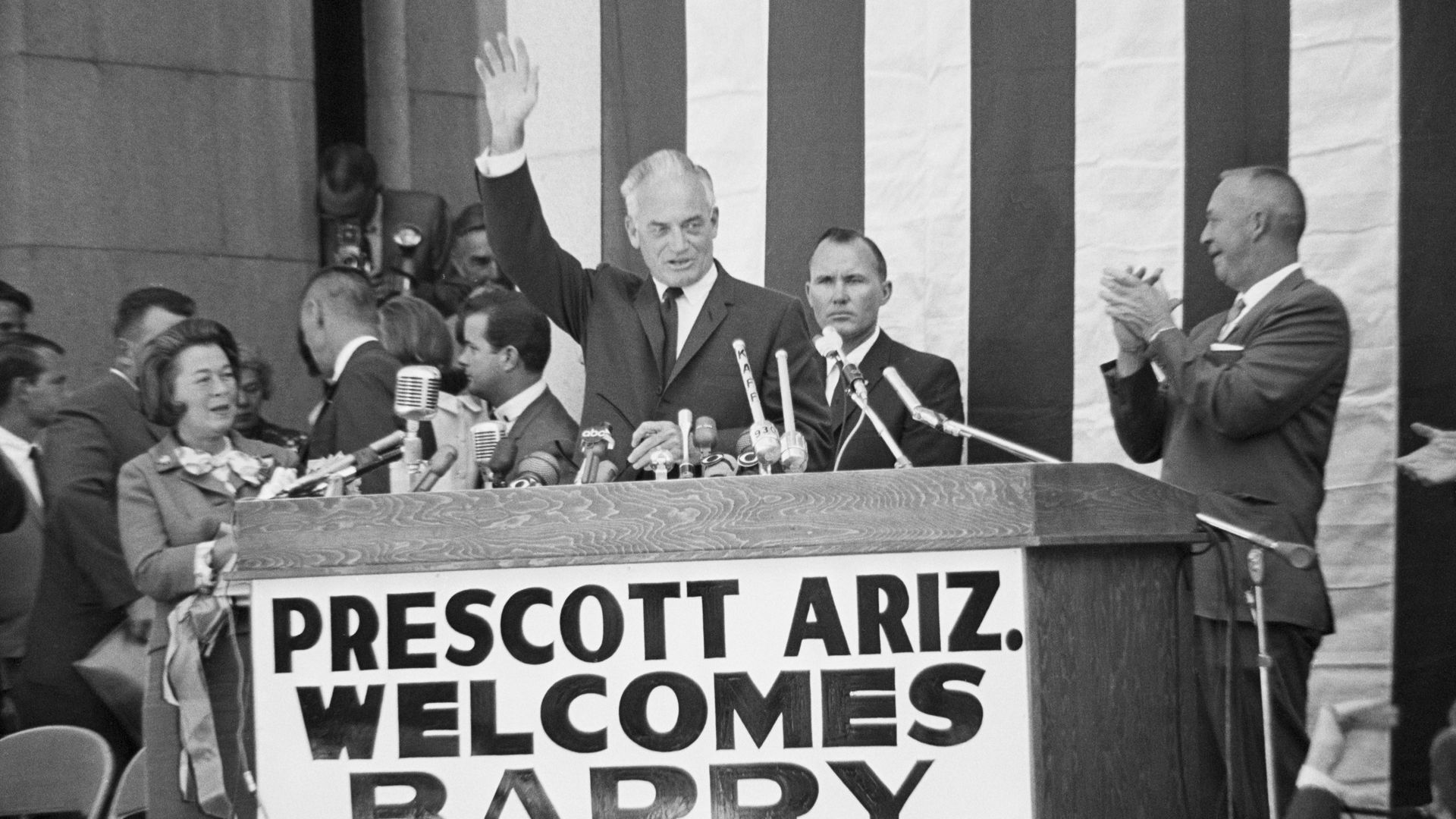 Presidents Day is Monday, and for Arizonans, that may be a not-so-welcome reminder that we have yet to send a native son or daughter to the White House.
It's been said that "Arizona is the only state in the union where mothers can't tell their sons they can grow up to be president."
But we've still had a handful of Arizonans give it a go.
The big picture: Four Arizonans have run for president, with two winning their party's nominations, only to fall short in the general.
Barry Goldwater: The senator was the Republican nominee in 1964, losing to Lyndon Johnson in one of the biggest landslides in presidential history.
Aside from his home state, Goldwater won Alabama, Georgia, Louisiana, Mississippi and South Carolina.
Though he was trounced by Johnson, Goldwater's candidacy was an epochal moment in American politics, pushing the GOP to the right and ushering in the conservative revolution that paved the way for Ronald Reagan's election in 1980.
Mo Udall: The Tucson congressman unsuccessfully sought the Democratic nomination in 1976, winning some delegates and several state contests but falling short as Jimmy Carter dominated the primaries.
Udall, who titled his autobiography "Too Funny to be President," joked afterward: "The voters have spoken — the bastards."
Asked if he would run again in 1984, Udall satirized William T. Sherman's famous refusal by quipping, "If nominated, I shall run to Mexico. If elected, I shall fight extradition."
Bruce Babbitt: The former governor sought the Democratic nomination in 1988, dropping out after the New Hampshire primary.
Babbitt won 6% in the Iowa caucus and 5% in New Hampshire.
Bill Clinton later picked Babbitt as his secretary of the interior.
John McCain: The longtime senator is the only Arizonan to seek the presidency twice.
In 2000, he lost the Republican nomination to George W. Bush, but built his national brand as a maverick and became one of the country's most prominent politicians in the process.
McCain won the nomination in 2008 but lost the election to Barack Obama.
1 iconic location: Goldwater launched his 1964 campaign from the steps of the Yavapai County Courthouse in Prescott, where he previously began his U.S. Senate campaigns.
Since, the courthouse has been a go-to spot for Republican political rallies, including for McCain during his 2008 campaign.
What we're watching: It's inevitable that another Arizonan will make a run for the White House at some point. For now, two come to mind:
Doug Ducey: Some people speculate the former governor isn't done with politics yet. Former chief of staff Daniel Scarpinato tells Axios Phoenix he thinks Ducey would make a great president, "But I don't see it as something that's likely..."
Kari Lake: The defeated 2022 gubernatorial candidate's name has been floated as a possible running mate for former President Trump if he wins the GOP nomination next year. During a recent trip to Iowa, Lake said she's not running for VP but didn't shut the door on the possibility.
More Phoenix stories
No stories could be found
Get a free daily digest of the most important news in your backyard with Axios Phoenix.