Gov. Hobbs rejects GOP budget plan, calls on lawmakers to negotiate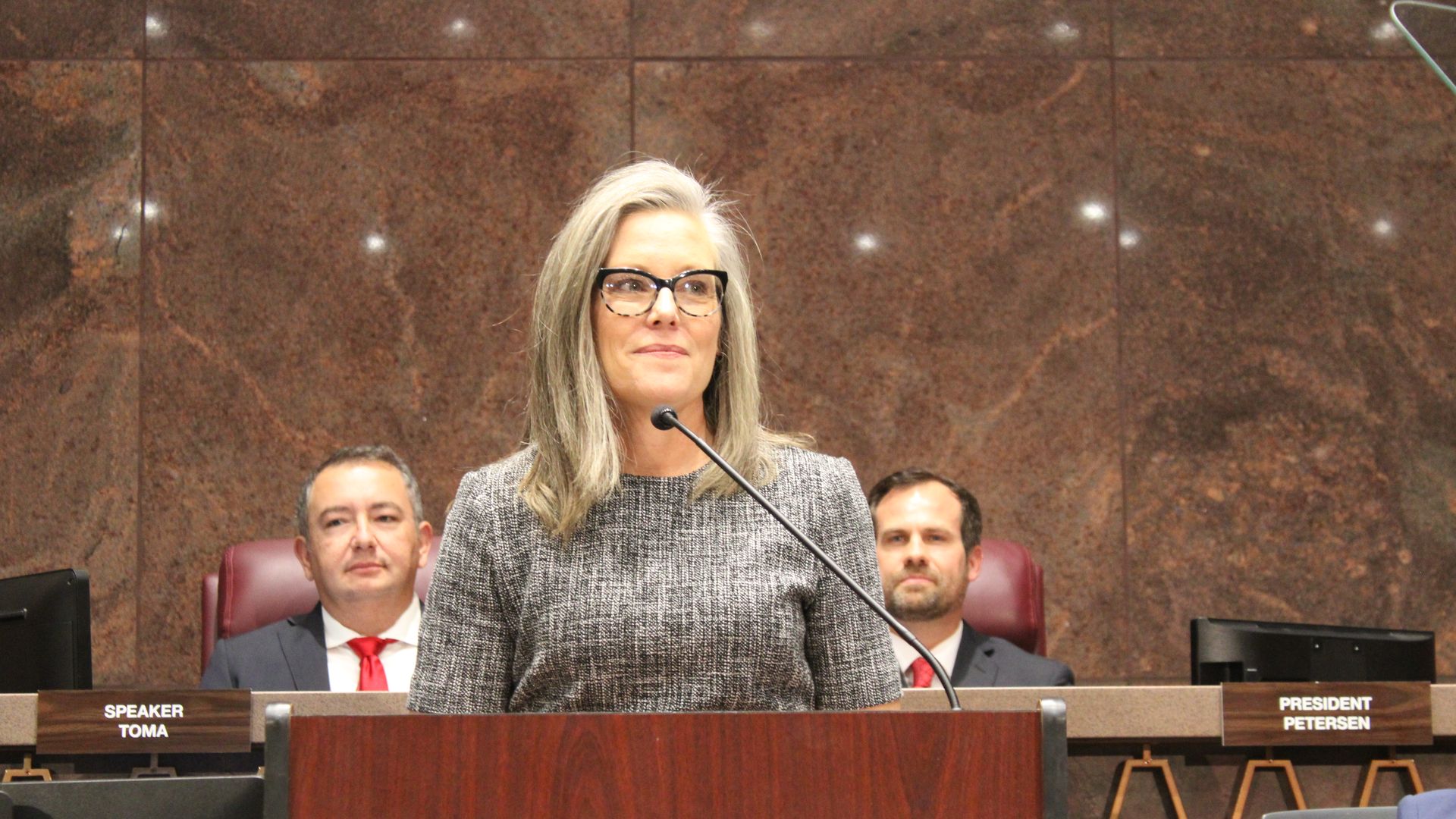 Arizona Gov. Katie Hobbs vetoed a package of budget bills Thursday, setting the stage for a protracted showdown between the new Democratic governor and the Republican-controlled Legislature.
The vetoes are Hobbs' first as governor.
Driving the news: The Senate on Wednesday sent Hobbs 13 bills that make up what GOP lawmakers dubbed a "continuation budget" as it largely carries over spending in the current budget passed last year.
The continuation budget calls for $15.8 billion in spending in fiscal year 2024, including more than $850 million in one-time spending.
Hobbs' executive budget proposal calls for $17.1 billion in spending next year, about $2.1 billion of which would be one-time spending.
What she's saying: "Now that this partisan exercise is over, I am asking the Legislature to genuinely and seriously work with me on a budget that puts people, not politics first," Hobbs said in a press statement.
The governor noted the budget passed with only Republican votes.
In a letter to Senate President Warren Petersen and House Speaker Ben Toma, Hobbs said proposals by GOP lawmakers make clear the Republican majority intends to spend more than the "skinny budget" would appropriate.
Zoom in: Hobbs' proposal includes a number of items that weren't in the GOP's budget plan, including:
$150 million to the Housing Trust Fund to help people who are homeless or at risk of losing their homes;
$50 million for child tax credits for low-income people;
$40 million to eliminate sales taxes on diapers and feminine hygiene products;
$40 million for scholarships for undocumented students who are now eligible for in-state tuition;
An additional $250 million to the state's rainy day fund.
The other side: Petersen said in a statement provided to Axios Phoenix that lawmakers were elected to fulfill their constitutional duty of passing a budget and that Hobbs' rejection "creates doubt, uncertainty and chaos."
Petersen told us Wednesday: "This is the way government should be run. We should have the budget go out first, and then if there's additional spending then we can deliberate on how we want to spend that."
Yes, but: GOP lawmakers' approach is a dramatic departure from how budget negotiations typically work.
Normally, governors and lawmakers negotiate throughout the session.
It's not unheard of for legislatures to send governors budgets they oppose, but that usually only happens when negotiations break down.
The Hobbs administration said early in the session that a continuation budget would be unacceptable.
The big picture: The Legislature and governor must pass a budget by the time the fiscal year ends June 30.
Some GOP leaders have framed the continuation budget as a way to ensure state government doesn't shut down if the two sides can't reach an agreement.
Hobbs told reporters Wednesday that Republican legislative staff have refused to discuss the budget with her staff.
Petersen said he's unaware of any staff-to-staff talks, but the governor has rebuffed requests from Senate Majority Leader Sonny Borrelli to discuss the budget.
The intrigue: Chuck Coughlin, a lobbyist who's served as an adviser to former Republican Govs. Fife Symington and Jan Brewer, said he's never seen a Legislature do something like this.
"It's just political theater," he told Axios Phoenix.
House Minority Leader Andrés Cano called the budget a "sham" and a "colossal waste of time."
Of note: Hobbs, who took office last month, vetoed her first bill before signing her first.
It's unclear whether an Arizona governor has ever done that before. Legislative Council executive director Mike Braun told us he doesn't recall it happening at any point since at least 1980, when he first got to the Capitol, but couldn't speak to governors before that.
More Phoenix stories
No stories could be found
Get a free daily digest of the most important news in your backyard with Axios Phoenix.