Valentine's Day is for statehood in Arizona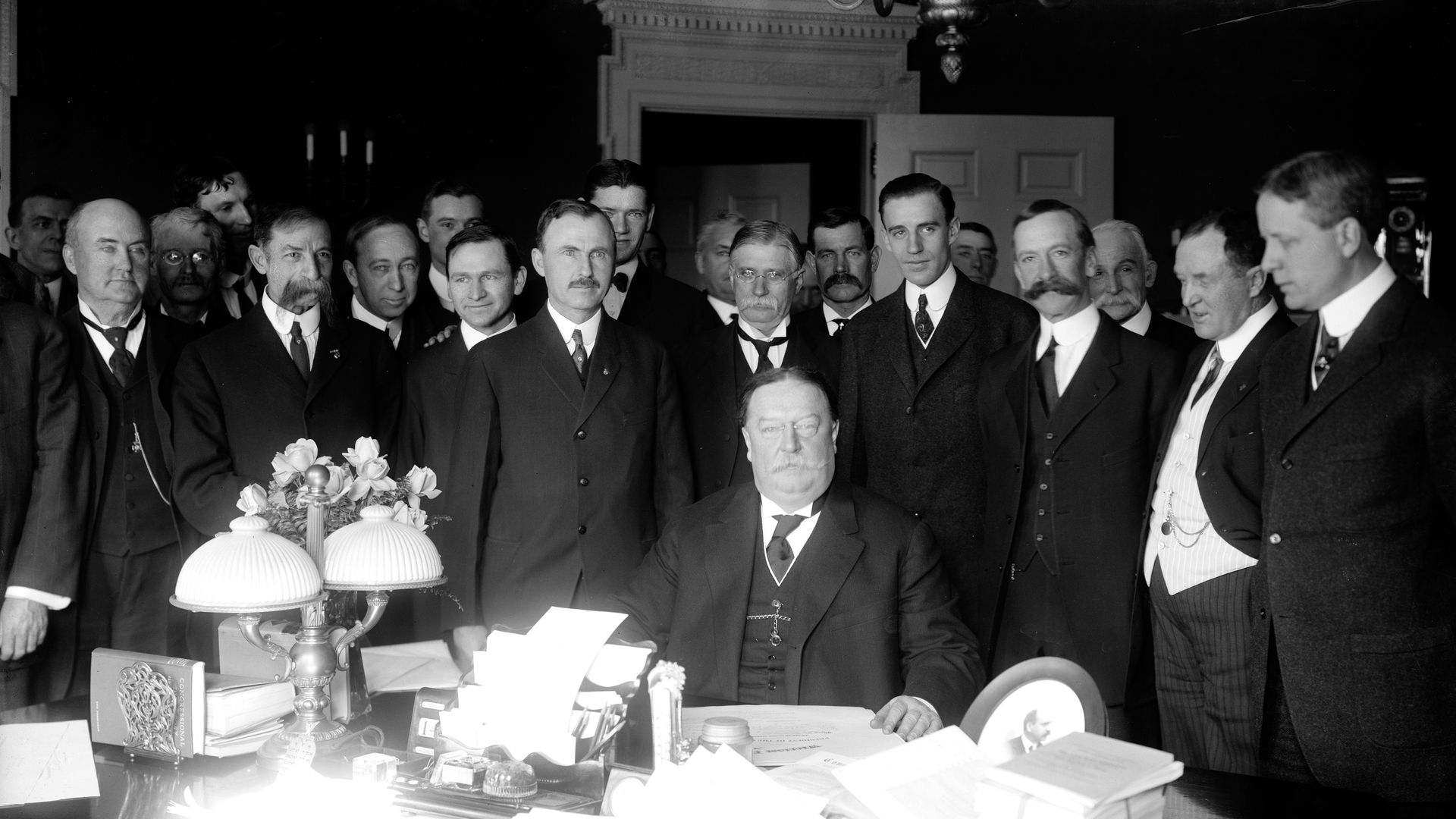 It's Valentine's Day, which means candy, flowers, fancy dinners and celebrating the 111th anniversary of Arizona becoming the 48th state in the union.
What happened: On this day in 1912, President William Howard Taft signed a proclamation granting statehood to Arizona.
Yes, but: There were some bumps along the way.
The intrigue: Taft vetoed a resolution granting statehood to Arizona and New Mexico on Aug. 15, 1911, because he objected to a provision in Arizona's constitution permitting recall elections for judges.
The president, a former judge himself, believed the provision undermined the judiciary's independence.
Voters removed that clause from the state constitution and Taft signed Arizona statehood into law on Valentine's Day the following year.
Arizona wanted Statehood Day to be Feb. 12 because it was Abraham Lincoln's birthday, but the signing was delayed by two days because Taft had a trip to New York.
But, but, but: Arizona voters simply reinserted the recall provision into the constitution in that November's election.
What he said: Taft wrote the judicial recall provision "seems to me so pernicious in its effect, so destructive of independence in the judiciary, so likely to subject the rights of the individual to the possible tyranny of a popular majority, and, therefore, to be so injurious to the cause of free government" that he had to veto it.
Zoom in: Ironically, the provision that offended Taft has been used only once since it was implemented.
Pinal County voters recalled Superior Court Judge Stephen Abbey in 1924.
Opponents alleged he carried a loaded gun under his robes and frequently summoned county officials to his courtroom to publicly berate them.
Between the lines: Most of what is now Arizona, along with much of the rest of the American Southwest, became U.S. territory in 1848 after it was taken from Mexico in the Treaty of Guadalupe-Hidalgo.
The southern part of the state south of the Gila River, including Tucson and Yuma, remained part of Mexico until the U.S. acquired it via the Gadsden Purchase in 1854.
Arizona was initially part of the New Mexico Territory until Congress separated the two future states in 1863.
Congress passed an enabling act in 1906 permitting Arizona, New Mexico and Oklahoma territories to form state governments, and Arizonans approved a state constitution in 1910.
More Phoenix stories
No stories could be found
Get a free daily digest of the most important news in your backyard with Axios Phoenix.