Hobbs and GOP could find common ground on raising K-12 spending cap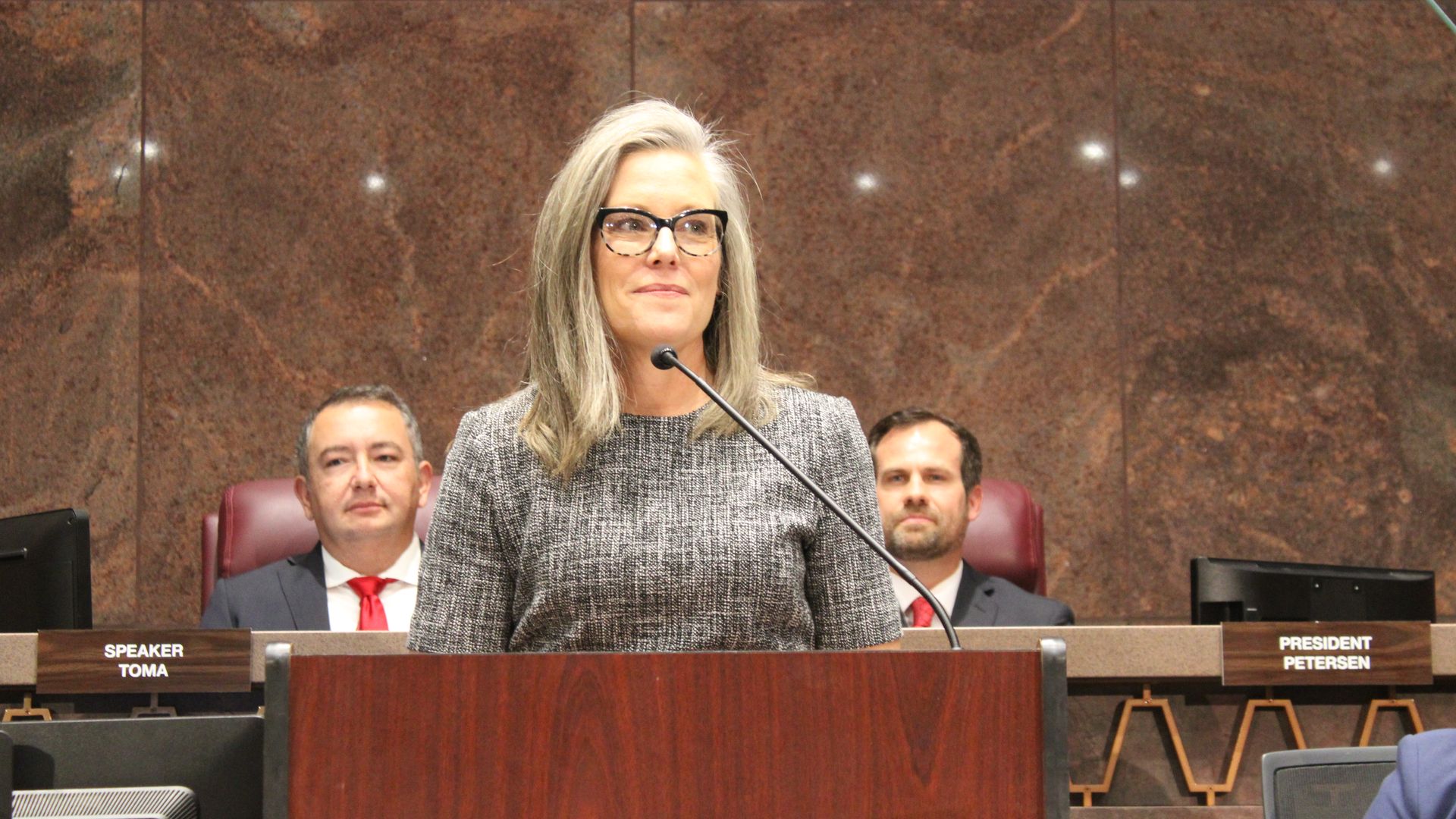 Democratic Gov. Katie Hobbs and the Republican-controlled legislature may be able to work together on water, housing and the aggregate spending cap on K-12 schools, which are among the priorities Hobbs outlined in her first State of the State address on Monday.
Driving the news: Hobbs called Monday for new spending in K-12 education, assistance for people facing rising housing costs, tax relief for lower-income Arizonans, a solution to the state's water shortage, a halt to new restrictions on abortion rights, and comprehensive immigration reform at the federal level.
Why it matters: Despite moments of tension, the speech pointed to areas for potential compromise as the Capitol enters its first divided government in over a decade.
Republicans hold one-vote majorities in both the House and Senate.
What she's saying: "The people of Arizona did not send us to this Capitol to solve easy problems or to leave them to the next generation. They sent us here to do the right thing," Hobbs said in her speech.
What happened: While the predominantly Democratic side of the House chamber rose in applause repeatedly throughout the more than 40-minute speech, GOP lawmakers didn't rise en masse to applaud a single time.
Several Republicans walked out or turned their backs in protest of Hobbs' pledge to protect abortion rights.
Hobbs told reporters after the speech that the walkout was an "immature stunt."
Details: Hobbs devoted the largest portion of her speech to education. She called on the legislature to quickly pass a resolution to raise the Aggregate Expenditure Limit (AEL) for district schools, warning that they'll face budget cuts, furloughs and possible closures near the end of the academic year if lawmakers don't allow them to spend the money that was budgeted for them last year.
The AEL limits how much money K-12 school districts can spend each year, but can be raised with a two-thirds vote by both chambers of the legislature.
She also proposed redirecting nearly $69 million from a program that grants additional funding to higher-performing schools to base-level funding that's distributed among all schools.
Plus: She proposed imposing new accountability measures on charter schools and private schools that accept money from the voucher-style Empowerment Scholarship Account (ESA) program, neither of which are subject to the same mandatory audits as school districts.
The other side: House Speaker Ben Toma (R-Peoria), told reporters afterward that the governor's address "sounds more like a DNC speech than a State of the State" and seemed irritated by Hobbs' criticism of the ESA program.
"The Republicans of the legislature come in peace. But make no mistake, we are prepared for war," House majority whip Rep. Teresa Martinez (R-Maricopa) told Axios Phoenix.
Yes, but: Toma and Martinez said the AEL is an issue where they agree with the governor.
Sen. T.J. Shope (R-Coolidge) applauded Hobbs' call to eliminate sales taxes on diapers and feminine hygiene products, a previous proposal of his that he plans to sponsor again this year.
Hobbs told reporters that she's encouraged by the response she saw from Republicans on water and housing.
What's next: Hobbs will unveil her first executive budget plan on Friday.
More Phoenix stories
No stories could be found
Get a free daily digest of the most important news in your backyard with Axios Phoenix.