Gov. Ducey's final legacy on education, taxes, gaming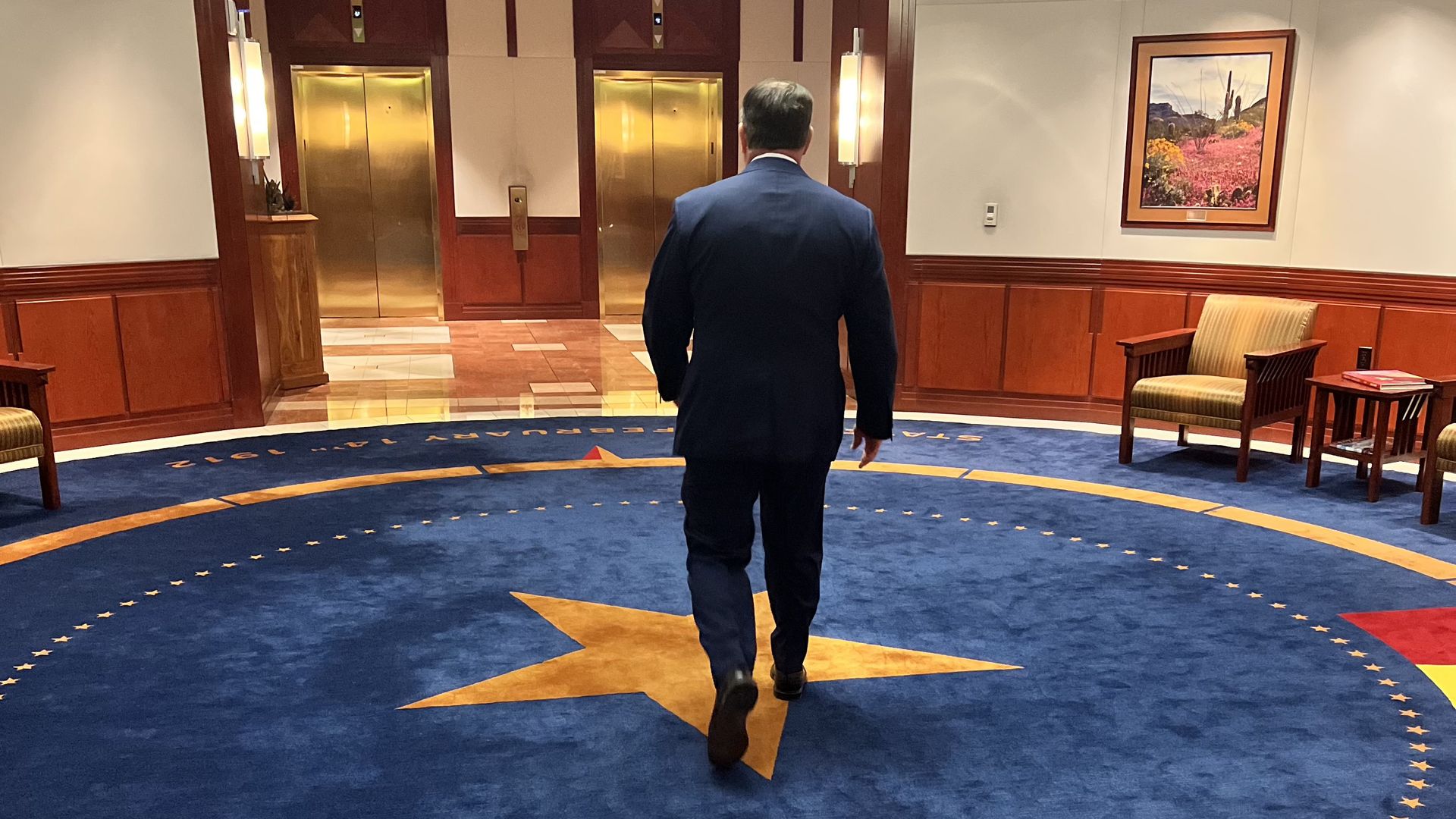 After eight years in office, longer than any Arizona governor since the 1980s, Doug Ducey made his mark in a number of ways.
Catch up quick: Axios Phoenix is looking back at the most notable moments of Ducey's governorship and the legacy he's left behind.
State of play: Daniel Scarpinato, Ducey's first communications director and later his chief of staff, said the volume of his major accomplishments stands out.
Specifically, he pointed to Ducey's massive tax cuts in 2021, his historic expansion of the school voucher-style Empowerment Scholarship Account (ESA) program, creating new gaming and gambling opportunities, and his work on water issues.
Kirk Adams, who served as chief of staff for Ducey's first four years, said he will be remembered for improving Arizona's economy and implementing conservative policies.
Proposition 123: Near the end of his first year in office, Ducey's administration negotiated an agreement to end a years-long lawsuit over K-12 education funding that stemmed from cuts made during the Great Recession.
Voters in 2016 narrowly approved the agreement, which boosted school funding by increasing payouts from the state's land trust.
Teacher pay raises: The threat of a mass teacher strike in 2018 prompted Ducey to support a plan to increase salaries by 20% over the next two years. The legislature passed the plan after a historic teacher walkout.
Gaming: In 2021, Ducey signed a new gaming compact with Native American tribes and pushed the passage of legislation that allowed them and professional sports franchises to offer online and in-person sports wagering in the state.
Tax cuts: Ducey campaigned in 2014 on a promise to cut taxes every year he was governor, with the goal of reducing the income tax to as close to zero as possible.
He met that goal, though for most of his tenure the annual cuts were relatively small.
However, in 2021, Ducey signed legislation that lowered rates to a flat 2.5%.
ESAs: Ducey's initial, more limited attempt to expand the program to all students, rather than limited categories such as those in failing schools and disabled students, was overturned by voters in 2020.
Last year, he signed a bill that expanded the ESA program to all students, a move that was hailed by school choice advocates and reviled by many district school supporters.
The other side: Outgoing Democratic lawmaker Martín Quezada, who was in office for the entirety of Ducey's tenure, said he catered more to his political base rather than to the majority of Arizonans, pointing to tax cuts and ESA expansion.
Former Department of Health Services director Will Humble also accused Ducey of mismanaging the COVID pandemic by doing things like initially barring cities and counties from imposing mask mandates.
1 universal statement: Ducey signed legislation that added two seats to the Arizona Supreme Court and six on the Arizona Court of Appeals, and he was known for his efforts to appoint conservative judges across the board.
"That legacy is going to last long after he's gone," Quezada said.
More Phoenix stories
No stories could be found
Get a free daily digest of the most important news in your backyard with Axios Phoenix.