Your guide to Phoenix City Council elections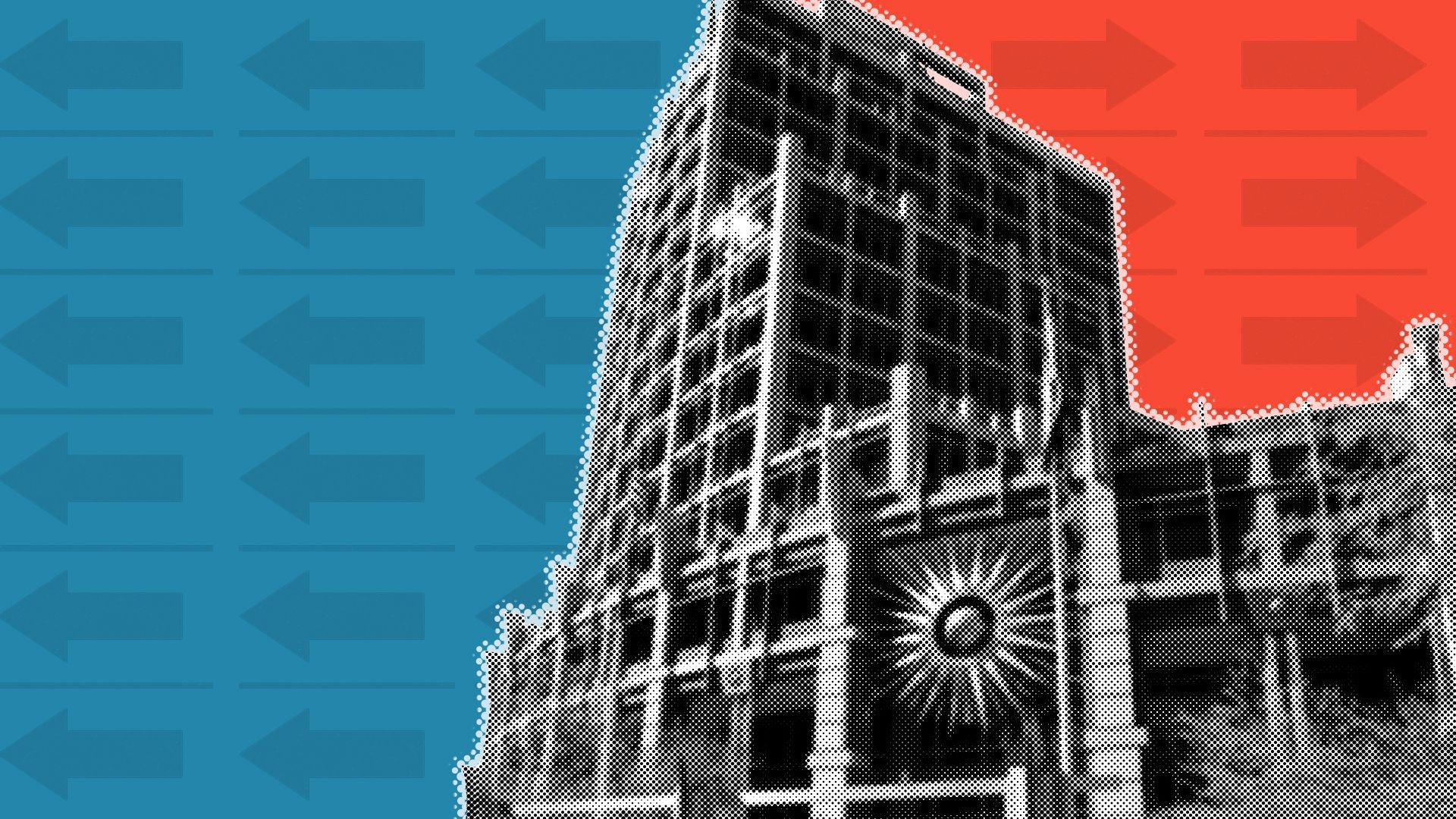 Half of Phoenix's city council seats are on the ballot Nov. 8, guaranteeing at least one and as many as three new faces on the dais.
Why it matters: The new blood could help Mayor Kate Gallego, a moderate Democrat, form a more centrist coalition after getting hamstrung by the council's progressive wing for the past three years.
State of play: All eyes are on the open District 6 seat and the District 8 race, where incumbent Carlos Garcia faces multiple challengers.
Councilmember Laura Pastor is running unopposed in District 4.
If no candidate gets 50% plus one vote, there will be a runoff in March 2023.
District 2
Location: Northeast Phoenix
State of play: Incumbent Jim Waring has two challengers but a bucketload of campaign cash and name ID to fend them off.
Who's running:
Matt Evans: He works for a tech company as a development and IT operations engineer and drives for Uber. He says he represents the "regular everyday hard-working Phoenician."
Heli Nielson: She has worked as a marketing and communications professional. She says the district needs a change in leadership to make sure it gets its fair share of resources.
Waring: He is a former state lawmaker who has served on the council since 2011. He's been a conservative voice on the left-leaning council, fighting to cut government spending and support police.
District 6
Location: Ahwatukee, Arcadia, Biltmore and parts of north central Phoenix.
State of play: It's the end of an era as Sal DiCiccio, an outspoken and combative conservative who's on his second stint with the council, leaves due to term limits.
Who's running:
Harry Curtin: He is the chief executive officer of BlockDrive, a "software as a service" company. He describes himself as someone who would be a "peacemaker" between the council's factions.
Joan Greene: She is the founder and owner of the marketing firm Greene & Associates, and a former Democratic candidate for Congress in 2018 and 2020.
Mark Moeremans: He is a senior vice president of entrepreneurship and venture development at the Arizona Commerce Authority. Democratic state Reps. Sarah Liguori and Amish Shah have endorsed him.
Kevin Robinson: He rose to the rank of assistant chief during his four-decade career with Phoenix police. He's got the backing of Gallego, U.S. Rep. Greg Stanton and other prominent political figures.
Moses Sanchez: A Navy veteran and co-founder of the firm Nonnahs Marketing, he has long been active in Republican politics and ran for Phoenix mayor in 2018.
Juan Schoville: The 24-year-old part-time security guard says he's running to give representation to people with working-class backgrounds. He touts Green Party and Libertarian endorsements.
Sam Stone: He is DiCiccio's former chief of staff and is running to continue his legacy on the council. He's also the policy director for GOP gubernatorial candidate Kari Lake's campaign.
Kellen Wilson: She works for the Unite Here Local 11 union, which represents hotel, restaurant, airport, sports arena and convention center employees and is backed by councilmember Betty Guardado
District 8
Location: Parts of downtown and most of south Phoenix.
State of play: Activist and political organizer Garcia shocked some of the City Hall establishment with his 2019 victory. Now he has three challengers looking to end his reign.
Who's running:
Denise Ceballos Viner: She is the wife of a Phoenix police commander and says she has worked with the department to support at-risk youth and domestic violence victims. She runs a Hispanic parent education outreach group.
Carlos Garcia: He rose to political power by way of activism with Puente Human Right Movement, which he resigned from last year. His distrust of law enforcement has made him a controversial figure, but he did successfully circumvent Gallego to establish a police accountability office with more civilian oversight.
Nick Griemsmann: He directs a nonprofit and works with organizations such as Central Arizona Shelter Services and Community Bridges. He says he wants to create unity in the district.
Kesha Hodge Washington: She is a former assistant Arizona attorney general who practiced law here for 20 years. She says she's a consensus builder who will bring a fresh perspective.
More Phoenix stories
No stories could be found
Get a free daily digest of the most important news in your backyard with Axios Phoenix.