Why Arizona's governor vetoed Maricopa County's Prop 400 election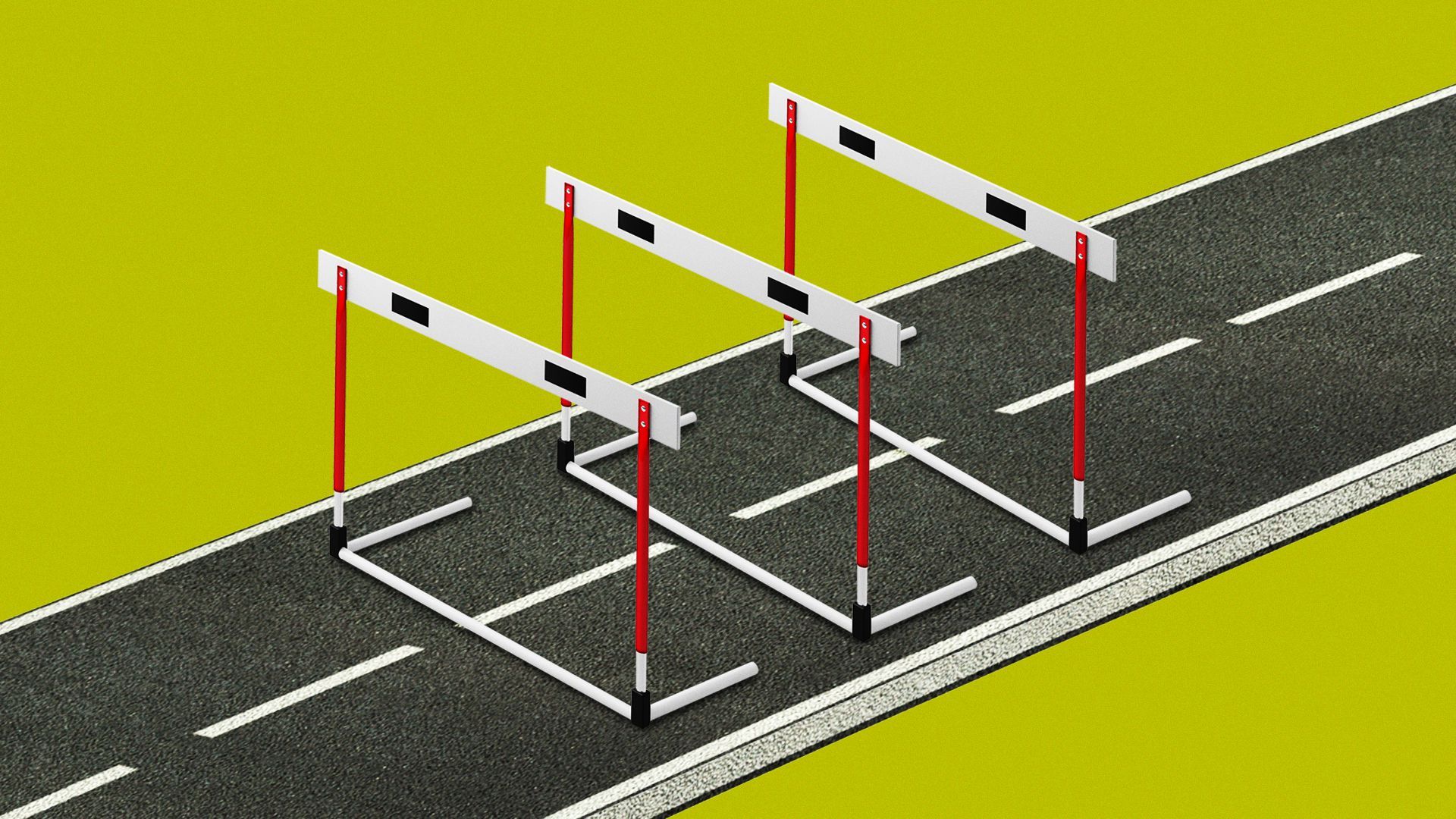 Gov. Doug Ducey shocked local leaders — many of them Republicans — when he vetoed a bill Wednesday that would have allowed Maricopa County to ask voters to extend a half-cent sales tax to fund major transportation projects for the next 25 years.
Why it matters: The sales tax was approved by Valley voters in 1985 and extended in 2004.
Now known as Proposition 400, it will expire in 2025, leaving the future of metro Phoenix transportation in a precarious position.
What they're saying: "It's not an overreaction at all to say this is going to have a significant negative impact on everyone in Maricopa County," Mesa Mayor John Giles tells Axios.
Proposition 400 has provided funding for almost every major transportation project in metro Phoenix, including Loops 101, 202 and 303.
The next iteration of the sales tax would have funded:
More than 350 new freeway and highway lane miles, including 186 new HOV lane miles.
1,300 new or improved miles of arterial road lanes.
About 12 miles of new light rail, 37 miles of bus rapid transit and 7 miles of new streetcar.
The tax extension was supported by every mayor and tribal leader in Maricopa County.
Phoenix Mayor Kate Gallego says local leaders had been working together since 2017 and that "​​it was a moment we were all proud of when the plan moved forward, and it's so disappointing to see it end this way."
"Until the governor's veto, this really was a model of how well government [leaders] could work together."
Of note: Under state law, only Maricopa County has to request approval from the state to hold an election to ask voters to approve a transportation tax.
What he's saying: In his veto letter, Ducey said "now, with inflation higher than it has been in 40 years, is not the time to ask Arizona voters to tax themselves."
Ducey also raised concerns about the ballot language and timing of the election.
Maricopa Association of Governments, which leads the regional transportation planning for the county, said in a statement that the governor's veto circumvents voters and "puts both future and near-term transportation projects at risk during an unprecedented time for growth and economic prosperity in the region and state."
Gallego and Giles say they were not alerted about the governor's concerns during the past several years of planning.
Giles says he reached out to Ducey multiple times in the past month and did not "get the favor of a reply."
Shots fired: Prominent Republican lobbyist Chuck Coughlin, a backer of the Proposition 400 extension, told The Arizona Republic that Ducey's veto was a "betrayal," suggesting it was politically motivated so he can brag about cutting taxes.
"It's his selfish ability to stop a potential tax extension that voters would have to approve."
What happens now: The current transportation tax doesn't expire until 2025, so MAG will have a chance to try again with a new legislature and governor next year — though it's unknown whether they'll be any friendlier to transportation.
Gallego tells Axios that regional leaders are also exploring the possibility of collecting signatures for a transportation ballot initiative that circumvents the need for state approval.
Yes, but: Waiting a year or more for an election will limit the region's ability to plan and finance projects now.
The federal government, which is offering matching funds for transportation projects through the Bipartisan Infrastructure Law, and private sector financiers are unlikely to lend or partner with a region that has an unclear long-term funding stream.
The big picture: ASU urban planning professor David King tells Axios that the governor's veto is an example of why relying on voter-approved referendums to plan and fund transportation is risky and inflexible.
But at least for now, it's the only major local source of funding, he says.
"To take that away or put that at risk is putting the region's ability to be economically competitive at risk."
More Phoenix stories
No stories could be found
Get a free daily digest of the most important news in your backyard with Axios Phoenix.