Jeff Landry singles out New Orleans in transition committees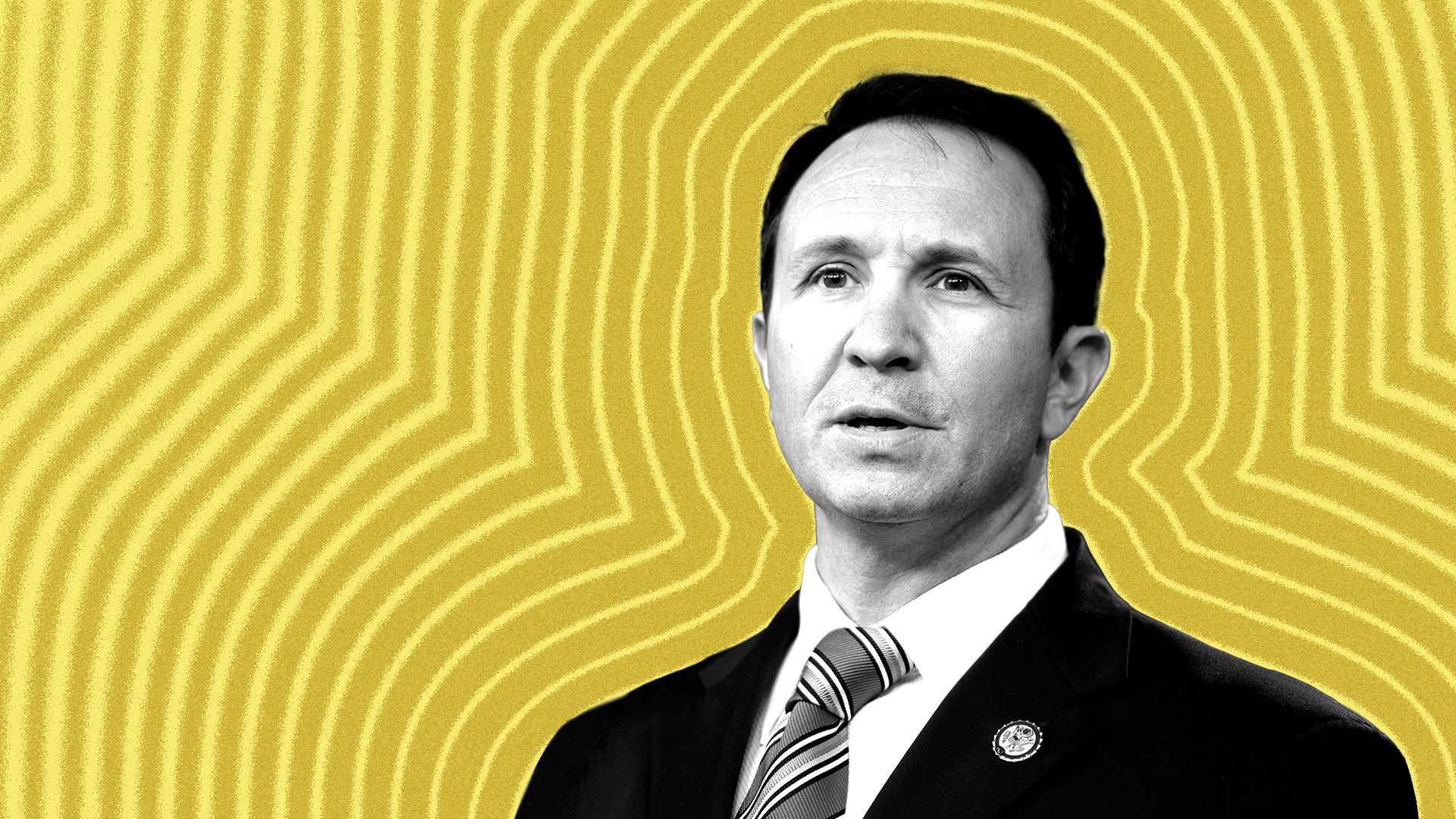 Gov.-elect Jeff Landry's list of exploratory committee topics for possible policy changes and priorities includes one outlier: the city of New Orleans.
Why it matters: The Republican state attorney general often champions social issues at odds with the liberal city. Orleans Parish voted overwhelmingly for Landry's sole Democratic opponent, Shawn Wilson, so with little clarity on Landry's plans for his New Orleans Council, the singling out raised a few eyebrows among locals.
What's happening: Landry announced the formation of 14 "councils" last week, tasking each with identifying "solution-driven ideas for the challenges we are facing," Landry said in a press release.
Among the topics are policy areas familiar to Louisianans, like agriculture, the coast and environment, crime and public safety, chemical, infrastructure and K-12 education.
Included in that list is the New Orleans Council, led by former Bollinger Shipyards CEO and Landry donor Boysie Bollinger.
What he's saying: In a press conference last week, Landry shed little light on how involved he plans to get in New Orleans policy.
"We want the city of New Orleans to operate like the city of Charleston (S.C.) or the city of Nashville, or some of the other great southern cities around the country, and we know that it can, but it's got a lot of problems," he said.
Zoom in: The special focus on a city-specific council is unusual, experts say.
"I've never seen this in any other state," says Joshua Basseches, a Tulane University assistant professor of public policy and environmental studies.
A more general urban issues committee is more common for these kinds of transitional teams, says Dillard University urban studies and public policy professor Robert Collins.
"New Orleans is not unique in its issues," he tells Axios New Orleans.
Details: The first of three New Orleans-focused council meetings is slated for Nov. 8, a source tells Axios New Orleans.
Besides Bollinger, its membership includes Louisiana Restaurant Association CEO Stan Harris, New Orleans & Co. CEO Walt Leger, Louisiana Board of International Commerce chairman Greg Rusovich, GNO Inc. CEO Michael Hecht, New Orleans First City Court Clerk Austin Badon and state senators Cameron Henry and Royce Duplessis.
But that roster is incomplete, the source says.
The Gambit was the first to report the meeting dates and initial membership.
Between the lines: In the long run, it's not likely Landry will want to meddle in the city's day-to-day, Collins said.
"In theory, the state legislature can do whatever it wants with the city of New Orleans," Collins says, "but as a practical matter, the reason why most state legislatures don't [is because] cities are so complex that trying to govern from a distance generally drags you into a quicksand of your own making."
What we're watching: If Landry does seek to impact city affairs, the question will be whether resources come along with that focus.
"Is this a genuine effort to involve New Orleans stakeholders in improving policy outcomes, which would be accompanied by significant resources and investment from the state budget?" Basseches posits. "Or is this … to hold them up as a rhetorical example?"
Mayor LaToya Cantrell said last week she would be open to collaborating.
Worth noting: Bollinger is a regular campaign contributor, and has given to to both Democrats and Republicans, records show.
He donated to Mayor LaToya Cantrell's campaigns, but he also later gave to the failed campaign that sought to oust her.
Bollinger most recently made headlines for putting his Four Seasons penthouse on the market, priced at $19.5 million, telling NOLA.com | The Times-Picayune that neither he nor his wife spent enough time there to justify owning it.
More New Orleans stories
No stories could be found
Get a free daily digest of the most important news in your backyard with Axios New Orleans.