New Orleans Sewerage and Water Board to prep new master plan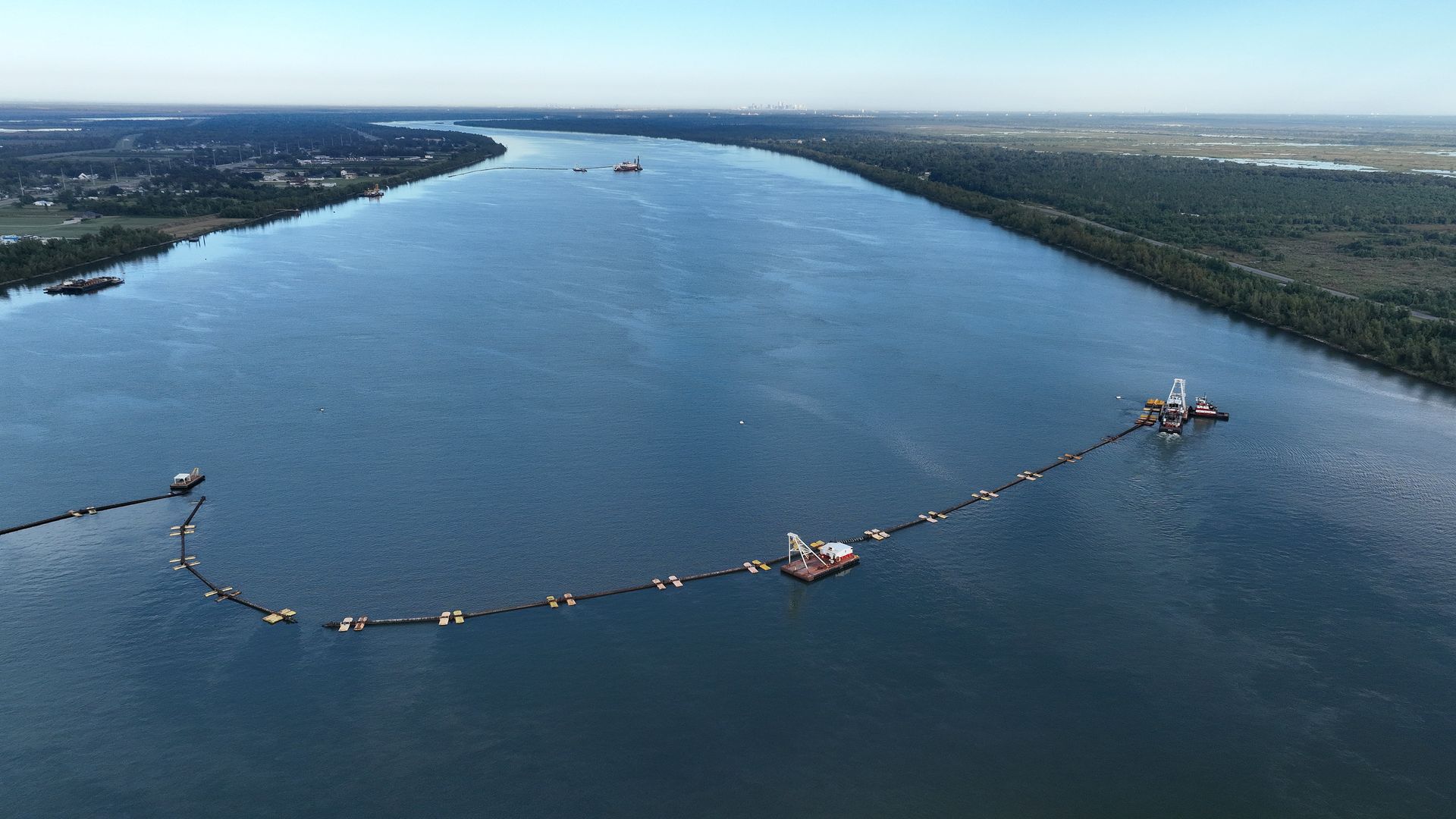 The New Orleans Sewerage and Water Board is preparing to develop a new master plan outlining strategies for managing its power requirements, and in anticipation of new federal water guidelines.
Now, that plan will also include strategies for maintaining safe drinking water when saltwater intrusion again threatens the local supply, officials tell Axios New Orleans.
Why it matters: Previously a once-in-a-decade concern, saltwater intrusion is happening more frequently thanks to climate change.
What's happening: SWBNO is weighing permanent solutions to the crisis it faced earlier this fall when the creep of salt water up the Mississippi River was forecast to contaminate local drinking water intakes.
Those solutions, along with others to mitigate climate change impacts, will find their way into the new water quality master plan, says SWBNO deputy general superintendent Steve Nelson.
The project initially began with a need to modernize its century-old power facility. Plugging into the local grid isn't currently an option, but officials are planning for it in the coming years.
SWBNO officials also plan to incorporate new EPA guidelines for the removal of lead, copper and "forever chemicals" like PFAS, says SWBNO executive director Ghassan Korban.
Yes, but: The plan will take between 18 months and two years to complete, Nelson says.
Still, parts of the plan can be worked on before the document's completion, should specific needs arise.
Zoom in: Reporter Mark Schleifstein outlined in a piece for NOLA.com | The Times-Picayune possible saltwater intrusion solutions for New Orleans and Jefferson Parish.
One plan calls for the overhaul of water plants in both parishes to add desalination technology.
Another Jefferson Parish plan would create a new permanent intake further upriver.
Meanwhile: Jefferson Parish went through with the 20-day construction of a 15-mile, temporary pipeline it had planned to use in the event saltwater intrusion reached its intakes.
The project, which officials called a precautionary test, was deemed a success.
Worth noting: The immediate threat to New Orleans metro's drinking water has lifted, but some communities to the south are still juggling the challenge.
Those communities, which are in lower Plaquemines Parish, are seeing a spike in toxic chemicals in their drinking water because of their use in the desalination process, The Guardian reports.
More New Orleans stories
No stories could be found
Get a free daily digest of the most important news in your backyard with Axios New Orleans.