Saltwater intrusion expected near New Orleans by late October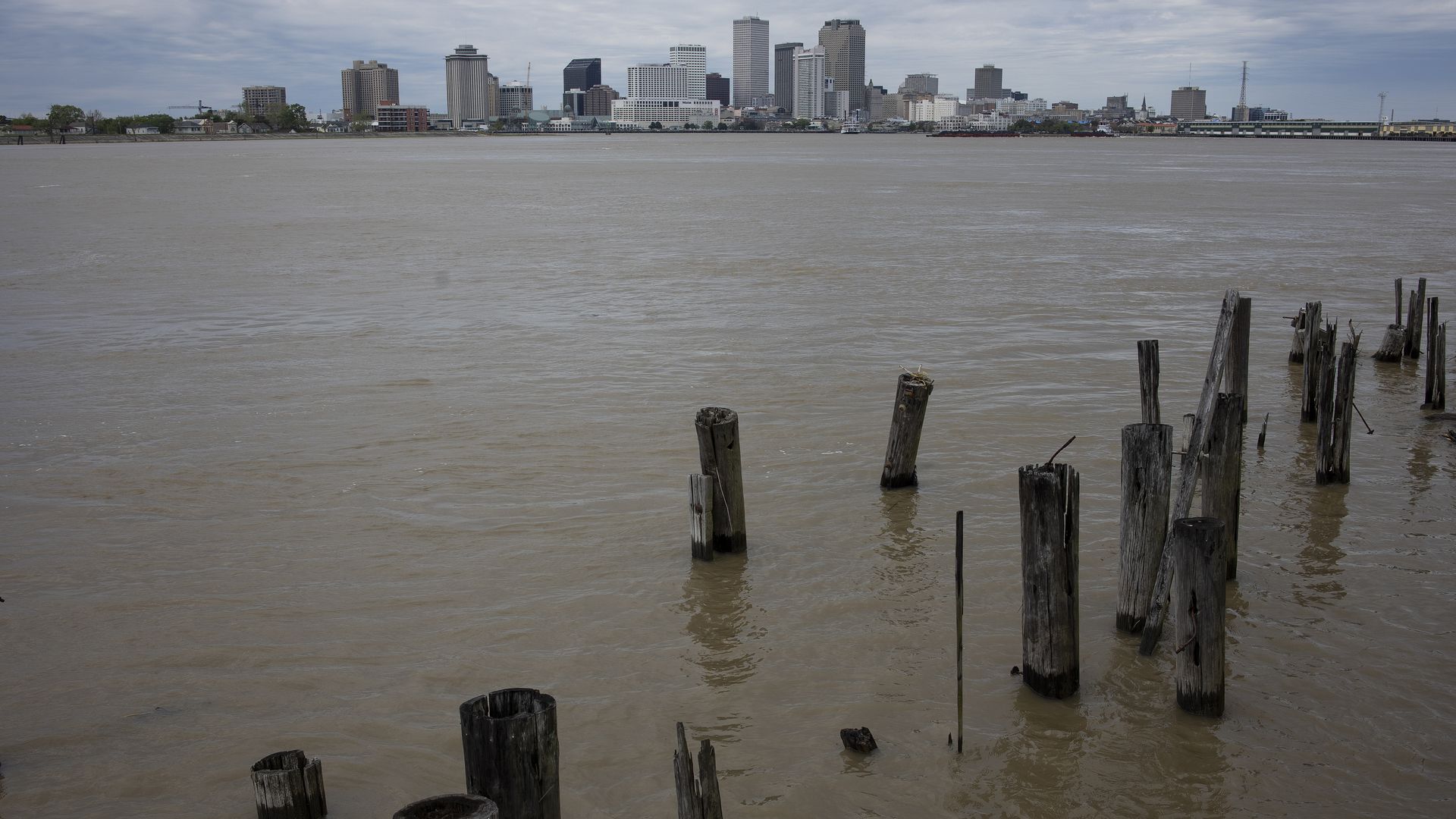 Salt water from the Gulf of Mexico could creep into the New Orleans water supply by late October if current forecasts hold, officials said Friday.
Why it matters: Saltwater intrusion is already affecting communities closer to the coast, and New Orleans-area concern is on the rise as local reports indicate residents are buying up bottled water.
Yes, but: New Orleans water is still safe to drink and use, officials say. And Gov. John Bel Edwards said there's no need to panic-buy bottled water.
Driving the news: Edwards gathered with federal, state and local officials Friday, asking residents not to put "undue demand" on local water systems.
Edwards said that local entities are working on various solutions to keep drinking water safe.
That includes shipping in millions of gallons of water to dilute the intake at area water treatment facilities that draw from the Mississippi River.
How saltwater intrusion works: As the Mississippi River empties into the Gulf of Mexico, the flow of fresh water typically provides enough pressure to keep saltwater from creeping up the river.
But the current drought — here and well north of here along the river — means the river's low water level doesn't provide enough pressure to keep that salt water in the Gulf.
The saltwater is denser than freshwater, so it moves upriver along the bottom as a briny "wedge," threatening local water systems that rely on the Mississippi River.
State of play: Over the summer, the U.S. Army Corps of Engineers built an underwater levee, called a "sill," to barricade the saltwater wedge from coming further upriver.
But that sill, located at river mile marker 63.8, is only a stopgap measure, slowing but not stopping intrusion, in part because of a notch that allows river traffic to continue. It was overtopped Sept. 20.
The Army Corps is set to begin increasing the sill's height as early as Sunday, but that will only slow the intrusion.
Zoom in: The wedge is currently at about river mile marker 66, says Col. Cullen Jones with the Army Corps of Engineers.
With the wedge's current progression, the Army Corps expects salt water to reach Belle Chasse at mile marker 75.5 about Oct. 13.
From there, it would reach water plants in St. Bernard at mile marker 88 on Oct. 19; Algiers at mile marker 95.7 on Oct. 22; Gretna at marker 96.7 on Oct 24; West Jefferson at marker 99.1 on Oct. 25; New Orleans' Carrollton plant at marker 104.7 on Oct. 28; and East Jefferson at marker 105.4 on Oct. 29.
Between the lines: It's possible that years of high river levels throughout the 2010s, as well as degrading levee infrastructure on the Mississippi River's southeastern edge, are also partly to blame.
As a result, river offshoots, such as Neptune Pass and a collection of crevasses south of it, grew wider in recent years, creating additional pathways for salt water to creep up the river, says Alex Kolker, a geologist and climate scientist with the Louisiana Universities Marine Consortium.
"The river sort of functions like a pipe, and that pipe has become leaky," Kolker told Axios New Orleans. "Neptune Pass is the largest new leak in the system. And most times, it leaks out, but it's a hole and can leak the other way, too."
The bottom line: All eyes are on the Missouri and Ohio river basins, where rainfall would impact the Mississippi River level most.
Jones says about 10 inches of rainfall across the Mississippi River valley would ease local concern. But there's no sign in the weather forecast that's coming within the next few weeks or months.
"We do need some rain. We're not in charge of that," Edwards says. "Pray for rain."
More New Orleans stories
No stories could be found
Get a free daily digest of the most important news in your backyard with Axios New Orleans.